Disclaimer: The reviewer has received the product/service at a reduced price or for free.  All opinions are my own and are my honest opinions based on my own experience with the product.
Being chosen as a Team Cottonelle blogger was absolutely amazing and something I really did not expect to happen.

Cottonelle sent a huge box of products so I was able to try a variety of new products that I might not have bought.
Once I tried Cottonelle Toilet Paper, I found a brand of toilet paper I loved and use to this day.
Being part of this campaign and trying Cottonelle Toilet Paper is the reason I switched brands.
Cottonelle is softer, works great and does not cause me to break out!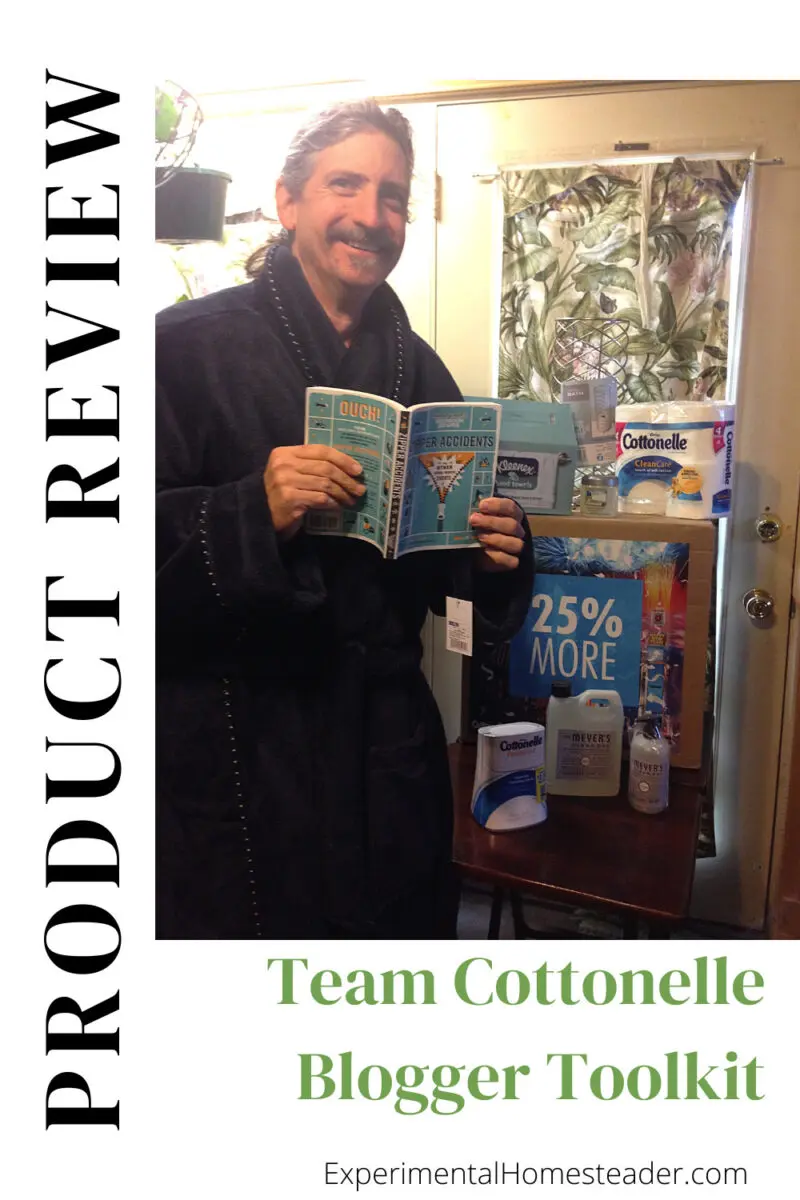 Team Cottonelle Blogger Toolkit Arrives
More Is Better – that's the message Cottonelle is sending this holiday season and to prove it.
Cottonelle Clean Care toilet paper contains 25% more than the leading competitor.
As a chosen member of Team Cottonelle, I received a really awesome blogger toolkit on December 23.
It arrived the day after I got married, so I did not blog about it right away, but I immediately placed all the awesome products in our bathroom and started using them.
The products the kit contained, according to the letter, were to keep us satisfied and comfortable in the bathroom – and that is what they have done.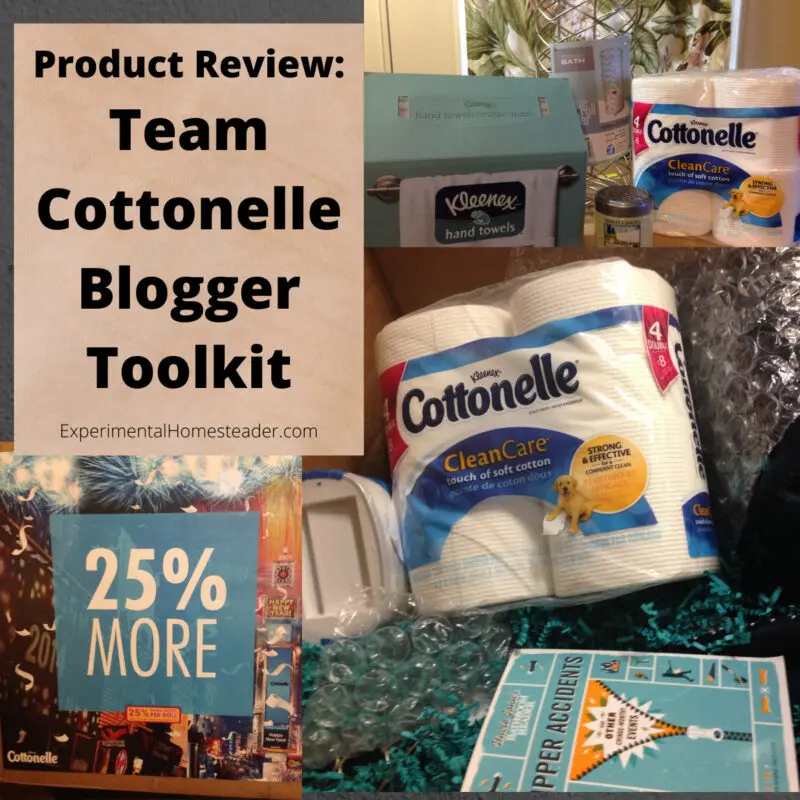 Team Cottonelle Blogger Toolkit Contents
Here is what the Team Cottonelle Blogger Toolkit contained
Toilet Paper Holder – This is really an awesome item because it sits on the floor and holds three rolls of the Cottonelle Clean Care. It makes it easy to keep the toilet paper stocked so you never run out. I fill mine as soon as two rolls are gone. Keeping the toilet paper holder filled really is the key.
Kleenex Hand Towels – Yes, they are disposable – and around here hand towels get messy fast. I'm really enjoying these Kleenex Hand Towels and intend to buy more when I run out. They are saving me 25% more laundry and that equals more time to do the things I need or want to do.
Meyer's Lavender Hand Soap And Refill – Yes, it is Mrs. Myers Clean Day soap. I make my own soap and as we all know bar soap can leave a mess on the bathroom sink. I am enjoying this hand soap. It does not dry my skin out, there is no mess because it is in a pump dispenser – it doesn't drip – the lavender scent is wonderful and I am spending 25% less time cleaning up the soap residue that builds up under my soap dish.
Yankee Candle Clean Cotton Scented Fragrance Sphere – Fragrance is an issue for me because I am sensitive to scent. I tend to avoid the aisles with candles or other air freshener type products unless I am pretty desperate. The bathroom can get pretty smelly. In our house, the bathroom is the center room so the smell floats into the living room, kitchen and bedroom. That can get pretty disgusting at times if you know what I mean. I've tried different products from time to time but I have to say the Yankee Candle Scented Fragrance Sphere works wonderful. The scent does not bother me – in fact, I barely notice it which is a real plus because the last thing I want is a highly unnatural perfumed smell in the house.
Uncle John's Bathroom Reader – I don't do much reading in the bathroom because I was taught to get in, do my business and get out. After all, other people were waiting. That lesson has remained with me through my life – still there are times when it just takes a while – and Uncle John's Bathroom Reader is ideal to keep in the bathroom. It is filled with short bits of interesting trivia so I don't feel like I have to finish an entire page. It makes getting out faster once my business is done so much easier.
Cozy Robe – Being 25% more cozy and warm – especially in this house because of the lack of heat – is important. Having just gotten married, I had a robe, but my new husband did not. He loves it – and I love that it is so soft and cozy to snuggle against.
Cottonelle Flushable Cleansing Cloths – I had noticed this product on store shelves, wondered about it, but never picked it up and put it in my shopping cart. I really wasn't sure how well they worked, how irritating they might be (remember I have sensitive skin) or if they would just create more of a mess, so I was excited to try them. Ladies I don't know how many of you experience heavy flow during that time of the month, but these are ideal for cleaning yourself. They get rid of the mess and give a clean, fresh feeling. I really like the fact that they are flushable. Wipe, toss and flush. Feel clean. The Cottonelle Flushable Cleansing Cloths is a wonderful product that I highly recommend and will keep on hand.
Cottonelle Clean Care Toilet Paper – I've tried a lot of toilet paper brands. Some don't make it past the first few uses. I am sensitive down there and don't want anything that feels rough. I don't want a toilet paper loaded with perfumes or other irritants. The last thing I need with my busy lifestyle is to feel raw or irritated all day. The first thing I noticed about the Cottonelle Clean Care Toilet Paper was instead of fancy pictures on the roll, it had plain lines. That was ok as long as I felt clean after using the toilet paper – and I did. The product is more absorbent, less likely to tear and I am finding that I use less. That saves money and that is a good thing. I have not had a reaction to this toilet paper at all and I began using it before the Team Cottonelle Blogger Toolkit arrived, so it's been about a month now. I intend to keep using this brand of toilet paper. We are both very happy with it.