Disclaimer: This post is sponsored by Revitamal and the Pet Blogger Network. I am being compensated for helping spread the word about Revitamal, but Experimental Homesteader only shares information we feel is relevant to our readers. Revitamal and AdaptoGenerations Inc are not responsible for the content of this article.
Fourteen years ago this October I saw an ad in the newspaper that said puppies for sale. I wanted a large dog to go along with the farm we were planning to buy. I called the number in the paper and went out to see the puppies. When I saw this cute light colored puppy sitting all alone in the barn I decided that was the one. I paid for him and took him home. I wanted to name him Precious Angel but wasn't sure if that was appropriate since he was a boy. Several days later I decided the name Precious Angel was a fit. About a year ago things changed. I began to notice he laid around more, was not as responsive, ate less, drank less and just wasn't the same loving, hyper, responsive dog he had once been. I knew his time had come and it made me sad. Still I could not bring myself to make that phone call. I prayed for a miracle. Precious Angel is my best friend and the best dog anyone could ever ask for, thus when I had a chance to try Revitamal #AntiAgingPets Supplement I opted in. I was hoping this #AntiAgingPets Supplement was the miracle I was praying for.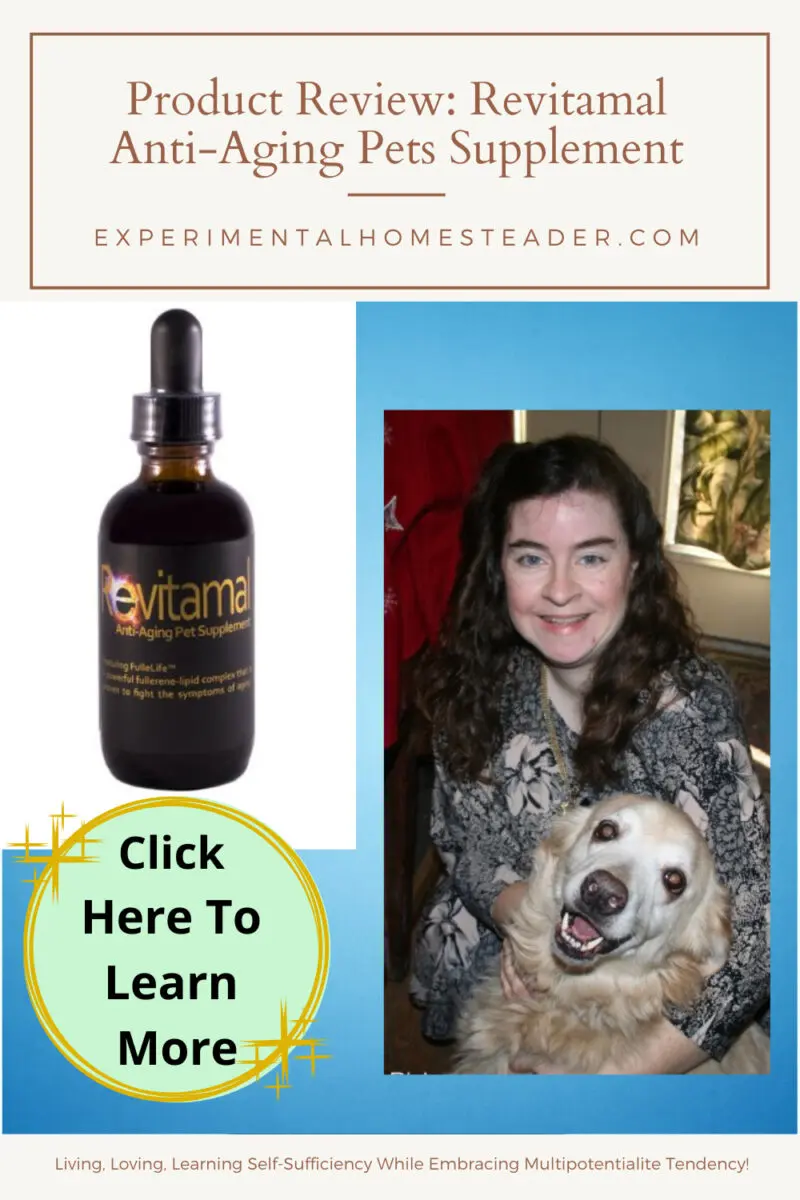 I knew if Revitamal didn't help the time had come to say goodbye. There was not another option. I cried when the package arrived. I did not feel he had a chronic illness that merited putting him down but I knew he was having aches and pains because of his lack of movement and the occasional yelp. I immediately  gave him his first 3 ml. dose and he took it right out of the dropper. I didn't have a chance to put it in a bowl. Later that night he stood up and did a tiny puppy hop. I was so happy – and then worried. You know what they say about having one last good day. The next morning he was anticipating the Revitamal and perked up as I approached him with the bottle. Within a week he was going up and down stairs on his own and attempting to get into bed on his own. Prior to this we were lifting him or assisting him when he got on the couch or bed.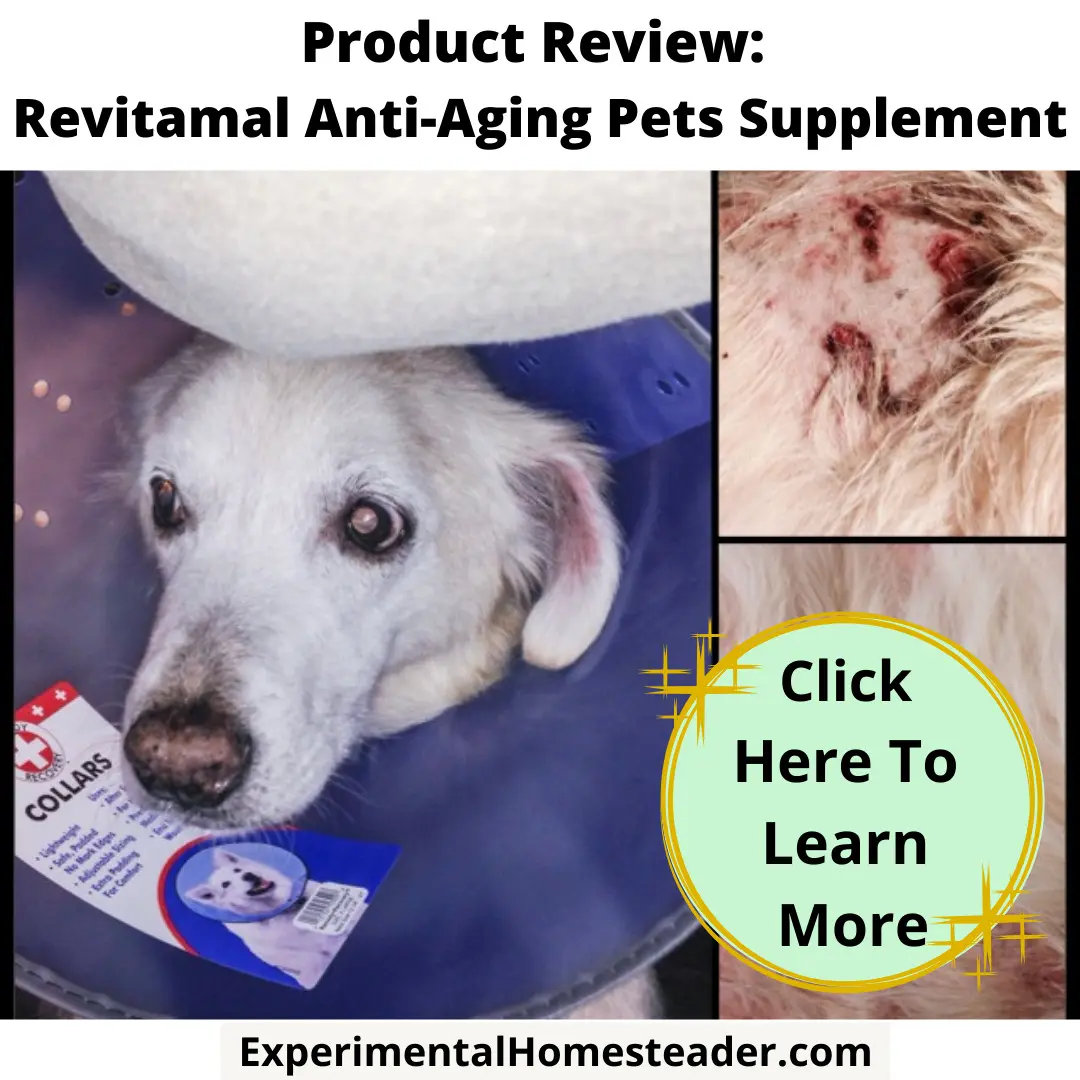 Another issue that came up prior to using Revitamal was non-stop chewing – day and night. We bought a Thunder Shirt for him to wear but as you can see in the photo above he still chewed, When I took the shirt off, his skin was bloody and his hair was almost non-existent. The Thunder Shirt wasn't working for this problem. Next we tried a collar. That worked better since he could not turn his head to chew himself. However his skin was still itchy and he just resorted to scratching. I put dog booties on him. He really hated that but I had to do something. However he managed to get the booties off eventually. I was beginning to think that – like an old person – his skin was just thin and there was nothing more that could be done.
Revitamal came to the rescue on this issue too. I noticed once he was on the Revitamal for about a week he stopped scratching as much. I began to wonder what would happen if I took the collar off for extended periods of time. We had one incident at first. He tore his skin in one spot. I immediately put the collar back on.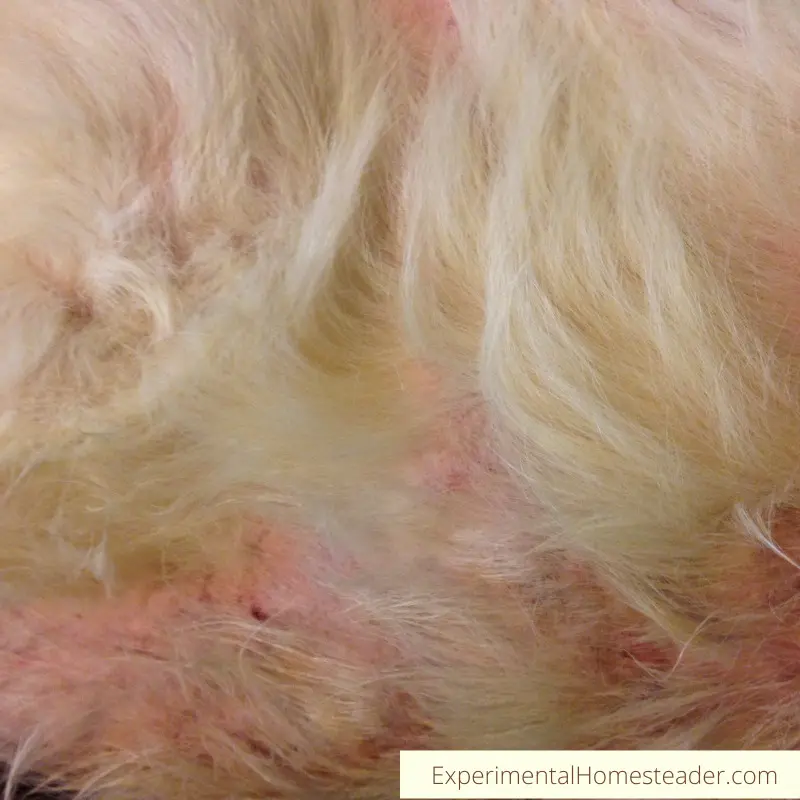 The photo in the bottom corner shows that his skin is healing – and I am happy to say I do not have to put the collar on him at all now unless we leave – and that is only a precaution. The Revitamal is helping his skin heal and somehow making it so his skin isn't as itchy as it was prior to taking this #AntiAgingPets Supplement.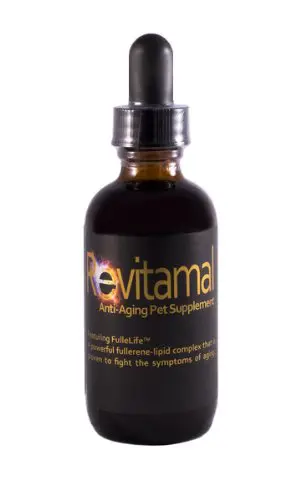 Precious Angel has been on Revitamal #AntiAgingPets Supplement since June 2. Today is June 14. I am so happy to say he is back to his old personality of being a super hyper, happy dog who can get around, go up and down stairs, get onto the couch or bed and he no longer falls down. His appetite has improved as has his alertness. I no longer hear the occasional yelp come from him. I have noticed he drinks more water and begs to go for walks. He goes to the bathroom more frequently as well. If you have an aging pet, I encourage you to try a bottle of Revitamal before you make the tough decision to put them down. I know I am very glad I was given the opportunity to try this product and I do intend to keep Precious Angel on it after my initial bottle is gone. I have seen first hand how his vitality has come back and how he is starting to thrive again. I no longer have the same concerns about his pet health as I did before trying this anti-aging product.
Revitamal truly began working with the first dose. I saw first hand how this product restored his function, comfort, energy and vitality while it provided a high-level of protection for him. The product information said it provided unprecedented cell-level protection to pets of all ages with the exception of fish – and I truly believe this is exactly what Revitamal does. The way this product works is it removes toxins from your pets system and supports healthy cellular maintenance. It is considered a "complementary therapy" and often enhances the effects of other treatments including prescription medications your pet may be on. Best of all, Revitamal is 100% USA Made! All of the ingredients in this product are sourced right here in the USA, even the glass vial it comes in. All of the ingredients exist naturally and there are no animal by-products plus it is made to human food grade standards. I don't know about you but that sure makes me feel good about giving it to Precious Angel.
If you would like to know more about Revitamal, Dr. Marcus Gitterle, Chief Clinical Officer, was interviewed on The Balancing Act on Lifetime TV. While the interview itself is mainly focused on dogs, he does describe how Revitamal works. Click to watch this episode or check out all the videos on their You Tube Channel. Alternately you can visit the Revitamal website, check out their FAQ page or find out exactly how the "science" behind the product works. Don't forget to like Revitamal on Facebook, follow them on Twitter and Pinterest.