Disclaimer: I received this item for free in exchange for my honest review. All opinions are my own.
In the realm of homesteading, a glass of homemade wine can be a well-deserved reward for your labor.

Yet, there's no denying that wrestling with a stubborn cork can be an unexpected hurdle in your rustic journey.
That's where electric wine openers come into play, promising a touch of modern convenience amidst your homesteading chores.
Today, I'm excited to share my experience with the Ozeri Electric Wine Opener, a tool that aims to make uncorking your homemade wines a breeze.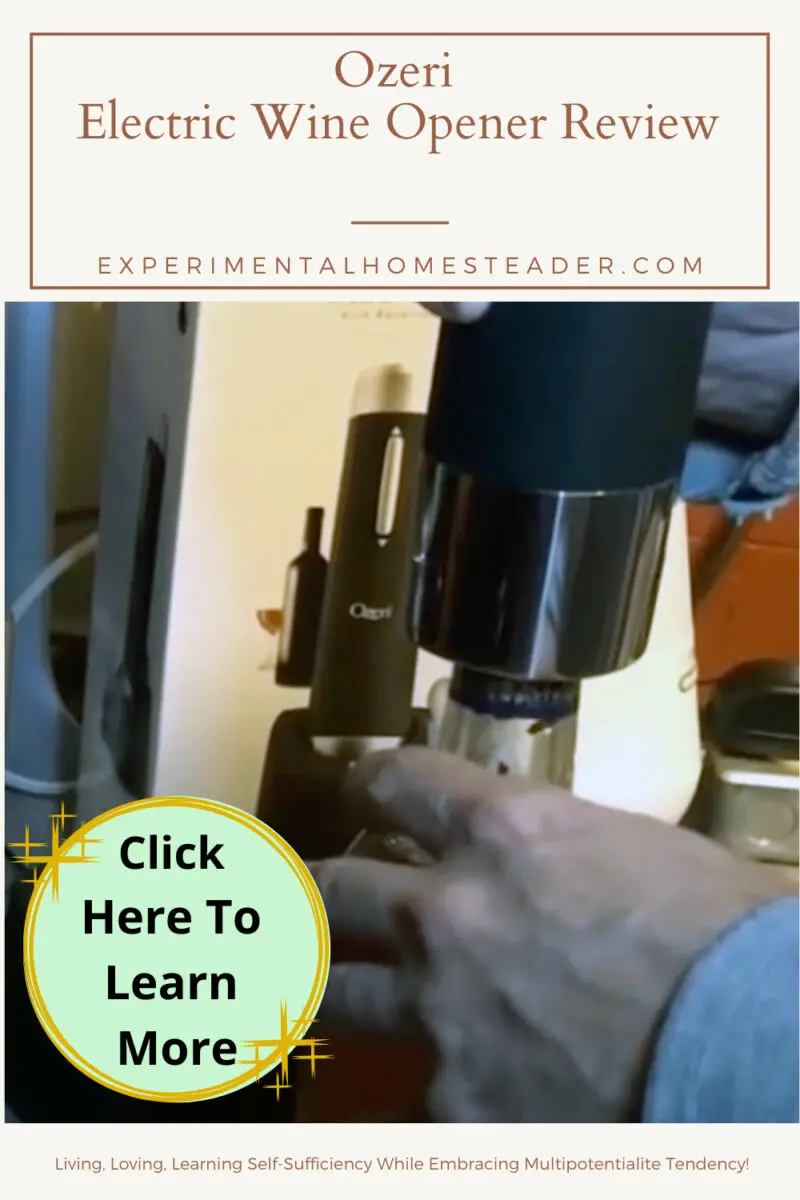 The Early Expectations
As a homesteader who cherishes the art of crafting my own wine, I couldn't help but be intrigued by the Ozeri Electric Wine Opener.
I've had the pleasure of using Ozeri products in the past, and they've earned my trust for their reliability and innovation.
So, when I received this wine opener, I was eager to see how it would complement my homesteading lifestyle.
However, my initial enthusiasm was met with an unexpected roadblock – communication with Ozeri's PR team.
Since receiving the product back in November, I reached out to them multiple times, but regrettably, the only responses I received were reminders to post the review.
It was a surprising disappointment, especially from a brand I've come to respect.
Charging Challenges on the Homestead
One of the first aspects I wanted to put to the test was the Ozeri Wine Opener's charging capabilities.
According to the manual, it should take a mere 12 hours to achieve a full charge.
However, my experience painted a different picture.
It took a baffling 2 to 3 days for the red charging light to finally transition to green.
Initially, I thought this delay might be due to a depleted battery, but here's where it gets interesting.
I unplugged the wine opener for less than 5 minutes, merely to shift it to a different outlet.
To my surprise, the red charging light reappeared almost immediately, indicating an issue with its charging system.
This was a concerning discovery that raised questions about the device's durability and suitability for homesteading life.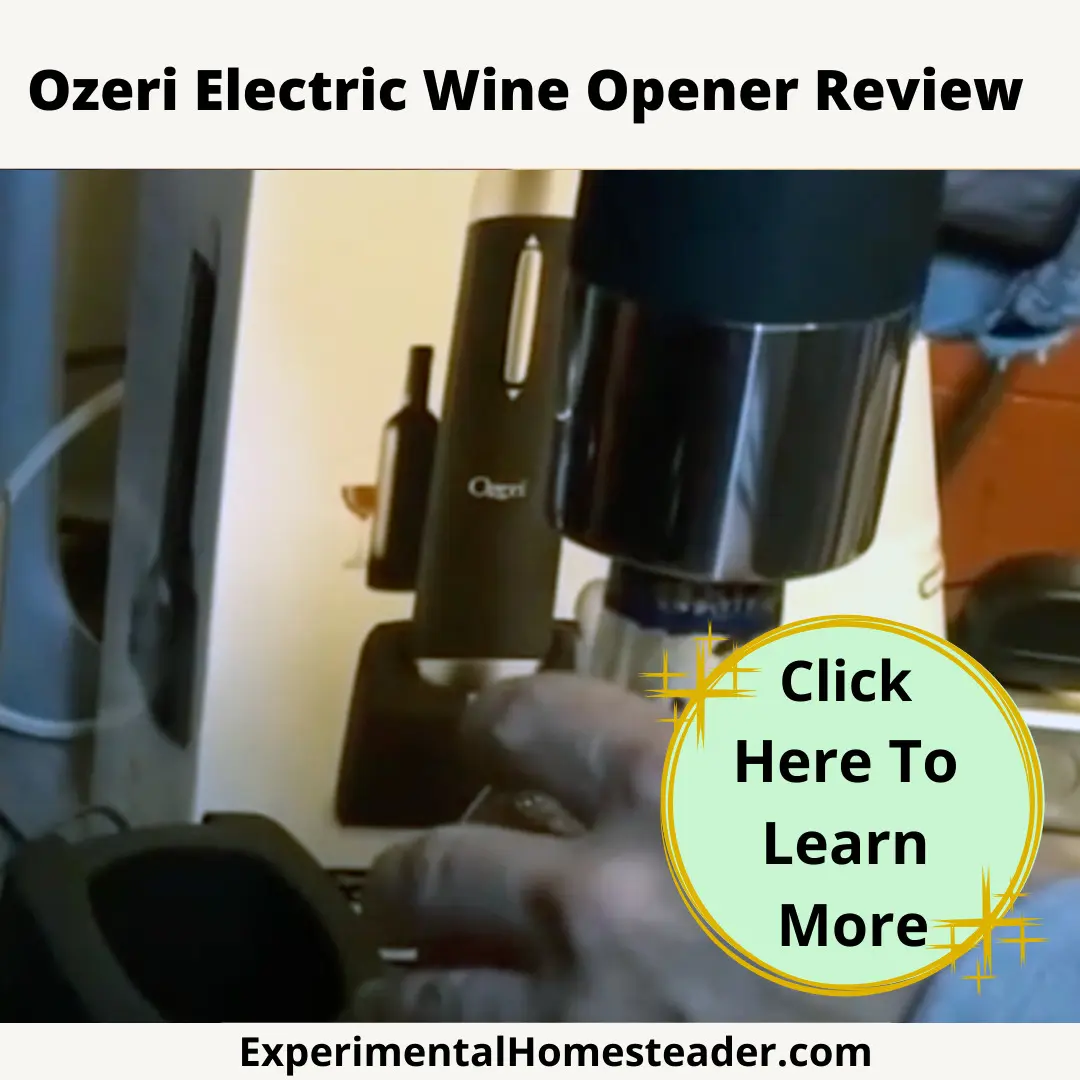 Performance in the Homestead Kitchen
Despite these initial setbacks, I remained determined to evaluate the Ozeri Electric Wine Opener in a homesteader's context.
When it finally completed its prolonged charging, I was ready to put it to the test.
Thankfully, the wine opener didn't disappoint in terms of performance.
It effortlessly removed the cork from my homemade wine bottles, making the uncorking process a seamless part of my homesteading routine.
What's even more impressive is that it comes equipped with an aerator, enhancing the flavors and aromas of the wine—a welcomed addition for any homesteader who values the fruits of their labor.
One standout feature is the wine bottle button that, when switched the other way, effortlessly releases the cork.
This function simplifies the wine-opening process, a practical advantage, especially if you're dealing with the wear and tear of a busy homesteading life.
A Homesteader's Verdict
In the grand scheme of homesteading life, the Ozeri Electric Wine Opener offers a mixed bag of experiences.
Once it's finally charged, it does perform admirably and adds a touch of modernity to your homestead kitchen.
However, the extended charging time and the issue with the charging light are substantial concerns, particularly for those accustomed to the efficiency and self-reliance that homesteading demands.
Additionally, the lack of communication from Ozeri's PR team is disheartening and goes against the homesteader's spirit of community and support.
Homesteading Wisdom
In conclusion, it's with a hint of reservation that I recommend the Ozeri Electric Wine Opener for your homesteading adventures.
While it delivers in terms of performance, the issues surrounding charging and communication are hard to overlook.
As homesteaders, we value tools that simplify our lives and enhance our self-sufficiency.
In this light, the Ozeri Wine Opener falls short.
Here's to the joys of homesteading, crafting your own wine, and finding the perfect tools to complement your self-sufficient journey!