Disclaimer: I received this item for free in exchange for my honest review. All opinions are my own.
A homestead essential for many is a manual oil press.

It makes it possible to press your own oil from items you can easily grow, such as peanuts or sunflowers.
While we love the one we own, it is no longer available through Amazon, so at the end of the post, I will recommend other wonderful manual oil presses.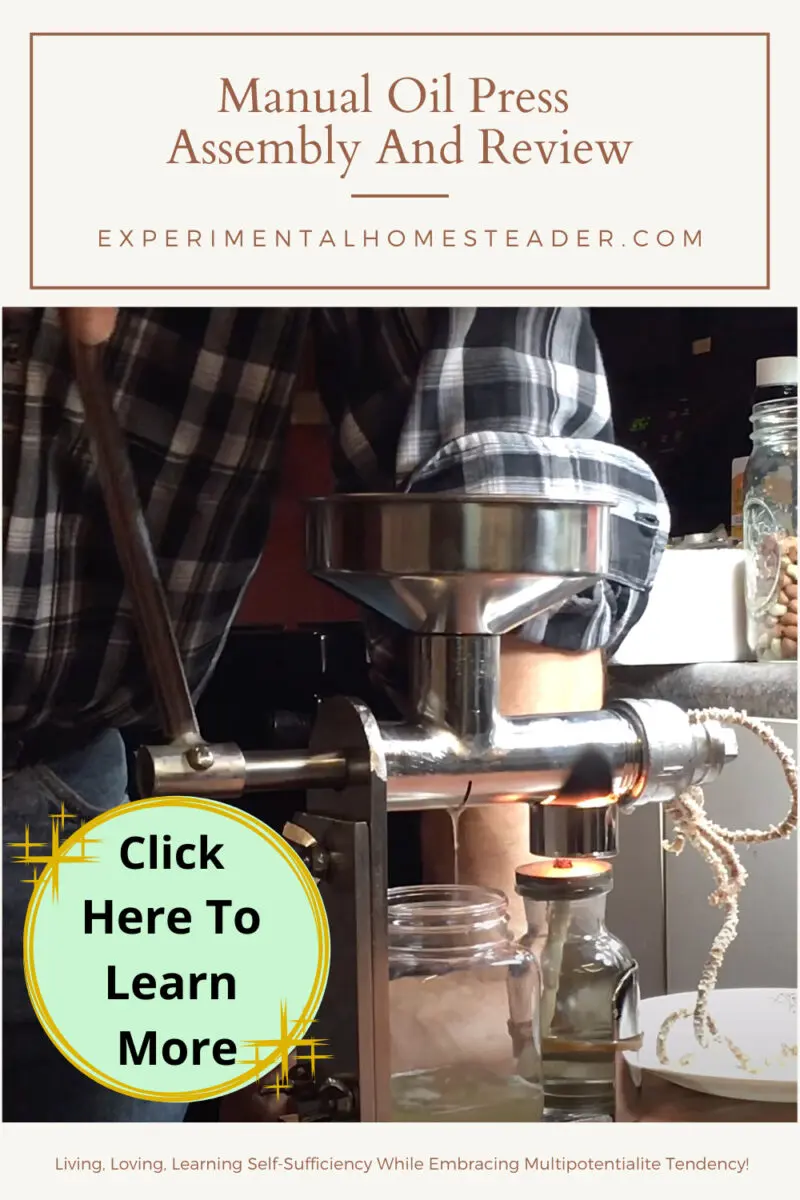 What We Love About This Manual Oil Press
This manual oil press was everything I was expecting – and more because it was easier to use than I thought it might be!
I own a lot of hand crank appliances and they can be hard to turn, but this one was pretty easy to crank.
It is adjustable so if it is too hard you can adjust it to make it easier.
Since we are not used to using a hand crank appliance it did take some time to press a large quanity of peanut oil because we had to rest, but once we are used to using it, this is going to be a piece of cake!
Peanut Oil Was Our First Success With The Manual Oil Press
For our first try, we chose raw Spanish peanuts that we bought at the grocery store.
We started with a quart jar full and only used about 1/4 of the jar – if that.
We did not measure but the peanuts did fill up the hopper on the manual oil press.
The end result was just under 4 ounces of peanut oil.
The residue was so minimal it isn't even worth mentioning.
The peanut cake that came out the other end of the machine was pretty dry but our poultry sure did enjoy it.
As for the quality of the oil, I have never tasted such fresh, light peanut oil in my life and I look forward to pressing oil from our walnuts, olives and sunflower seeds.
The downside of this manual oil press is you cannot use this for hardcore nuts.
A hardcore nut is anything that has a hard seed core.
If you really want to use a hardcore nut, you must remove the pit first.
For example, this will not work for olives unless the pit is removed before the olive is put into the press.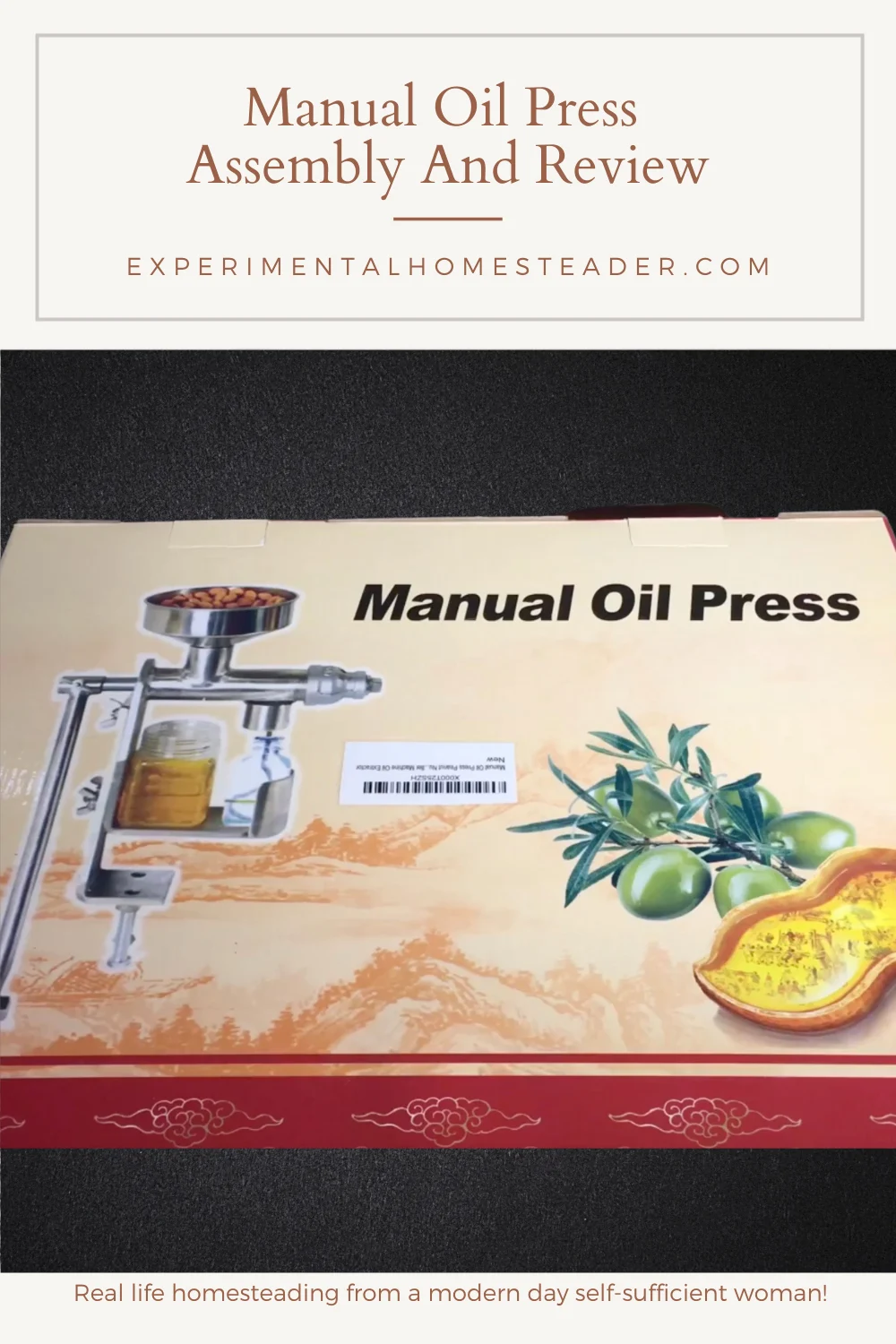 A Manual Oil Press Is Ideal For Home Use
This manual oil press is ideal for home use – not too large – and makes being a little more self-sufficient possible.
I love that I can now know how my oil seeds and nuts are grown.
We found the manual oil press easy to assemble and the instructions easy to follow.
Now I admit I did my research so I had a pretty good idea of how this machine would work before it even arrived.
I am very happy with my purchase and I encourage anyone considering an oil press machine to give this a good look.
I certainly recommend it!
Other Manual Oil Presses To Consider
While my manual oil press still works great, it is no longer available online.
Since I feel this that having a manual oil press is such an important item for anyone wanting to be truly self-sufficient, I wanted to share some other options with you.
The CGoldenWall Manual Oil Press seems to be similar in a lot of ways to the one above.
If you want a manual oil press with a table clamp, take a look at the VBENLEM Manual Oil Press.
Another option I found with a table clamp is the Household Manual Oil Press.
Table clamps are great because you can use them indoors or outdoors.
As long as you have something to clamp the oil press to, you are good to go.
A popular manual oil press that seems to work well is the Piteba Oil Press.
I have not tried any of the manual oil presses above, but have heard about them in various homesteading or prepping groups I am in.
As always, make the decision on which one to buy based on the features you are after.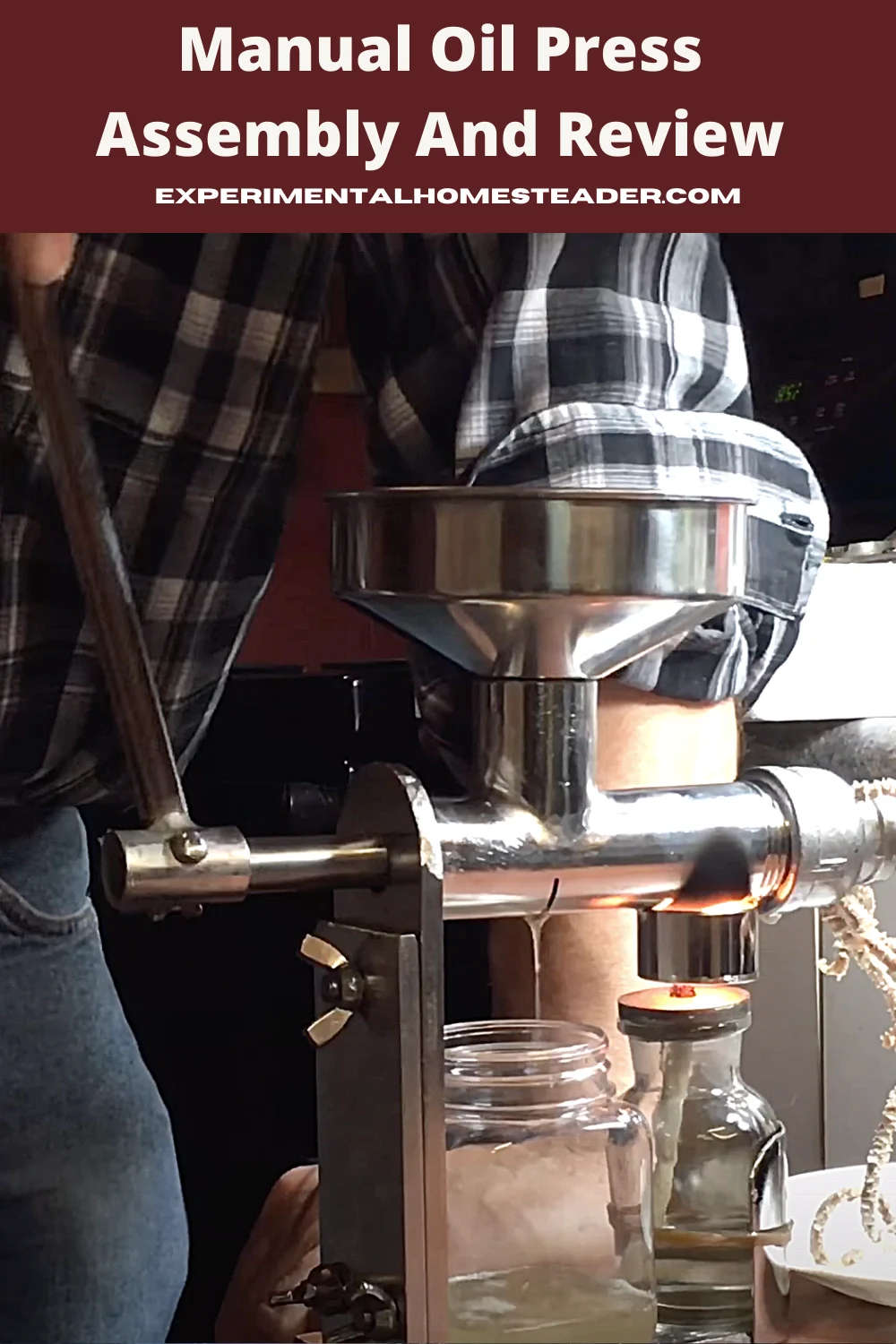 How To Get The Most Oil From A Manual Oil Press
If you are making oil at home using a manual oil press, you of course need to know how to use it correctly so you get the maximum amount of oil.
Every oil press is different, so of course you first want to know what types of items you can press in your particular model.
Then the next step is to make sure you have the correct setting of the adjustment bolt on your manual oil press.
This bolt controls the pressure and is the key to getting the highest oil yield possible from your press.
This bolt needs adjusted every time you use a differnt type of seed.
Without the bolt you will not get oil and the cake stone will be hard.
Of course, there are other considerations for getting the maximum amount of oil from the seeds you press.
The moisture content of the seed matters.
Seeds that are too moist will not give oil and the seed meal will be gummy.
This is because the moisture in the seed ties up the oil and does not allow it to seperate.
Ideally the seed moisure should be between 6% and 8% depending on what the seed is.
The seed quality is also important.
Seeds that are not harvested at the right time can give the oil a chemical taste or unwanted flavor.
Seeds that were harvested during a wet period or were stored with too much moisture can contain mold.
These seeds may contain toxins that will end up in the pressed oil and most likely will have a noticeable odor.
So for the best results, use seeds that contain the correct amount of moisture, were harvested and stored correctly and pay attention to the adjustment bolt on your oil press.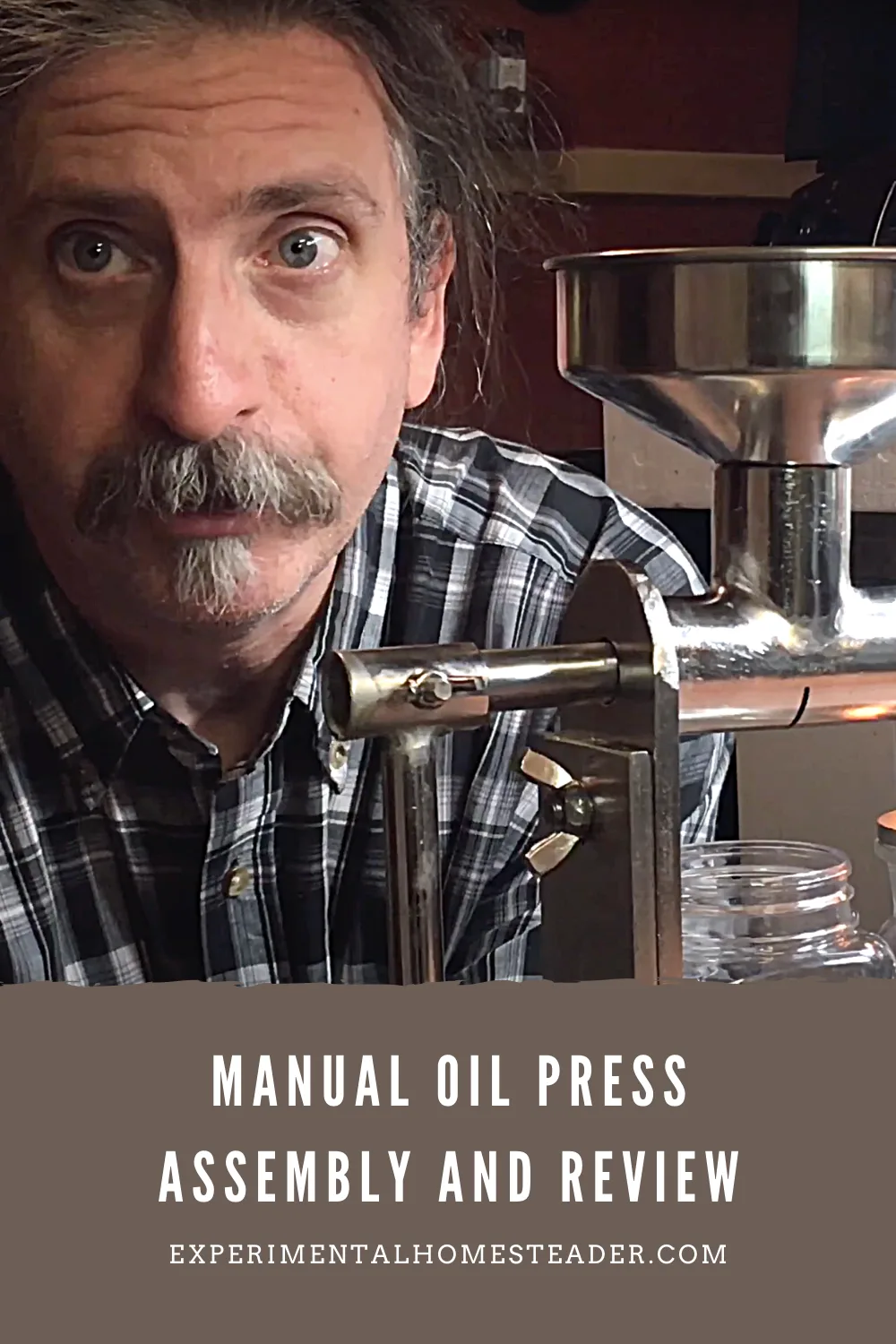 Manual Oil Press Frequently Asked Questions
Since getting this manual oil press, I have been asked a lot of questions!
Of course, being new to using one, I have had to learn and so it has taken a little time to figure everything out.
Here are some of the questions I have been asked – along with the answers.
Are there uses for the residual fiber a.k.a. cake or seed meal?
Yes, actually there are many uses. We fed ours to our chickens, but pigs, cattle, sheep, deer and horses would also eat the seed meal. Just make sure if you feed it to livestock that whatever you pressed won't harm them. You can also eat it. It can be turned into tempe if you are pressing peanuts or other types of beans.
Is it really necessary to heat up the press itself?
It is necessary to heat up the press. It takes about ten minutes to bring the manual oil press up to 120 degrees Fahrenheit. Most seeds do require that the press be at least 120 degrees Fahrenheit in order for the oil to release from the seed. Remember that oil and meal production take a couple minutes to begin once you start using the machine. 
Is this cold press only?
Technically cold press oil is extracted at a temperature of less than 120 degrees Fahrenheit. The different between expeller pressed and cold pressed really is just the temperature it was extracted at. Sadly we did not take the temperature of the oil we extracted, nor did we see warm the press itself got as cold pressed oil was not a concern of ours.
How Often Does The Manual Oil Press Need Cleaned?
I suggest cleaning it after every use. Make sure all of the seed meal is removed. Use paper towels or a dry dish towel to do this with. A bottle brush also works. You want to leave some oil in the press so there is no corrosion when it is in storage.