Disclaimer: I received one or more of the products mentioned above for free using Tomoson.com. Regardless, I only recommend products or services I use personally and believe will be good for my readers.

The Vita Nut Milk Bag is not the first nut milk bag I have used, but it is the largest one I have used up to now.
It measures 12″ x 10″.
This makes it much more versatile than smaller nut milk bags because you can use it for more than just nut milk.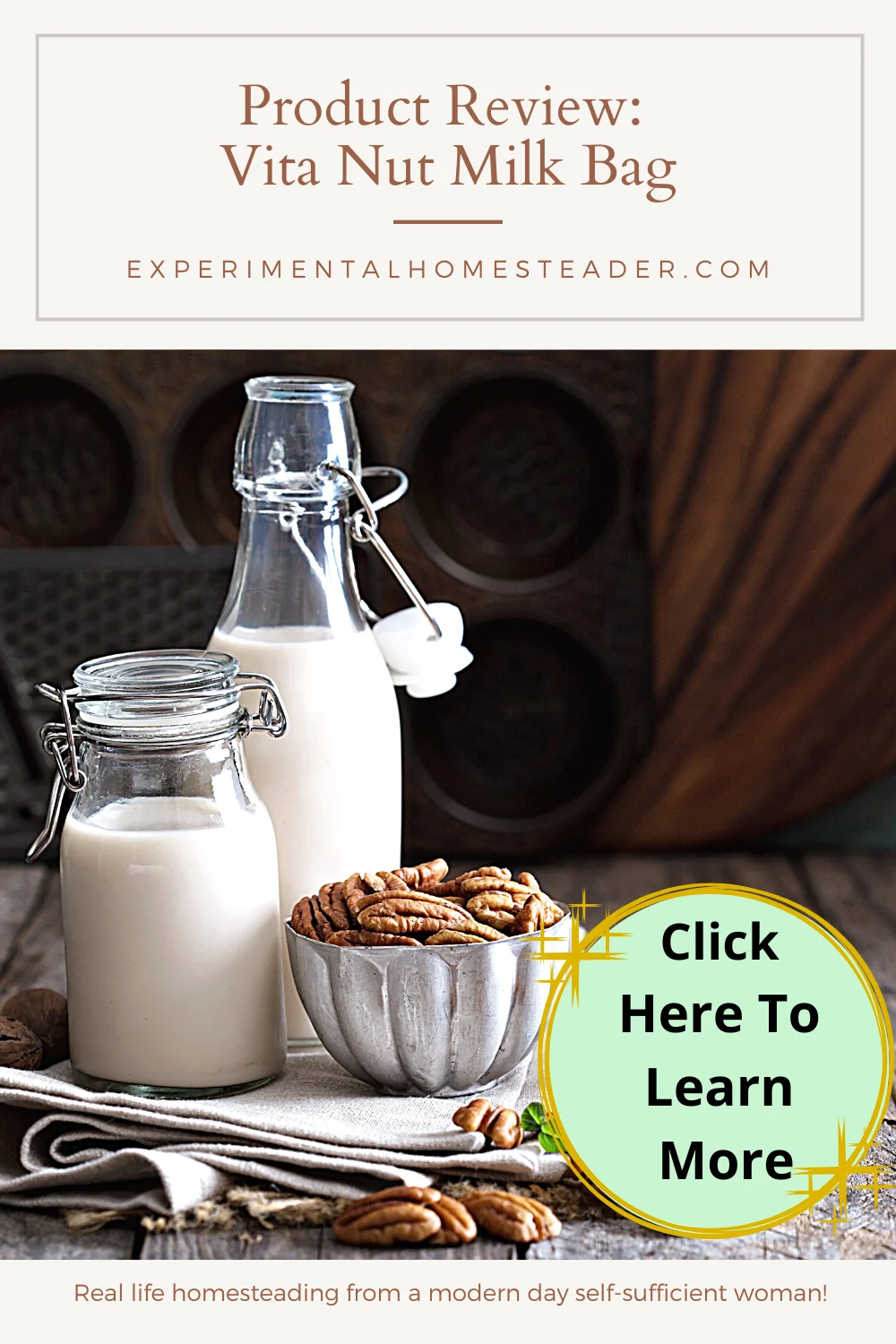 Why I Wanted To Try The Vita Nut Milk Bag
I really wanted to use a nut milk bag to strain my homemade goat cheese.
I use one gallon of milk at a time – and smaller bags just don't hold enough of the cheese curds to make it worth my time to use them.
Cheesecloth doesn't catch all the cheese curds either, so I was looking for a better, easier way to strain the buttermilk off the curds.
I also needed to make sure cheese like my Parmesan Cheese is as dry as possible before I press it, so that means allowing the bag to hang above the sink or a container for a little while so the excess liquid drips off.
The Vita nut milk bag has a pull string so it securely ties at the top.
This was the main reason I wanted to try the Vita nut milk bag – and it works beautifully.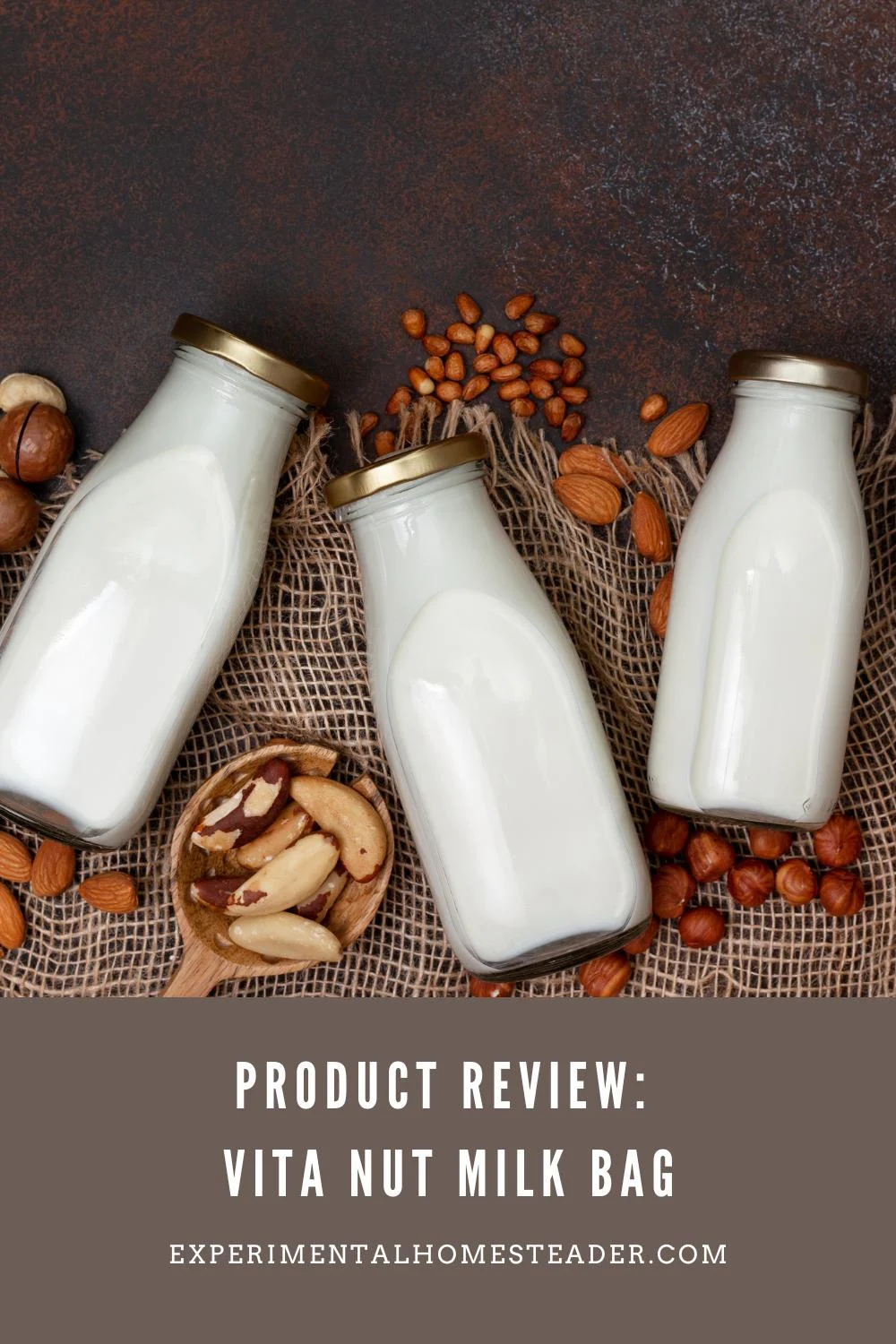 How To Clean The Vita Nut Milk Bag
The bag itself is easy to clean, which is important to me.
Simply wash in soapy water, rinse and air dry.
That's all there is to it.
The bottom of the bag is rounded so you don't have to worry about food sticking in the corners of the bag, which is wonderful.
One thing I don't want to do is spend more time cleaning something up than actually getting done what I need to get done.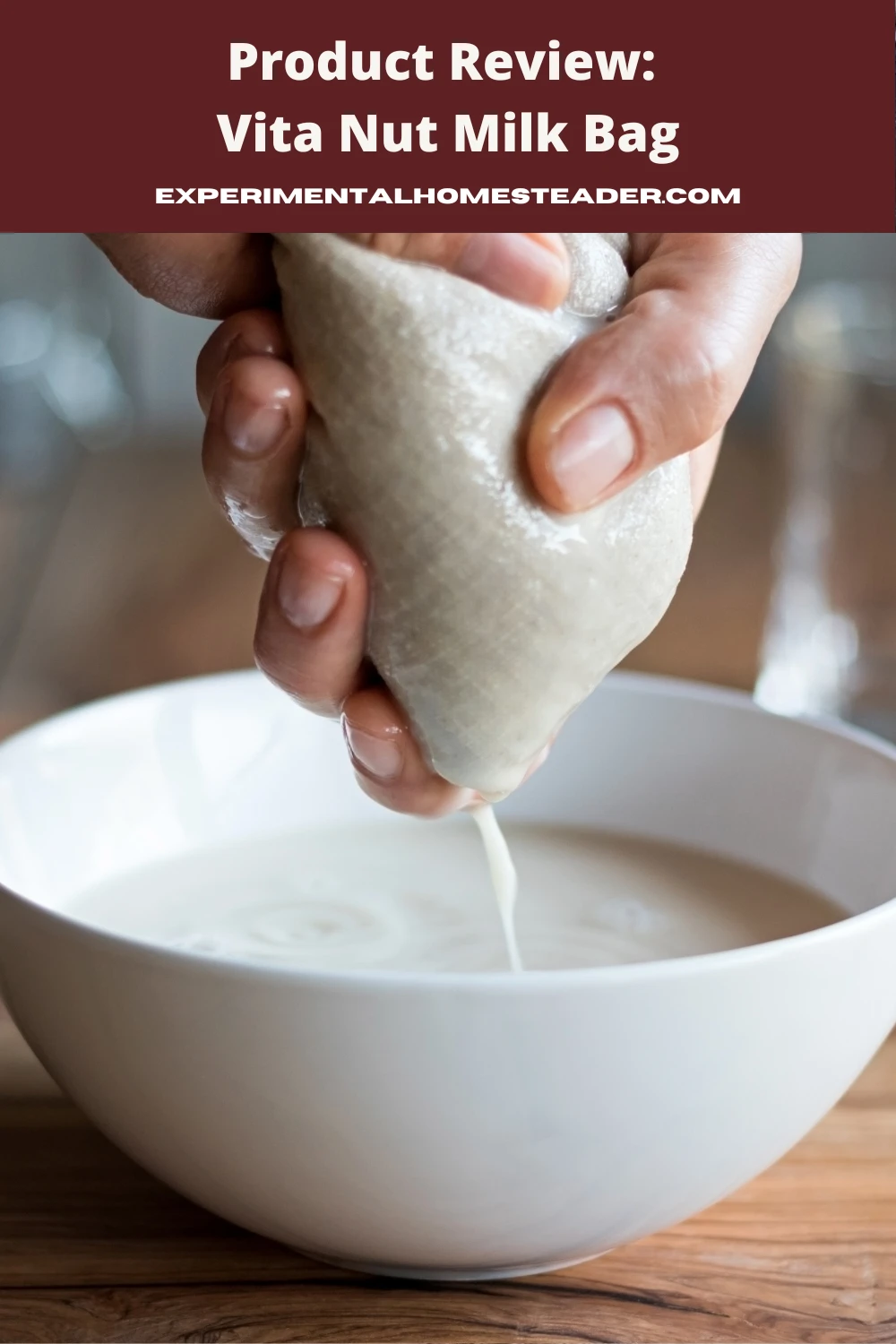 Other Uses For The Vita Nut Milk Bag
This bag is also ideal for straining cold coffee, pulp or seed from homemade juice and of course for making nut milk.
In fact any solid item that you need to strain out of a liquid, this bag could work for – but I do recommend using it for cold liquids and not hot ones.
Keep in mind that dark colored foods or liquids will stain this bag.
If this bothers you, I suggest getting a second bag so you can use one for foods or liquids that are dark in color and one for nut milk or light colored liquids.
The Durability Of The Vita Nut Milk Bag
The design of the bag is very smart as is the double stitching.
I have had no trouble with this bag tearing or coming apart at the seams and I have been using it since August 2014.
Now granted I do not use it daily, but during milking season it gets used a couple times a week.
The mesh is fine – much finer than the cheesecloth I use, so I feel like it catches more of the curds than what cheesecloth does.
The bag is large enough that it is easy to handle both before anything is put into it and afterwards when you are squeezing the last amount of liquid out of the contents of the bag.
If you are frequently needing a way to strain nut milk, cold coffee or juice take a look at this bag – if you can find it now as it is no longer available on Amazon.
I think you will find the design and the size is ideal for most of your needs.
If you are not able to find it, then I recommend going with another nut milk bag I have tried, the Zimtal Quality Nut Milk Bag.