Disclaimer: I received this item for free in exchange for my honest review. All opinions are my own.
Let's face it, a cold brew coffee maker isn't just for making coffee, although that is what this item was being sold to do.

The mason jar caught my attention because when you homestead there are many uses for large mason jars.
The stainless steel filter was also a plus, but before we get into all that, let me share this video with you that Jeffrey Rhoades made about the Cold Brew Coffee Maker that we received for review.
Alternative Uses For This Coffee Maker 
I did not want this for coffee, although there are many health reasons to drink coffee every day,  but I do not drink coffee and neither does Jeffrey.
I did however think of all the other things I could use it for – sun tea, herbal drinks, using sunlight to infuse herbs into oils or liquids and more.
The Best Cold Brew Coffee Makers Are Portable
This is a great item to take with you too – when you go camping or go anywhere where you might want your own coffee or tea.
It does not require hot water so you could take a jug of water with you to refill it.
It did come with several recipe ideas in a small pamphlet, however I had no interest in them, but you just might.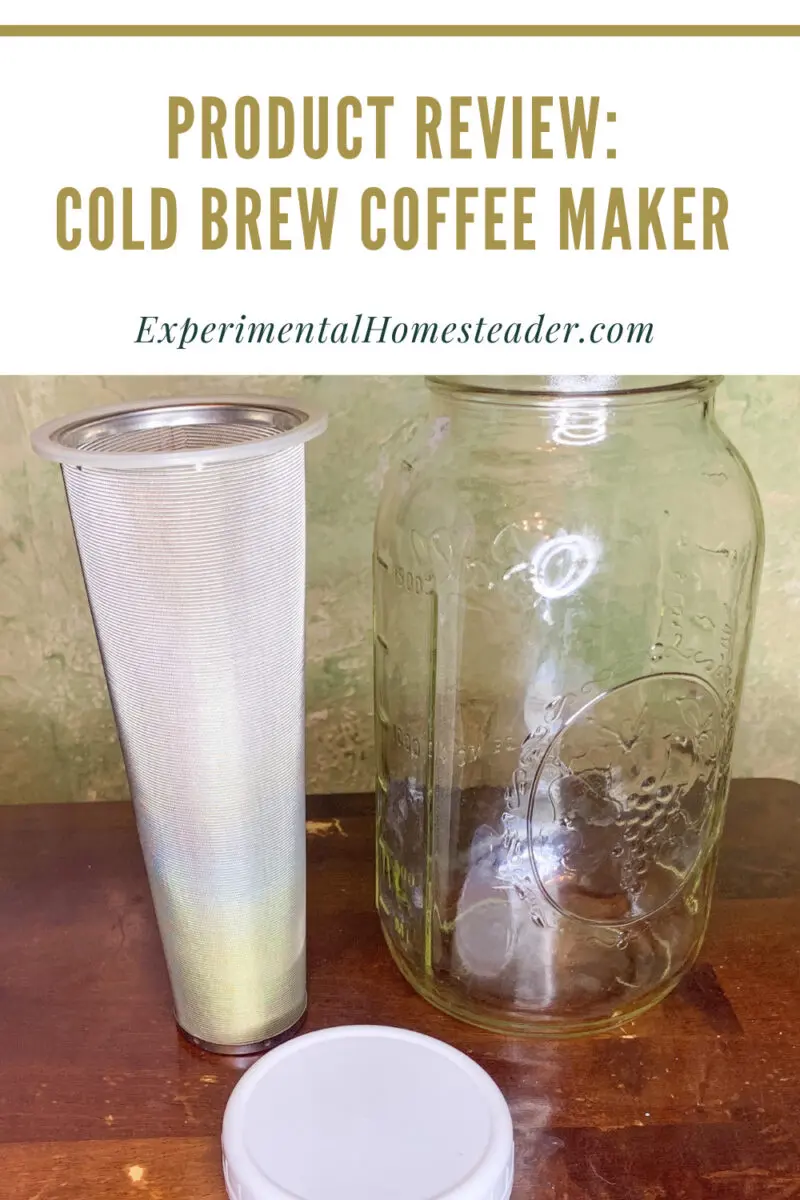 This Coffee Maker Takes Time To Work
The more coffee or herbs you put into the stainer, the stronger it will be.
Do expect to wait 12 to 24 hours before you can drink what you made unless you go ahead and use boiling water to speed up the process.
However that really isn't the way this cold brew coffee maker is intended to work.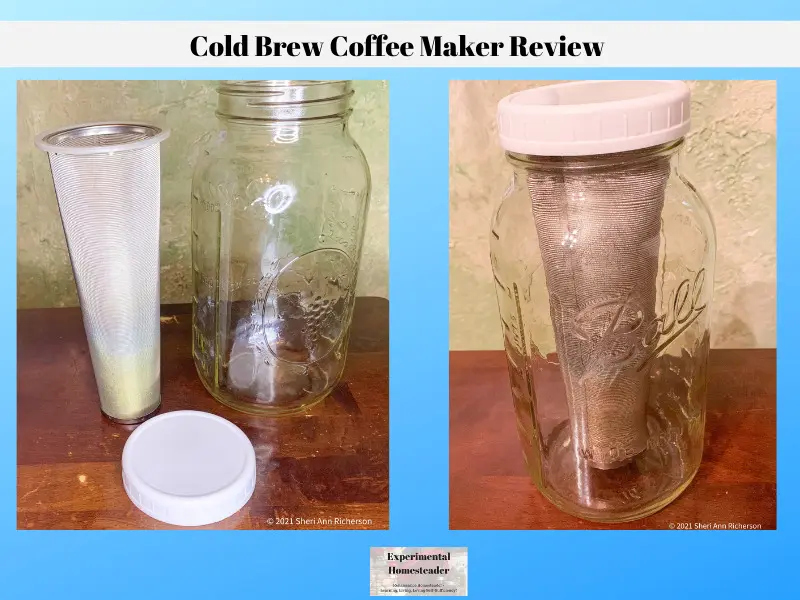 My Thoughts About This Cold Brew Coffee Maker
While Jeffrey did a great job going over the cold brew coffee maker in the video, there are a few other thoughts I have.
First of all, I love the heavy duty stainless steel filter.
It is sold, not wobbly or wonky and five years later it is still holding up!
No rust, no damage, no clogged holes.
The openings on it are small enough to keep loose leaf tea, coffee or cocoa nibs inside it yet large enough that water can easily flow through the filter.
I really do like this product and as I mentioned above, I am still using it five years later.
I think it is well made and the design was well thought out.
It comes with a Ball jar and regular plastic screw-on lid that you would buy for canning jars which makes me feel that much better about the product.
I also like that it is made with BPA-Free materials.
Click here to purchase the Cold Brew Coffee Maker – please note this is an affiliate link and I do get a small commission if you buy this item using this link.