Disclaimer: This is a sponsored post. I was compensated for posting this however I do love all of these items and truly feel they would make wonderful hostess gifts. All opinions are my own.
Hosting a party or holiday dinner is a labor of love, and showing appreciation for your host or hostess is a wonderful way to reciprocate their efforts.

While a heartfelt thank-you note is always appreciated, going the extra mile with a thoughtful gift can make a lasting impression.
In this holiday hostess gift guide, tailored for homesteaders, we've curated a selection of practical and charming gift ideas that will surely delight your gracious hosts.
Whether you're celebrating with a host or hostess, these items are perfect for making their homesteading life even more enjoyable.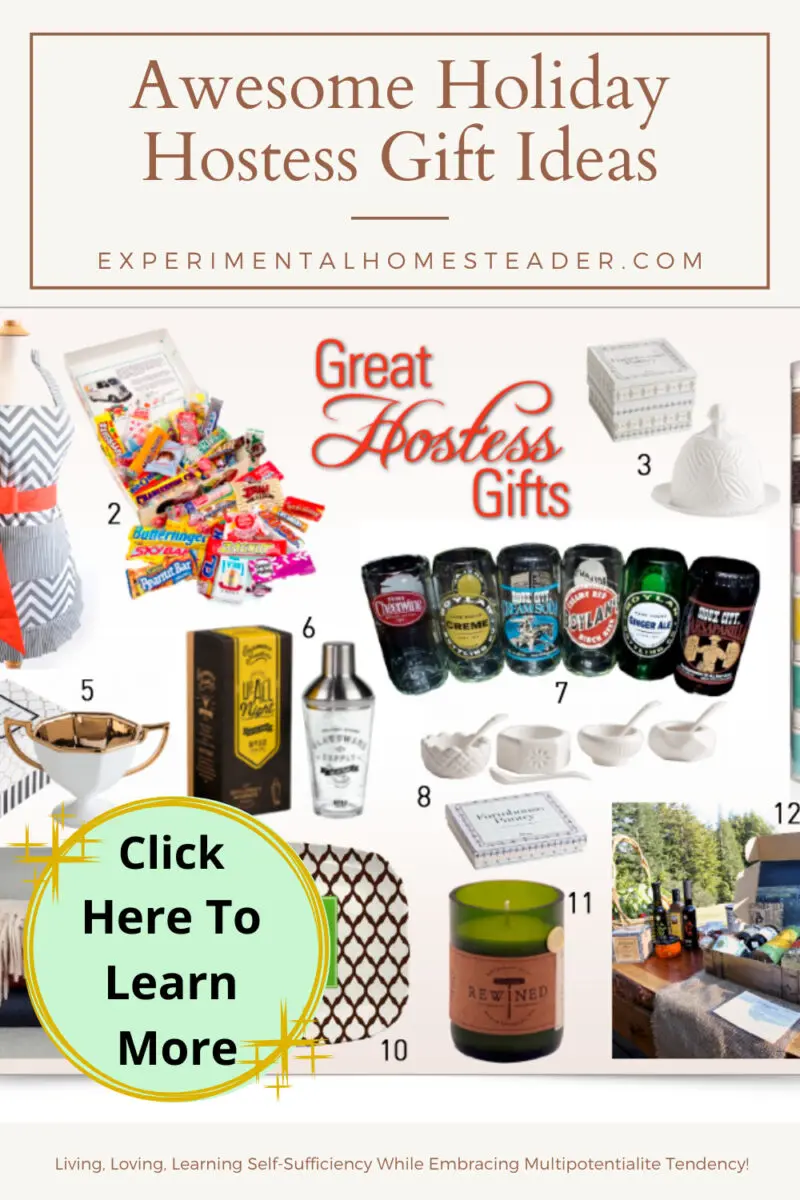 Apron: The Homesteader's Essential
An apron is a homesteader's best friend in the kitchen, and it's an ideal gift for both hosts and hostesses. We've selected two versatile options:
Hand-Painted Candles: A Touch of Romance
Unique and romantic, hand-painted candles are a delightful gift choice. Your host or hostess can use them for special occasions or as decorative pieces to create a warm and inviting atmosphere.
Glass Soda Bottles: Sustainable Sipping
For homesteaders who enjoy crafting their own sodas or fermented drinks, these glass soda bottles with EZ caps are a fantastic choice. They're reusable and eco-friendly.
Salt + Pepper Cellars: Elegant Tableware
Elevate your host or hostess's dining experience with elegant salt and pepper cellars. We've chosen crystal oval ones that add a touch of sophistication to any holiday dinner table.
Glass Cocktail Shaker: Mix It Up!
A glass cocktail shaker is a versatile tool that goes beyond alcoholic drinks. It's perfect for making flavored water and more. This set includes a muddler and a stainless steel jigger.
Box Of Tea: Seasonal Sipper
After the party or holiday dinner is over, your host or hostess can unwind with seasonal and festive tea blends.
Dip Set: For the Dip Aficionado
If your host or hostess is known for their delectable dips, this dip set is a delightful gift to complement their culinary skills.
Spreader Set: Spread the Love
This spreader set not only spreads joy but also keeps each spreader neatly organized during parties with its clever sayings.
Wine Tool Set: Cheers to Convenience
The Ozeri 5-Piece Wine Bottle Corkscrew & Accessory Set is a handy toolset for wine enthusiasts. Its storage container keeps everything organized.
Food Gift Box: Tasty Treats for All Occasions
A food gift box is a surefire way to please your host or hostess. It's practical, and they can enjoy the delicious treats during the holiday season.
Cheese Board Set: Cheese Lover's Dream
For hosts and hostesses who love serving cheese, this bamboo cheese board set with a slide-out drawer for cutlery is a thoughtful and functional gift.
Gift Basket: Versatile Gifting
Edible gift baskets are practical and versatile, making them a great choice for busy hosts and hostesses during the hectic holiday season.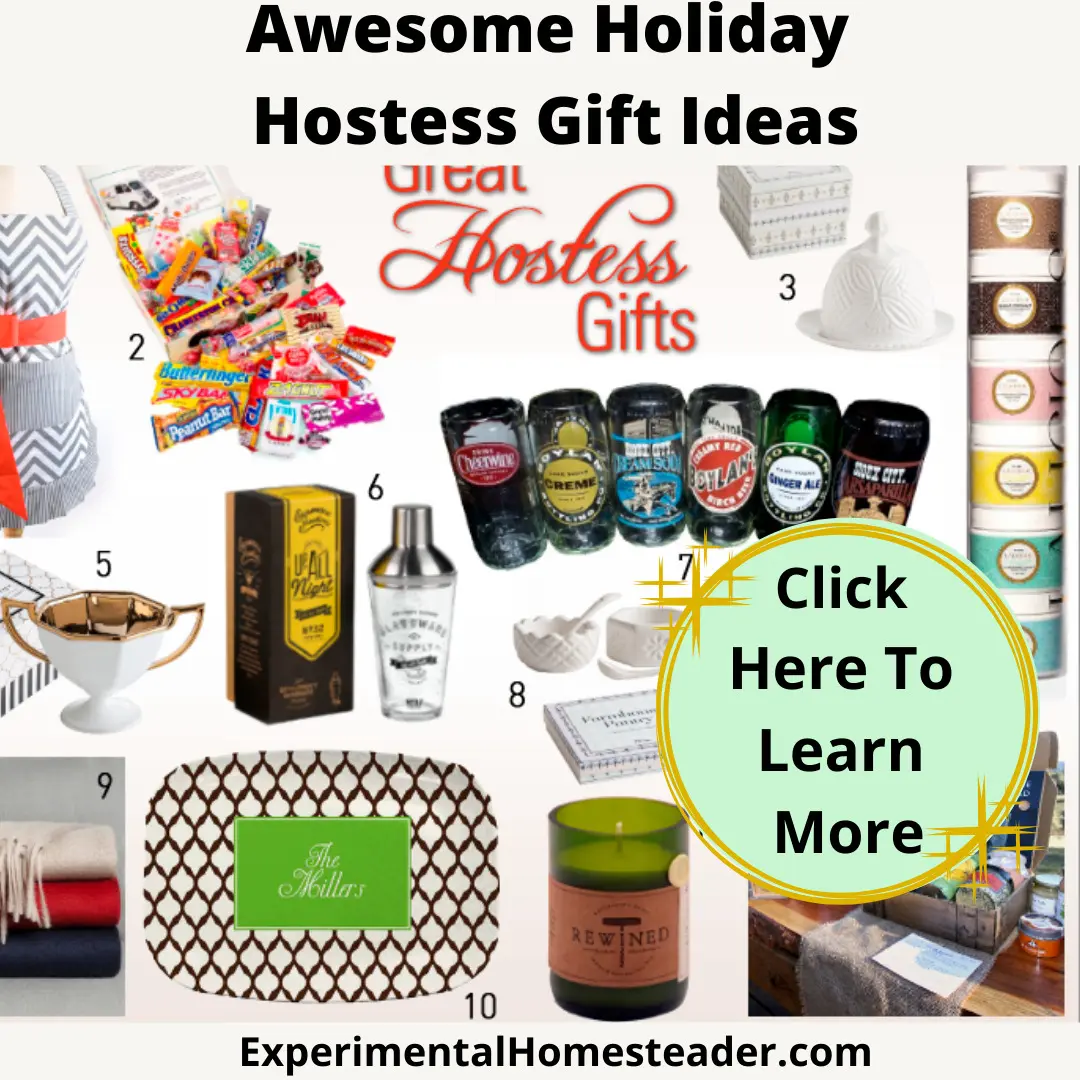 Other Awesome Hostess Gifts Ideas
In the spirit of homesteading, where hospitality is treasured, these thoughtful hostess gifts are a perfect way to express your gratitude and appreciation for your host or hostess's time, effort, and warm hospitality.
Whether it's an apron for the chef, hand-painted candles for ambiance, or any of the other carefully selected items, you can't go wrong with these thoughtful and practical gifts.
This holiday season, show your host or hostess that their hard work hasn't gone unnoticed, and make their homesteading life even more delightful with these wonderful gifts.
FAQ – Hostess Gift Ideas for the Homesteader
Q: Why are hostess gifts important for homesteaders?
A: Hostess gifts are a thoughtful way to show appreciation for the hard work and hospitality of homesteaders. They demonstrate your gratitude for their time and effort in hosting gatherings and celebrations.
Q: Are these hostess gifts suitable for both male and female hosts?
A: Absolutely! Many of the suggested gifts in this guide are gender-neutral and can be appreciated by both male and female hosts.
Q: Can I find these hostess gifts in local stores?
A: Some of these gifts may be available at local stores, but for a wider selection and convenience, you can also consider purchasing them online through reputable retailers.
Q: What's the advantage of glass soda bottles with EZ caps?
A: Glass soda bottles with EZ caps are eco-friendly and perfect for homesteaders who enjoy making their own sodas or fermented drinks. They're reusable, which reduces waste, and the glass material helps maintain the drink's flavor.
Q: How do I choose the right tea blend for my host or hostess?
A: When selecting a tea blend as a gift, consider your host's preferences. If they enjoy bold flavors, go for spiced or black teas. For a more soothing option, opt for herbal or green teas. The Tea Forté Warming Joy Petite Presentation Box offers a variety of festive options.
Q: What occasions are food gift boxes suitable for?
A: Food gift boxes are versatile and can be given for various occasions, including holidays, birthdays, anniversaries, and as a token of appreciation. They are especially convenient for hosts and hostesses during the busy holiday season.
Q: Are there alternative gift options for hosts and hostesses?
A: Absolutely! While this guide focuses on practical gifts, you can also consider personalized gifts, homemade treats, or items related to your host's interests and hobbies.
Q: Can I pair multiple gifts together for a more substantial hostess gift?
A: Of course! Combining a few smaller gifts from this list, such as an apron and a glass cocktail shaker, can make for a thoughtful and well-rounded hostess gift.
Q: Do these gifts work for other occasions besides the holidays?
A: Yes, many of these gifts are suitable for various occasions, such as birthdays, housewarming parties, or just as a gesture of gratitude for a lovely dinner.
Q: How can I make my hostess gift even more special?
A: Consider adding a personal touch by including a heartfelt note or card expressing your appreciation. You can also wrap the gift in a creative and festive manner to make it extra special.