Here are some ideas for Easter Brunch to help your family continue to celebrate Easter Day in a special way.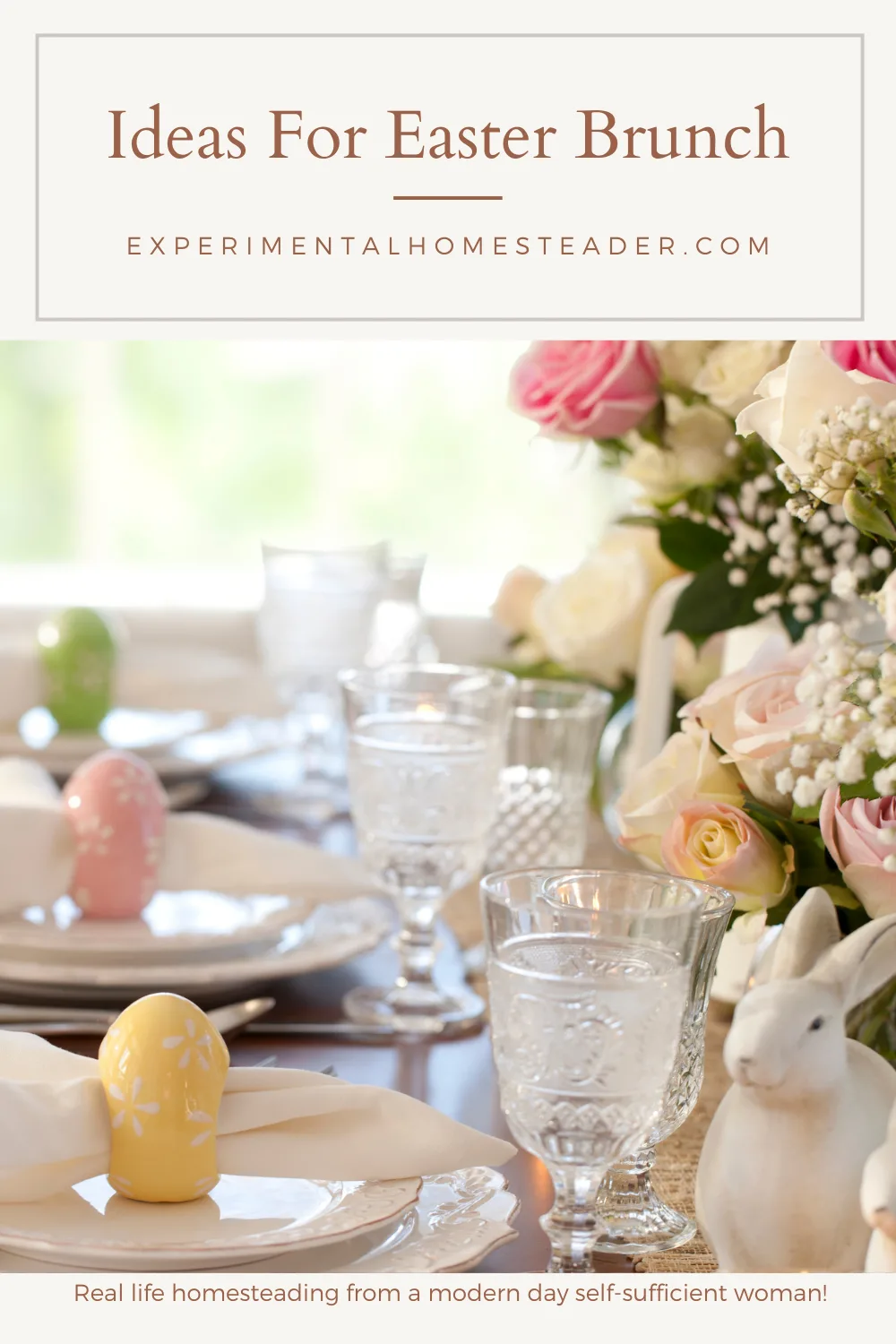 Easter Sunday Breakfast Ideas
Many families get up early to make it to sunrise services for Easter while others choose to sleep in.
Families that get up early might decide to skip breakfast or go with a very light snack to help tide them over until they get out of services.
Those who sleep in might be asleep during typical breakfast hours.
On Easter Sunday, one option to keep from going hungry after church services or when you do wake up is to decide to have a brunch instead of breakfast or lunch.
Fun Easter Brunch Ideas
Don't skimp on what you serve when planning the menu for your Easter Sunday brunch.
Easter Sunday only comes once a year so think about what your family likes that they don't get often and put those foods on the menu.
Instead of using your everyday dishes, create an elaborate tablescape with multiple levels that includes Easter decorations, place cards for each person and don't forget to choose a spring colored or festive looking tablecloth.
Light candles to add to the ambiance.
Tea light candles work well or use LED candles if you prefer.
Fill a vase with fresh flowers that are in season such as daffodils, crocus, and tulips.
You can add in some Forsythia or pussywillow branches that you forced for height and interest.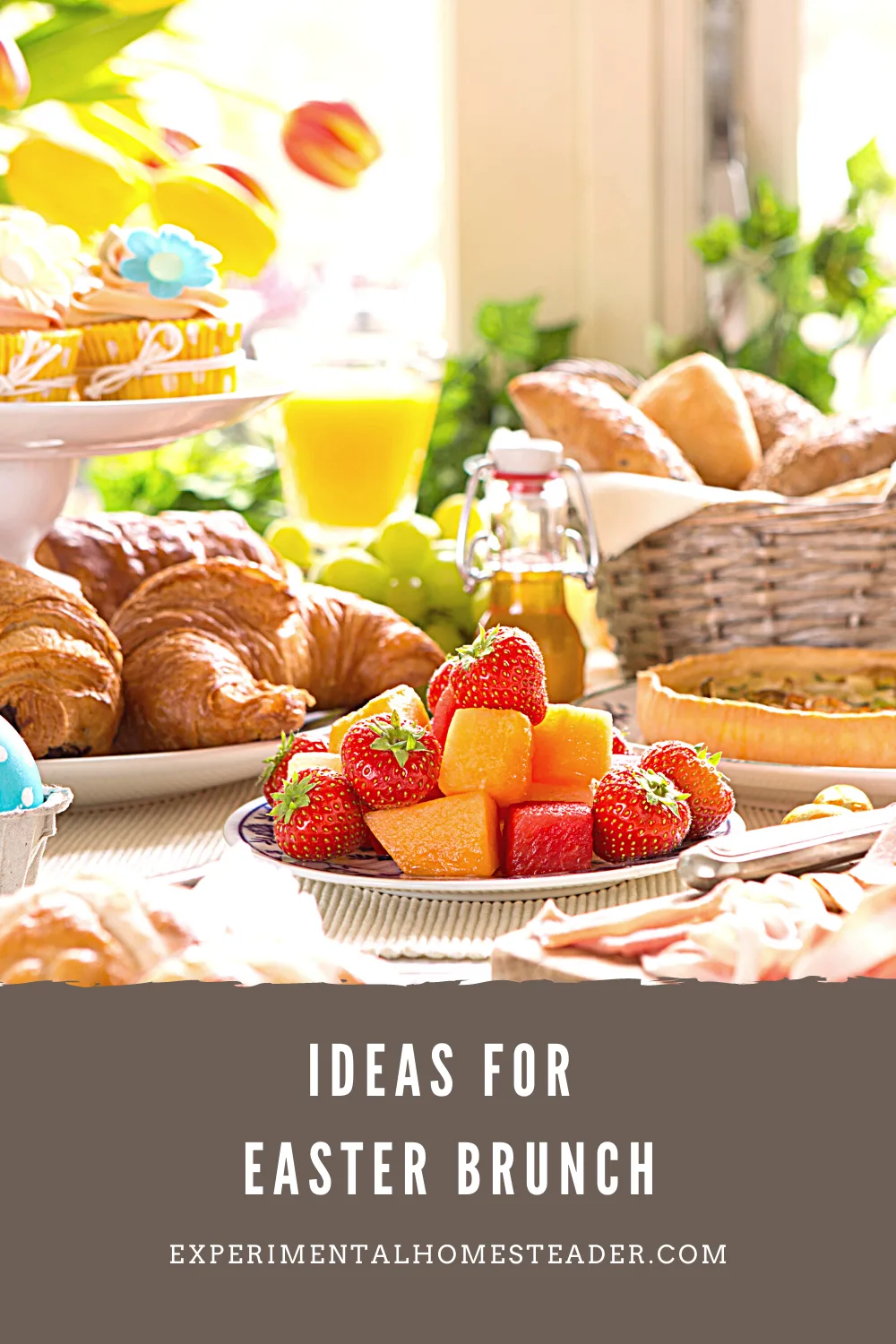 Easter Brunch Menu Ideas
Don't forget you can make edible chocolate bowls and fill them with eggs – real ones you have decorated or candy ones as well as favorite Easter candies, cookies or even small gifts.
Here are a few great ideas for foods to serve for your Easter buffet menu:
A fresh fruit platter with either melted chocolate or cream cheese dip
Fresh squeezed orange juice, apple juice, or juice cocktails made with sparkling cider or grape juice
Strawberry and Banana Stuffed French Toast – the recipe is below
Spinach quiche
Sausage balls – you can substitute ground beef, chicken or turkey for the pork
Baked omelet roll or other type of omelet or even deviled eggs
Home-made muffins, biscuits, rolls, speciality bread or banana nut bread
Chocolate or Easter candy
Cakes, pies or other favorite desserts. Be sure to check out this idea for Easter Basket Cupcakes.

Easter Brunch Recipes Should Be Memorable
Below is my strawberry and banana stuffed French Toast recipe that is ideal for an Easter Brunch.
It is something different and delicious.
Of course, you can alter the recipe by adding different types of fruit or even using a flavored cream cheese to come up with a recipe your family will rave about for weeks to come.
Print
Strawberry and Banana Stuffed French Toast
1

loaf French bread cut into 1 1/2 inch slices

2 tablespoons

strawberry jam

4 ounces

softened cream cheese

1/4 cup

chopped strawberries

1/4 cup

chopped banana

6

lightly beaten eggs

3/4 cup

milk

3 tablespoons

butter or margarine

1

10-ounce package of frozen strawberries in heavy syrup, thawed
Instructions
To make the filling, combine the strawberry jam, cream cheese, and fruit in a small bowl.
Cut your bread into 1 1/2 inch slices and make a pocket in each one by cutting a slit into the bread from almost the top to the bottom on one side. Be careful not to cut though the bread because this pocket is where your filling goes.
Put one heaping tablespoon of filling into the pocket and then close the pocket by pressing the sides together.
Put the eggs and the milk in a bowl and beat them until they are well combined.
Lay the bread – one slice at a time – in this mixture making sure to turn the bread over so both sides are coated.
In a large skillet, heat three tablespoons of butter over medium-low heat.
Once the butter is melted, place one to two pieces of the coated bread into the pan and cook it on one side until it is golden brown.
Turn the bread over and cook the other side.
Depending on the amount of French Toast you are making, you might want to put it into a 150 degree Fahrenheit preheated oven to keep it warm while you cook the rest of the French toast.
Notes
For those who have never made stuffed French toast and are not sure if this is something you want to try, let me say this recipe is really simple. In fact, once you try it, you might find yourself making it more often. This is a delicious French toast for breakfast on normal weekend mornings or for a special snack. This recipe makes enough for eight people, so if you are planning on more for your brunch, simply increase the recipe so you have enough for everyone.
Recipe Card powered by
Easter Recipes, Crafts + DIY
SaveSave
SaveSave