If you're looking for dinner ideas for tonight or even inspiration for your monthly dinner idea menu, be sure to check out the possibilities below.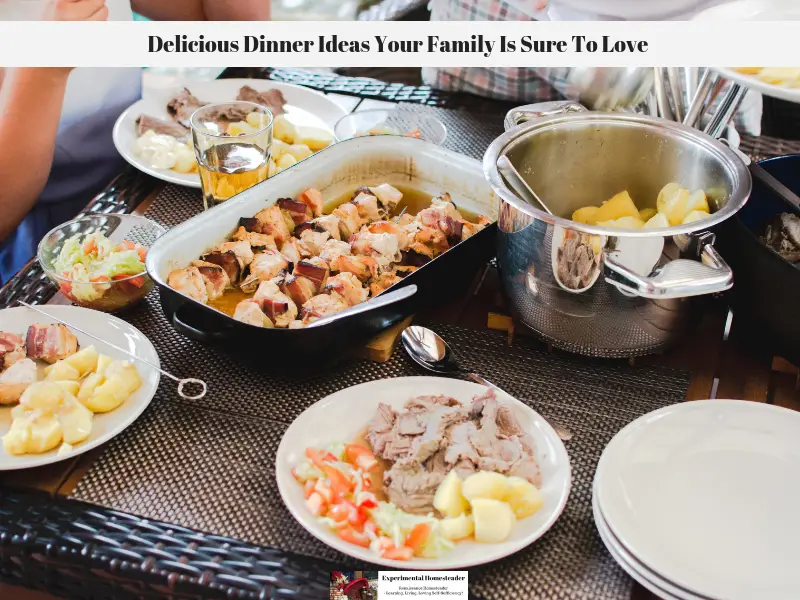 If you are looking for some really quick recipes that you can put together in half an hour or less, be sure to check out these Five 30 Minute Or Less Dinner Ideas For Tonight.
Here are some other dinner ideas by category.
Vegetarian Dinner Ideas
Roasted Veggie Dinner With Dijon Drizzle
Try This Simple, Delicious Vegetarian Dinner Idea Tonight
Chicken Recipe Dinner Ideas
How To Cook Cornish Game Hens Asian Style
Easy Sous Vide Cornish Hen Recipe
Fried Chicken Cast Iron Skillet Recipe
Best Oven Chicken Breast Recipe Using Cast Iron Skillet
Cast Iron Dutch Oven Garlicky Chicken Noodle Soup Recipe
Jiffy Baking Mix Chicken Pot Pie Recipe
Beef Recipe Dinner Ideas
Grass Fed Sirloin Tip Roast Sous Vide Recipe
My Easy One Pot Cast Iron Pot Roast Recipe 
Beef Roast In Cast Iron Dutch Oven Crockette
Top Roast Cast Iron Skillet Recipe
Top Round Roast Sous Vide Recipe
Swiss Steak Recipe For Cast Iron Skillet
Chocolate Cranberry Eye Of Round Roast Recipe
Pork Recipe Dinner Ideas
Pork Tenderloin Instant Pot Recipe
Essence Of Root Beer Crock Pot Roast
1.5 Quart Cast Iron Crock Pot Pork Roast Recipe
Slow Cooker Ham With Orange Honey Sauce
Cocoa Spiced Sous Vide Pork Chops Recipe
Cooking With Banana Leaves Pork Chop Recipe
One Of The Best Dutch Oven Rib Recipes
Fish + Seafood Dinner Ideas
Side Dish Dinner Ideas
Easy Dutch Oven Potatoes Recipe
How To Make Candy Yams – A Delicious, Easy Recipe
Pasta Recipe Dinner Ideas
Gluten Free Green Bean And Pasta Casserole Recipe
Best Lasagna Recipe For A Cast Iron Dutch Oven
Halloween Dinner Ideas
Halloween Main Course Dinner Ideas
Use the buttons on the right side to share this article with friends or family who might find it useful. Pin the picture below to your pinboard on Pinterest for future reference.