Cooking on a wood stove was the reality for everyone not so long ago, but today it is less common because there are more convenient ways to cook.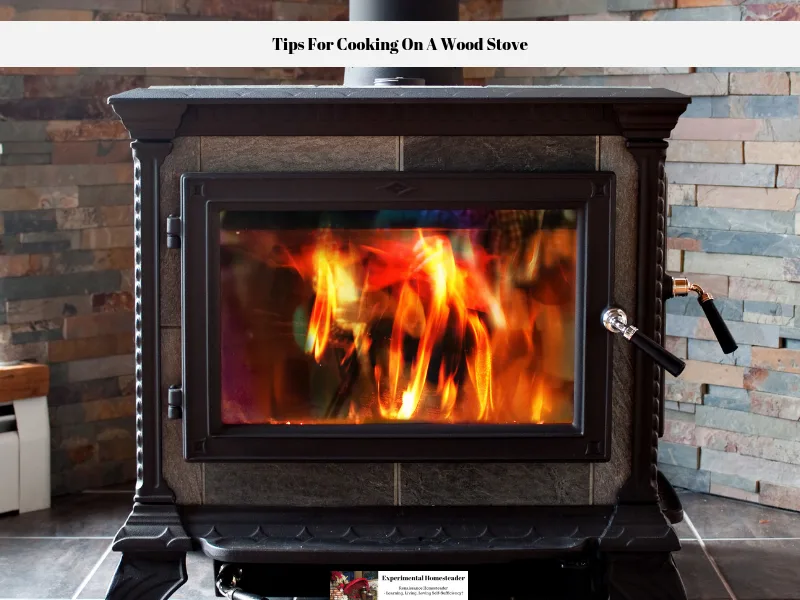 Wood Stoves – Then And Now
Today wood stoves and fireplaces are used to create an atmostphere for a romantic evening or just to relax and warm up a bit.
This was not the case in years past, nor is it the case for everyone today.
Many people put their fireplace or wood burning stove to use for more than just heating their home or providing ambiance.
It is a great way to cook, especially if you use one everyday to heat your home or if the power goes out during a winter storm.
So here are some tips for using your wood burning stove or fireplace for cooking – and remember once you learn how to cook on a wood stove you can easily adapt that knowledge to cook over an open fire during the summer months.
What You Need to Cook on a Wood Burning Stove
It is important to have the right utensils before you start cooking on a wood stove or fireplace.
The stuff you normally use in your kitchen might not work well because of the short handles.
You want utensils with long handles that are able to handle high heat, such as:
Roasting fork
Corn popper or chestnut roaster ñ has a wire basket you use to hold what you're cooking over the coals
Pie irons for grilling sandwiches
 Dutch oven – choose a cast iron Dutch Oven because it distributes the heat better and was made for cooking over an open fire. This will hang over the fire and cook or sit on top of your wood stove just like it would on a regular stove top.
Cast iron skillet or other types of cast iron cookware.
Cast iron trivet – these are used to sit food on inside the Dutch Oven. This keeps the food elevated so it does not come into direct contact with the bottom of the pan and scorch while it is being cooked.
Aluminum foil
Tongs
A fireplace shovel
Heavy duty pot holders, preferably ones made for use with cast iron pots and pans.
These are kitchen necessities you need when you want to cook on your wood burning stove or fireplace this winter, plus they work well during the summer when you cook outdoors.
How To Judge The Heat When Cooking On A Wood Stove
Knowing when the fire is ready might seem quite simple, but it's not really like cooking on your charcoal grill outside.
Add the wood to the wood burning stove or fireplace and let it burn for 30 to 45 minutes so the wood is hot enough to generate heat.
Any flame in its early stages is unpredictable in temperature because of the leaping flames and fluctuating temperatures.
This is why this type of fire is not the best fire to try to cook a meal on.
When a fire does not hold a steady temperature it will either burn your food or leave parts of it uncooked, neither of which is desirable.
Once the flames die down and there is a nice bed of coals, you now have the perfect temperature for cooking food.
Another way to know the temperature is regulated is to use a wood stove thermometer that is magnetic and attaches to the outside of the wood stove.
This works the same way an oven thermometer works.
For example, if you want to cook your food at 350 degrees Fahrenheit, simply wait until the thermometer lets you know that the wood fire has reached that temperature, then watch the thermometer to make sure the temperature holds steady.
Once the wood has burned down and the flames have died back, carefully move the wood around to make a nice cooking surface if you are cooking directly on top of the wood and if not, don't worry about doing this.
How To Speed Things Up When Cooking On A Wood Stove
Placing a few coals on the lid of your Dutch oven will make the food cook faster, however this is only advisable if you are cooking directly on top of the wood or if the cast iron Dutch Oven is hanging over the wood.
Do not do this if you are cooking on top of a wood burning stove.
Remember, you must keep adding fuel to the fire to keep the temperature steady, however it is best to add small pieces of wood instead of large logs.
Smaller pieces of wood, such as bundles of sticks hold the temperature steadier and there is less chance of your fire either going out or getting too hot when the larger logs catch on fire.
How To Cook Inside A Wood Burning Stove
You can bake white potatoes, sweet potatoes, onions, and apples inside your wood burning stove.
Just double wrap them in aluminum foil and lay them right on top of the wood just as you would do if you were cooking them on a charcoal grill.
It is ok to put some coals on top of the food if you want, but you do not have to.
Allow the food to cook for half an hour and then it turn over.
If one area of the inside of the wood burning stove or fireplace seems hotter than another area, move the food around to make sure it cooks evenly.
Another thing you can cook inside a wood burning stove is meals in aluminum foil, just like you would in an oven or on a BBQ grill.
How To Cook On Top Of A Wood Burning Stove
A Dutch Oven or any type of cast iron skillet, pot or pan is ideal for cooking on top of a wood burning stove.
The top of your wood burning stove can function as a slow cooker or as a stovetop .
A cast iron Dutch Oven is great for making stews, soups, casseroles, and roasts.
Simply place all of your ingredients in the Dutch oven, if you are making a roast, place the roast or other type of meat on top of a trivet, otherwise there is no need to use a trivet.
Place the Dutch Oven on top of the wood burning stove, uncovered and bring the contents to a boil.
Then place the trivet on the stovetop and move the Dutch oven on top of the trivet.
Put the lid on the Dutch Oven and let it cook all day, making sure to stir it from time to time.
A roast will be done in 3 to 4 hours.
Be sure to check on your food at least once an hour or to make sure the food is not sticking and the fire is hot.
If the fire dies down while you are cooking, build it back up again using small branches or twig bundles.
If the food seems too cool,  take the cast iron Dutch Oven off the trivet and allow to heat up directly on the stovetop, uncovered, just as you originally did.
Once the food is brought back to a boil, return the pan to the trivet.
If you are frying food, place the pans or skillets directly on top of the wood stove and use it just like you would a regular stovetop.
Final Thoughts On Cooking On A Wood Stove
This is how you can use your wood burning stove and fireplace to cook during the winter months.
This is a great way to heat your home and cook a meal all at the same time, especially if the power goes out.
However do not wait until an emergency to learn how to start cooking on a wood stove.
It takes time and patience to perfect the technique and just like any other skill, practice makes perfect.
I'd love to hear what your favorite meal cooked on a wood burning stove or fireplace is.
Feel free to leave that in the comment section below.
I highly recommend the following articles:
Use the buttons on the right hand side of the page to share this article with friends or family who might find it useful. Pin the picture below to your pinboard on Pinterest for future reference.