Disclaimer: I received this item for free in exchange for my honest review. All opinions are my own.

When it comes to hearing my facts about a whipped cream dispenser review, I give all my thoughts and opinions below.
I was fortunate to be able to use the Eurkitchen whipped cream dispenser and I'm sharing all the details with you! 
This is an awesome item that I am going to get a lot of use out of.
My First Impression Of The EurKitchen Whipped Cream Dispenser
The body and head are all-aluminum however the nozzles and caps are plastic.
It does take the standard 8 gram isi cartridges which do not come with this.
You can use chargers of N2O, N2, and CO2.
It does say not to use C02 to prepare whipped cream because it will curdle the cream!
I would love to be able to make carbonated fruit with this.
That was another reason I wanted one of these whippers.
The first item I made was whipped cream – because that was pretty simple but I intend to use it for foams and other molecular gastronomy creations.
It is one pint which makes quite a bit and is a good size for the home cook.
Those who want one of these for large parties might need a bigger one – or order two.
I keep mine in the refrigerator so it is ready to go whenever I am ready to use it.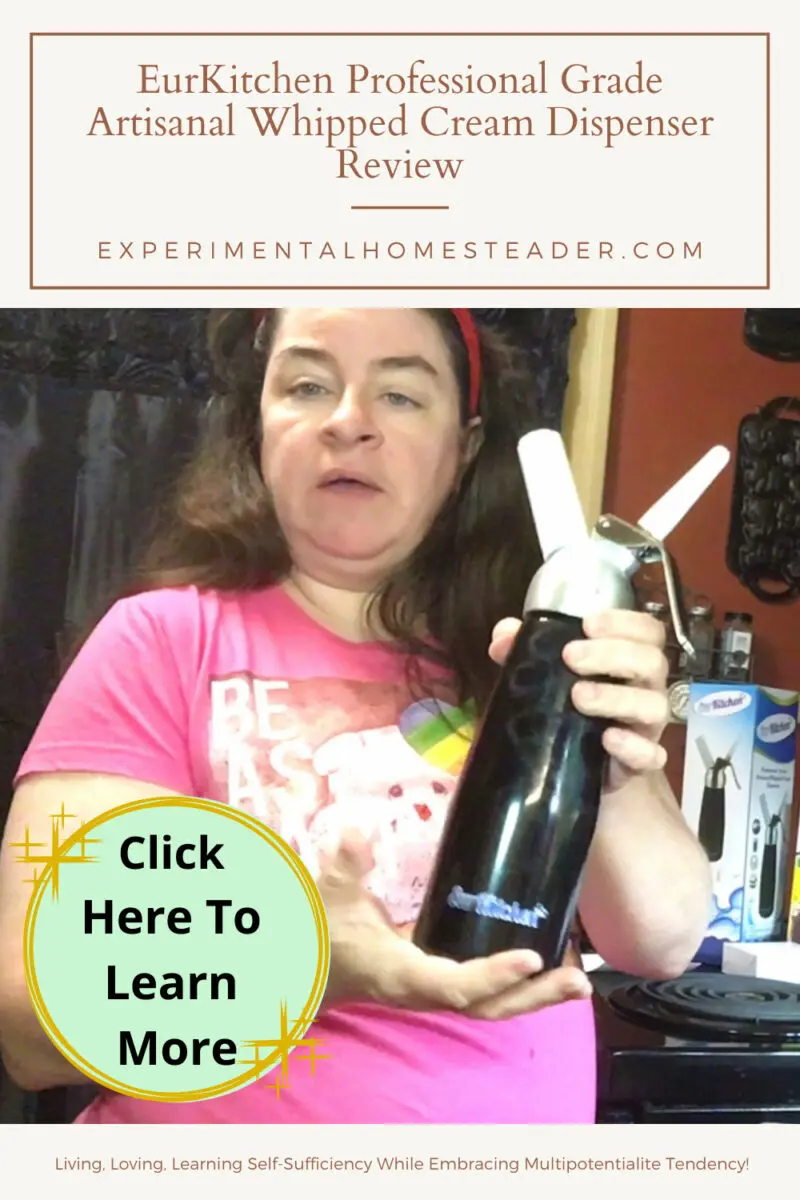 Eurkitchen Whipped Cream Dispenser Instructions
Be sure to read the directions carefully.
First you need to measure the heavy cream into the body, then screw the head of the whipped cream dispenser onto the body. 
Next choose one of the three decorator tips that come with it and screw those on.
Then slide a small nitrous charger into the charger holder, and screw the holder onto the head.
This will send nitrous into the cream.
Give the whipper a quick shake, hold the nozzle down and press the lever to dispense the cream.
That's all there is to it, but be aware there is a learning curve if you have not used one of these before.
It only took me a couple of seconds to figure out what I was doing wrong though and it was due to misunderstanding the instructions.
Once I figured out how to use it, I found that I loved mine!
It is easy to use, easy to clean and the whipped cream has lasted about a week so far.
I recommend finding and following the Eurkitchen whipped cream recipe because it is a great recipe to use! 
Tips For Alternate Ideas 
There are actually a lot of different ways that you can use this whipped cream dispenser!
Making fizzy fruit is one option that is really quite popular! 
Some people even use it to create a unique cocktail recipe as well. 
Don't just stop at whipped cream – use it for plush foams, savory sauces, sparkling beverages, creative decorative accents, and more!
While some people do use this to make butter, it is a little more difficult to do, so I do not recommend using it for that.
Please note, this whipped cream dispenser was designed for cold use only.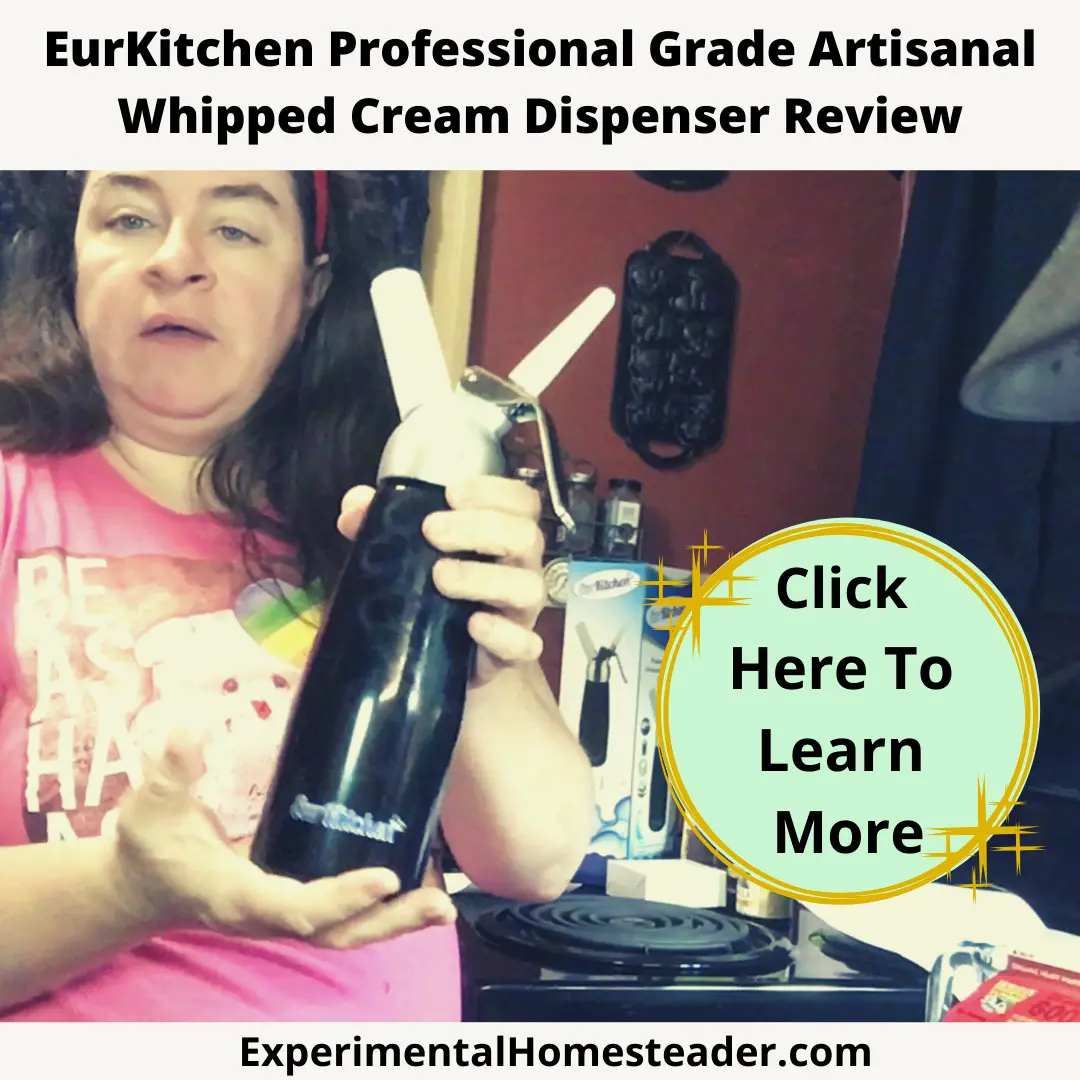 Why You Need A Whipped Cream Dispenser
I really do think that everyone needs a whipped cream dispenser in their life, especially if you're someone who likes to cook and experiment in the kitchen.
You can be as creative as you want with sauces, puddings, drinks, and more! 
Once you have this dispenser in your house, you'll be amazed with the creativity on all the ways that you can use it! 
How Long Will A EurKitchen Whipped Cream Dispenser Last?
The length of time this will last will vary depending on how you take care of it.
I've had mince since 2016 – and it still works great!
I make sure that I follow the directions and instructions for using it so that I don't have to worry about issues. 
I also clean it immediately after I use it.
How To Store A EurKitchen Whipped Cream Dispenser
I keep mine stored in the fridge so that it's ready to use when I'm ready to use it.
It's not overly large and doesn't take up a ton of space so I haven't run into issues at all with storage. 
Plus when I want to use it, the whipped cream dispenser is already chilled so I don't have to take the time to pre-chill it.