Disclaimer: I received Alpo Wholesome Biscuits to Review in order to write this post. I am not being compensated in any other form for helping spread the word about the new Alpo Wholesome Dog Biscuits. Alpo / Purina is not responsible for the content of this article.
Nestle Purina has introduced a brand new wholesome Alpo Dog Biscuit with real chicken flavor that is nutritious and delicious!

These new wholesome dog biscuits are 100% complete and balanced for adult dogs.
They contain 23 vitamins and minerals that support the healthy, active lifestyle many adult dogs have plus they contain calcium to help support strong teeth and bones.
With real chicken flavor that dogs savor, these dog biscuits help clean teeth, freshen breath and reduce tarter buildup.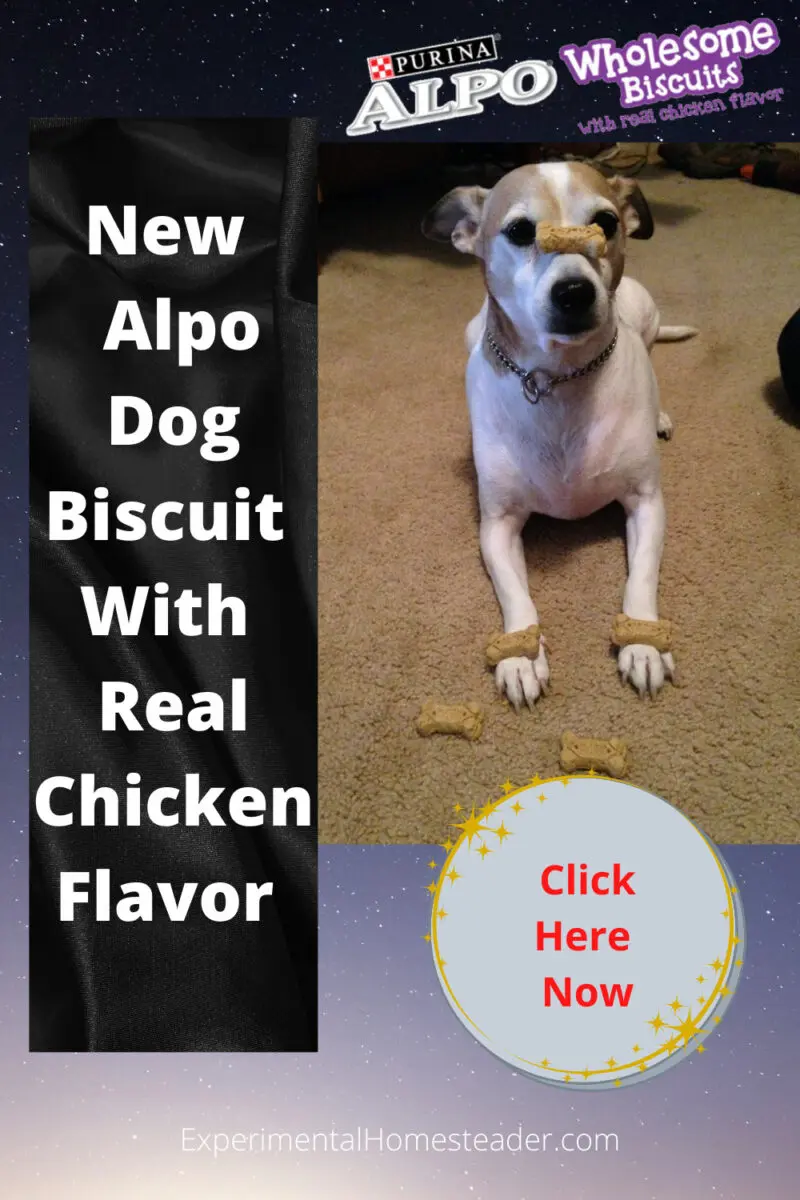 Purina Alpo Dog Biscuits Are Available For All Sizes Of Dogs
Purina Alpo makes dog biscuits for dogs of all sizes.
The new wholesome biscuits are no exception, they are available in three sizes – small, medium and large.
These new treats are very affordable and easy to pick up while getting your groceries or doing your regular shopping.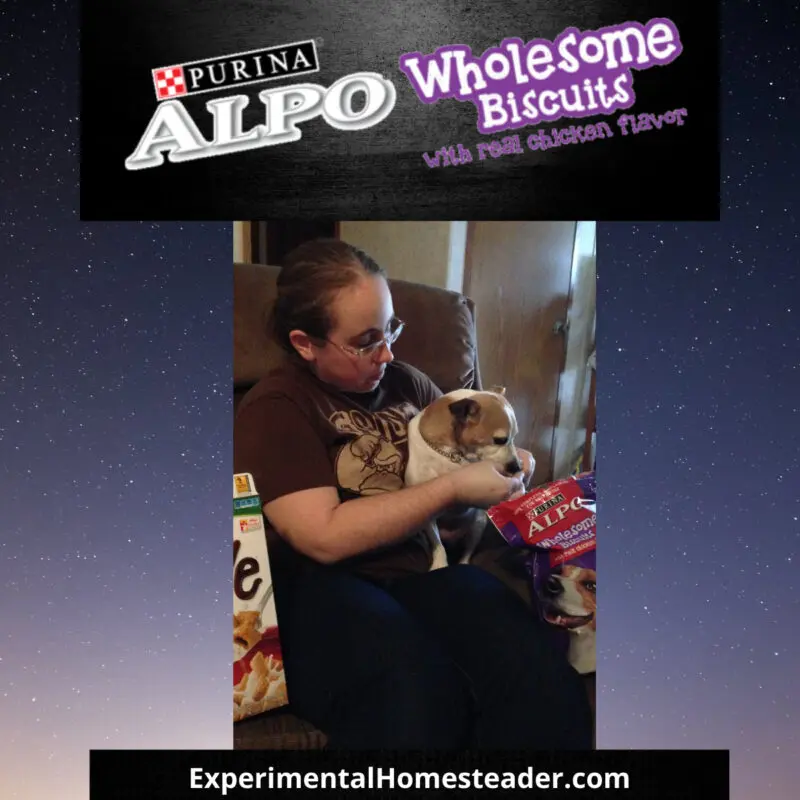 The Alpo Dog Biscuit Box Arrives
The day the UPS man brought the Alpo Dog Biscuit box to the door, Hoppy immediately began sniffing it.
He seemed to know that whatever was inside that box was for him.
He sat on my friends lap and watched as I opened the box.
Then he began to investigate.
He seemed anxious to get into the bag of treats but we made him wait until snack time to try the first dog biscuit.
He jumped up on my friend's lap first sniffing her treat, then settling down and waiting for his.
This was a new treat he had not tried before so he was a little hesitant to bite into the first treat, but once he tried them, he obviously wanted more.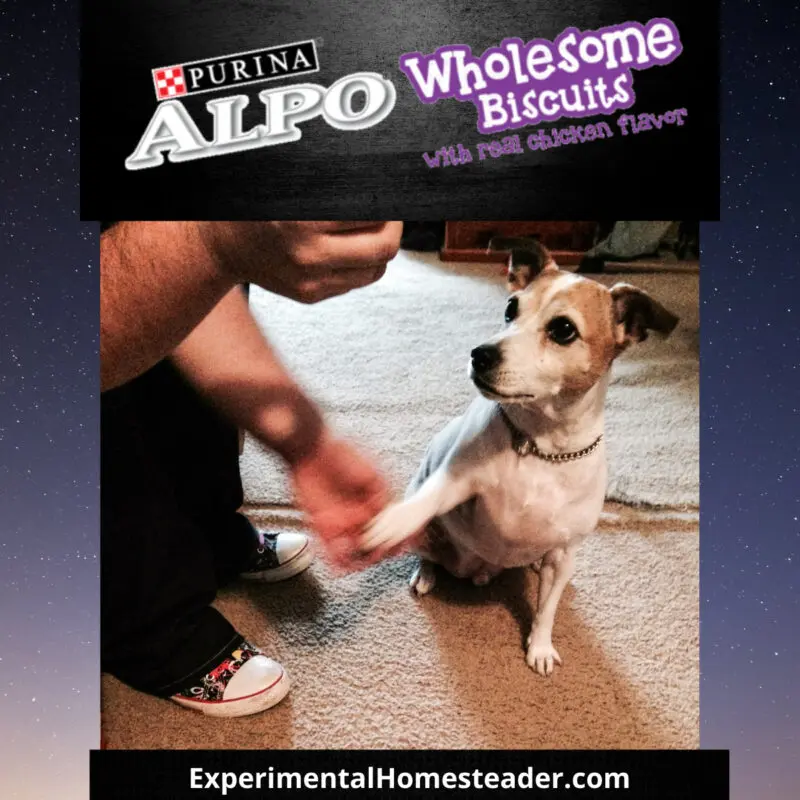 Hoppy Shakes Hands For More Alpo Dog Biscuit Treats
We decided the next thing he would have to do to get another Alpo Dog Biscuit was to shake hands.
He shook hands with my friend but his eyes never left the dog biscuit she was holding in her hand.
Once he had it, he ran over to another friend and jumped up on her lap to eat it.
Then he came back once again wanting more.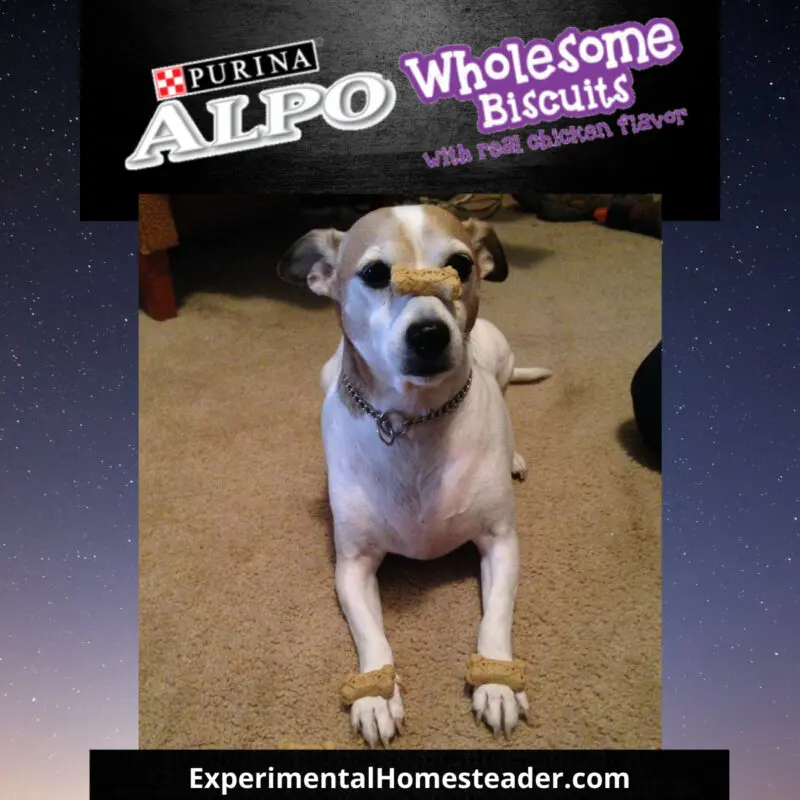 Hoppy Begs For More Alpo Dog Biscuits Than Does A Special Trick
This time we had Hoppy do a special trick where the dog biscuits were set on his front paws, in front of him on the floor and on his nose.
Once he was given the ok, he flipped the Alpo Dog Biscuit that was on his nose into the air and caught it without disturbing the other four biscuits.
Then he went after the other four gobbling them up.
Normally he would not get this many biscuits all at once but I wanted to see if he liked them.
Later that night the absolute proof came.
Hoppy – who normally does not get into things went sneaking around, grabbed the entire bag of Alpo Dog Biscuits and tried to get into them.
Luckily he was caught.
Alpo Dog Biscuits Include Things We Feel Are Important
When choosing a treat for Hoppy there are a number of things that are important and I feel these Alpo Dog Biscuits incorporate those things, which are:
Trust in the brand. Alpo is a brand I trust.
Taste. Dogs really do savor the real chicken taste.
Nutrition. These are 100% complete with 23 vitamins and minerals.
Breath freshening. They do help remove doggie breath.
Tarter buildup reduction. Plus they clean teeth.
Ingredients. Wholesome dog biscuits are important. So is calcium. Dogs need strong bones and teeth.
Size. They are available in 3 sizes – small, medium and large.
The Alpo Dog Biscuits in the photo above are for small dogs under 20 pounds.
Hoppy is an 8 year-old Jack Russell Terrier who weighs 21 pounds but I felt these biscuits were just the right size for him.
For more information be sure to visit the Alpo website.