Disclaimer: I did receive this item at a reduced price in exchange for my honest, unbiased review. All opinions are my own. There are also links below to products I recommend from companies I have a referral relationship with. If you click on the links and purchase an item I do get a small percentage of the money.

For the Leader Accessories Compound Bow Review video I am joined by Jeffrey Rhoades and Dustin Kellogg to talk about and test the Leader Accessories Compound Camo Bow.
I felt it was appropriate to share a little history with you about the compound bow and why it is a superior bow before I go further into my thoughts on this particular bow.
How The Compound Bow Came To Be
The compound bow was a revolutionary invention that changed archery.
The compound bow was invented in the mid-1960s by Howless Wilbur Allen, an American engineer.
In 1961 the launching of Hoyt Pro Medalist Bow inspired him to create a new bow with vertical stabilizers and a wheel.
The bow he created was one of the very first to have both of these features on it.
He harnessed the principle of the block and tackle pulley because he felt this would enhance a bow's performance.
The mechanics of the pulley system would allow a heavier weight to be drawn.
After continued experimentation, he found that round pulleys and cam-shaped wheels worked best and they were riding on off-set axles called "eccentrics".
The compound bow reached its peak weight in the middle of the draw; beyond this point, as the archer continues to draw back the weight of the draw is significantly reduced, allowing an average-sized archer to comfortably hold a very heavy weight.
The result is the compound bow he created gives an amazing flat trajectory to the arrow's flight.
In The Beginning Things Did Not Go Smoothly
It took several years for Allen to get anyone to manufacture the compound bow.
In part, this was because American laws prohibited the use of mechanical devices attached to bows thus the compound bow could not be used for hunting or in competitions.
Allen began making his own bows, sure that they would catch on and the laws would be rewritten.
However, he realized that his design had a major flaw.
The crossing cables in the center of the bow were interfering with the arrow's flight and stripping the fletching off the arrows.
It took him until 1967 to figure out he needed to add an extra set of "idle" wheels mounted at the center of each limb to prevent the problem.
These idle wheels were set at 90-degree angles to the limb-tip, and this allowed the cables to cross to one side of the center line so that they no longer interfered with the arrows' flight path.
With more research, Allen added riser-mounted gear-driven adjusters so the archer could use different cable lengths to attain different weights.
A Superior Bow
By this time, the compound bow or as it was often referred to, the "Allen bow" was a superior instrument.
The flatter, faster trajectory that an arrow could be given due to the increase in stored potential energy meant that a heavy hunting arrow would be able to find its mark with greater precision and fly with greater speed.
The lighter weight of the compound bow as compared to a recurve bow of the same draw weight meant that this bow was also more comfortable to use.
However, the sport's governing body still wanted nothing to do with it.
This is when the famous American archer and archery magazine editor Tom Jennings got involved.
He loved the idea and used his pull to get the governing body to begin reconsidering its stance.
Jennings published an article titled "A Bow with a Compound Interest".
This is when the compound bow found its way into archery.
From there the rest is history as they say.
Now I am going to share with you my thoughts on the Leader Accessories Compound Camo Bow that I received for review.
Getting Set Up
The compound bow has certainly come a long way from the early days of its existence and I for one am glad.
I had used a compound bow back in high school and loved it, so when I saw the Leader Accessories Compound Camo Bow I wanted it for myself.
When I was selected to review this bow I was thrilled.
It had been years since I shot a bow and the ones I had shot were set up for me so we took it to a friend's house who had all the extras – arrows, a backstop, etc. and let him help us get it set up right.
The manual was very vague which I did not like.
Neither of us had ever set up our own bow before and we wanted to be sure it was done right for safety reasons.
What Comes With This Bow?
The Leader Accessories Compound Camo Bow comes with a small tool kit, a two pin sight, and an arrow rest.
The draw weight is 55 to 70 pounds according to the paperwork so it is a great choice for someone who is just getting into archery.
With that said, this has some serious power and is not a toy.
The arrow rest is plastic – so if you are going to use this bow much, you need to upgrade that because plastic won't last.
The pin sights are ok for a beginner.
It does come pre nocked so you don't need to worry about doing that which again is great for a beginner however they are not permanent nocks so sooner or later you want to change that too.
The adjustments were standard for most bows, so there was nothing different there.
We did lower the poundage all the way down and decreased the draw length as well.
Final Thoughts
Overall we are very happy with this bow.
It is ideal for our needs and I look forward to using it for a long time to come.
It would make a great gift for someone new to archery or someone who wants to learn.
I highly recommend the following articles:
Use the buttons on the right side of the screen to share this article with friends or family who might find it useful. Pin the picture below to your pinboard on Pinterest for future reference.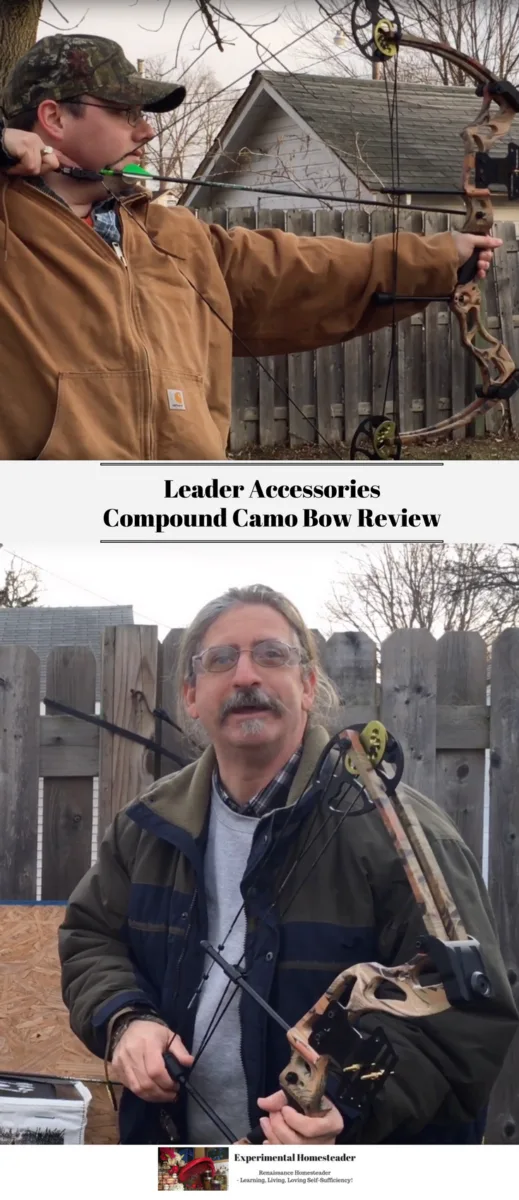 SaveSave
SaveSave
SaveSave