My cast iron Dutch Oven makes this easy dutch oven potatoes recipe a breeze – both when cooking it and when doing the cleanup.
It also gives the roasted potatoes such a unique flavor.

Not to mention how versatile a cast iron dutch oven is.
I chose to cook my roasted potatoes in the oven, but I could have just as easily cooked them in the dutch oven on a grill, over an open fire or even on or in a wood burning stove.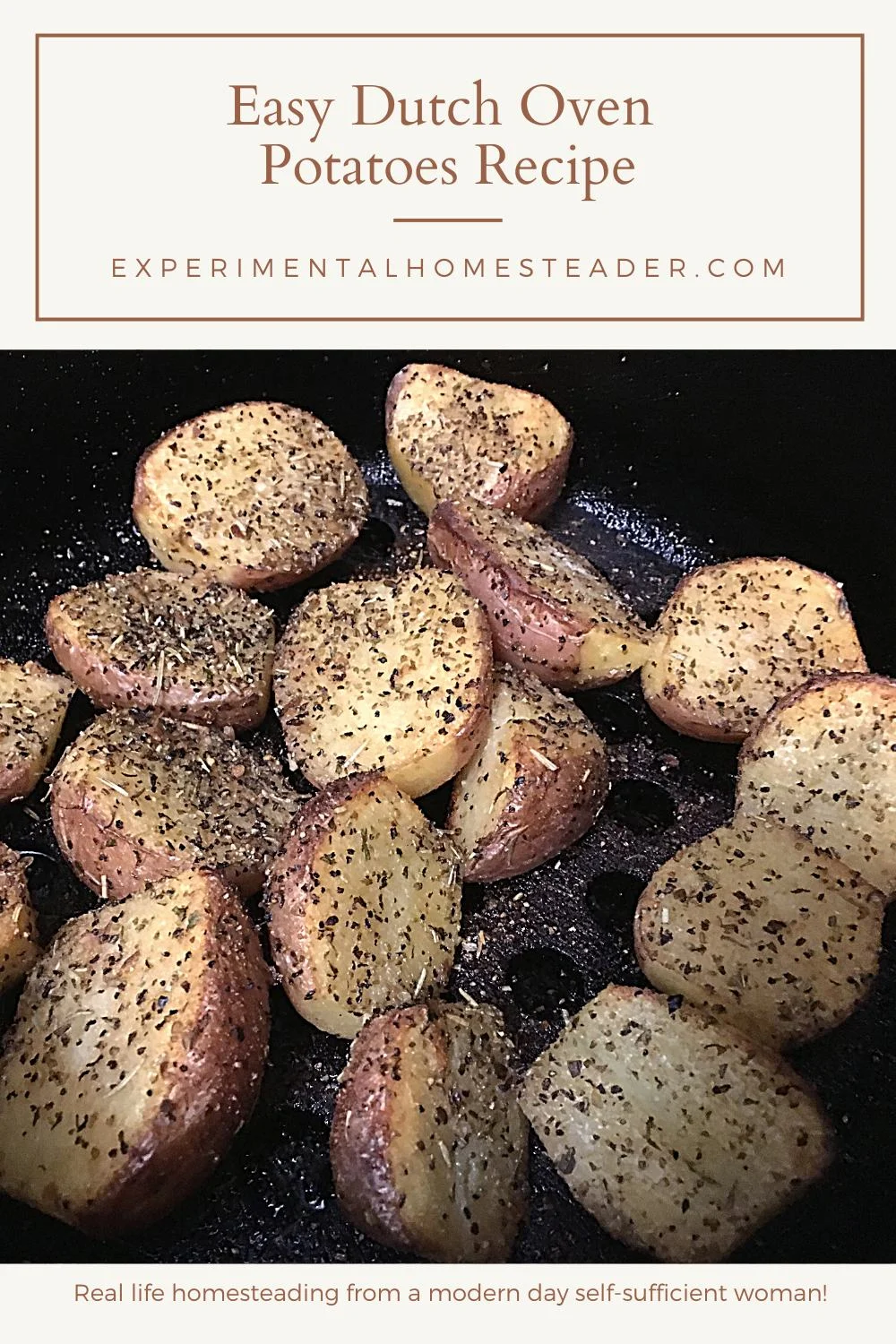 How To Make Dutch Oven Roasted Potatoes
I chose to make my dutch oven roasted potatoes in an oven, but this recipe is adaptable for a wood stove, fireplace or even an open fire as long as you know how to cook on those.
I love that you don't have to peel, boil or bake these potatoes first – just wash them, cut them up, season them and put them in the Dutch Oven then cook them.
If you are using small potatoes, such as fingerling potatoes, you don't even need to cut the potatoes up, but be aware that fingerling potatoes are slighly waxy.
Here are a few other varieties of potatoes you can use for roasting.
Yukon Gold
new potatoes
red potatoes
Russet potatoes 
Russet potatoes do make good roasted potatoes when cut small enough, but they are a bit starchier than other varieties of potatoes.
One way to remove some of the starch is to cut them up, rinse them well several times under cold running water until the water in the container is clear.
Another way to remove some of the starch is to rinse the cut up potatoes under cold running water then soak them in a bowl of cold water for several hours, but be sure to change out the water several times during this process.
Other Herb Combinations For Roasted Potatoes
Here are some other herb and spice combinations that you can use on roasted potatoes that taste just as good.
Print
Easy Dutch Oven Potatoes Recipe
8

New Red Potatoes

3 Tablespoons

Olive Oil

1 Tablespoon

Herbs de Providence

1 teaspoon

oregano

1/2 teaspoon

black pepper
Instructions
Cut the potatoes in half.
Pour the olive oil over the potatoes and toss to coat.
Place the potatoes in the cast iron dutch oven with the cut side facing up.
Sprinkle the Herbs de Providence, oregano and black pepper on top of the potatoes.
Place the lid on the dutch oven.
Place it in the oven and then turn the oven on to 400 degrees Fahrenheit.*
Bake for 50 minutes. I did not turn mine or remove the lid during this time.
Remove from the oven and serve.
Notes
*It is best to not preheat the oven so the cast iron can heat up slowly. Putting cold cast iron in a hot oven can cause it to crack.
Recipe Card powered by
Easy Dutch Oven Potatoes Meal In A Jar
For those who are looking for a way to create meals in a jar using this recipe, it will be slightly different, but it can be done.
The best option is to buy freeze dried diced potatoes in mylar bags 0r repackage them into small mylar bags with oxygen absorbers.
Then add the spices to a small bag.
Then add the bag of spices and the freeze dried diced potatoes to a large mason jar and seal with a lid.
You do not need to can the jar to seal it.
Instead I recommend using a vacuum sealer mason jar sealer attachment for wide mouth jars.
The potatoes and spices could also easily be put into a mylar bag to make them easy to transport when camping, hiking or bugging out.
Just remember you do need a way to cook them and carrying a Dutch Oven is not always ideal, so I recommend carrying some aluminium foil with you if you are traveling any distance.
While the taste of the recipe will be slighlty different when using aluminium foil instead of a cast iron Dutch Oven, you can at least eat well.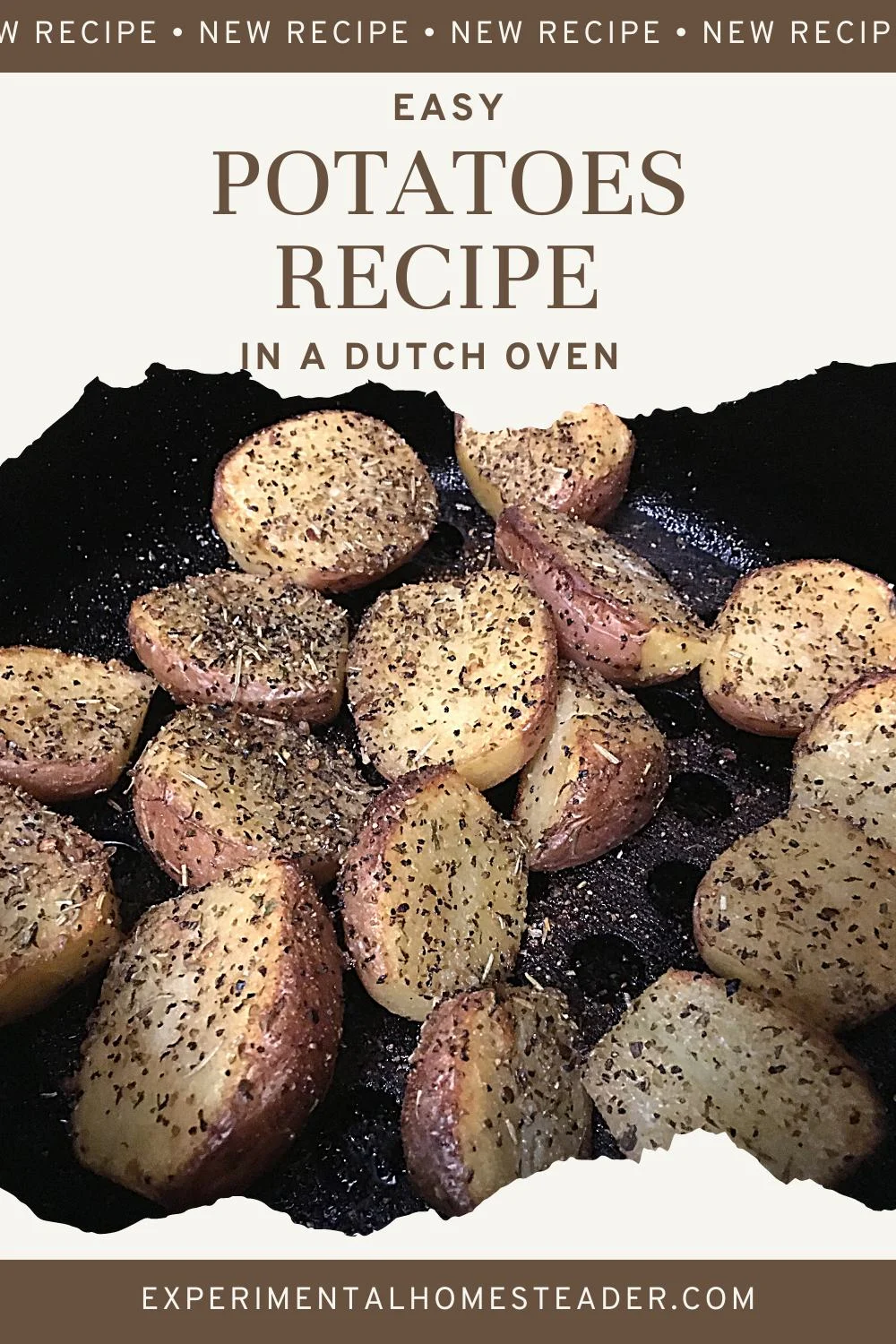 SaveSave