This is the best ever chicken pot pie as far as I am concerned. It is made from scratch right in your kitchen.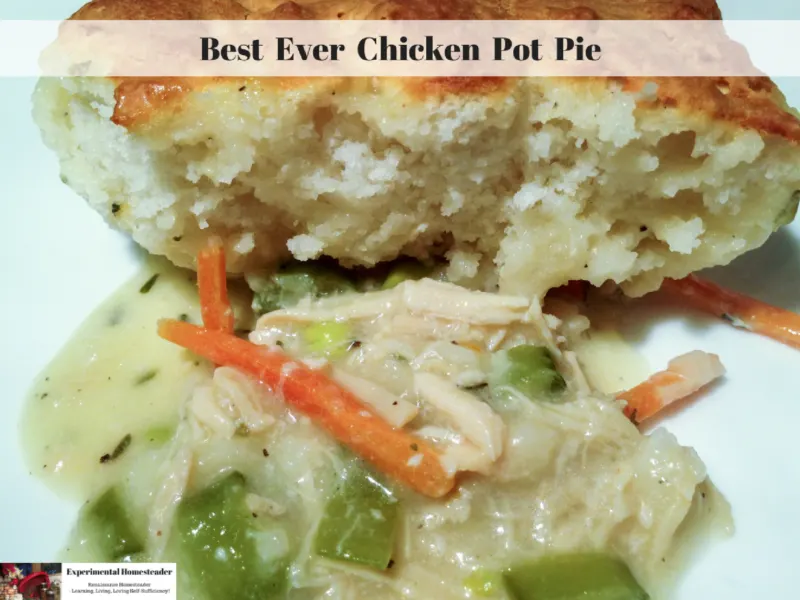 It takes about an hour to make from start to finish.
Here is my recipe and my story on how I came to feel this way about this particular homemade chicken pot pie recipe.
You also need to know there are links to products below that I recommend from companies I have a referral relationship with. If you click on a link and buy an item from that link, I get a small percentage of the money.
Growing up my Grandma King would make me store bought chicken pot pies in her toaster oven.
She used to say the toaster oven took so much less electricity than her large oven and to me the pot pies tasted just as good.
I didn't get chicken pot pies at home – and my dad used to complain about her fixing me a "special meal" when I was there.
Since I've grown up, I've favored beef pot pies over chicken pot pies – but they always had to be Banquet.
I've never even tried a from scratch chicken pot pie – that is until I went to visit a friend from my school days who moved back into town recently.
We talked about all the "good food from the old days that wasn't good for you." Pot pies came up.
She decided she would make us lunch.
She decided to make a chicken pot pie from scratch, I didn't know what to say. I was a little leery.
You see, not only had I never had a homemade pot pie recipe but I am super picky.
I totally flip out at the idea of eating at someone's house! I have no idea why.
Anyway, I watched her make it – and she kindly ran all the ingredients past me!
I had already told her I was pickier than her child and that is the honest truth.
When it came time to try it, I took a teeny amount.
Oh my gosh! It was delicious! Better than those store bought ones!
Healthier too I am sure since it was homemade and contained fresh vegetables.
I had seconds. It was that good.
Then I came home and wanted more.
I asked for her recipe but she doesn't use recipes, so I looked at numerous ones and came up with one that was close to what was in hers. It isn't exact – and I put way too much biscuit mix in mine – but Jeff said he liked it like that – so – I'll make it like that next time as well.
Here is my homemade chicken pot pie recipe.
Print
Best Ever Chicken Pot Pie
1

can chicken breast (

10 ounces

)

32 ounces

of chicken broth

1/2 cup

matchstick carrots

1/2 cup

sugar snap peas, chopped

1/2 cup

heavy whipping cream

1/4 cup

plus 2 Tablespoons flour

4 Tablespoons

butter

1/4 teaspoon

seasoning salt

1/4 teaspoon

pepper

1/4 teaspoon

thyme

1/4 teaspoon

garlic powder
drop biscuit dough
Instructions
Melt the butter in a skillet over medium heat.
Chop up sugar snap peas.
Add peas and carrots to the melted butter in the skillet and cook for three to four minutes.
Add in the chicken – including the juice.
Continue to cook for one to two minutes while using a spatula to break the chicken into smaller chunks.
Add the salt, pepper, garlic and thyme. Stir to combine.
Sprinkle the flour on top of the chicken mixture. Allow it to sit for one minute to absorb the liquid and then stir to combine it.
Add about 1/4 of the chicken broth and stir in into the mixture.
Continue cooking until the sauce begins to thicken.
Add half the heavy whipping cream, stirring to combine it.
Continue cooking the broth until it begins to bubble and thicken.
Add half of the remaining chicken broth.
Continue cooking over medium heat. Again, you want the broth to thicken.
Add the rest of the heavy whipping cream. Continue cooking.
Add the remaining chicken broth and cook until the mixture is slightly thick. You don't want it runny, but you don't want it too thick either as it will continue to thicken in the oven.
While the pot pie mixture is thickening, make your drop biscuit dough. You can use any recipe you like for this. I used a combination of water, milk and Jiffy baking mix.
Once the chicken, vegetable and broth mixture is thick enough to suit you, pour it into a baking dish.
Drop spoonfuls of the drop biscuit mixture on top of the chicken, vegetable and broth mixture. It will sink – do not worry about this.
Place the baking dish into the oven and bake at 400 degrees F for 20 to 25 minutes.
When you remove it from the oven allow it to sit for 10 minutes. Cut and serve.
Recipe Card powered by
I highly recommend the following articles:
Use the buttons on the right hand side of the screen to share this article with friends or family who might find it useful. Pin the picture below to your pinboard on Pinterest for future reference.
SaveSave
SaveSave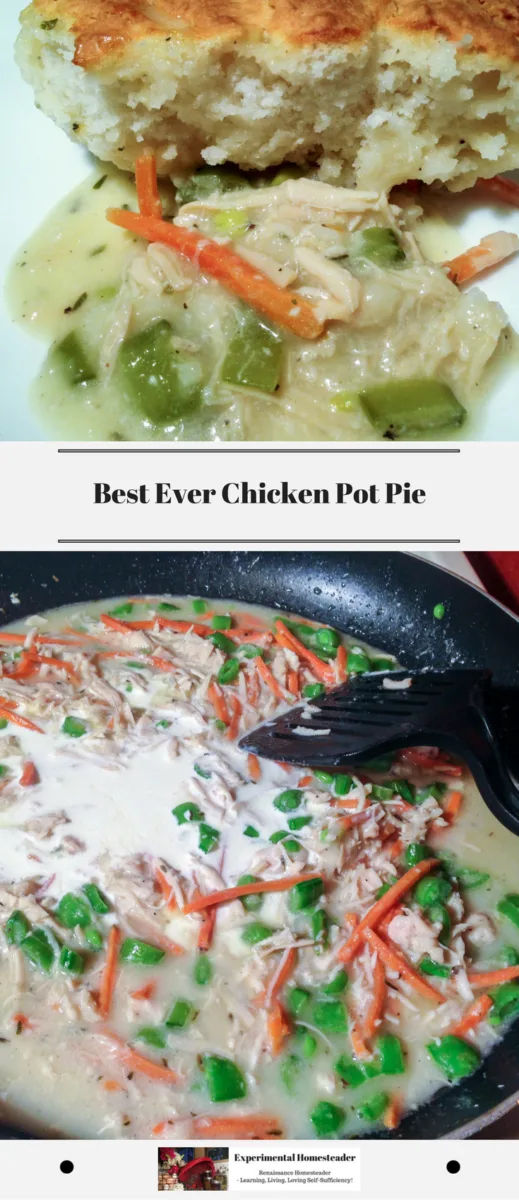 SaveSave