This cast iron potatoes au gratin recipe is designed to be made ahead of time using dehydrated ingredients so when it comes time to make it, all you need is water.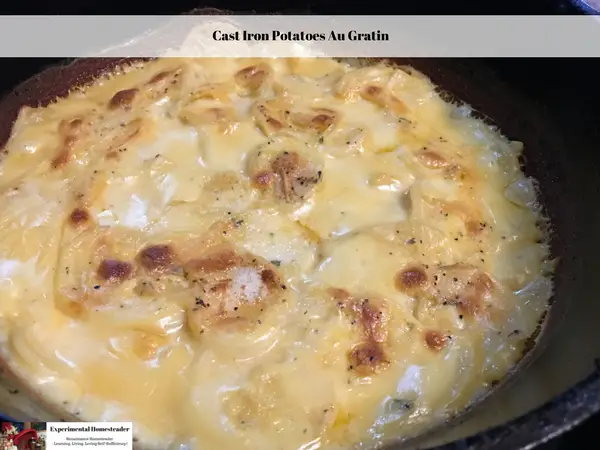 The Story Behind This Cast Iron Potatoes Au Gratin Recipe
During the potato harvesting season it is so easy to find excess potatoes that are less than perfect at local potato farms that they give away for free.
Typically we bring home 400 to 500 pounds of potatoes and while I do can a few, I dehydrate even more.
I also donate quite a few of those to local soup kitchens and food pantries.
That first year I did this, I had so many dehydrated potatoes and no idea how to use them because they were all sliced.
During a search for what to do with dehydrated potatoes, I came across this sauce recipe and then altered it to suit me.
It has served us well over the years and put all those potatoes to good use.
If you don't live near a potato farm, watch for sales on potatoes and dehydrate those, but be sure to take the time to blanch the potatoes before you dehydrate them, otherwise they end up really starchy and not so tasty.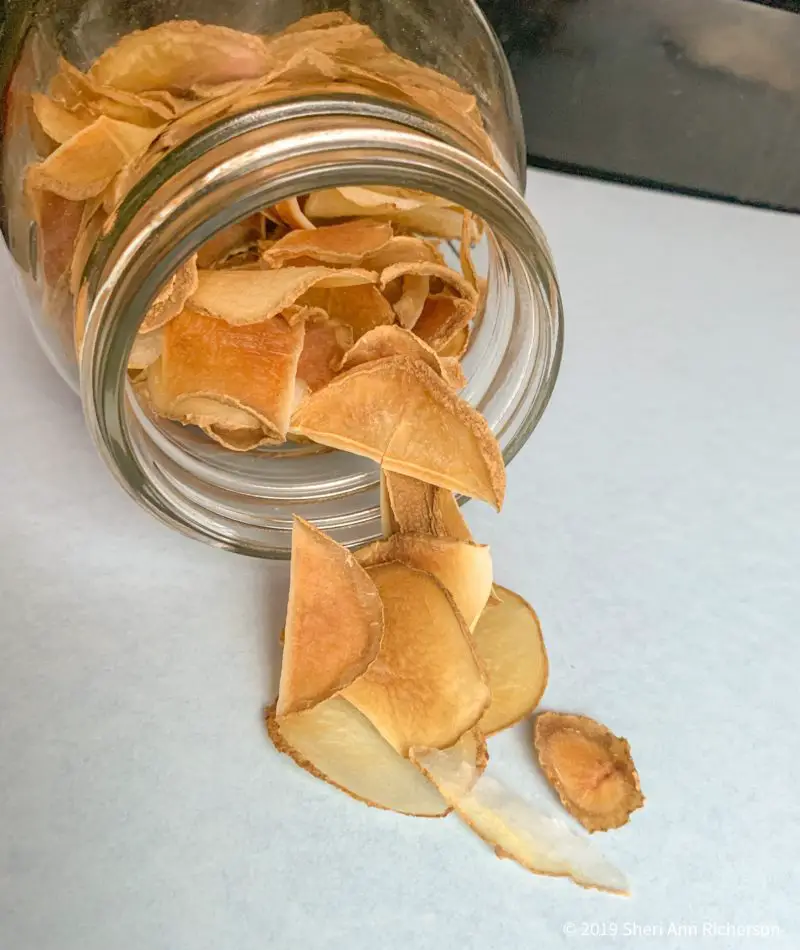 Stock Your Pantry With This Cast Iron Potatoes Au Gratin Recipe
This is an ideal side dish to store in your pantry, take camping with you or to use should the grid go down.
The recommended storage method, because it is easier for a lot of people, is a glass jar, but this recipe would be easy enough to seal in a mylar bag.
Using freeze dried potatoes instead of dehydrated ones would make the recipe last even longer!
About The Three Cast Iron Potatoes Au Gratin Recipes
I have broken the recipe down into three sections.
The first recipe is just the sauce mix.
The second recipe explains how to package it and what else you need to add.
The third and last recipe gives the information needed to make this cast iron potatoes au gratin recipe.
Be sure to print the recipe out and put it in the cans or mylar bags (affiliate link) so you know how to make the recipe when you are ready to.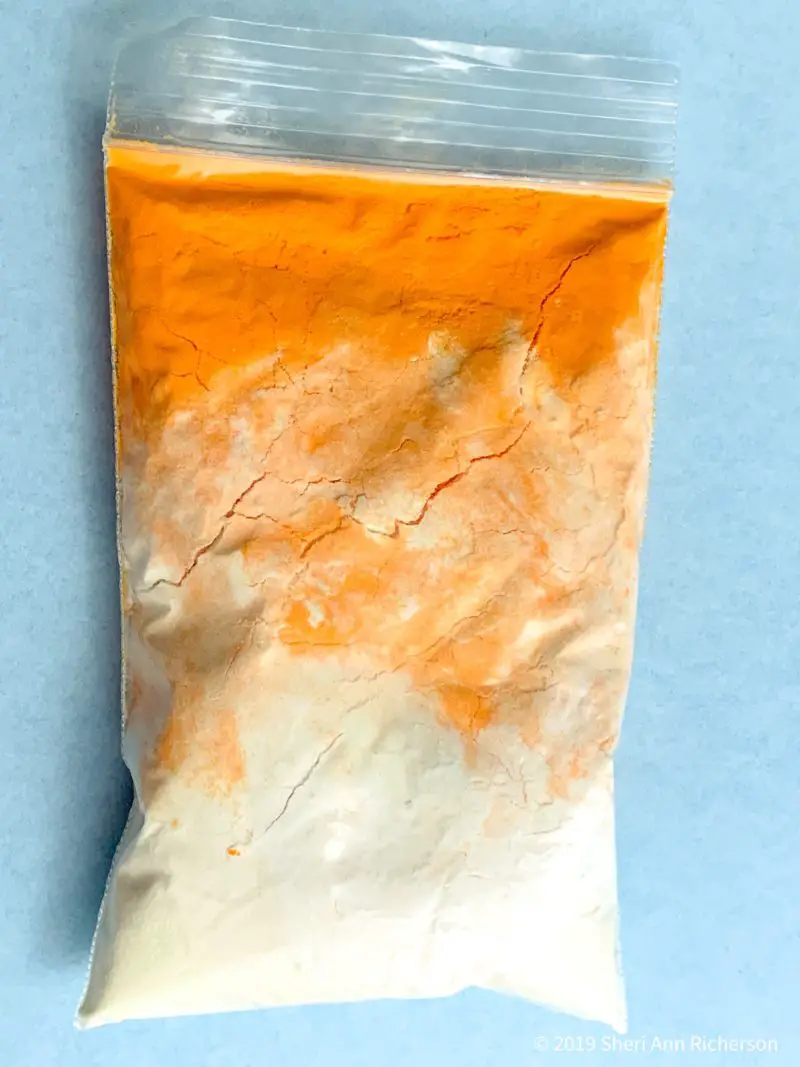 Potatoes Au Gratin Sauce Mix Recipe
This sauce mix works well with fresh potatoes too, so don't let the fact that you don't have any dehydrated potatoes stop you from making it.
Here is the sauce mix recipe.
Print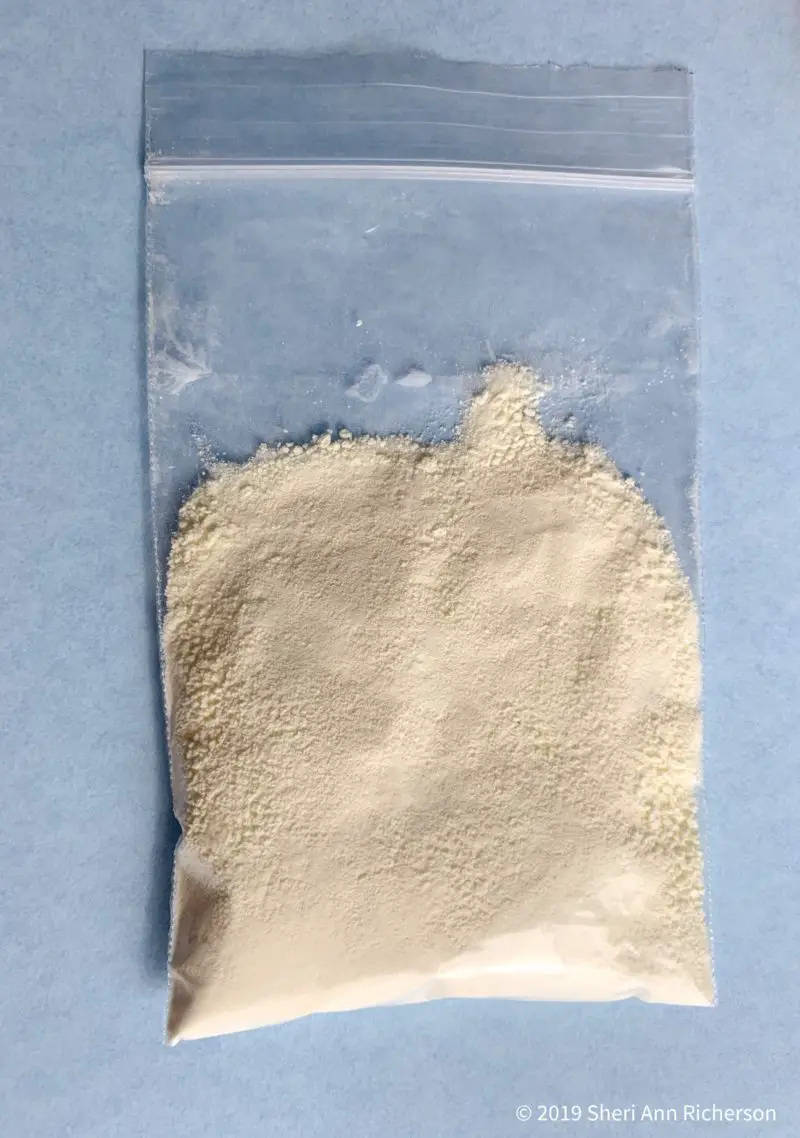 Cast Iron Potatoes Au Gratin In A Jar Or Mylar Bag
The recipe below explains how to assemble all of the ingredients needed, minus the water (affiliate link), to store.
As explained above, the container you choose to store your mix in is up to you, however even if you use mylar bags (affiliate link), putting them inside a glass jar makes sure no critters that might sneak into your house have a chance to ruin your food storage.
Here is how to assemble the cast iron potatoes au gratin recipe.
Print

Cast Iron Potatoes Au Gratin Recipe
Remember all you need to make this au gratin potatoes recipe is the container with the pre-made mix above and water.
For those who are using this recipe as part of their long term food storage plan, canning or storing the correct amount of water (affiliate link) with the jar or mylar bag is one way to make sure you have everything you need in one place.
Print
Final Thoughts About This Cast Iron Potatoes Au Gratin Recipe
I hope you will give this sauce recipe a try even if you use it on fresh potatoes.
In my opinion, this recipe is so much better than any of the boxed brands of au gratin potatoes.
Plus if I am looking for something a little different, I can add 1/8 teaspoon of thyme (affiliate link) or rosemary (affiliate link) to the recipe.
This is also a great recipe if your goal is to move away from processed foods.
Not to mention it is as easy to make as the boxed varieties.
If you have questions or comments, leave them below.
I highly recommend the following articles:
Use the buttons on the right hand side of the page to share this article with friends or family who might find it useful. Pin the picture below to your pinboard on Pinterest for future reference.