Disclaimer: This is not a sponsored post. I was not paid anything to post this recipe nor to promote their links. I did receive a bottle of Nielsen-Massey Pure Orange Extract and Pure Chocolate Extract to try. This is a recipe I thought my readers would enjoy because I enjoyed it. All photos are property of Nielsen-Massey and I was given permission to use them. This post, does however contain affiliate links which means if you click on a link and buy an item from that link, I get a small percentage of the money.
When this slow cooker ham recipe with orange honey sauce showed up in my inbox, I immediately asked Nielsen-Massey if I could share it with my readers.

November is such a busy month with all the holiday preparations going on.
It seems like you just get past Halloween, then there is Thanksgiving, Christmas and New Years to start preparing for.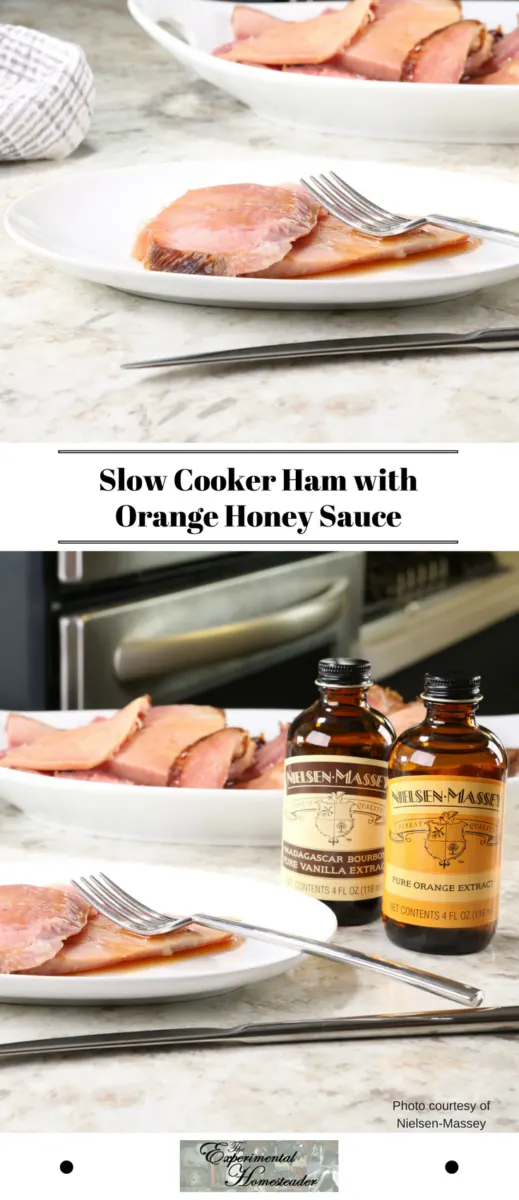 They said yes. so here is the recipe.
I have made this recipe and it is delicious!
Print
Slow Cooker Ham with Orange Honey Sauce
Author: Sheri Ann Richerson
Prep Time:

30 minutes

Cook Time:

6 hours

Total Time:

6 hours 30 minutes

Category:

Pork

Method:

Oven
Instructions
Pour 1/4 cup water into the bottom of your slow cooker.
Place the ham into the slow cooker with cut side down. Trim the ham if you need to so it fits into your slow cooker. Go ahead and put the ham trimmings in the slow cooker too.
Cook the ham on the low temperature setting for 5 to 6 hours or until the internal temperature registers 145 degrees Fahrenheit on a meat thermometer inserted into the thickest part of the ham. In the event you have a programmable slow cooker, go ahead and set it to 145 degrees Fahrenheit.
Once the ham reaches 145 degrees Fahrenheit internally, turn slow cooker off.
Stir the honey, 1 tablespoon Nielsen-Massey Madagascar Bourbon Pure Vanilla Extract and 1 teaspoon Nielsen-Massey Pure Orange Extract together in a small bowl and pour over the ham; let the ham sit covered with the slow cooker lid for 15 minutes.
Remove the ham from slow cooker and set it aside.
Carefully pour the juices from the slow cooker into a 1 quart microwave proof container.
Microwave on high for 5 to 10 minutes or until the mixture reduces to 1 cup. You can do this on the stove top if you prefer.
Stir in the remaining 1 teaspoon Nielsen-Massey Madagascar Bourbon Pure Vanilla Extract and 1/4 teaspoon Nielsen-Massey Pure Orange Extract, then set the sauce aside.
Cut the ham into slices and place on serving platter. Pour the orange honey sauce over ham and serve immediately.
Recipe Card powered by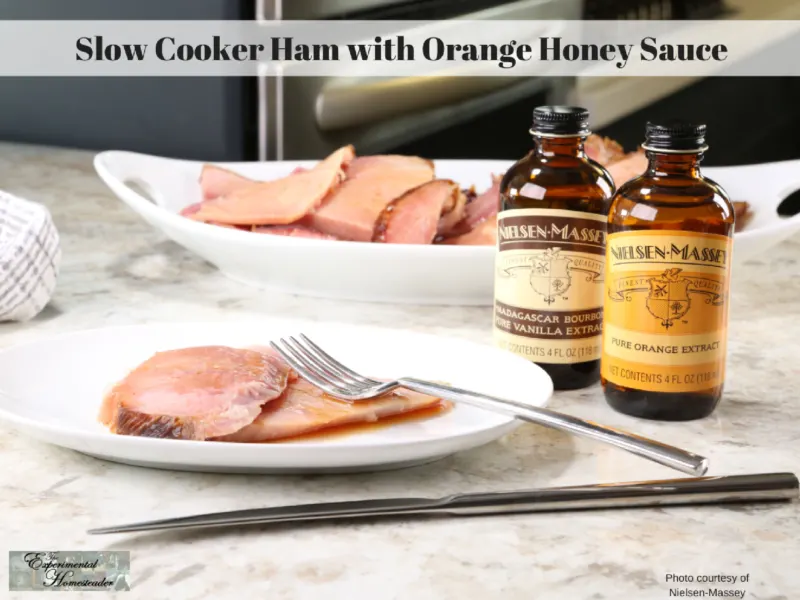 They also were kind enough to send me a bottle of their Nielsen-Massey Pure Orange Extract
so I could try the recipe myself. 
This recipe is super easy and perfect for a holiday meal!
They also sent a bottle of their Pure Chocolate Extract for me to try.
SaveSaveSaveSave