Learn how to cook Cornish game hens Asian Style with this inspired recipe.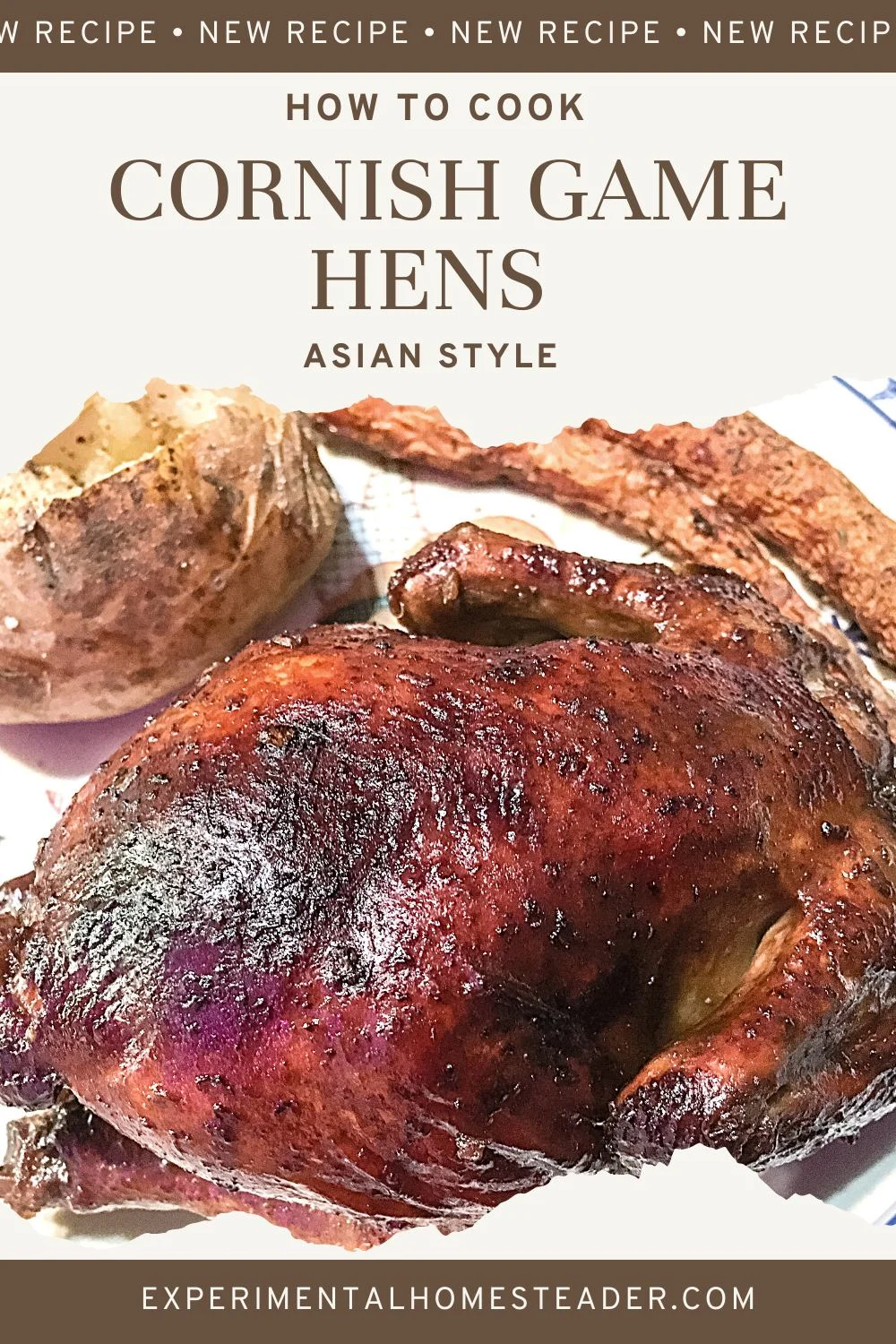 The Story Behind The Recipe
Sometimes recipes don't turn out quite like I hoped. Often times they turn out better than anticipated.
I had a Asian Cornish Hen recipe I had used for years – torn off the package of a Cornish Hen I once bought.
It was lost – and I really wanted an Asian Cornish Hen so I turned to Food & Wine Magazine.
I found a recipe that was similar to the one I had called Soy-Ginger-Lacquered Cornish Hens and decided to try it.
With no way to go to the grocery store and being out of or short on ingredients, I improvised like I often do and came up with this delicious Asian Inspired Cornish Hen Recipe.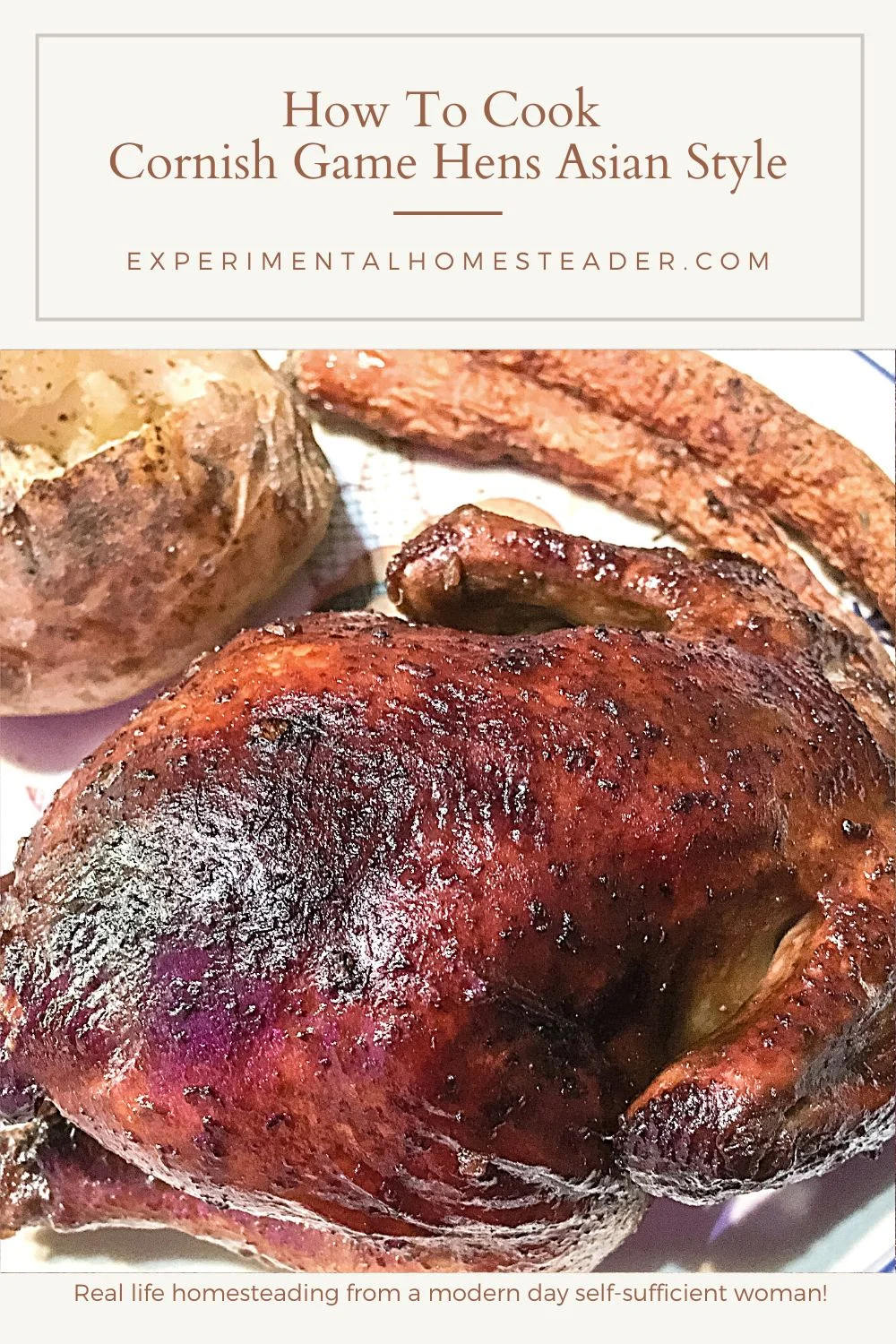 Print
How To Cook Cornish Game Hens Asian Style
1 cup

honey strawberry white wine

1 1/2 cups

soy sauce

4 teaspoons

minced ginger

1 Tablespoon

garlic scapes in salt

1/2 Tablespoon

toasted sesame oil

1 Tablespoon

vegetable oil

2

Cornish Hens
Instructions
Rinse the thawed Cornish Hens under cold water and pat dry.
Place the Cornish Hens, breast down, in bowl that you can cover with a lid or Saran Wrap. You can also use a marination bowl like I did if you have one or even a sealable plastic bag.
Pour the liquid ingredients over the top of the Cornish Hens and place the ginger and the garlic scapes in the liquid. I spread some of the plain salt over the Cornish Hens making sure to remove any garlic scape pieces and placed those in the liquid.
Seal and put in the refrigerator overnight.
The next day remove the Cornish Hens 30 minutes before you intend to cook them so they come to room temperature.
Preheat the oven to 425 degrees Fahrenheit.
Roll the Cornish Hens in the liquid to remove the excess salt from them, then place them in a baking pan with sides.
Pour the liquid into a stainless steel pan and bring to a boil, then reduce the heat and simmer for 5 minutes.
Place the baking pan with the Cornish Hens in it on the center rack of your oven and bake for 10 minutes.
Remove the baking pan from the oven and baste the Cornish Hens with the sauce in the pan well.
Reduce the heat of the oven to 375 degrees.
Place the basted Cornish Hens back into the oven and bake for 50 minutes making sure to baste them every 15 minutes.
Remove the Cornish Hens from the oven and let rest, covered with an aluminum foil tent for 10 minutes. The internal temperature of the Cornish Hens should be 160 degrees Fahrenheit.
Serve immediately. You can place small dishes of the leftover sauce you cooked down and marinated the Cornish Hens with.
I served mine with Salt Roasted Carrots and Potatoes.
Recipe Card powered by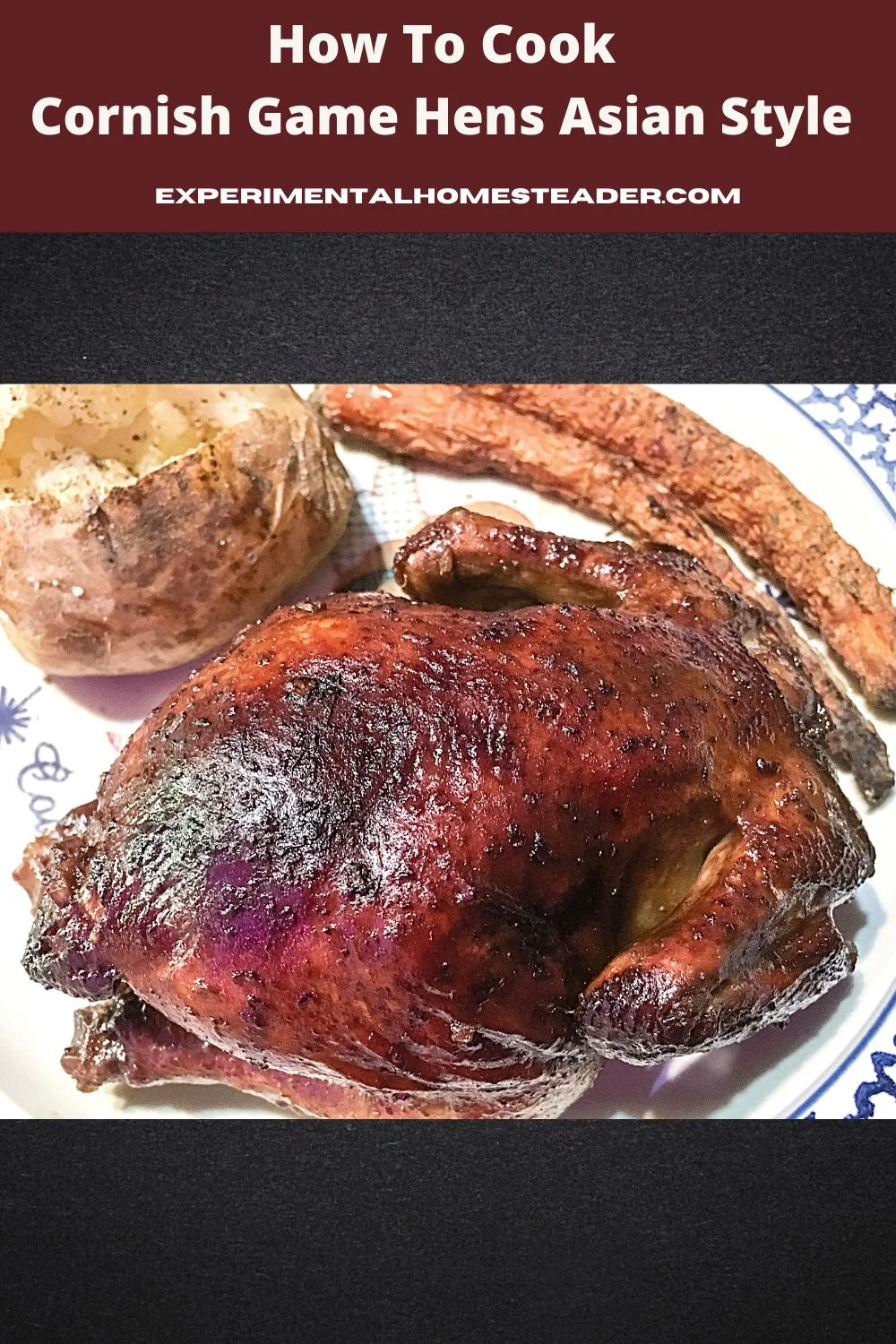 The Ultimate Collection Of Best Ever Chicken Recipes