When was the last time you had a delicious Dutch Oven pot roast recipe that made your mouth water and was easy to cook regardless of the method you chose.
This one pot cast iron recipe is a family favorite no matter the occasion or location.
I love cooking this Dutch Oven pot roast recipe in the oven, on the BBQ grill or even over an open fire while camping.
Prepare the vegetables ahead of time, add the seasoning and put the Dutch Oven cast iron pan in your vehicle and take it with you the next time your family goes on an outing.
Then simply add the pot roast to cook it over an open fire or on a BBQ grill to make roughing it that much more enjoyable!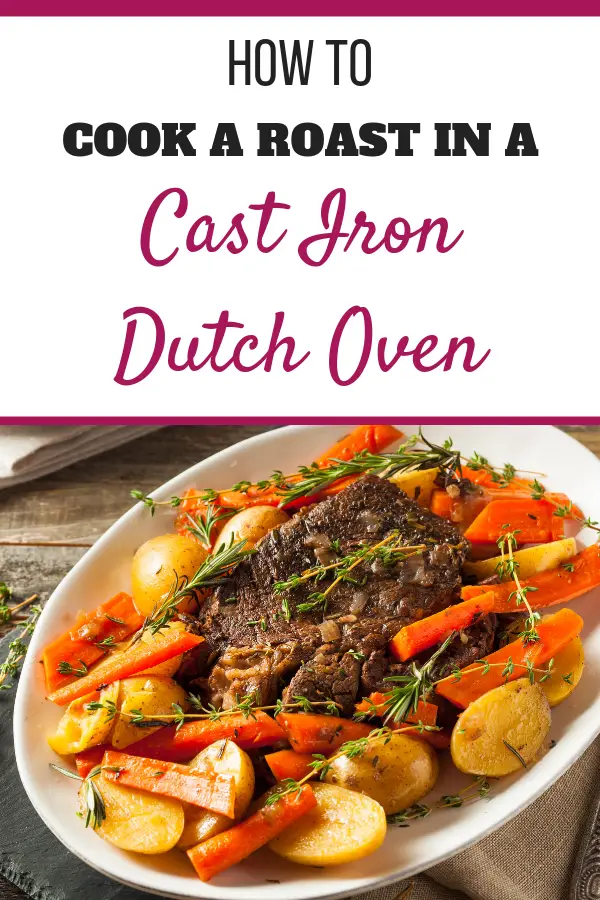 How To Cook A Roast In A Cast Iron Dutch Oven
Possibly you are tired of every meal being carry out or coming from a box, but you don't know how to make a satisfying meal from scratch.
Learning how to cook a roast in a cast iron Dutch oven is a perfect way to prepare a meal completely from scratch without a lot of extra work.
Your family is sure to love this pot roast dutch oven cast iron recipe.
I know my family sure does, especially when I follow this meal up with an easy dessert such as my Apple Crisp Dutch Oven Recipe.
Plus there are many benefits to cooking with cast iron cookware!
Print
SaveSave
SaveSave
SaveSave
SaveSave
SaveSave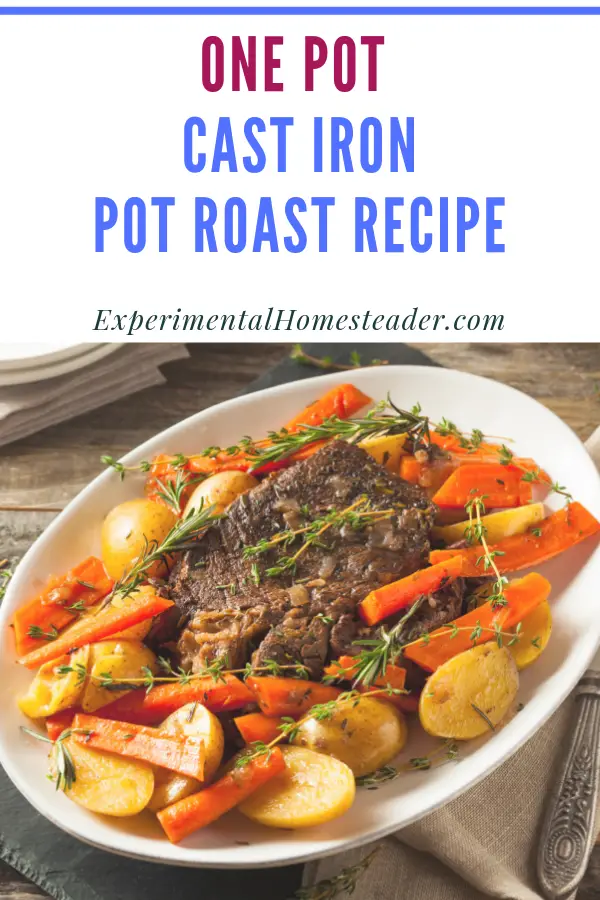 Tips For Using Cast Iron Roasting Pans
I used a 5 quart Lodge Cast Iron Dutch Oven for this recipe.
I also used a cast iron trivet in the bottom of the pan to elevate the pot roast, potatoes and carrots which keeps them from potentially sticking to the bottom of the dutch oven.
If you use a cast iron dutch oven frequently, a cast iron trivet is a must have accessory as far as I am concerned!
The reason I love Lodge because their cast irons pans are high quality and they come with easy-to-follow instructions on how to care for your cast iron pans, so even someone who has never owned a cast iron pan before can get started the right way.
It is important to take the time to properly season your cast iron cookware before you use it for the first time.
It is also important to properly season your cast iron cookware after every use to keep it performing it's best.
For those of you who want to make a cast iron pot roast for their family, but simply cannot do it in an oven, I recommend buying a cast iron crock pot and trying this beef roast recipe!