When was the last time you had a delicious Dutch Oven pot roast recipe that made your mouth water and was easy to cook regardless of the method you chose.
This one pot cast iron recipe is a family favorite no matter the occasion or location.

I love cooking this Dutch Oven pot roast recipe in the oven, on the BBQ grill or even over an open fire while camping.
Prepare the vegetables ahead of time, add the seasoning and put the Dutch Oven cast iron pan in your vehicle and take it with you the next time your family goes on an outing.
Then simply add the pot roast to cook it over an open fire or on a BBQ grill to make roughing it that much more enjoyable!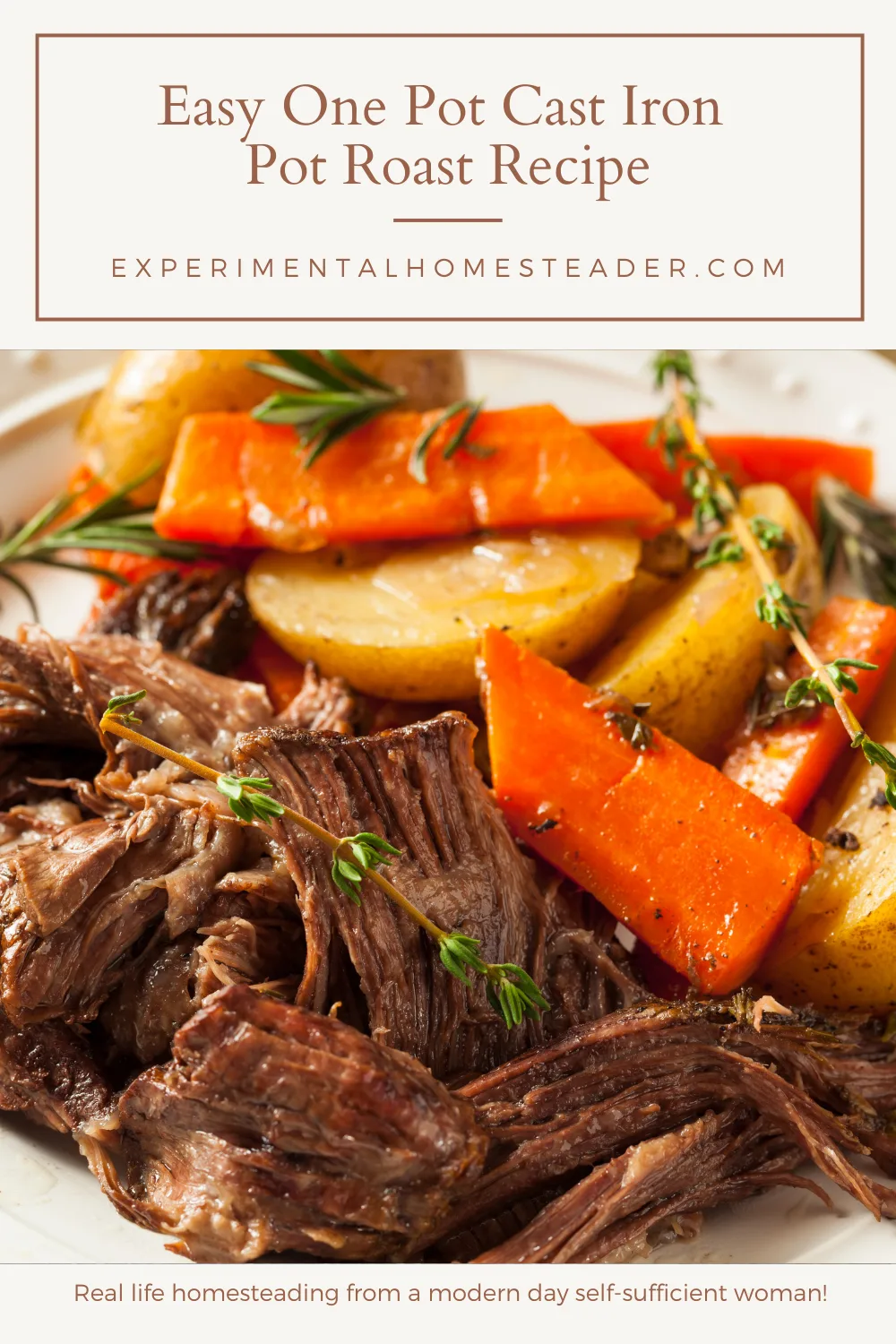 How To Cook A Roast In A Cast Iron Dutch Oven
Possibly you are tired of every meal being carry out or coming from a box, but you don't know how to make a satisfying meal from scratch.
Learning how to cook a roast in a cast iron Dutch oven is a perfect way to prepare a meal completely from scratch without a lot of extra work.
Your family is sure to love this pot roast dutch oven cast iron recipe.
I know my family sure does, especially when I follow this meal up with an easy dessert such as my Apple Crisp Dutch Oven Recipe.
Plus there are many benefits to cooking with cast iron cookware!
Print
My Easy One Pot Cast Iron Pot Roast Recipe
Author: Sheri Ann Richerson
Prep Time:

30 minutes

Cook Time:

3 hours

Total Time:

3 hours 30 minutes

Category:

Beef, Vegetables

Method:

Oven, Stovetop, Campfire, Wood Burner
2 teaspoons

Butter

3

to

5

pounds

Beef pot roast

1 teaspoon

Garlic powder

1 teaspoon

Black Pepper

1 teaspoon

Salt

6

to

8

large Potatoes

2

pounds

Carrots

1

bunch cut up celery (optional)
Hot Water
Instructions
Put the pan on the stove, turn the heat setting to medium high and add the butter. A wood fired stove that is just starting to heat up or a grill or campfire whose flames have died down will also work.
Allow the butter to melt, then add the pot roast. Season the top side of the pot roast with a teaspoon of meat rub, a teaspoon of garlic, c-spice seasoning blend and pepper. Sprinkle each spice over the top of the pot roast.
Once the bottom of the roast is brown, which will take about 10 minutes, turn it over so the other side can brown.
Sprinkle enough Worcestershire sauce over the top of the pot roast to cover it. This will add flavor and help tenderize the meat.
Add carrots and brown slightly.
Cut whole potatoes into thirds and add them.
Cut up the celery, if deisred and add it.
Once the vegetables are all added, stir the potatoes, celery and carrots together.
Once the potatoes are slightly brown, remove the meat, potatoes and carrots from the dutch oven and set them aside.
Place a cast iron trivet into the bottom of the dutch oven, then place the potatoes and carrots on top of the cast iron trivet.
If you desire, add salt and additional seasoning at this point.
Add enough hot water to almost cover the potatoes and carrots.
Place the pot roast on top of the potatoes and carrots then add any additional seasoning to the meat.
Put the lid on the Dutch oven and sit in on the top rack of your oven if you are using a stove, otherwise, if you are cooking it on a stovetop, the top of a wood burning cook stove or over an open fire, simply put the lid on and continue cooking. If you are cooking it over an open fire, be sure to place hot coals on the top of the dutch oven lid.
Once the pan is inside the oven, close the oven door, turn the heat to 350 degrees Fahrenheit and cook for 3 hours or until the meat is tender. For those using other cooking methods, as long as the temperature is around 350 degrees Fahrenheit, the cooking time is the same.
That's all there is to it! Remember to remove the food from the cast iron pan as soon as it is finished cooking. Place the dirty pan in the sink, making sure to rinse it off well with hot water. It is not necessary to wash cast iron with soap and never use steel wool. If something sticks, use a wash cloth to scrub it off or a soft brush.
Once the pan is clean, place it back into the oven, or on top of a heat source so all the water can be removed. If this is not done, the pan will rust. Finally, spray the cast iron pan with grease or use a rag to rub it all over the pan if necessary. This is done to season it and prevent food from sticking.
Equipment
Keywords: cast iron cooking, dutch oven, beef recipes, pot roast recipe
Recipe Card powered by
SaveSave
SaveSave
SaveSave
SaveSave
SaveSave
Featured Links powered by

Tips For Using A Cast Iron Dutch Oven
I used a 5 quart Lodge Cast Iron Dutch Oven for this recipe.
I also used a cast iron trivet in the bottom of the pan to elevate the pot roast, potatoes and carrots which keeps them from potentially sticking to the bottom of the dutch oven.
If you use a cast iron dutch oven frequently, a cast iron trivet is a must have accessory as far as I am concerned!
The reason I love Lodge because their cast irons pans are high quality and they come with easy-to-follow instructions on how to care for your cast iron pans, so even someone who has never owned a cast iron pan before can get started the right way.
It is important to take the time to properly season your cast iron cookware before you use it for the first time.
It is also important to properly season your cast iron cookware after every use to keep it performing it's best.
For those of you who want to make a cast iron pot roast for their family, but simply cannot do it in an oven, I recommend buying a cast iron crock pot and trying this beef roast recipe!
Ideas For Storing Cast Iron Dutch Ovens
Let's face it, cast iron dutch ovens are not lightweight and they are bulky!
If you have the room on your countertop or buffet, a great way to store them is in a decorative free standing pot rack!
Be sure the one you choose is well made because it will end up holding quite a bit of weight, especially if you fill it up with cast iron dutch ovens or other cast iron pots.
Of course, you could always just sit it on your countertop or even leave it on the back of your stove if you have just one cast iron Dutch Oven. 
Ideas For Serving Platters For Pot Roasts
Once your pot roast with potatoes and carrots is cooked, you might want to remove everything from your cast iron Dutch Oven and arrange it on a serving platter.
Of course, if you prefer to serve it right in your Dutch Oven, that is fine.
However for a fancier presentation, check out these pretty serving platters!