Check out these five dinner ideas for tonight that are ready in 30 minutes or less.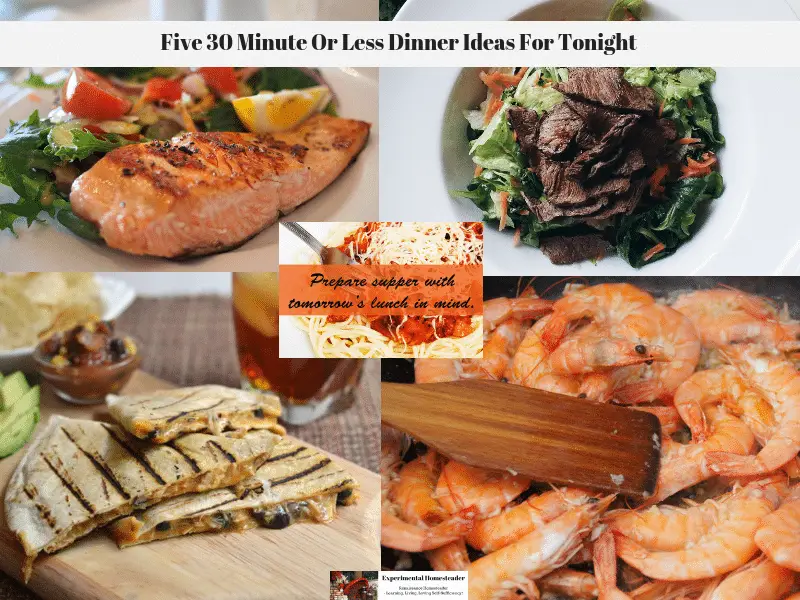 Plan Ahead And Save Time
When time is of the essence these thirty minute meal ideas come in handy.
If you plan ahead you'll be more likely to complete these meals in 30 minutes or less.
Shop for the meals in advance to ensure that you have all the ingredients you need on hand.
If you don't want to buy already prepared items, do your chopping and prepping when you get back from the grocery store to be prepared for the week ahead.
Print
Fish And Chips
Instructions
Preheat the oven to 375 degrees Fahrenheit.
Slice the potatoes into thin slices.
Slice the onions into thin slices.
Put the onions and potatoes into a large bowl.
Put two Tablespoons olive oil and 2 teaspoons garlic powder

(affiliate link)

and toss it all together.
Pour the potato and onion mixture into the foiled pan and sprinkle the mixture lightly with sea salt

(affiliate link)

.
Bake the potatoes and onions in the oven until the potatoes and onions are crisp.
For the fish, simply lay the fish skin side down on a foil lined pan and cook it according to the directions for the type of fish you are cooking.
Brush the fish with olive oil and sprinkle some lemon pepper

(affiliate link)

on top of the fish.
Once the fish is done, remove it from the oven and squeeze a lemon or lime over fish.
Serve immediately with a fresh salad or a side of  broccoli slaw* and the potatoes.
*Mix the prepackaged broccoli slaw with a little vegan mayo (less unhealthy fat and very tasty) and a little honey (affiliate link) for a real taste treat.
Recipe Card powered by
Print
Spaghetti
There is no need to fix a salad to go with this recipe. It has all the vegetables you need in one dish making it super simple to cook and serve.
Instructions
In large pot caramelize a sweet onion with four cloves of garlic and mushrooms in some olive oil with a pinch of sea salt

(affiliate link)

.
Once the onions are caramelized add in a bag of broccoli slaw and cook until the slaw is wilted.
Add 1 can of chopped tomatoes to the pan and cook the mixture down.
Add in a 16 ounce can of tomato sauce along with 1 Tablespoon honey

(affiliate link)

, 1 Tablespoon chili powder and 1 teaspoon oregano.
Add a can drained and rinsed of black beans for a variation on the sauce. This is optional.
Simmer the sauce for 10 minutes.
While the sauce is simmering, cook a package of whole wheat pasta

(affiliate link)

noodles according to the package directions.
Add the cooked pasta

(affiliate link)

to sauce and toss it until the spaghetti noodles are covered in sauce.
Serve immediately.
Recipe Card powered by
Print
Stand Alone Dinner Salad
Lettuce
Onion
Chopped Bell Peppers
Tomato
Grilled seafood, chicken or roast (your choice)
Mango
Vinegar
Sea Salt

(affiliate link)
Instructions
Combine the mango, vinegar and sea salt

(affiliate link)

. Blend until smooth. This is the salad dressing.
Combine several kinds of lettuce, onion, chopped bell peppers, tomato, and your choice of grilled seafood, chicken or even strips of left over roast.
Pour the salad dressing over the top of the salad and serve immediately.
Recipe Card powered by
Print
Stir Fry Shrimp
This is a delicious one dish meal your family is sure to love.
Instructions
Cook either rice or noodles according to the package directions and then set them aside in a warm place.
Mix together 2 Tablespoons soy sauce, 1 Tablespoon honey

(affiliate link)

, 1/4 cup water

(affiliate link)

, 1 teaspoon Chinese five powder spice and a splash of Sriracha Hot Chili Sauce. Set the mixture aside.
In a large skillet, heat 1 Tablespoon sesame oil and pour the bag of stir-fry vegetables into the skillet.
When the vegetables are almost done, add in the shrimp, stir the mixture for a minute or two, add in the sauce and cook until the shrimp is done.
Serve the shrimp and vegetable immediately over rice or noodles.
Notes
Shrimp cooks super fast. It starts out gray but is done the moment it turns pink.
Recipe Card powered by
Print
Quesadillas
Wheat flour (affiliate link) tortilla

Onion

Cheese

Black beans, shrimp or steak (your choice – any combination of ingredients or just one)

Corn oil (optional)
Instructions
Place the onion, black beans, shrimp or steak into a frying pan and heat the mixture up.
Lay the wheat flour (affiliate link) tortilla flat and fill the tortilla with the meat or bean mixture and top it with cheese.
Fold over the tortilla and then either bake in oven on 350 degrees Fahrenheit till crisp approximately 10 minutes, cook in the Panini maker per the instructions, on the grill or fry it in corn oil on top of the stove for 3 minutes per side.
Serve with a salad and a fruit for dessert.
Recipe Card powered by
Final Thoughts
If you like to make up freezer (affiliate link) meals ahead of time, it is possible to buy many of the ingredients for these five dinner ideas for tonight ahead of time and do the preparation all on one day.
This makes the meals even faster to prepare and is great for those busy weeknights when it seems there is barely time to sit down and eat.
I highly recommend the following articles:
Use the buttons on the right hand side of the page to share this article with friends or family who might find it useful. Pin the picture below to your pinboard on Pinterest for future reference.