Are you looking for a simple, delicious idea for a vegetarian dinner tonight?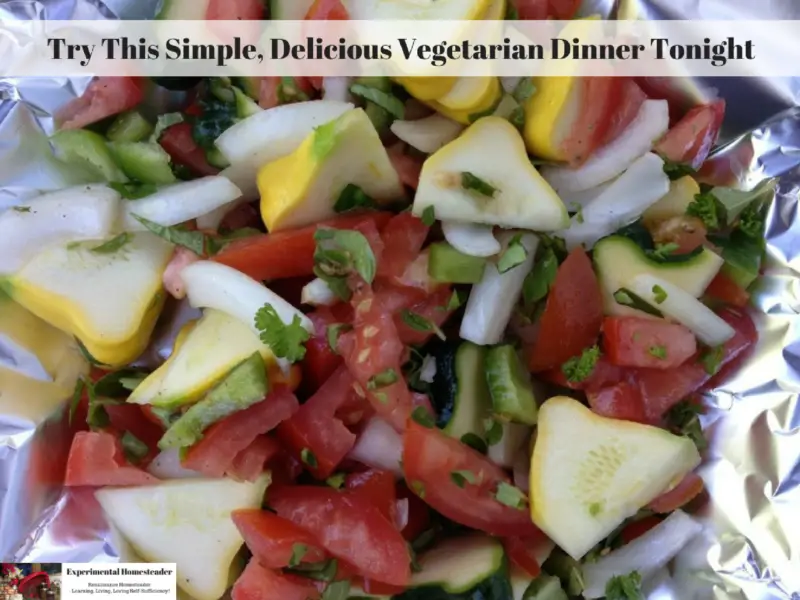 Experiment With Ingredients To Make Unique Dinner Ideas For Tonight
This meatless meal is sure to satisfy your entire family and inspire you to create your next veggie-only dish.
You might notice I did not give exact amounts in the recipe.
This recipe is a great way to use up those fresh spices and organic vegetables in your kitchen so they don't spoil.
Mix and match the ingredients accoring to what you have on hand.
This is a great way to create unique dinner ideas for tonight by swapping ingredients or adding a few extra vegetables.
Experiment with seasonings too!
Make the recipe your very own and you will soon learn the tricks to creating your own delicious vegetarian dinner recipes for your friends and family.
Print
Try This Simple, Delicious Vegetarian Dinner Tonight
Olive oil
Vegetables such as squash, peppers, onions, tomatoes, mushrooms, eggplant, garlic.
Fresh herbs such as basil, parsley and oregano.
Instructions
Preheat your oven to 350 degrees Fahrenheit.
Chop up some veggies, herbs and toss them in some olive oil. In this photo, we have pattypan squash, peppers, onions and tomatoes. Mushrooms, eggplant, garlic and plenty of other veggies also work.
Add fresh herbs like basil, parsley and oregano.
Mix all of the ingredients and wrap everything in foil, then place the foil pouch on a baking dish.
Bake at 350 degrees Fahrenheit for about 40 minutes.
Notes
Serving tip: Drizzle the vegetable mixture with your favorite balsamic reduction and serve over rice, quinoa or simply serve it as is.
Recipe Card powered by
I highly recommend the following articles:
Use the buttons on the right hand side of the page to share this article with friends or family who might find it useful. Pin the picture below to your pinboard on Pinterest for future reference.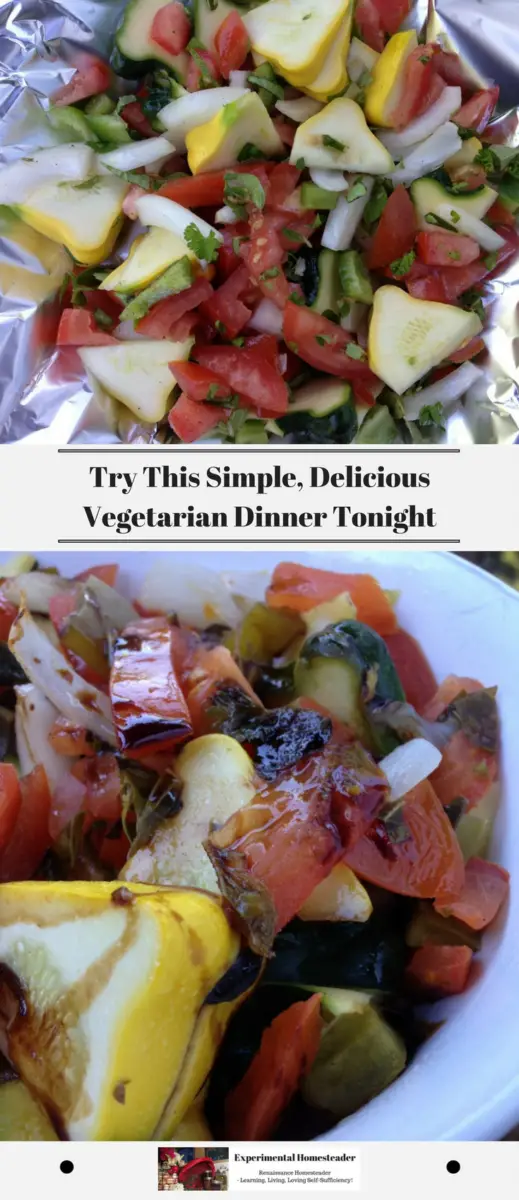 SaveSave