Every dish deserves a story – and this is how we cooked the perfect Sous Vide Cornish hen.
Sous vide, which means "under vacuum" in French, offers an opportunity for home cooks to cook moist chicken dishes like our Sous Vide Cornish hen recipe without it drying out or getting tough from overcooking!

Simply seal up the Cornish hens along with the seasonings in a vacuum-sealed plastic pouches and submerge the pouch in a water bath that is pre-heated to a precise temperature.
Sous Vide Machines create a perfect cooking environment so whatever you are cooking is heated evenly all over while the Sous Vide Machine maintains even heat distribution; cooking the Cornish hens at exactly 150 degrees Fahrenheit.
Your food could cook all day long while retaining just the right moisture levels!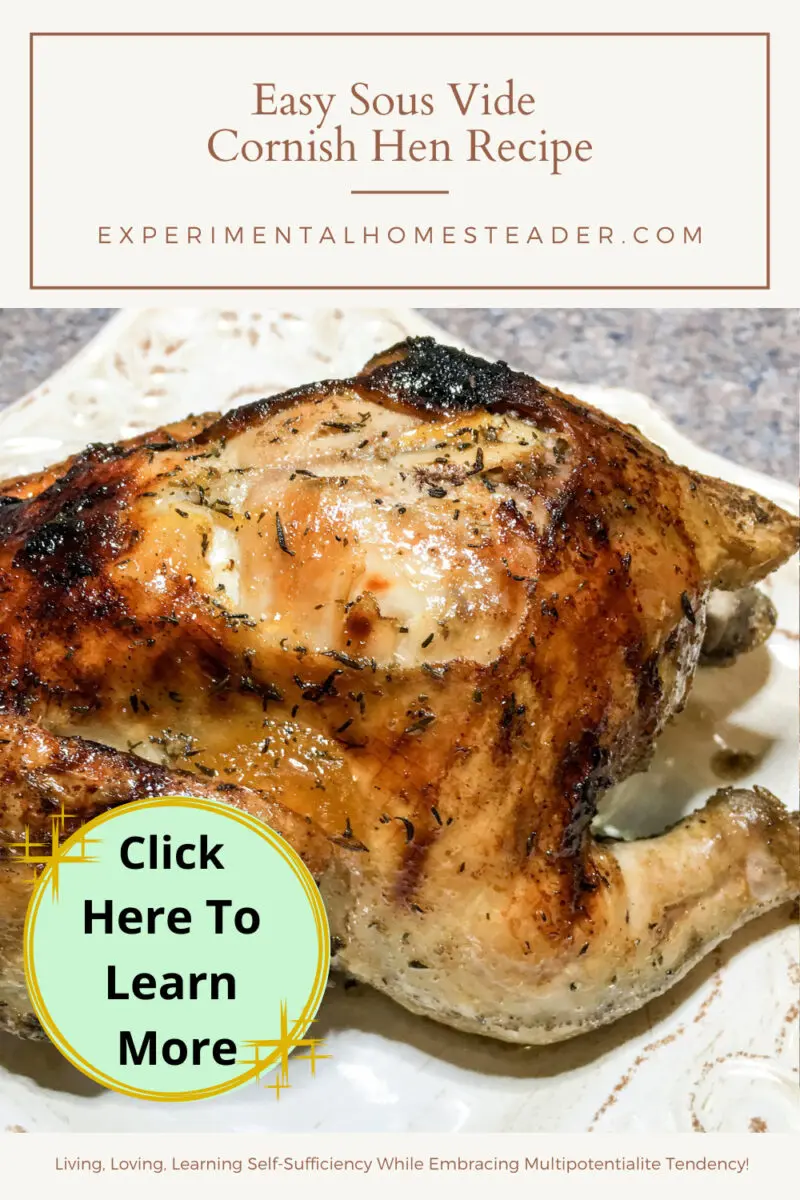 WHY I CHOOSE TO COOK THIS CORNISH GAME HEN SOUS VIDE
Why settle for a sub-par Cornish hen when you can have the best of both worlds?
This easy sous vide recipe is perfect if you're busy and still want to serve up some home cooked goodness.
Sous Vide cooking has been on the rise as more people look for convenience in their food preparation.
Sous Vide cooking provides benefits such as tender meat that cooks all on its own.
All you have to do set up the Sous Vide Machine and add the food.
We know that cooking a Cornish hen perfectly can be a difficult task for some people.
The idea of preparing a whole bird can be daunting and intimidating, but this easy sous vide (affiliate link) Cornish hen recipe is perfect for the busy cook who still wants to serve a delicious home cooked meal, but doesn't have time to spend a lot of time in the kitchen.
Sous vide (affiliate link) cooking has been on the rise as more people are looking for convenient ways to cook their food.
It provides all kinds of benefits from being able to cook food from any temperature, consistency or texture you want.
As well as being one of the healthiest methods of cooking, this technique is also easy to carry out, requires no or very little oil for seasoning, and cooks food at lower temperatures than other methods do.
That means that less carcinogenic substances are produced when it's cooking.
Preparation doesn't take long at all.
Sous Vide (affiliate link) is as simple as slow cooking in all honestly – and I think the food turns out even better
To get the pretty, crisp crust, simply place the Cornish hens under the broiler on your oven for 2 to 3 minutes per side.
Here is my recipe.
Print
Easy Sous Vide Cornish Hen Recipe
5 Tablespoons

butter

1 Tablespoon

peach preserves

1 Tablespoon

orange juice

1 Tablespoon

thyme

(affiliate link)

1 Tablespoon

garlic powder

(affiliate link)

4 teaspoons

chili powder

1 teaspoon

lavender flowers

2

Cornish hens
Instructions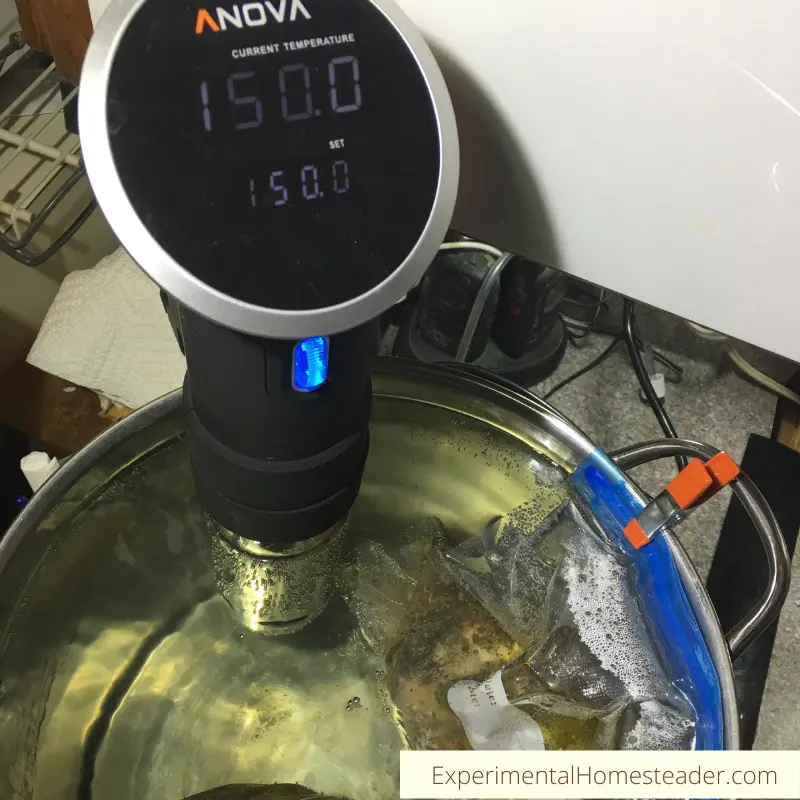 Preheat your Sous Vide

(affiliate link)

cooker to 150 degrees Fahrenheit.
Place one thawed Cornish hen in each bag.
Inside of each bag place 2 tablespoons butter, 1/2 tablespoon orange juice, 1/2 tablespoon thyme

(affiliate link)

, 1/2 tablespoon garlic powder

(affiliate link)

, 2 teaspoons chili powder and 1/2 teaspoon lavender flowers.
Vacuum seal each bag containing the Cornish hens with the spices.
Place the bags – one at a time – into the circulating water

(affiliate link)

of the Sous Vide

(affiliate link)

Cooker making sure to attach the bags to the side of the pot using metal clips.
Cook for four hours at 150 degrees Fahrenheit.
Gently remove the Cornish hens from the bags. These are going to be hot – and want to fall apart.
Place them on a cookie sheet – or you can use a cast iron flat grill.
Brush the tops with 1 tablespoon melted butter and the peach preserves.
Broil in the oven for 2 minutes – or until the top of the Cornish hens are golden brown. This is what causes the skin to turn crispy.
Notes
Note: Leaving the food in the Sous Vide (affiliate link)Cooker longer than necessary does not ruin the food. If you get busy or just are not ready to serve what you cooked when it is done, just leave it alone just like you would a slow cooker.
Keywords: sous vide, cornish hen
Recipe Card powered by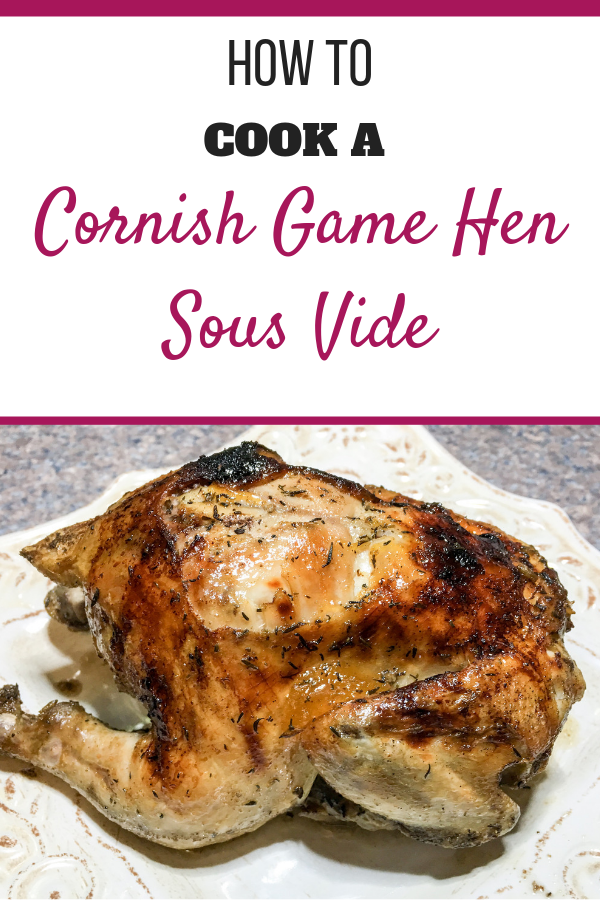 DELICIOUS SIDE DISHES THAT PAIR WELL WITH THIS SOUS VIDE CORNISH HEN
The first thing to keep in mind when thinking about side dishes to serve with this sous vide (affiliate link) Cornish hen recipe is to pair it with other similar flavors.
This dish is made by vacuum sealing the pieces of cornish hen in a plastic bag, then cooking them for an extended period of time at low heat.
The meat will be succulent and tender if cooked properly, but can easily become dry without careful preparation.
One good combination is to serve the sous vide (affiliate link) Cornish hen alongside mashed sweet potatoes with maple syrup and butter, roasted brussels sprouts slathered with olive oil and salt, or broccolini sauteed with garlic, red pepper flakes, salt, and pepper.
This sous vide (affiliate link) Cornish hen also pairs well with spinach, which can be cooked for 3 minutes before serving or simply serve a salad.
BEVERAGES THAT PAIR WELL WITH THIS MEAL
Here are a few beverage ideas that can be served to accompany the main course.
A Chardonnay or Sauvignon Blanc is a good wine to pair with this meal.
There are many other alternatives to alcoholic drinks, if you're looking for a non-alcoholic option.
One popular option is a bubbly peach flavored water (affiliate link).
This is a good option for people who cannot drink alcohol due to health reasons or religious beliefs.
It might also be a good choice if you want something refreshing and tasty but not quite as caffeinated as an iced tea.