This cast iron Dutch oven London broil recipe is a one pot meal that requires very little preparation and does not require an expensive marinade.
London broil is a lean and mean cut of beef that is well-suited to the Dutch oven.

This recipe calls for minimal preparation and it is all done in one pot which saves on time, cleanup, and energy.
The London broil has less fat than other cuts of beef making it delicious, but also requiring careful cooking lest it become too dry.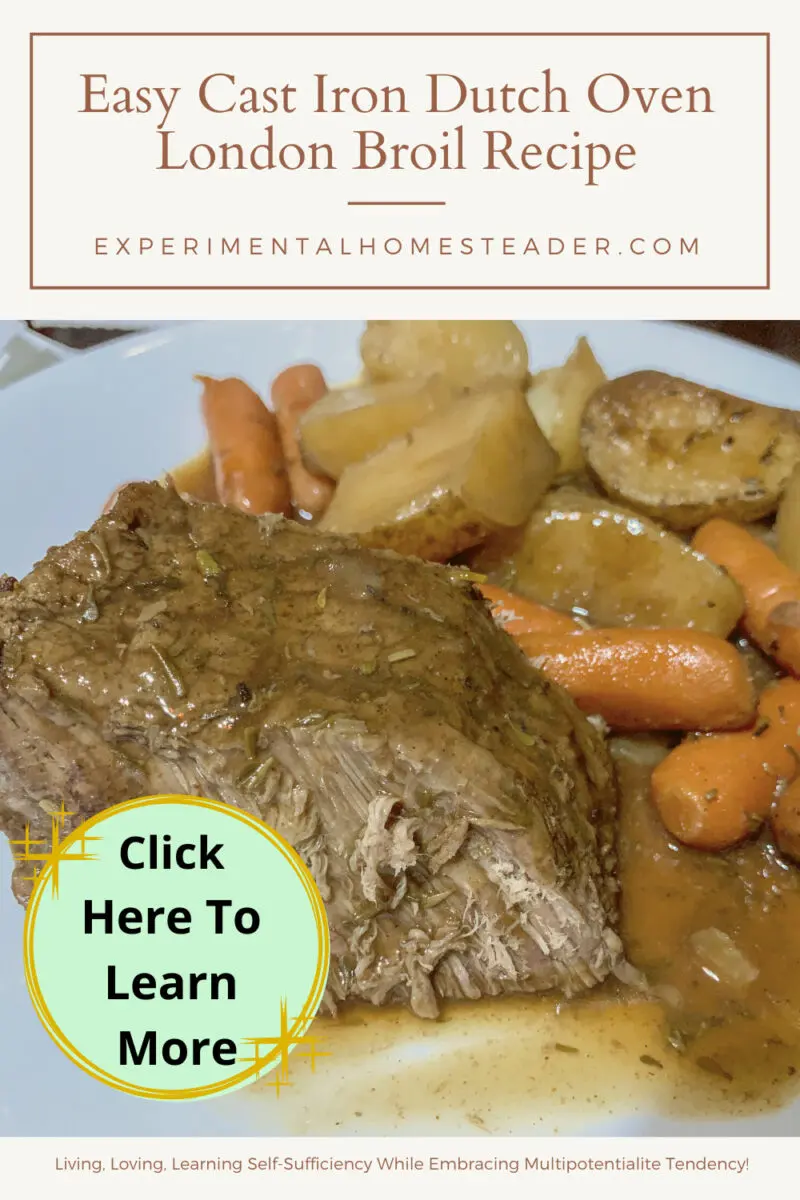 Why I Love This Cast Iron Dutch Oven London Broil Recipe
First of all, I love meals that are versatile, meaning I can cook them in the oven, over an open fire, on the BBQ grill or even on top of my wood burning stove.
It just makes sense to me, since I live in a cold climate, to plan winter meals that are not only easy to make, but can still be made if the power goes out.
Not to mention, in the summer, I can cook this outdoors on the BBQ grill or even over an open fire if I want to which means I won't be heating up the house by using the oven!
I also love that this is a from scratch meal that is hearty and delicious.
Of course, I do use a jar of pre-made gravy, but to be honest with you, if you prefer you can use 12 ounces of water instead of the gravy.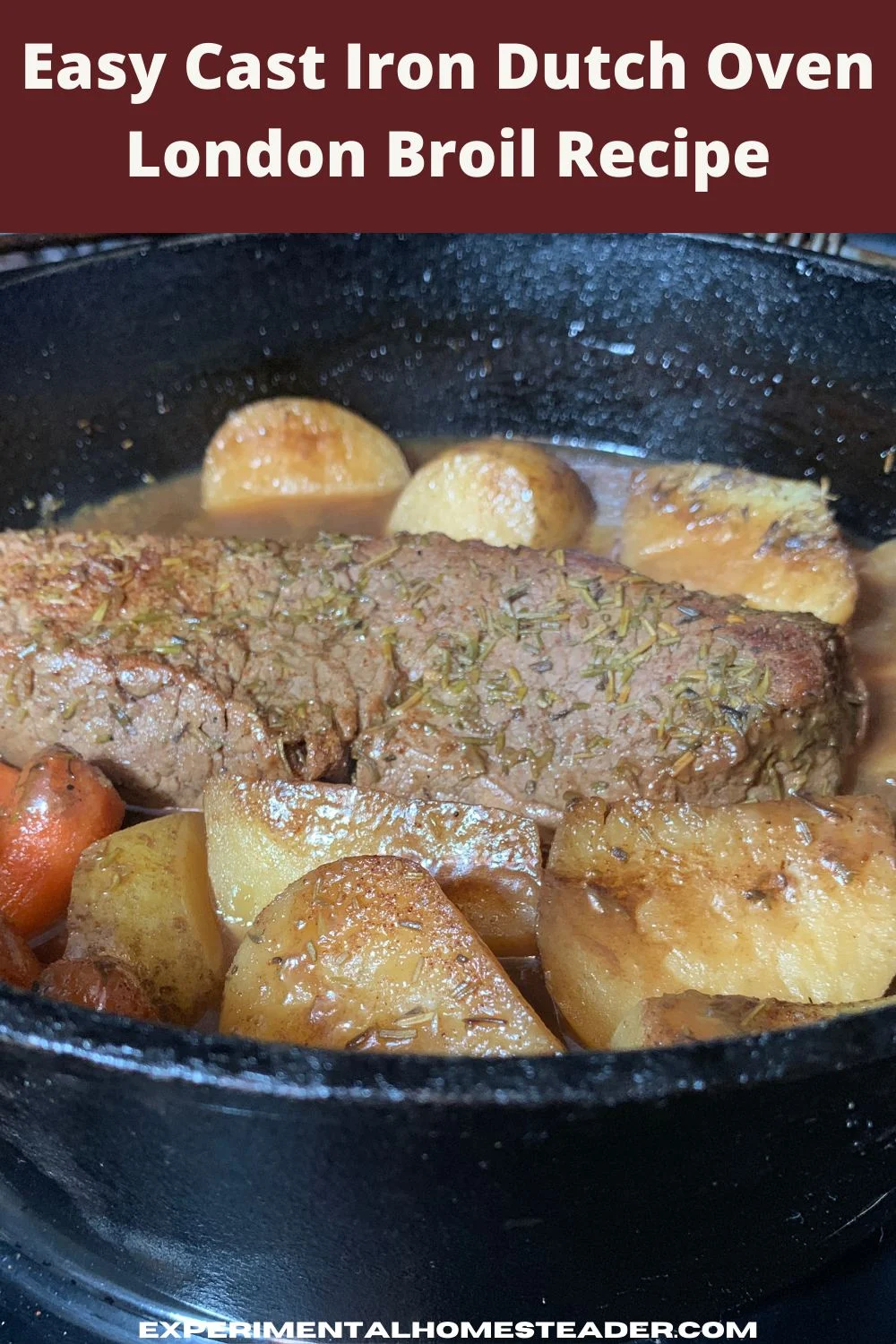 Tips And Tricks To Ensure You Get A Perfect Meal Every Time
If you have ever wondered how to cook a perfect meal every time, then there are a few things that you need to know.
If you want to cook the perfect meal every time choosing ingredients that are good quality and fresh from the market is important.
For some dishes, using fresh produce makes all the difference as they enhance the flavor of the end product.
Using spices also helps in bringing out different flavors when combined with other spices.
If you use stale spices or vegetables instead of fresh ones then there are high chances that your dish will lack flavor even if you add more quantities of them!
Another thing that people often forget is to season their food properly.
Most people put salt and pepper on their food at the end and wonder why it doesn't taste right.
Food need to be salted and peppered throughout the cooking process so that it develops a delicate flavor instead of just tasting plain.
Finally, it's important to understand what temperature does for different food items.
This includes meat and vegetables.
Cooking food at the right temperature is essential to success.
You must always remember that last-minute cooking never produces great results. 
Here is my easy cast iron Dutch Oven London Broil Recipe.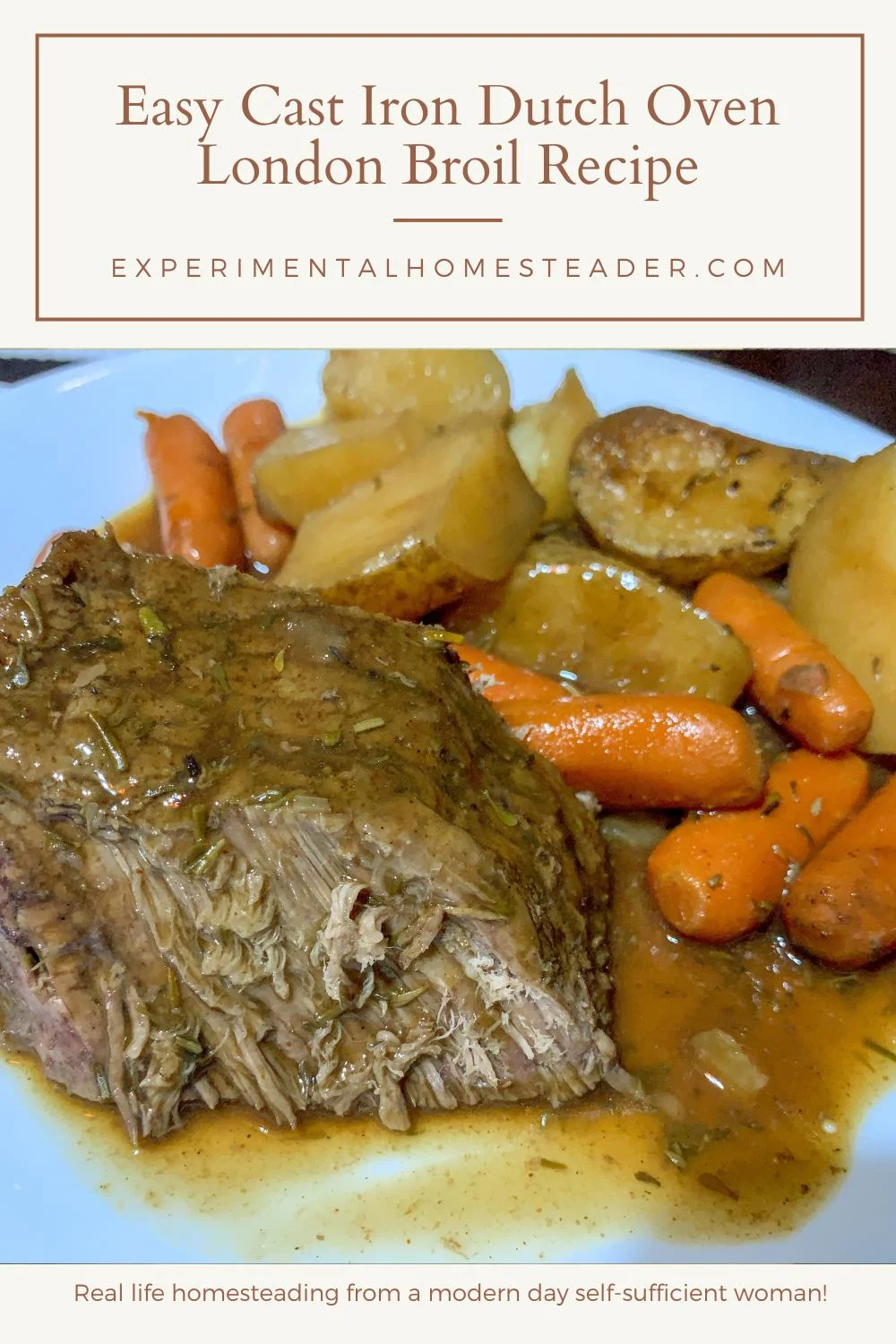 Print
Easy Cast Iron Dutch Oven London Broil Recipe
This easy cast iron Dutch Oven London Broil one pot recipe with potatoes and carrots is an ideal comfort food and the meat comes out fork tender!
Author: Sheri Ann Richerson
Prep Time:

30 minutes

Cook Time:

2 hours

Total Time:

2 hours 30 minutes

Category:

Dinner

Method:

Oven + Stovetop

Cuisine:

American
Instructions
Pat the London Broil dry with paper towels.
Melt the butter in the bottom of the cast iron Dutch Oven.
Add the meat to the Dutch Oven and brown it on both sides.
Turn off the heat and remove the meat from the cast iron Dutch Oven. I recommend placing the piece of meat on the inside of the lid.
Wash and cut the potatoes into quarters.
Wash the carrots.
Put the potatoes and carrots in the bottom of the Dutch Oven.
Place the meat on top of the potatoes and carrots.
Sprinkle the rosemary, thyme, Black Sea Salt, chili powder and thyme on top of the meat, potatoes and carrots.
Pour the gravy over the top of everything.
Place the lid on the cast iron Dutch Oven.
Place the cast iron Dutch Oven in the oven on the middle rack.
Turn the oven on to 350 degrees Fahrenheit.
Once the oven is preheated, set the timer to two hours.
When the timer goes off, carefully remove the Dutch Oven and set it on top of the stove.
Remove the lid, but be careful because some steam will escape.
Move the meat to a platter so it can be divided. It will want to fall apart.
Serve.
Equipment
Keywords: cast iron dutch oven London Broil, London broil recipes, London broil recipes oven, London broil
Recipe Card powered by

Tips For Cooking With Cast Iron
Cast iron is a favorite of many people, in part due to its versatility and in part due to the benefits of cooking with cast iron.
Cast iron can be used to prepare dishes on the stove top, in the oven, on a BBQ grill or even over an open fire!
The versatility of cast iron is why I love it so much!
One of the main tips to keep in mind when working with cast iron is to re-season it on a regular basis.
This can be done by simply wiping down your cast iron skillet with a paper towel and coating it evenly with solid vegetable shortening. 
If you have neglected to season your pan on a regular basis, you can use coarse salt and some steel wool to remove any rust or burnt on gunk.
Want more tips on cooking with cast iron?
Then be sure to check out my post How To Cook In Cast Iron Pans.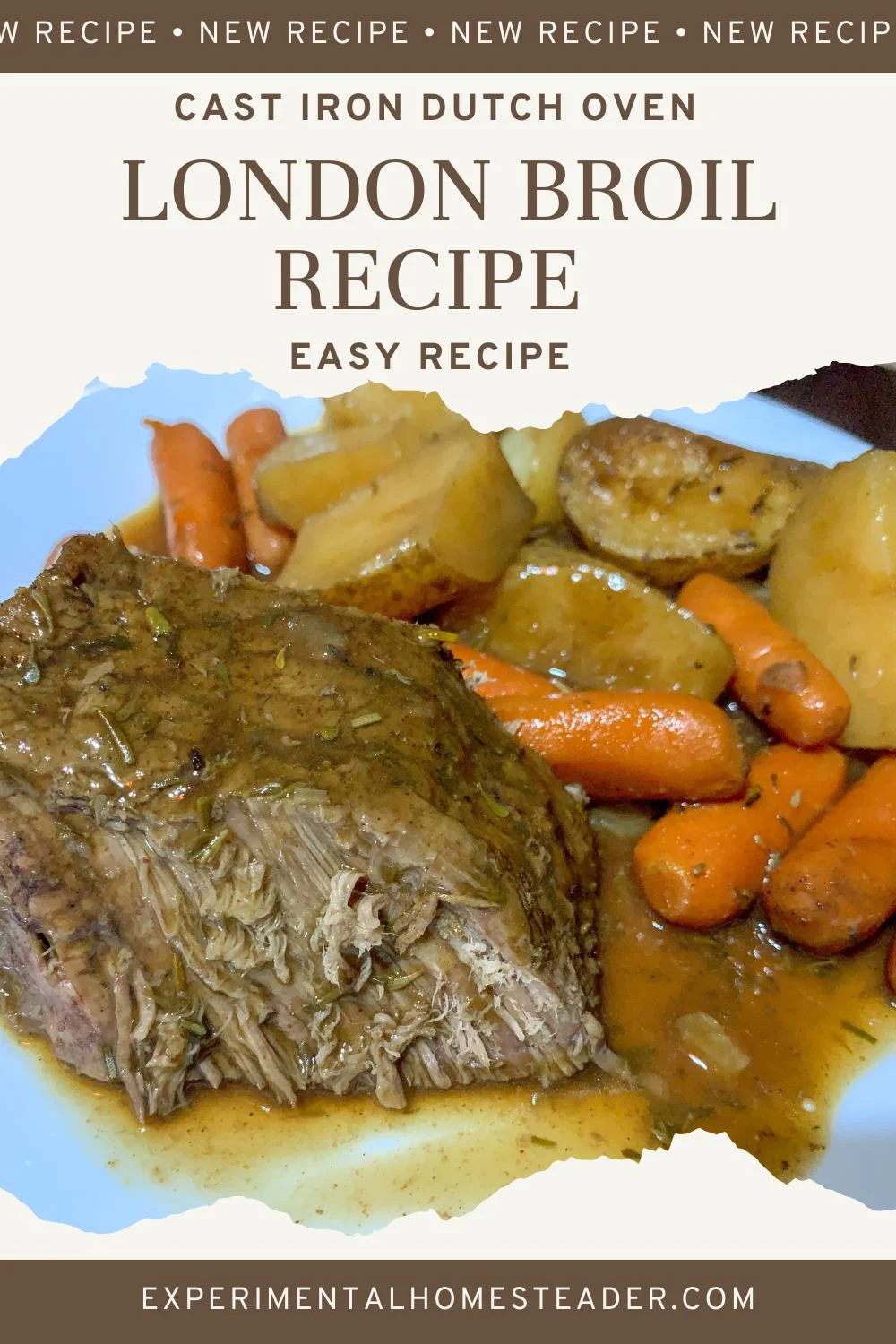 Final Thoughts About This Cast Iron Dutch Oven London Broil Recipe
I love making roasts.
I think they are the ultimate comfort food not to mention really easy to make because all the food is cooked together in one pot.
I'm a pretty picky eater too and I do not like a lot of the dump meals that are popular, but meat, potatoes and carrots I like together.
While it is true that the London Broil cut of meat is a little tougher normally, that is not the case with this recipe.
The meat literally falls apart when you take it out of the cast iron Dutch Oven.
It is fork tender and almost melts in your mouth.
That's how meat should be as far as I am concerned.
I hope you give this recipe a try!
Dutch Oven Cast Iron Pot Recipes