If you're looking to add more vegetables to your meals, check out these easy veggie dinner ideas.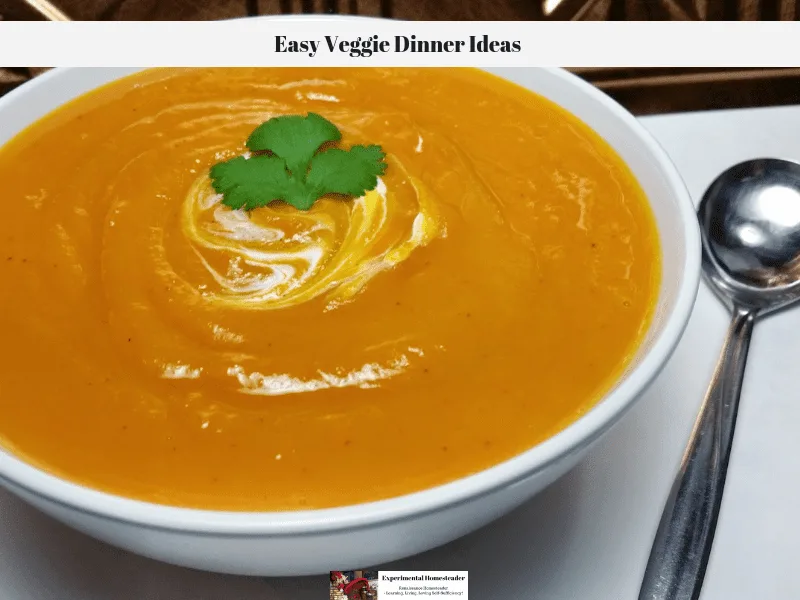 Eat More Vegetables
The American Cancer Society has suggested that we all need to add more vegetables to our meals.
The problem is not everyone likes to eat vegetables, especially children unless they are raised on them from a young age.
But there are many ways to add vegetables to the various recipes you make, so you can get the vegetables you and your family need in foods everyone enjoys.
Easy Veggie Dinner Ideas Using Shredded Carrots
Shredded carrots are one of the easiest vegetables to add to a variety of foods, especially salads.
Carrots add a touch of sweetness to most recipes.
Try adding shredded carrots to meatballs, spaghetti sauce, meatloaf, or even mix them in with other vegetables such as collards, green beans and asparagus.
Believe it not a little raw shredded carrot is excellent on a taco or burrito!
Shredded carrots give Mexican food more crunch and adds a sweet flavor that helps to balance the spiciness.
Easy Veggie Dinner Ideas Using Zucchini
Zucchini is a versatile vegetable that makes a great noodle substitute if you spiralize them.
In fact, a spiralizer is a great kitchen gadget that is used to turn a variety of vegetables into noodles!
It's really easy to do, most of the vegetable noodles taste great with different sauces on them, and some people might not even realize they are eating vegetable noodles!
Zucchini bread is another way to use up all that extra zucchini that is around in the summertime.
Zucchini bread is delicious and unless you tell your family what is in it, they won't have a clue.
Kids love pizza – and so do many adults, so try making some zucchini pizza bites and use sliced zucchini in place of pizza dough.
Smoothies Are A Great Way To Add Vegetables To Your Diet
Smoothies are a great way to get more fruits and vegetables into your family's diet.
This is because they taste great and often the only person who knows exactly what is in the smoothie is the person making it.
Try mixing a banana, cherries, some spinach, just enough water to allow the ingredients to easily blend and ice in a high speed blender and guess what?
No one can taste the spinach!
Seriously!
You have to give this recipe a try.
Another great smoothie combination is grapes, apples, peaches and spinach.
I encourage you to try various fruit and vegetable combinations until you come up with the perfect tasting smoothie.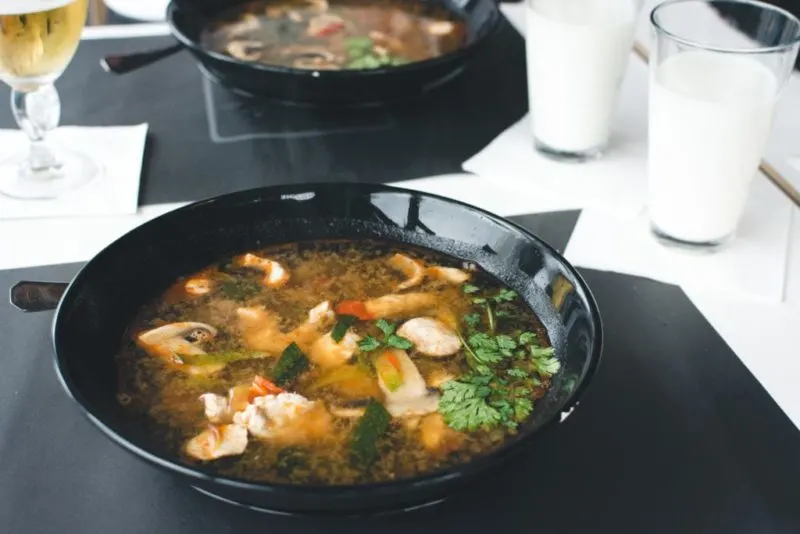 Add Vegetables To Your Soups
Soup is one of the very best ways to sneak in more veggies.
The Thai-inspired soup in the photo above is very tempting to the nostrils and to the palate, not to mention it is full of a variety of vegetables.
It's easy to make homemade pureed soups.
For those who don't want to eat any type of soup made with mostly vegetables, puree a variety of vegetables and add little bit to the broth of your family's favorite soup.
Try making a puree of carrots, squash or other root veggies.
For those who are willing to try a soup made mostly from vegetables, the sweet, creamy and spicy combination of squash, coconut milk and spices in the squash soup recipe below is a perfect treat for a cold afternoon.
Print
Quick And Easy Squash Soup
Author: Sheri Ann Richerson
Prep Time:

15 minutes

Cook Time:

16 minutes

Total Time:

31 minutes

Category:

Vegetables

Method:

Stovetop
1

10-ounce package frozen pureed winter squash

1/2 cup

lite coconut milk

1/2 cup

water

2 teaspoons

lime juice

2 teaspoons

brown sugar

1/2

–

1

teaspoon Thai red curry paste

1/4 teaspoon

salt

8 ounces

boneless, skinless chicken breast, thinly sliced (optional)

1

6-ounce bag baby spinach (optional)
Instructions
Cook the squash mixture over medium heat for 10 minutes, making sure to stir the mixture occasionally.
Add the chicken, if desired.
Simmer the mixture over medium heat, for 3 more minutes, even if you did not add the chicken.
Add the spinach, if desired.
Add the sugar, lime juice, curry paste, and salt to the squash mixture.
Continue to cook it for an additional 3 minutes.
If you added chicken, make sure the chicken is thoroughly cooked before serving the soup.
Keywords: squash soup, quick easy recipes, vegetables, squash recipes
Recipe Card powered by
Try A Vegetable Wrap
Almost anything is good in a wrap.
Make the wrap out of lettuce or cabbage, then add a variety of marinated vegetables such as shredded carrots, zucchini noodles, mushrooms or onions, and top it off with a spoonful of  salsa.
You can also make a wrap out of vegetables for your sandwiches, which is great if you are trying to eat less bread.
For those who own a sheeter, try making wraps out of zucchini, apples, cucumbers or other larger fruits or vegetables to add more variety to your diet.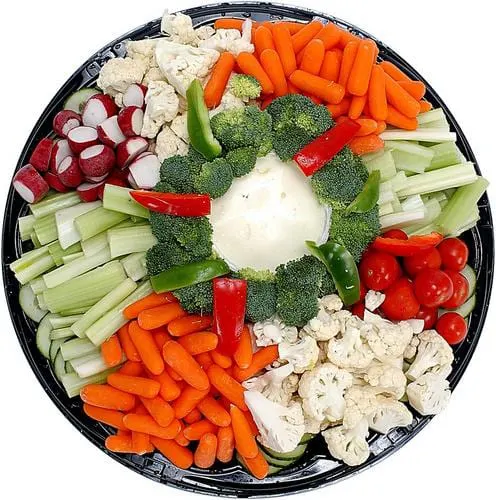 Try A Variety Of Vegetables
Vegetables are very tasty if you buy the right ones.
Buy organic and locally grown produce to get the very best flavors.
Remember just because you don't like one vegetable today doesn't mean you won't like it tomorrow if it is prepared a different way.
Some people love raw broccoli and some hate it, but love it cooked.
Try each vegetable cooked and prepared in a variety different ways before you declare it off limits.
I know my husband did not like Brussels sprouts until I convinced him to try mine.
My granddaughter didn't like them either.
Now they both ask for baked Brussels sprouts on a regular basis.
Final Thoughts
Keep a variety of raw vegetables in your refrigerator, washed, chopped and ready to eat or use.
Try replacing grains with vegetables.
Instead of rice, have a baked sweet potato.
Instead of serving mashed white potatoes, try mashed cauliflower.
Instead of fried rice, try a side of fried vegetables.
To make fried vegetables, chop carrots, green peppers, or other small vegetables and then "fry" them in vegetable broth, soy sauce, or better yet, use coconut oil.
Be sure to serve them while they are still warm.
A veggie omelet, green veggie fritter or a spinach quiche makes a great breakfast.
Adding more vegetables to your diet is a great way to begin to eat healthier.
I highly recommend the following articles:
Use the buttons on the right hand side of the screen to share this article with friends or family who might find it useful. Pin the picture below to your pinboard on Pinterest for future reference.