Sometimes making a full size Jiffy Baking Mix Chicken Pot Pie works perfectly and other times, not so well, especially if you are serving young children or making pot pies for a large gathering.
This is when mini pot pies are the perfect solution.

I've done this recipe both ways – and both ways work perfectly, so do what you need to do to make your pot pie recipe perfect for you!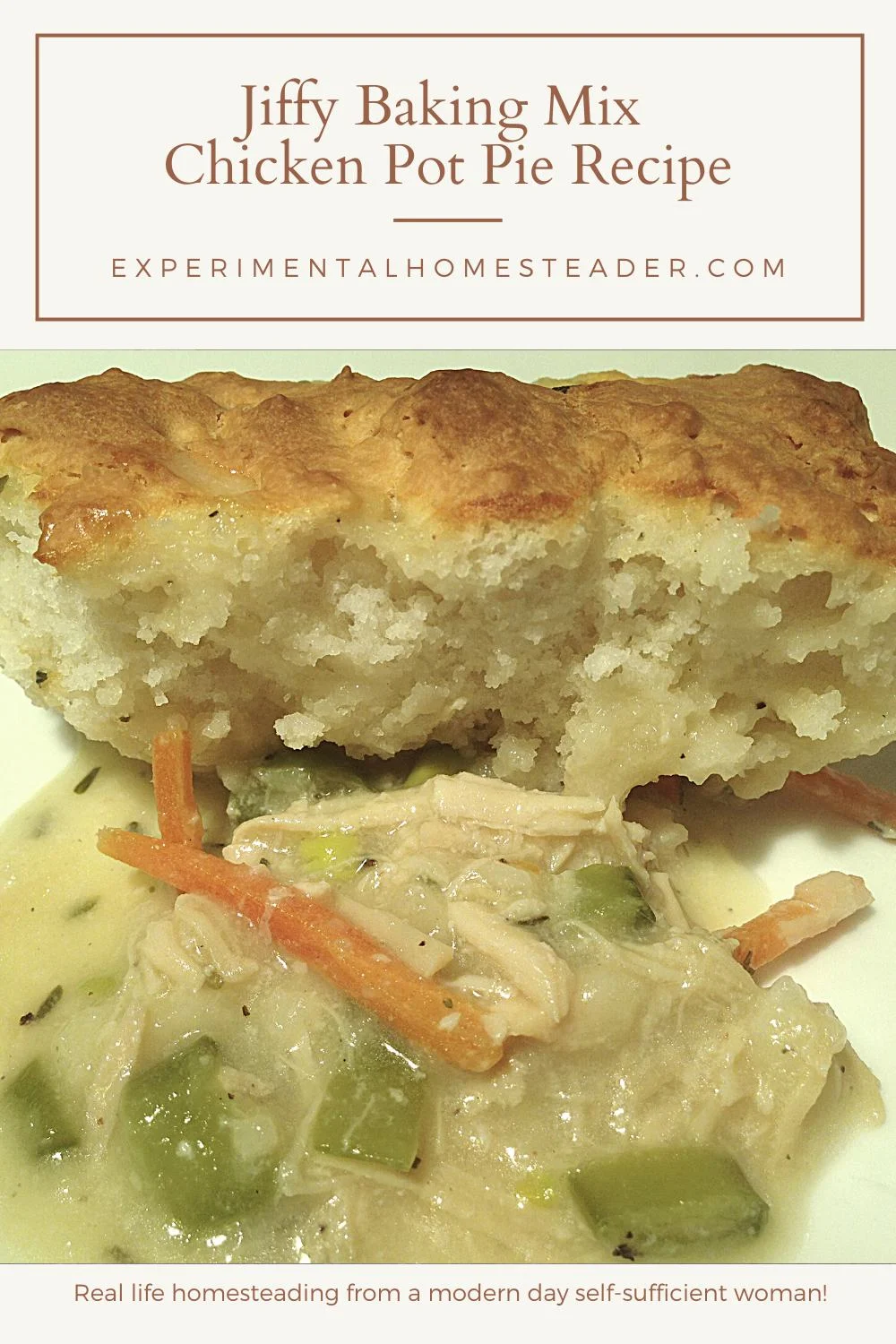 Choose The Right Pans
There are a number of small pans ideal for this including the Norpro Porcelain Ramekin Set
.
Another option is the foil pie pans that you can get at most dollar stores – and this is a great option for kids or large gatherings where porcelain pans might be broken.
If you choose to use a larger pan and make a bigger pot pie, use a 13″ x 9″ pan.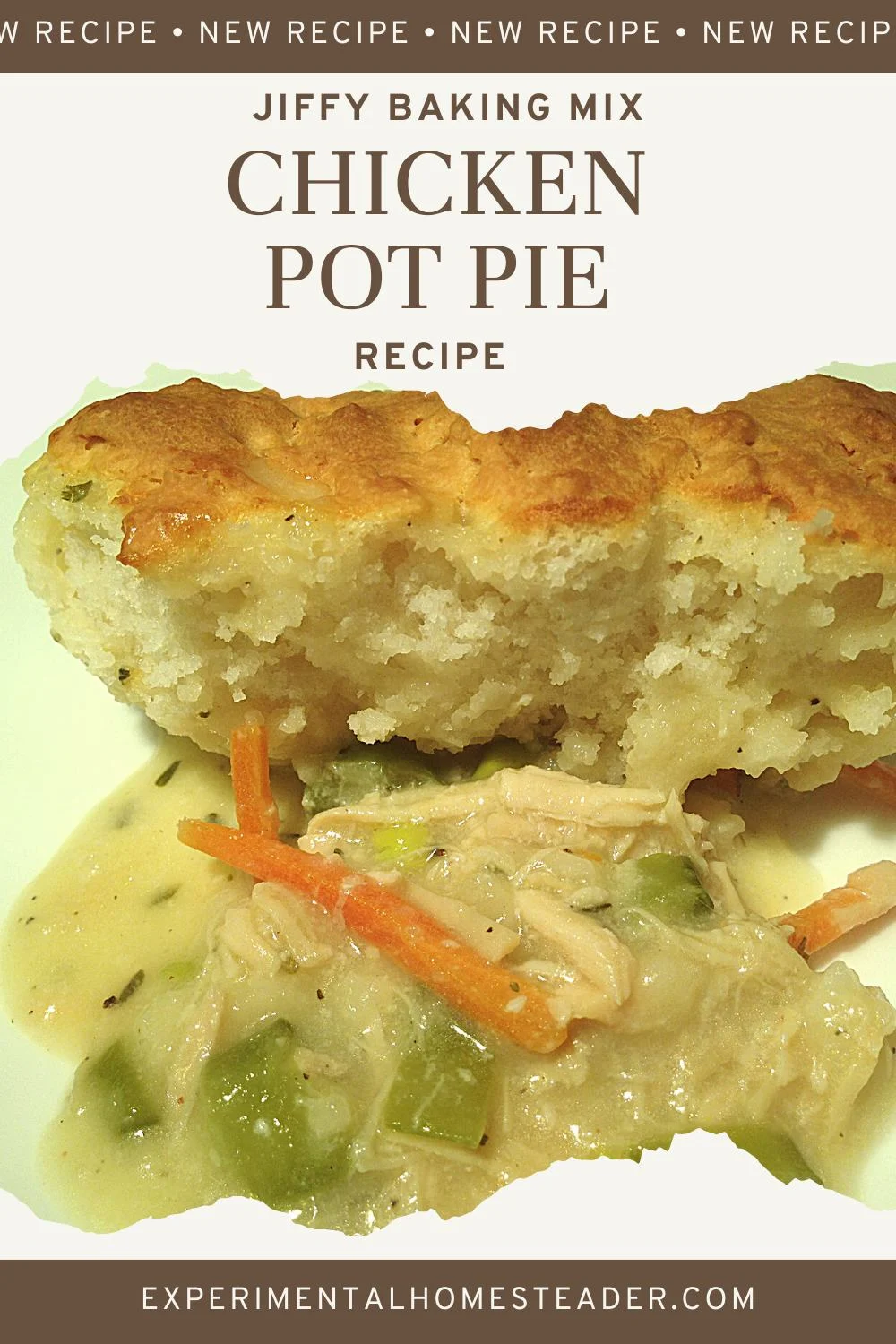 Alternatives
By simply altering the type of meat and broth you use in each recipe you can make a chicken, turkey or beef pot pie recipe very easily.
I have not tried to make these ahead and freeze them, so I do not know how that would work.
I do know these heat up nicely in both the oven and the microwave – as long as you remove them from the pan – so they are perfect for lunches or in-between meal snacks.
I used the same recipe for these that I use for my homemade chicken pot pie.
The recipe is large enough you could make one large pot pie and several smaller ones.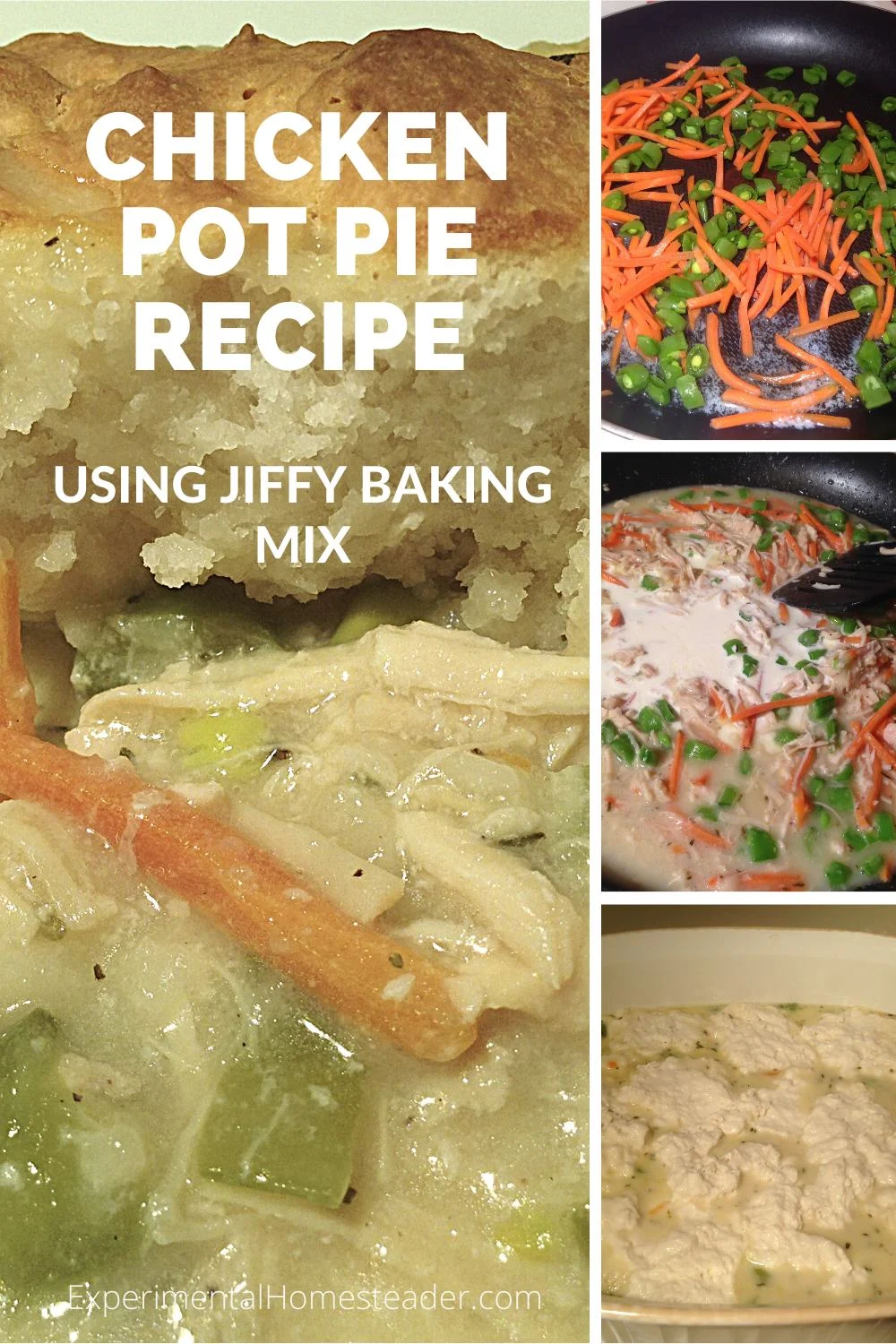 Print
Jiffy Baking Mix Chicken Pot Pie Recipe
Author: Sheri Ann Richerson
Prep Time:

25 minutes

Cook Time:

30 minutes

Total Time:

55 minutes

Category:

Chicken

Method:

Oven
1

can chicken, turkey or beef (

10 ounces

)

32 oz

chicken, turkey or beef broth

1/2

c matchstick carrots

1/2

c sugar snap peas, chopped

1/2

c heavy whipping cream

1/4

c flour

4 tbsp

butter

2 tbsp

flour

1/4

t seasoning salt

1/4

t thyme

1/4

t garlic powder
Instructions
Melt the butter in a skillet over medium heat.
Chop up sugar snap peas.
Add peas and carrots to the melted butter in the skillet and cook for three to four minutes.
Add in the chicken – including the juice.
Continue to cook for one to two minutes while using a spatula to break the chicken into smaller chunks.
Add the salt, pepper, garlic and thyme. Stir to combine.
Sprinkle the flour on top of the chicken mixture. Allow it to sit for one minute to absorb the liquid and then stir to combine it.
Add about 1/4 of the chicken broth and stir in into the mixture.
Continue cooking until the sauce begins to thicken.
Add half the heavy whipping cream, stirring to combine it.
Continue cooking the broth until it begins to bubble and thicken.
Add half of the remaining chicken broth.
Continue cooking over medium heat. Again, you want the broth to thicken.
Add the rest of the heavy whipping cream. Continue cooking.
Add the remaining chicken broth and cook until the mixture is slightly thick. You don't want it runny, but you don't want it too thick either as it will continue to thicken in the oven.
While the pot pie mixture is thickening, make your drop biscuit dough. You can use any recipe you like for this. I used a combination of water, milk and Jiffy baking mix. An alternative crust is easily made with puff pastry dough. Simply roll the dough out and then use one of the pie pans to cut the dough to size by pressing the pie pan into the dough.
Once the chicken, vegetable and broth mixture is thick enough to suit you, fill each small pie pan about 3/4 of the way full and top with either Jiffy baking mix or pre-cut puff pastry dough.
Drop spoonfuls of the drop biscuit mixture or lay the puff pastry dough on top of the chicken, vegetable and broth mixture. The Jiffy mixture will sink – do not worry about this.
Place the baking dish into the oven and bake at 350 degrees F for 25 to 30 minutes. The crust will turn golden brown when it is done.
When you remove the mini pot pies from the oven allow them to sit for 10 minutes to cool slightly before serving.
Keywords: jiffy baking mix chicken pot pie, chicken pot pie, chicken pot pie recipe, jiffy baking mix recipes, jiffy baking mix recipes meals
Recipe Card powered by
Jiffy Baking Mix Advantages
The biggest advantage to using Jiffy Baking Mix to me is convenience.
While I do know how to make my own homemade baking mix that is very similar to Jiffy, sometimes I run out and let's face it making a huge batch of baking mix on the fly isn't the easiest thing to do.
So – I keep a box of Jiffy Baking Mix on hand just in case I need or want to use it.
Of course, there are many recipes on the box and many uses for this product in addition to using it to make a pot pie crust.
Also, if you prefer your crust to be thinner, just make the batter thinner by adding more milk, water or broth.
Jiffy Baking Mix is a great addition to your food storage pantry as well because all you need is some liquid to make biscuits or other items and you can get small boxes that are easy to take with you just in case you need to bug out.
Stock Your Pantry With Chicken Pot Pie Meals In A Jar
Chicken pot pie is a great choice for a meals in a jar kit.
Buy some canned or freeze dried chicken in mylar bags, add some dehydrated or freeze dried peas and carrots – again in individual mylar bags, enough Jiffy Baking Mix to make the crust and powdered milk or powdered whipping cream as well as chicken bouillon cubes or powder.
Then put the flour in a small bag, as well as the herbs and spices in their own small bag.
Now you can put this in your pantry or create mylar bag meal pouches to take camping or hiking with you.
The only other thing you need is a cast iron skillet or pan to cook it in over an open fire.
Meals in a jar – or pouch – make great gifts as well!
The Ultimate Collection Of Best Ever Chicken Recipes