This sous vide pork chops recipe is made with spices you might not think about using when it comes to pork – cacao powder, cinnamon, chipotle, cumin and of course garlic.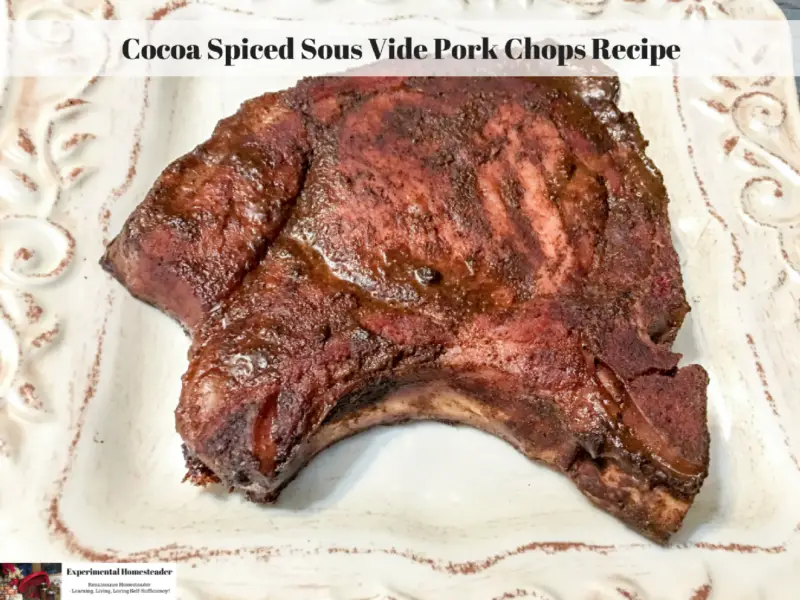 The spices blend beautifully – and what you end up with is a very delicious, uniquely spiced pork chop that will keep everyone guessing just what it in it.
Cooking the pork chop sous vide (affiliate link) means a piece of meat that is tender and juicy – exactly the way pork (or any piece of meat for that matter) should be.
Here is my recipe.
There are also links below to products I recommend from companies I have a referral relationship with. I will be compensated if you make a purchase after clicking on my links.
Print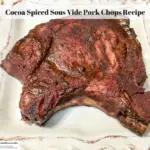 Cocoa Spiced Sous Vide Pork Chops Recipe
---
Ingredients
2 pork chops
1/2 Tablespoon cocoa powder
1/2 teaspoon chipotle powder
1/2 teaspoon garlic powder
1/2 teaspoon cumin
1/2 teaspoon cinnamon
---
Instructions
Set your sous vide (affiliate link) machine to 145 degrees Fahrenheit.
Combine the spices and put them in a large sealable bag.
Pat the pork chops dry with a paper towel.
Place the pork chops one a time into the bag with the spices, seal the bag and shake to coat the pork chops.
Place each pork chop into its own bag and vacuum seal.
Once the water (affiliate link) in the sous vide (affiliate link) cooker reaches 145 degrees Fahrenheit, submerge the pork chops in the water (affiliate link).
Cook for one hour.
Remove the pork chops from the bag, allow them to rest for a ten minutes under a foil tent (affiliate link) and serve.
Be sure to sign up to get your FREE recipe card that is a perfect fit for a 3″ x 5″ recipe box.
In addition to getting the custom recipe card, you will also be signed up for our newsletter so you will always be up to date on new posts and get great recipes right in your inbox!
Be sure to take a moment to download your free printable recipe card. The card is is standard 3 inch by 5 inch design with blank lines that you can print onto card stock (affiliate link), write your favorite recipes on and add to your personal recipe collection.
I highly recommend the following articles:
Use the buttons on the right hand side of the page to share this article with friends or family who might find it useful. Pin the picture below to your pinboard on Pinterest for future reference.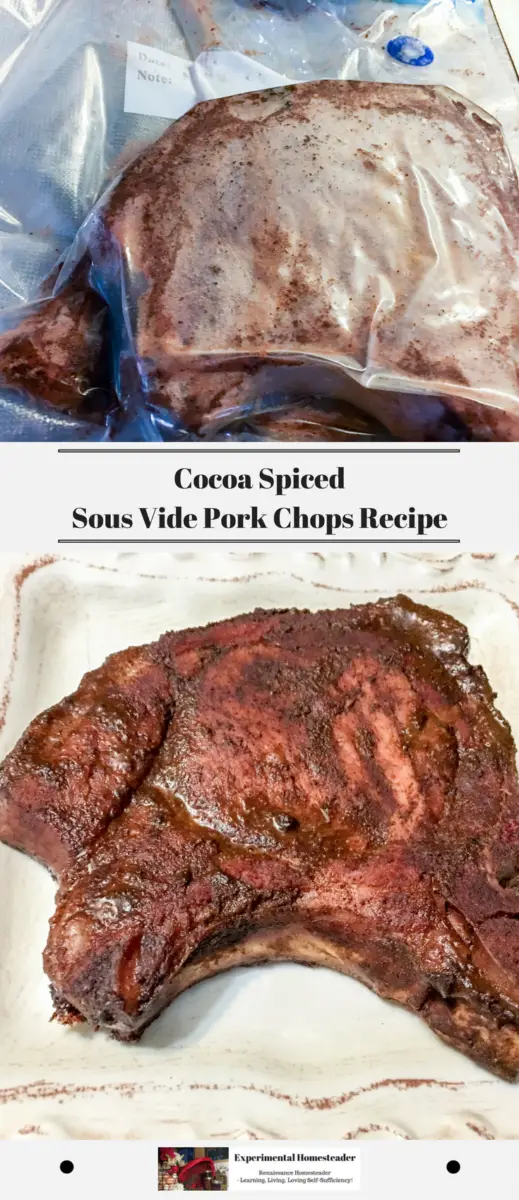 SaveSave
SaveSave
SaveSave