Disclaimer: This is not a sponsored post. I was not paid anything to post this recipe nor to promote their links. I did not receive any product for review. This is simply a recipe I thought my readers would enjoy. All photos are property of Explore Cuisine and I was given permission to use them. This post, does however contain affiliate links which means if you click on a link and buy an item from that link, I get a small percentage of the money.
Are you looking for an easy, gluten-free side dish for the holidays?

Try this delicious gluten-free green bean and pasta casserole recipe from Explore Cuisine.
It is sure to be a crowd pleaser.
I love that in under an hour I can have all the prep work done and have it ready to serve, not to mention one-dish recipes are all the rage because of how easy they are to take with you to carry-in dinners!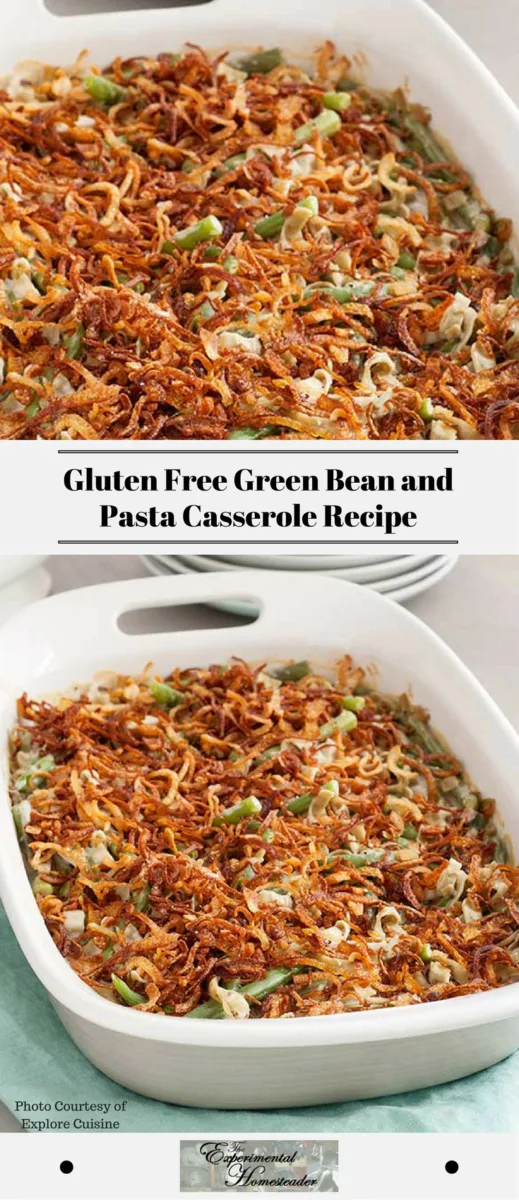 Print
Gluten Free Green Bean and Pasta Casserole Recipe
Kosher salt

1

box (8 oz) Explore Cuisine Organic Edamame & Mung Bean Fettuccini

1

pound green beans, trimmed and cut in half

8 ounces

white button mushrooms, sliced

1 cup

gluten free chicken or vegetable stock

1 cup

heavy cream

2 cups

(

7 ounces

) grated Parmesan cheese
Vegetable oil

6

shallots, thinly sliced
Instructions
Preheat the oven to 350 degrees Fahrenheit.
Bring a large pot of heavily salted water to a boil. Add the pasta and cook for 4 minutes. Add the green beans to the pasta and cook for another 4 minutes. Reserve about 1 cup of the cooking water and drain the pasta and green beans.
In a large skillet, melt the butter over medium high heat. Add the mushrooms and cook until they start to brown, about 6 – 7 minutes. Add the stock and cream, bring to a boil, reduce heat and simmer for 2 minutes. Stir in the Parmesan cheese then add the pasta and green beans. Add kosher salt and black pepper to taste. Stir to combine. Add a little pasta water if the sauce is too thick. Pour the mixture into a 9 inch by 12 inch baking dish and bake for 20 – 30 minutes or until heated through and bubbly.
While the casserole is baking, prepare the shallots. Line a plate with paper towels. Pour enough oil into a large skillet to come up ¼ inch. Heat over medium-high heat. Reduce the heat to low, add the shallots and let cook for 12 minutes, the shallots should be quite soft. Raise the heat to high and cook, stirring often, until the shallots are well browned. Remove with a slotted spoon and let drain on the paper towels. Sprinkle with salt. The shallots will crisp more as they cool.
When the casserole is done, scatter the shallots over the top and serve.
Recipe Card powered by
I highly recommend the following articles:
SaveSave
SaveSave