Delicious doesn't even come close to describing the way this top round roast sous vide recipe turned out!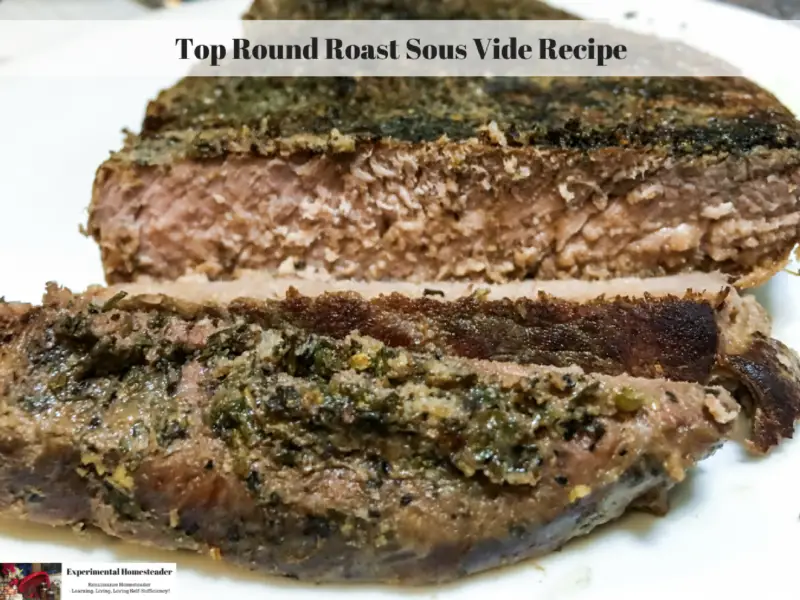 The top round roast was tender and juicy.
It literally melted in my mouth!
Never have I tasted a top round roast this good!
Here is my sous vide (affiliate link) top round roast recipe.
There are also links below to products I recommend from companies I have a referral relationship with. I will be compensated if you make a purchase after clicking on my links.
Print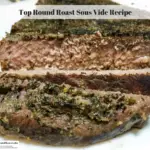 Top Round Roast Sous Vide Recipe
---
Ingredients
3 Tablespoons butter
1 Tablespoon liquid smoke
1 teaspoon Black Sea salt
1 teaspoon black pepper
1 teaspoon garlic powder
1 teaspoon oregano
1 teaspoon parsley
1/2 teaspoon celery seed
1/2 teaspoon Memphis Style BBQ Seasoning
---
Instructions
Preheat your sous vide (affiliate link) cooker to 135 degrees Fahrenheit.
Sprinkle the liquid smoke and all the spices on top of one side of the top round roast. Do not include the butter! It is for searing the meat when it is done.
Carefully place the top round roast into a vacuum seal bag and seal it.
Once the sous vide (affiliate link) cooker reaches temperature, place the vacuum sealed bag with the top round roast into the water (affiliate link).
Cook for 15 hours.
Remove the bag from the sous vide (affiliate link) cooker.
Place the butter in a cast iron skillet (affiliate link) and let it melt. You want the butter melted and the skillet hot for the next step.
Carefully remove the top round roast from the bag. It might want to fall apart and you do not want that to happen.
Place the top round roast, seasoning side down in the cast iron skillet (affiliate link) and sear. This normally takes 2 to 3 minutes.
Turn the top round roast over and sear the other side.
Remove the top round roast, allow it to sit on a plate with a foil tent (affiliate link) for 10 minutes.
Cut and serve.
Notes
Note: I did use a semi-frozen top round roast. The time and temperature would be the same even if it was thawed completely. I also used the drippings in the bag to make a gravy once the searing of the meat was done. This is an optional step.
Be sure to sign up to get your FREE recipe card that is a perfect fit for a 3″ x 5″ recipe box.
In addition to getting the custom recipe card, you will also be signed up for our newsletter so you will always be up to date on new posts and get great recipes right in your inbox!
Be sure to take a moment to download your free printable recipe card. The card is is standard 3 inch by 5 inch design with blank lines that you can print onto card stock (affiliate link), write your favorite recipes on and add to your personal recipe collection.

I highly recommend the following articles:

Use the buttons on the right hand side of the page to share this article with friends or family who might find it useful. Pin the picture below to your pinboard on Pinterest for future reference.