Disclaimer: The reviewer has received the product/service at a reduced price or for free. I am being compensated to participate in #Switch2Swerve challenge through the Bookieboo Influencer Network . I did switch out my regular sweetener for the Swerve Sweetener from November 18, 2013 through December 20, 2013. All opinions are my own and are my honest opinions based on my own experience with the product.
Today I am going to teach you how to make swerve whipped cream using Swerve Confectioner Sugar.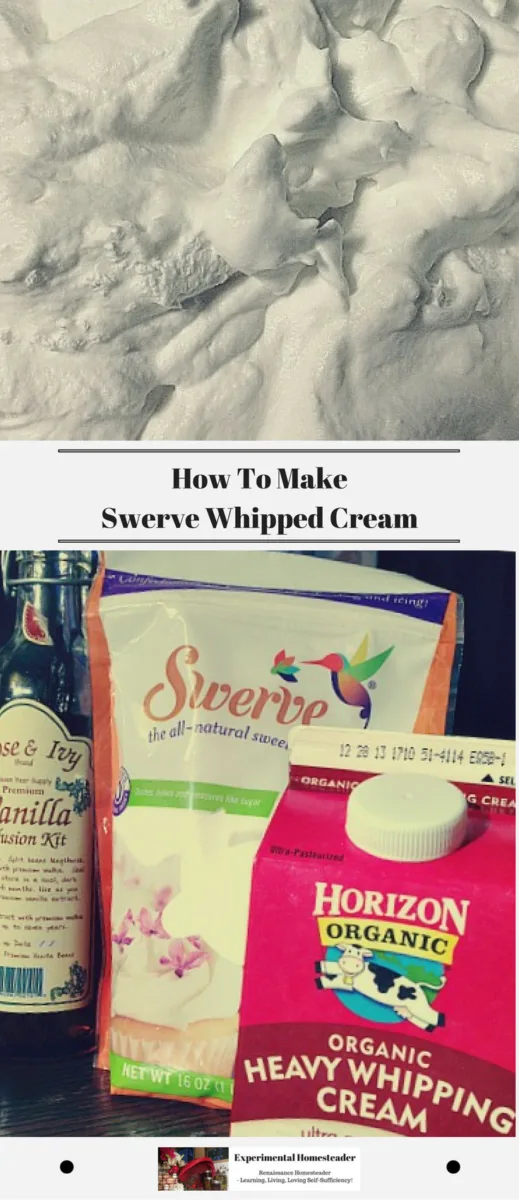 This Recipe Vs. Store Bought Whipped Cream
Now this recipe is not as sweet as the whipped cream you buy in the store, but if you prefer it to be sweeter, just add a little bit more sugar.
You can make homemade whipped cream in under 10 minutes and it only requires three ingredients – heavy whipping cream, vanilla extract and Swerve Confectioner Sugar.
The end result is a creamy, delicious whipped topping that you can use in place of your old standby whipped topping – and you don't need to tell anyone that you substituted Swerve for sugar.
I love using this on top of pies made with Swerve Sweetener and even on top of homemade ice cream!
Here is the recipe.
Print
How To Make Swerve Whipped Cream
Instructions
Measure the cup of heavy whipping cream and pour it into a bowl. Be sure the whipping cream is cold for the best results.
Measure the Tablespoon of Swerve Confectioners Sugar and add it to the whipping cream.
Measure the teaspoon of vanilla extract and add it to the whipping cream. You can substitute any flavor of extract for the vanilla. For example, if you want a peppermint flavored whipped cream, simply add a teaspoon of peppermint extract, omit the vanilla extract and – if you with – add one or two drops of food coloring to create a unique topping for your favorite desserts.
Blend until the mixture is thick and begins to form stiff peaks. Be careful not to over blend the mixture or you will end up with butter. I used an electric whisk but you can use a mixer or a hand whisk if you prefer.
Once the mixture looks like whipped cream, stop whisking it.
Scoop the whipped cream into a dish and refrigerate it until you are ready to use it.
Recipe Card powered by
Where To Buy Swerve
Back when I wrote this article, Swerve Sweetener was only available in select stores, however that has changed over the years.
Now you can find Swerve Sweetener on most grocers shelves.
However, you can make it even more convenient to make sure you have an ample supply of Swerve Sweetener and buy it on Amazon.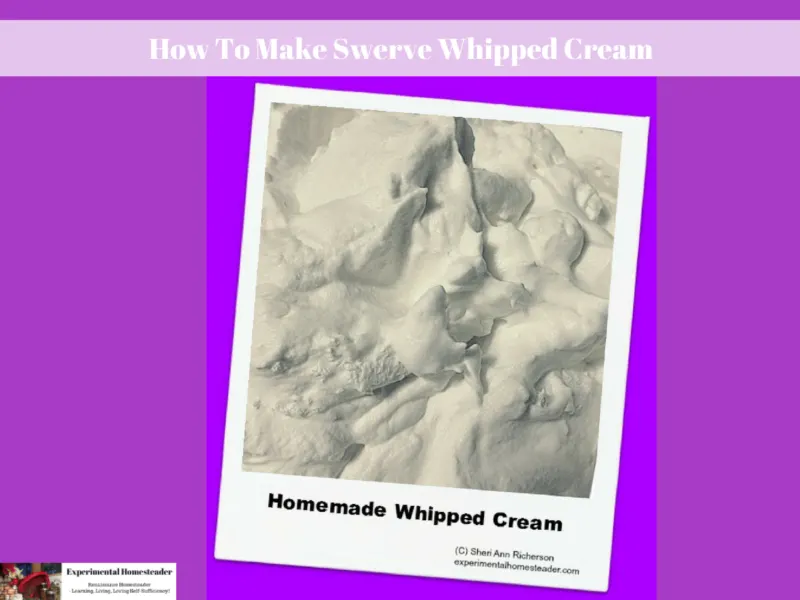 Where To Find More Information On Swerve
For recipes or more information on Swerve Sweetener, to connect with Swerve Sweetener on social media or to find out where to purchase Swerve Sweetener, visit these links:
Swerve Sweetener Website: http://www.swervesweetener.com
Twitter: https://twitter.com/swervesweetie
Facebook: https://www.facebook.com/SwerveSweet
Pinterest: https://pinterest.com/swervesweetie
Instagram: http://instagram.com/swervesweetie
Google+: https://plus.google.com/100398605293713361413
Remember – Swerve measures out cup for cup just like sugar, so you don't have to worry about doing any crazy math to figure out how to use it in your recipes.
SaveSave
SaveSave
SaveSave
SaveSave
SaveSave
SaveSave