If you've ever wondered how to make red velvet cupcakes from scratch, wonder no more!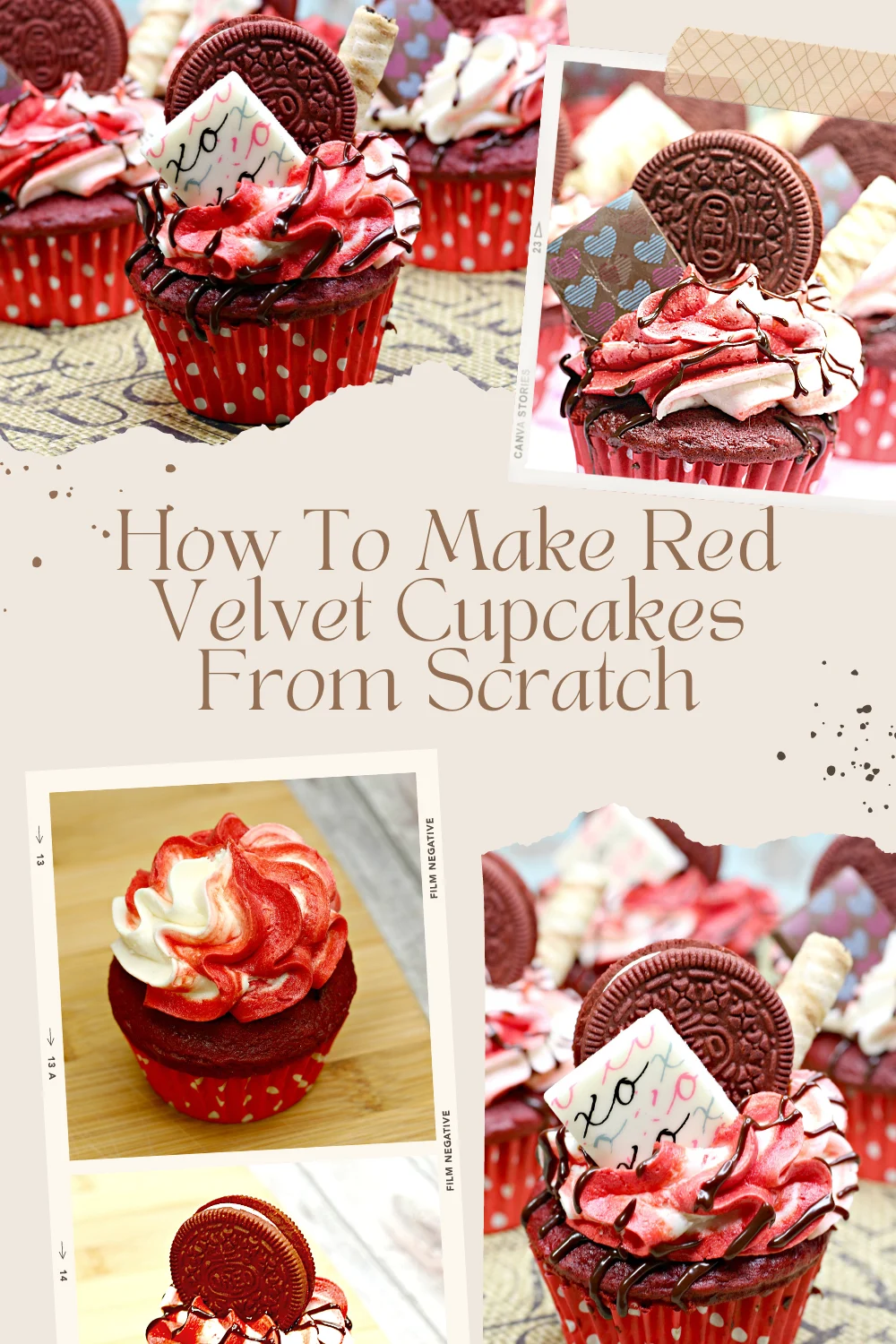 This recipe not only makes delicious red velvet cupcakes, but when you follow the instructions on how to frost and decorate them, everyone who sees them is going to be impressed.
Not to mention decorating cupcakes is really easy, so even if you have no cupcake decorating experience, you can do this!
Here is my recipe for making red velvet cupcakes from scratch.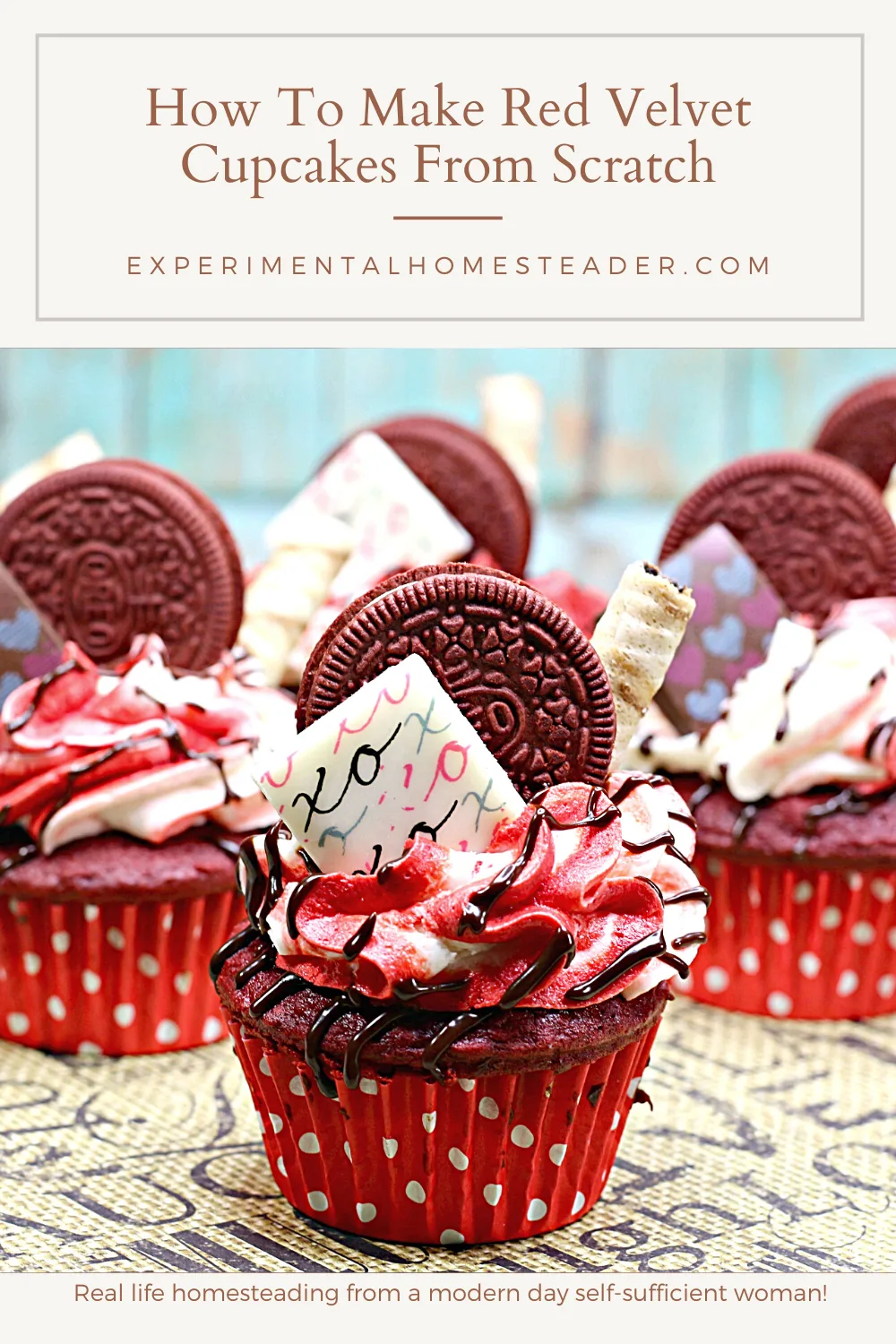 Print
How To Make Red Velvet Cupcakes From Scratch
Author: Sheri Ann Richerson
Prep Time:

30 minutes

Cook Time:

21 minutes

Total Time:

51 minutes

Category:

Desserts

Method:

Oven
Cupcake Ingredients:
2½ cups

flour

1 Tablespoon

cocoa powder

1½ teaspoon

 baking soda

½ teaspoon

salt

½ cup

butter, soft, plus 4 Tablespoons

¼ cup

softened shortening

1 cup

sugar

1

egg

1 teaspoon

vanilla

1 Tablespoon

Red Velvet extract

1 cup

milk

1 Tablespoon

red gel food color
Frosting Ingredients:
Cream cheese frosting

1 cup

unsalted sweet cream butter, softened

4 ounce

cream cheese, softened

4 cups

powdered sugar

1 teaspoon

vanilla extract

4

to

6

Tablespoons heavy whipping cream
red gel food coloring
Decorating Supplies:
Instructions
Cupcake Directions:
Preheat the oven to 350 degrees.
Line the cupcake pan with paper cupcake liners.
In a large bowl, whisk together the flour, cocoa powder, baking soda and salt.
Place the butter, shortening and sugar into a large bowl and beat together the contents until it is light and fluffy.
Mix in the egg, vanilla, red velvet extract and red gel food coloring. Stir until well combined.
Add the dry ingredients into the butter sugar mixture alternating with the milk until they are well combined.
Scoop the batter into the paper cupcake liners, filling them 3/4 of the way full. Do not overfill.
Bake the cupcakes in the preheated oven for 21 minutes.
Remove the cupcakes from the oven, use a toothpick to make sure they are done and if they are, remove them from the cupcake pan and set them on a wire rack to cool completely.
If the cupcakes are not done, return them to the oven and bake them a few more minutes until the toothpick inserted in the center comes out clean.
Once the cupcakes are completely cool, go ahead and frost them using the instructions below.
Frosting Directions:
Gather all the ingredients mentioned above in the frosting ingredients section.
Put the butter, cream cheese, powdered sugar, vanilla extract and heavy whipping cream in a large bowl and beat it using an electric stand mixer until it is smooth and stiff peaks form.
Divide the frosting and put it into two seperate bowls.
Add a few drops of red food coloring into one bowl and mix it into the frosting until it is well combined.
Make the candy decorations by carefully popping out the square pieces from your candy sheet.
Follow the directions on the candy sheet on how to place them in the square mold.
Scoop melted milk chocolate or white chocolate onto the candy piece in the mold
Allow the chocolate to harden completely before removing
Frosting And Decorating Decorations:
Place the piping bag into a large cup and fold the sides over the edge
Scoop some red frosting into one side of the piping bag.
Scoop white frosting into the other side of the piping bag. 
Pipe the cooled cupcakes with the frosting.
Drizzle chocolate sauce onto the cupcakes. 
Place a Red Velvet Oreo Cookie into the center of the cupcake.
Place a chocolate piece in front of the Oreo Cookie.
Place a cookie stick behind the Oreo Cookie to hold it in place.
The cupcakes are now ready to serve.
Keywords: red velvet cupcakes from scratch, red velvet cupcakes, red velvet cupcakes recipe, red velvet cupcakes decoration, red velvet cupcakes with cream cheese
Recipe Card powered by

Final Thoughts About The Red Velvet Cupcakes From Scratch Recipe
When you take the time to make this red velvet cupcakes from scratch recipe, you know exactly what is in it, unlike if you buy a ready to make cake mix.
Best of all, you have the option of playing around with the flavor, so while the recipe suggests using vanilla extract, you could use a different flavored extract.
It is also possible to cut this recipe in half if it makes too many cupcakes.
With a box mix that is a little harder, although not impossible, to do.
I really hope you will give this red velvet cupcakes from scratch recipe a try and be sure to come back to let me know what you thought about it.