I found two recipes on Pinterest, combined and altered them to come up with this delicious Rosemary Vanilla Roasted Pears recipe.

The pears I'm using are the ones I canned from my own garden – so you could use canned pears or fresh pears if you wanted to.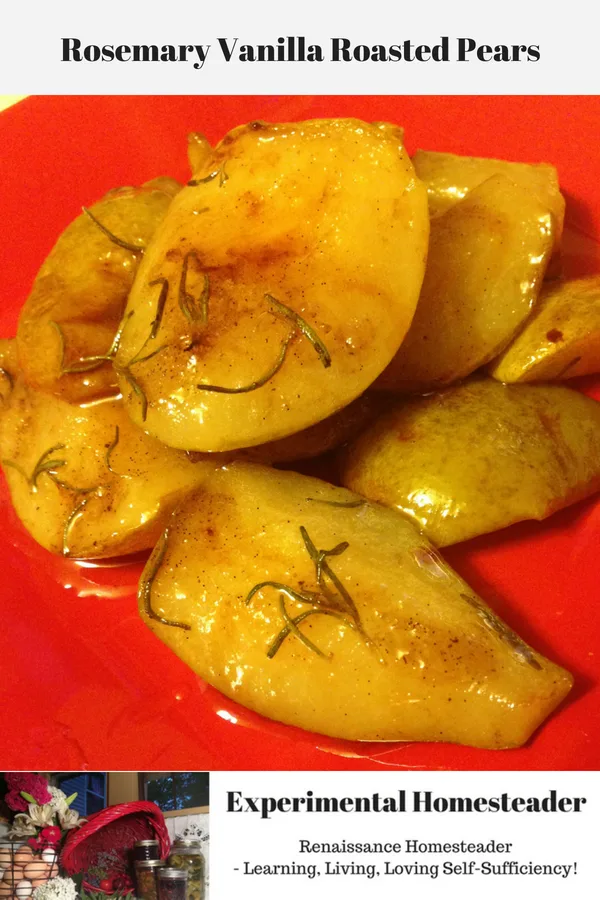 Fresh pears might take longer to cook since the key is to soften the pears.
Cooking them longer might also caramelize the sauce some.
I liked them just like you see them in the photo and have already made them four times this week.
They really are good.
Here is my recipe.
Print
Rosemary Vanilla Roasted Pears
1 pint

home canned pears

6 Tablespoons

juice from the can of pears

2 Tablespoons

real butter

1 Tablespoon

vanilla paste

2

sprigs of rosemary (

4

to

5

inches long)
Instructions
Remove the pears from the juice but be sure to keep the juice.
Lay the pears, cut side up, in the pan. I can my pears with the skins on. If yours don't have skins, just lay them in the pan.
Spoon five tablespoons of the pear juice over the top of the pears.
Remove the rosemary leaves from the stems and place the rosemary on top of the pears. I put my rosemary leaves on whole but you can chop the leaves up if you prefer. We did this the second time we made this recipe and actually liked it better because I don't like eating crunchy rosemary.
Drizzle the vanilla paste over the top of the pears and rosemary.
Cut the butter into small pats and place one pat on top of each pear.
Place the pan in the oven. I do not preheat my oven. You can if you want to.
Bake the pears at 375 degrees F for 30 to 40 minutes basting every 10 minutes. When they are done the liquid is a thick syrup, the pears are soft and may have a slight brown color to them.
Serve warm with or without whipped cream.
Recipe Card powered by
SaveSave
SaveSave