The original recipe for this Angel Food Cake Recipe With Poppyseed and Lemon Zest came from Charlie Trotter's Desserts Cookbook.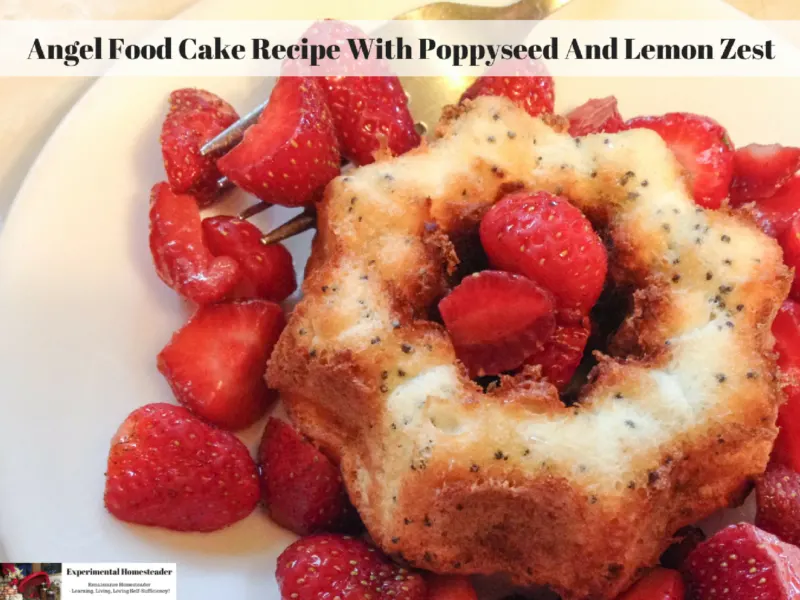 I had looked at the recipe over the course of almost two years before I made it and I am not sure why as it was super easy to do and tasted better than I imagined.
It is slightly sweet and has flavor unlike many of the packaged angel food cakes you can buy.
It went better with my homegrown strawberries than shortcake.
The texture was light and fluffy too.
I am really glad I went ahead and made the recipe and I encourage you to do the same.
Below is the angel food cake recipe with poppyseed and lemon zest.
The only special equipment you need is a mixer – I used my KitchenAid and a mini bundt pan. I chose to go with my NordicWare Mini Bundt Pan but any mini bundt pan will work.
Print
Angel Food Cake Recipe With Poppyseed And Lemon Zest
1/4 cup Plis 2 Tablespoons sugar (Keep these two separate if you pre-measure)

1/2 cup egg whites (equal to of 4 large egg whites)

Pinch of salt (I have measuring spoons that say pinch)

1/2 teaspoon cream of tarter


1 1/2 teaspoons

lemon zest (I used lemon zest I made that was dried)
Instructions
Begin by shifting the cake flour with the 2 Tablespoons of sugar. Normally I do not shift but did with this recipe.

Put the eggs whites and cream of tarter into your mixing bowl and mix on medium speed until soft peaks form. You will need to stop the mixer from time to time to check this.

Add the salt to the egg mixture and continue mixing.

Add the 1/4 cup sugar while continuing to mix until stiff peaks form. You will need to stop the mixer from time to time to check this.

Sprinkle the flour and sugar mixture on top of the egg white mixture and continue mixing on low speed.

Add in the poppy seeds and lemon zest while continuing to mix on low speed.

Spoon batter into a well-greased pan. I used a mini-bundt pan but use whatever pan you like.

Gently bounce the pan on a hard surface to help level the batter and remove air bubbles. The batter is going to be very fluffy so it won't seem like much is happening. This is ok.

Bake the angel food cake in a pre-heated 375 degree Fahrenheit oven until the top is golden brown. This can take anywhere from 12 minutes up to 20 minutes. I suggest you start with the 12 minutes, then add a minute or two as you go so you do not overtake the cake.

Allow the cake to cool with the pan sitting on a cooling rack, then gently remove the angel food cake and continue to cool it on a cooling rack. Serve as soon as they are cool or wrap them and save them at room temperature until you are ready to eat them. You can also just put them inside a cake pan, etc.
Recipe Card powered by
I highly recommend the following articles:
Use the buttons on the right hand side of the screen to share this article with friends or family who might find it useful. Pin the picture below to your pinboard on Pinterest for future reference.