Fall, pumpkins and Whoopie Pies seems to go hand in hand, which is why I came up with this Whoopie Pie Pumpkin Desserts Recipe.
Making Whoopie Pies from scratch is easy and best of all it does not take a lot of time.

Plus it is a great way to spend time in your kitchen with older kids who could help put the filling into the center of the Whoopie pies or even help make them if they are old enough.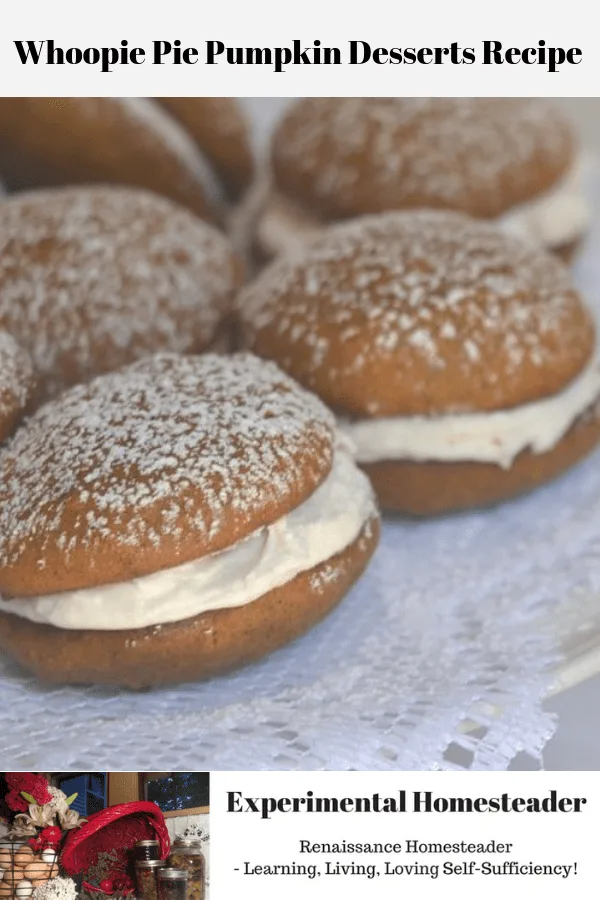 Whoopie Pie Directions
This particular Whoopie Pie recipe has an unusual twist because instead of the cookies just being made with pumpkin, the filling is made with pumpkin spice cream cheese!
This way you get a double dose of that delicious pumpkin flavor that so many people crave in their fall desserts!
Of course, if that is too much pumpkin flavor for you, then feel free to use plain cream cheese instead.
Print
Whoopie Pie Pumpkin Desserts Recipe
Author: Sheri Ann Richerson
Prep Time:

1 hour 30 minutes

Cook Time:

18 minutes

Total Time:

1 hour 48 minutes

Yield:

1

6

1

x
Category:

Desserts

Method:

Oven
Cake Batter:
Filling:
1 1/2 cups

confectioners' sugar

6 ounces

pumpkin spice cream cheese, softened

6 Tablespoons

unsalted butter, softened

1 Tablespoon

vanilla bourbon
Pinch of salt
Instructions
Whoopie Pie Cakes:
Preheat oven to 350 degrees Fahrenheit.
Line two baking sheets* with parchment paper.
Measure and place the flour, baking powder, soda, salt, and spices in a large bowl and whisk to combine.
Measure out and place the sugar, oil, pumpkin, egg, and vanilla in a second large bowl and whisk until well combined.
Pour the flour mixture into the bowl with the pumpkin mixture and stir until well combined.
Scoop out two Tablespoons of batter and put them into a single mound on one of the baking sheets.
Repeat this process making 15 more mounds, arranging them 2 inches apart until the first baking sheet is full.
Now make a total of 16 more mounds on the second parchment lined baking sheet.
Once the oven is preheated, place the baking sheets on the middle rack of the oven and bake the cakes 12 to 18 minutes. They will be springy when touched.
Transfer the cakes to cooling rack and allow them to cool for ten minutes, then dust the tops with confectioners sugar.
Allow the cakes to finish cooling until they are completely cool to the touch.
Filling:
While the cakes are baking, beat the pumpkin spice cream cheese, butter, and salt in a bowl with an electric mixer on medium speed until it is smooth.
Add the confectioners' sugar and vanilla bourbon to the cream cheese mixture while continuing to beat the mixture on low speed until it is smooth and well combined.
Place the mixture in a bowl and cover it.
Then place the mixture in the refrigerator until it is firm enough to hold its shape when spread. This can take 30 minutes to 1 hour. Allowing it to chill overnight is ok.
Whoopie Pie Assembly Instructions:
Once the cakes are cool and the cream cheese filling is firm, spread one heaping Tablespoon of filling on the flat side of the cake.
Place a second cake on top of the filling making sure the flat sides of the cakes are the ones facing the filling and press them together lightly.
Place the assembled whoopie pies in the refrigerator for an additional 30 minutes to firm up the filling again.
Serve and enjoy!
Be sure to wrap any leftover whoopie pies in Saran Wrap and refrigerate to keep them fresh!
Keywords: Whoopie Pie, Pumpkin Desserts Recipe, Whoopie Pie Pumpkin Desserts
Recipe Card powered by

Whoopie Pie Decorating Ideas
A simple dusting of confectioners sugar, as seem in the photo above makes a really pretty topping for Whoopie Pies, however if you are looking for other Whoopie Pie decorating ideas, here are a few more.
Of course these are a few of the simple ideas.
Use your imagination and you are sure to come up with some really unique Whoopie Pie Decorating Ideas.