I love ice cream – and chocolate ice cream is one of my favorites. I really love how cinnamon tastes in combination with chocolate.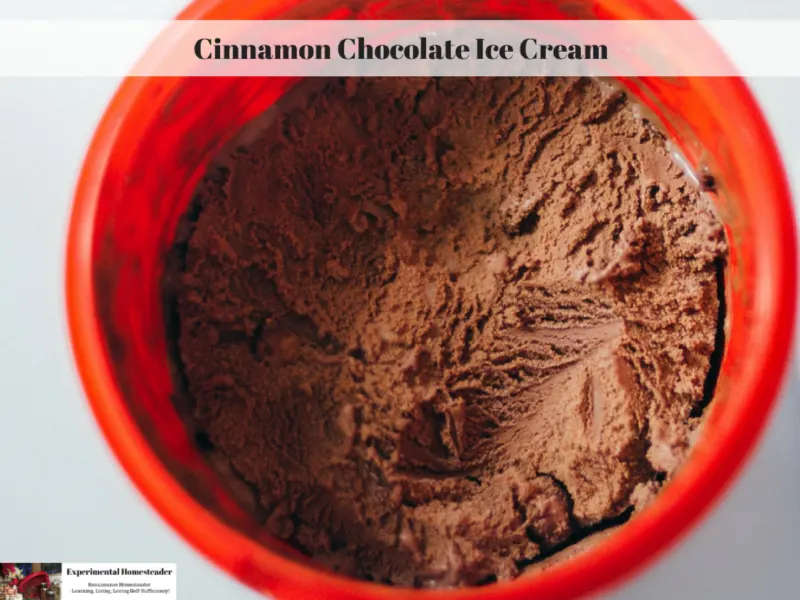 Why Make Your Own Ice Cream?
Raising goats meant lots of extra milk – and cream – that was used to make ice cream at least once a week.
Homemade ice cream contains a limited number of ingredients and you can make your own unique flavor combinations.
In my opinion homemade ice cream tastes better than anything you can buy at the supermarket.
National Chocolate Ice Cream Day
June 7 is National Chocolate Ice Cream Day, so I thought I would share a cinnamon chocolate ice cream recipe with you as well as a little history about this day.
Did you know that chocolate is the second most common flavor of ice cream in the United States? I don't find that surprising at all.
Vanilla ice cream is the most common flavor.
A Brief History Of Chocolate Ice Cream
Thomas Jefferson was the man who introduced frozen chocolate to the United States in the 1780's.
In 1692 Italians began to freeze hot chocolate.
This lead to the discovery of using chocolate flavor in frozen foods such as ice cream.
While you can easily find chocolate ice cream at your local supermarket – here is my recipe for homemade cinnamon-chocolate ice cream.
Print
Cinnamon Chocolate Ice Cream
Instructions
Place all the ingredients in your ice cream maker and follow the instructions provided by the ice cream maker manufacturer on how to use.
Alternatively place all the ingredients except the heavy whipping cream in a blender and blend until smooth.
Stir in the heavy whipping cream until well combined.
Pour into a freezer safe bowl and freeze until the ice cream is solid.
Notes
* If you do not have access to goat milk, you can use any type of milk that you wish.
Recipe Card powered by
How do you prefer eating your chocolate ice cream – in a regular cone, a waffle cone, a sundae or in a bowl?
Feel free to share below – and if there is a better way to enjoy chocolate ice cream, do share that as well.
I look forward to hearing from you!
I highly recommend the following articles:
Use the buttons on the right hand side of the screen to share this article with friends or family who might find it useful. Pin the picture below to your pinboard on Pinterest for future reference.