When it comes to pumpkin table decorations, the classic pumpkin steals the show.
They're round, vibrant, and undeniably synonymous with autumn, especially Halloween.

From the classic orange to quirky gray or even white, pumpkins come in all shades.
Their popularity spikes during the Halloween season, where they take center stage as spooky canvases for carving.
But here's the thing – traditional pumpkins used as pumpkin table decorations can be quite hefty, making them a chore to carry, especially when you opt for those giant ones.
And let's not forget the mess and tedium of carving out intricate, eerie faces with a knife.
Not to mention, purchasing a bunch of pumpkins can be quite the expense.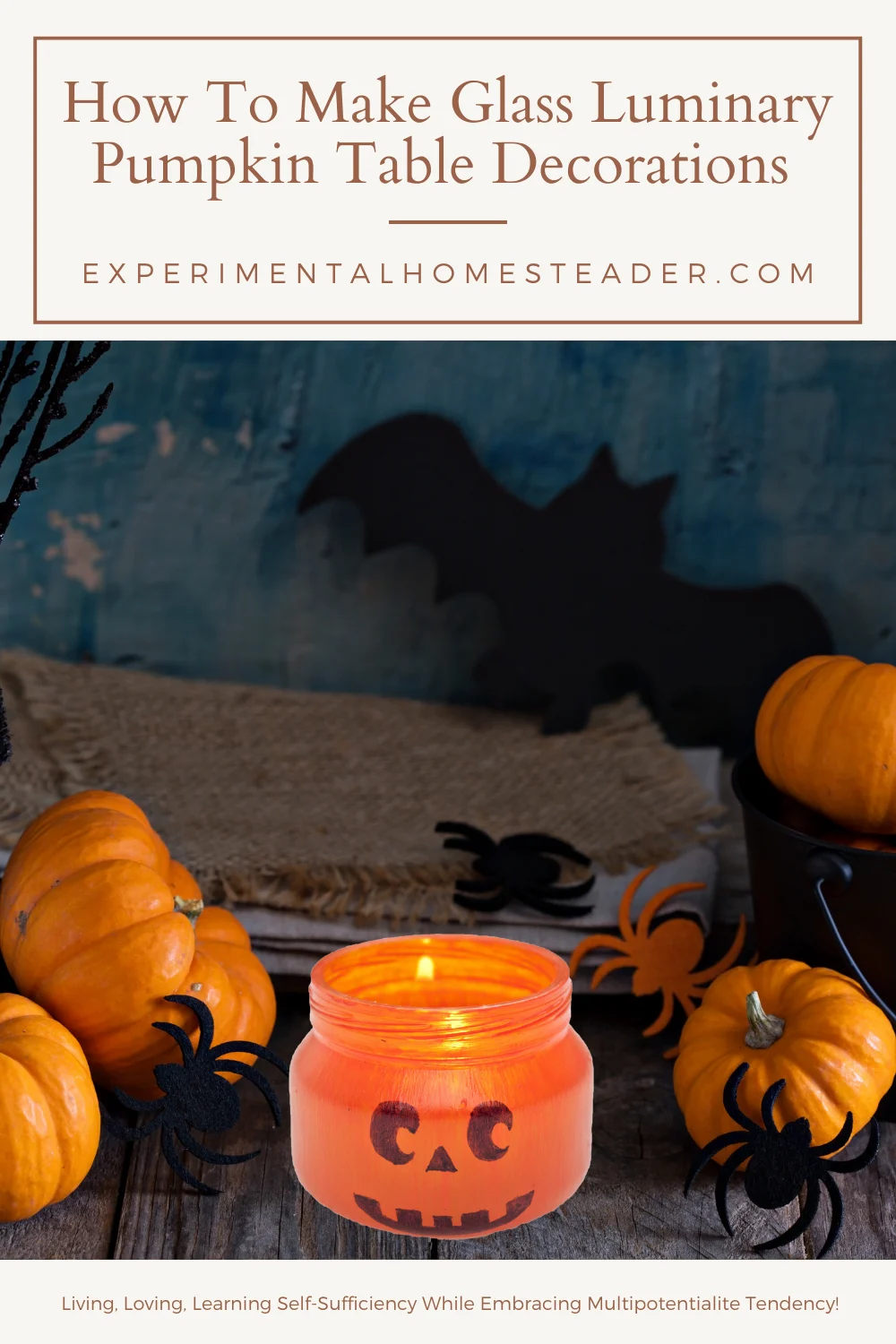 These Pumpkin Table Decorations Are Eco-Friendly
Now, let's talk about an eco-friendly twist on the classic pumpkin.
We've come up with a modern pumpkin luminary that's as charming as it is environmentally conscious.
The secret ingredient?
Empty baby food jars.
Of course, you can use other empty jars too, like Ball Jars or those cute jam jars.
This ingenious craft not only breathes new life into those empty containers but also offers a delightful project for the kids.
They can even take the lead if they're old enough or assist you in creating these glass luminary pumpkin table decorations.
Now, here's the fun part.
To truly make an impact, you'll want to craft several of these glass luminaries.
They're perfect for brightening up your buffet table decorations or casting a warm glow around a fall flower arrangement.
How To Make Glass Luminary Pumpkin Table Decorations: Versatile Autumn Essentials
Imagine this: the brisk autumn air, the fragrance of fallen leaves, and your table adorned with stunning glass luminary pumpkin table decorations.
They're not just decorations; they're the key to setting the stage for unforgettable gatherings throughout the fall season.
Pumpkin table decor is a versatile addition that goes beyond Halloween.
It's your secret weapon for bringing warmth and charm to your space during the entire autumn.
So, whether you're planning a cozy family dinner, a grand Thanksgiving feast, or a spooktacular Halloween bash, these glass luminary pumpkin table decorations are your perfect companions.
The beauty of these decorations lies in their adaptability.
They can seamlessly blend into various settings.
From rustic and cozy to elegant and enchanting, your creativity can shine through, all thanks to these lovely glass luminaries.
Below are the instructions on how to make them!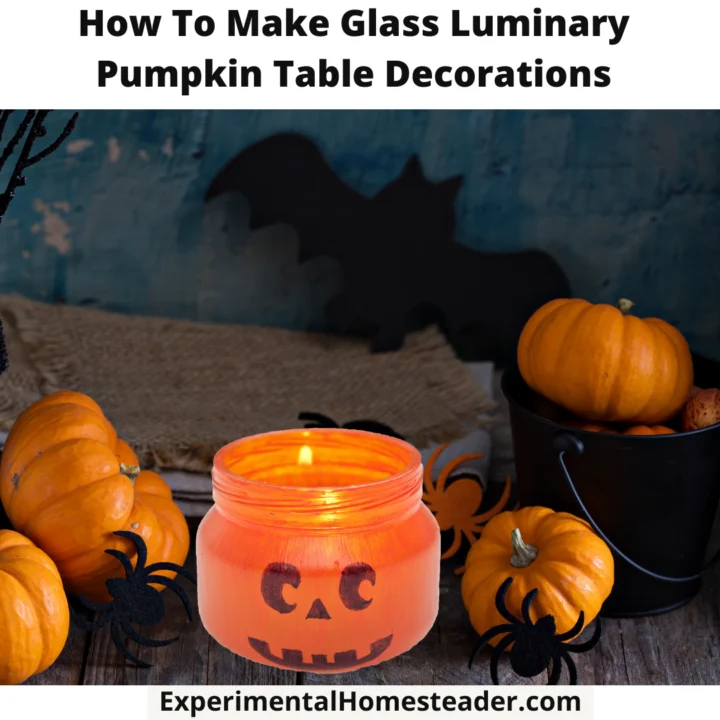 How To Make Glass Luminary Pumpkin Table Decorations
These glass luminary pumpkin table decorations are easy to make and they are a great way to recycle baby food jars!
Materials
a small wide-mouth jar such as a baby food jar
Instructions
Gather all the materials you need for this project before you begin and use newspaper or another similar item to protect your work area.

Mix the red and yellow paint to form an orange color.  The ratio of the yellow paint to the red paint is 2:1.  You can skip this process if you already have an orange acrylic paint.

Paint the outer wall of the small wide-mouth jar.  Paint in one direction so it looks better when it dries.

Set the jar aside and let it dry for an hour.

Once the jar is dry, paint it a second time.

Set the jar aside and let it dry for another hour.

If you like how it looks, you can move on to step 8, if not give it a third coat of paint.

Set the jar aside again and let it dry for another hour.

Once the paint is dry, draw a pair of big eyes on the jar using a black permanent marker.  Create a pupil in the middle and a nose just below the eyes.

Draw a mouth just below the nose of the jar pumpkin using the black permanent marker.  You can draw teeth if you want, but it is not necessary.

Set the jar aside again and let the permanent marker dry.

Once the marker is dry, place the tealight candle inside the pumpkin glass luminary.

Light the pumpkin luminary using a lighter or if you are using LED tealight candles then turn the switch on.

Your glass luminary pumpkin table decoration is now ready to display.
Crafting Your Creative Pumpkin Table Decorations for Every Occasion
Now, let's explore the art of crafting glass luminary pumpkin table decorations for every possible occasion.
These versatile pieces offer a canvas for your creativity and a chance to set the ambiance for your event.
For an intimate family dinner, you can opt for natural pumpkins in their original orange, surrounded by fall leaves and the soft flicker of candles.
This rustic setting brings everyone closer, mirroring the cozy essence of the season.
Combine them with a tasteful arrangement of seasonal flowers to create a feast for the eyes.
Embracing Autumn with Fall Pumpkin Table Centerpieces
As leaves fall and the colors change, it's time to fully embrace the essence of autumn with fall pumpkin table centerpieces.
These creations capture the spirit of the season like nothing else.
Imagine a centerpiece adorned with a rich variety of gourds, pumpkins, and seasonal foliage.
This is the time to let your creative juices flow.
Play with textures, shapes, and colors to craft a stunning focal point for your fall gatherings.
These centerpieces are versatile too.
They work wonderfully for casual brunches, Thanksgiving feasts, or even as everyday decorations during the fall months.
They're a reminder of the beauty of nature's changing tapestry, and they infuse your home with the warmth of the season.
Elegance and Ambiance with Glass Pumpkin Table Decor
Now, let's talk about how elegance meets ambiance with glass pumpkin table decor.
These exquisite pieces are more than just decorations; they're the essence of sophistication and mood-setting.
Imagine the soft, warm glow of candlelight filtered through these translucent glass pumpkins.
They're not just pumpkin table centerpieces; they're a captivating experience for your guests.
These luminaries elevate your table setting to a whole new level of elegance and enchantment.
The beauty of glass pumpkin decor is its adaptability.
Whether you're hosting a formal dinner or a casual family gathering, these elegant luminaries fit right in.
Your guests will be entranced by the ethereal light that dances through these glass wonders.

Spooktacular Dining: Crafting the Perfect Halloween Pumpkin Table Centerpiece
Now, let's dive into the thrill of Halloween with a Halloween pumpkin table centerpiece.
This is where the fun truly begins.
For a Halloween-inspired table, your pumpkin table decoration should be all about the spooky and the spectacular.
Carve intricate designs into your pumpkins, add eerie lighting, and scatter some cobwebs for that authentic haunted house vibe.
To add that extra eerie touch, use battery-operated tea lights to illuminate your carved pumpkins.
They're much safer than traditional candles, making your dining experience more about treats and less about tricks.
Don't forget to complement your centerpiece with other spooky elements.
Cobwebs, tiny plastic spiders, and even a ghost or two can turn your table into a haunted mansion.
The only limit here is your imagination.
Glass Luminary Pumpkin Table Decorations: Symbols of Seasonal Change
In the world of home decor, glass luminary pumpkin table decorations are more than just accessories; they're symbols of the changing seasons and an opportunity for boundless creativity.
From cozy autumnal gatherings to the spookiest Halloween feasts, these luminaries remain timeless and versatile.
So, go ahead, let the warm, inviting glow of your glass luminary pumpkin table decorations set the stage for unforgettable moments.
The changing seasons have never looked so good!
Final Thoughts About The Pumpkin Table Decorations
In the end, these glass luminary pumpkin table decorations aren't just beautiful and eco-friendly; they're also incredibly versatile.
They can transform any space, whether it's a cozy corner of your home, your porch, or your garden.
This modern take on the traditional pumpkin adds a touch of magic to your fall decor.
So, why wait?
Start collecting those empty jars, round up the kids if you like, and let's create this modern pumpkin luminary that will light up your world.
Share your experiences with us, and let's inspire others to embrace the beauty of eco-friendly crafts.
Halloween Decorating And Craft Ideas