These glass luminary pumpkin table decorations are not only cute, but they are easy to make!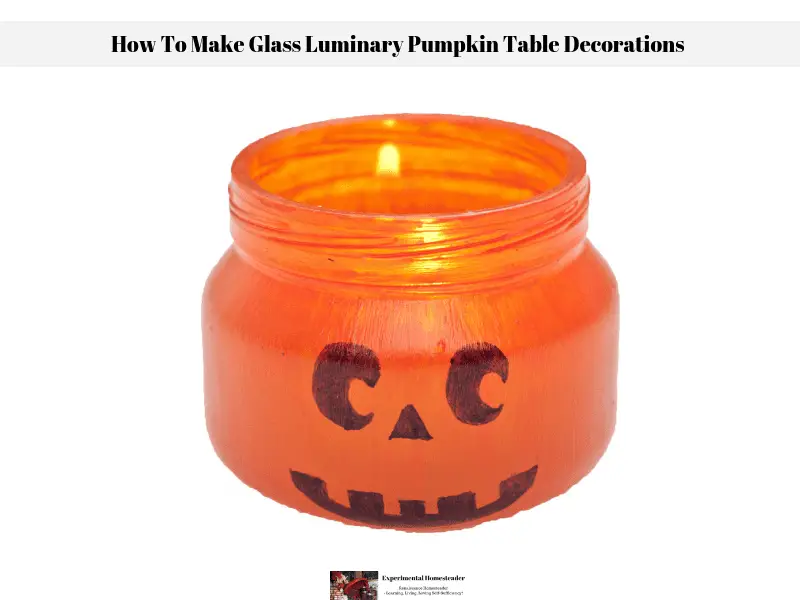 They are also a versatile, eco-friendly alternative to a traditional pumpkin.
The Traditional Pumpkin
A pumpkin is a type of squash that is round and deep yellow to orange coloration typically, however they can be shades of grey, white or even other colors.
Pumpkins are commonly used during the fall season, especially during Halloween since they are one of the prominent symbols used during this anticipated event.
Pumpkins are quite heavy to carry, especially if you choose a  large one.
They are usually carved with a traditional spooky Halloween face using a knife.
Carving a Halloween pumpkin is very tedious and messy process.
Aside from the difficulty, it is also expensive to buy a large number of pumpkins.
These Pumpkin Table Decorations Are Eco-Friendly
In order to address the situation and create an alternative to the traditional pumpkin, we came up with the idea of making a modern pumpkin luminary out of empty baby food jars.
Of course you could use any type of empty jar, such as a Ball Jar or even an empty jam jar.
This is an eco-friendly decoration and a great way to recycle empty jars.
This is an easy craft that your kids can either make on their own if they are old enough or help you make.
To really create an impact you do need to make several of these glass luminary pumpkin table decorations.
They are great to help add light around buffet table decorations or even light up the area around a fall flower arrangement.
Here is how to make these cute glass luminary pumpkin table decorations.
Print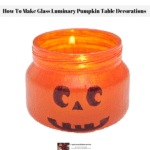 How To Make Glass Luminary Pumpkin Table Decorations
---
a small wide-mouth jar such as a baby food jar
orange acrylic paint

(affiliate link)

red acrylic paint

(affiliate link)

(optional)
yellow acrylic paint (optional)
paint brush

(affiliate link)

lighter
tealight candle
a black permanent marker
---
Instructions
Gather all the materials you need for this project before you begin and use newspaper or another similar item to protect your work area.
Mix the red and yellow paint to form an orange color.  The ratio of the yellow paint to the red paint is 2:1.  You can skip this process if you already have an orange acrylic paint

(affiliate link)

.
Paint the outer wall of the small wide-mouth jar.  Paint in one direction so it looks better when it dries.
Set the jar aside and let it dry for an hour.
Once the jar is dry, paint it a second time.
Set the jar aside and let it dry for another hour.
If you like how it looks, you can move on to step 8, if not give it a third coat of paint.
Set the jar aside again and let it dry for another hour.
Once the paint is dry, draw a pair of big eyes on the jar using a black permanent marker.  Create a pupil in the middle and a nose just below the eyes.
Draw a mouth just below the nose of the jar pumpkin using the black permanent marker.  You can draw teeth if you want, but it is not necessary.
Set the jar aside again and let the permanent marker dry.
Once the marker is dry, place the tealight candle inside the pumpkin glass luminary.
Light the pumpkin luminary using a lighter or if you are using LED tealight candles then turn the switch on.
Your glass luminary pumpkin table decoration is now ready to display.
Recipe Card powered by
Final Thoughts About The Pumpkin Table Decorations
These pumpkin glass luminary can be placed on top of your tables, on the porch or even in the garden as decorations.
This is the modern way of having some small pumpkin-looking luminaries in your home or garden.
So what are you waiting for?
Start collecting those empty jars and make this modern pumpkin luminary!
I highly recommend the following articles:
Use the buttons on the right side to share this article with friends or family who might find it useful. Pin the picture below to your pinboard on Pinterest for future reference.