Today, I'm thrilled to embark on a creative journey that blends the art of crafting with our love for homesteading.
We'll not only learn how to create "Easy Handmade Cards: Make a Halloween Card in Under an Hour" but also explore how the Cricut Maker can be our faithful companion in adding that personalized touch to our homestead and turning our crafting into a meaningful venture.

Homesteading and DIY are like two peas in a pod.
As lovers of self-sufficiency, sustainability, and the joy of creating, we're always seeking new ways to infuse our personality and charm into everything we do.
The Cricut Maker, with its precise cutting and versatile crafting capabilities, fits seamlessly into our homesteading lifestyle.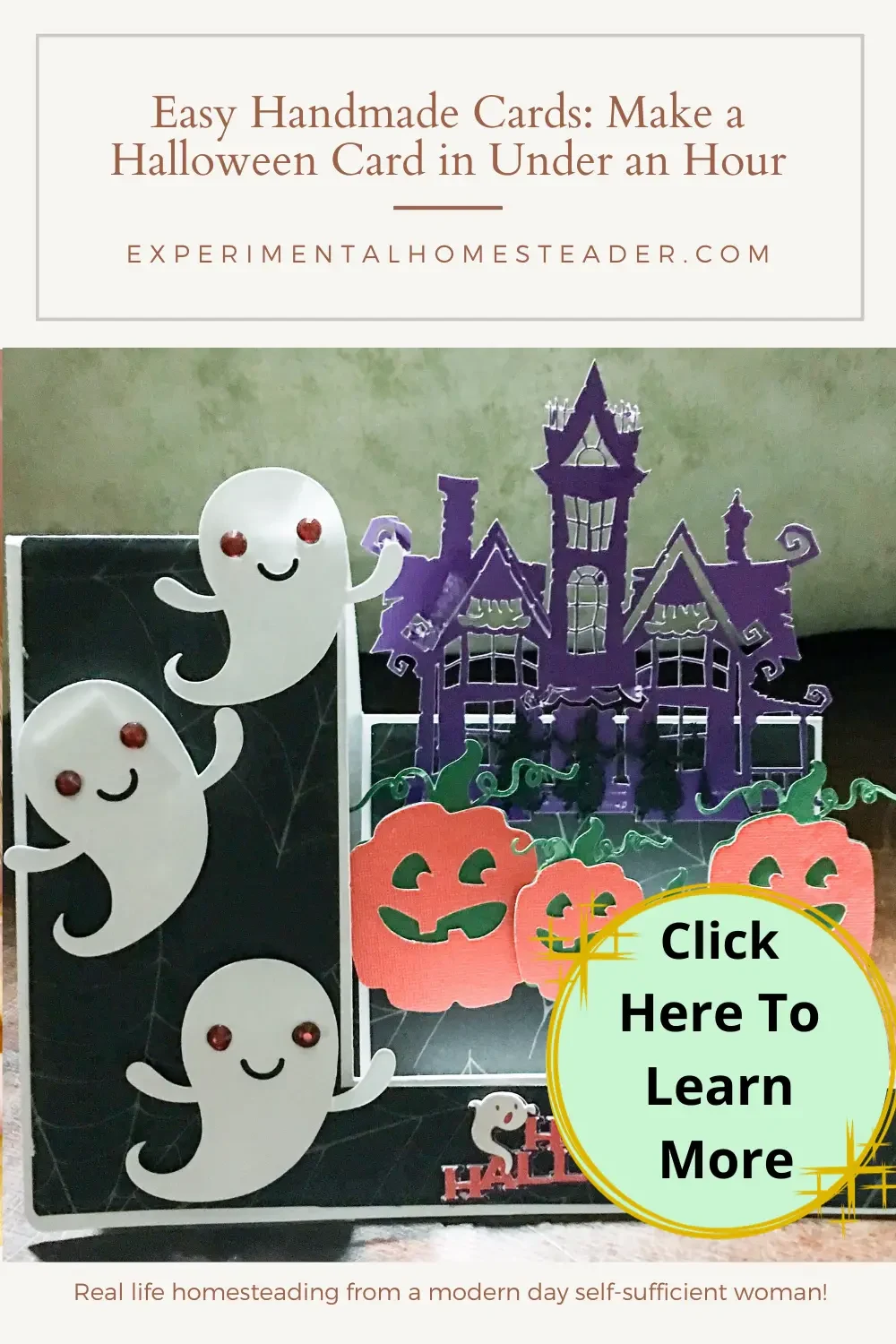 The Cricut Maker: A Homesteader's Best Friend
Let's talk about the real game-changer in the world of homesteading and DIY: the Cricut Maker.
This incredible machine is a true gem, cherished by DIY enthusiasts and homesteaders alike.
What sets it apart is its precision cutting and remarkable versatility, and these features are exactly what we'll harness for our Halloween card project.
The Cricut Maker's precision cutting capabilities are nothing short of extraordinary.
It can flawlessly handle intricate designs, turning your visions into reality.
This is precisely what makes it the ideal tool for crafting our Halloween cards, where precision is key to achieving that spooky charm.
However, the true beauty of the Cricut Maker lies in its boundless versatility.
It's not limited to just card-making; it's a versatile companion for all your creative endeavors.
You can use it to decorate your homestead, personalize your space, and bring a touch of your unique personality into everything you create.
Beyond that, the Cricut Maker is your partner in crafting thoughtful gifts that reflect your care and consideration.
Whether it's a personalized kitchen accessory or custom-made apparel, this machine is up for the task.
But here's the real icing on the cake – you can even turn your passion for crafting into a home-based business.
The Cricut Maker empowers you to create personalized items that resonate with your audience, opening up opportunities to share your creativity and even make extra income from the comfort of your homestead.
So, whether you're decorating your homestead, crafting for enjoyment, or considering taking the plunge into a home-based business, the Cricut Maker is your faithful and versatile companion in your creative endeavors.
It's the key to turning your homesteading charm into every project, making it uniquely yours.
Materials for Your Homestead Crafting Journey
Before we jump into crafting, let's ensure we have all the necessary materials.
Quality materials can truly elevate your DIY experience.
Here's what you'll need:
Cricut Maker: If you haven't already, investing in a Cricut Maker is a decision you won't regret. Its ability to cut various materials, from paper to fabric and even wood, makes it a versatile addition to your homestead.
Cardstock and Beyond: For our Halloween card project, you'll need Halloween-themed cardstock. However, don't limit yourself to this. Explore the vast array of materials the Cricut Maker can work with, including vinyl, leather, and more.
Adhesive: A trusty adhesive will be your best friend when assembling your projects. Choose one that suits the material you're working with.
Scissors: Keep a pair of scissors handy for any precise trimming or adjustments you might need to make.
Design Templates: While we'll focus on Halloween cards today, you can find a plethora of design templates to match your homestead's unique style and theme.
Now that we're all set with our materials, let's dive into our Halloween card project and explore how to create handmade homestead charm.
Homestead Handmade Cards: Halloween Edition
Our crafting journey embarks with a charming project, one that resonates with the heart of homesteading: crafting "Easy Handmade Cards: Make a Halloween Card in Under an Hour."
These cards are a testament to your homestead spirit, where self-reliance, creativity, and the joy of handmade craftsmanship thrive.
The beauty of this project lies in its simplicity and efficiency, courtesy of our reliable Cricut Maker.
Picture this: You're creating Halloween cards that not only appear exquisitely intricate but also require significantly less time than you might expect, all thanks to our trusty Cricut Maker.
These cards are not merely pieces of paper; they're a reflection of your homestead's unique charm and your creative touch.
In a world filled with mass-produced items, these handmade cards stand out as a testament to the homesteader's dedication to craftsmanship and personalization.

My Easy Handmade Cards For Halloween Inspiration
The inspiration for this creative adventure struck like lightning when I attended a card show.
As I strolled through the exhibition, my eyes were drawn to the intricate Halloween cards on display.
Their detailed cuts, charming designs, and spooky themes spoke to my DIY-loving heart.
I was captivated by the craftsmanship that had gone into these cards, and I knew I had to embark on a similar journey of creation.
This is where the magic begins.
What sets our Halloween card project apart is a little secret I'm thrilled to share.
It's a secret that makes crafting these cards a breeze: a pre-made template.
This Halloween card template, as you'll find in the instructions below, includes the essentials—the card base and the Halloween-themed images.
It's a true game-changer.
With this template at your disposal, you're not just crafting; you're fast-tracking your way to creative success.
Gone are the days of painstakingly hand-cutting intricate designs, spending hours on measurements, and wondering if your card will turn out as you envisioned.
With this pre-made template, you're given the gift of time and precision.
You can devote your energy to personalizing your cards, adding your own creative flair, and making each one a unique work of art.
The template streamlines the process, making it accessible to both novice crafters and seasoned DIY experts.
And the best part?
It opens up the world of crafting to everyone.
Even if you've never considered yourself a "crafty" person, this project will inspire and empower you to create something truly special.
So, as our creative journey unfolds, I invite you to embrace the inspiration that struck me at that card show, and let's craft Halloween cards that not only capture the spirit of the season but also embody the essence of your homestead and creativity.
Getting Started: Crafting Your Halloween Card
Let's start crafting, homestead-style! Here's how to create your Halloween card step by step:
Prepare Your Design: Begin by loading the pre-made template into Cricut Design Space. This template includes the card base and the delightful Halloween images. You'll save yourself tons of time by using this ready-made design.
Cutting: This is where the Cricut Maker shines. Watch in awe as it precisely cuts out your card base and the intricate Halloween-themed elements. The attention to detail is remarkable, and it's incredible to see how effortlessly your Cricut Maker handles those intricate cuts.
Assembling: Once the cutting is complete, carefully remove the cut pieces and start assembling your card. Place the Halloween images in their designated spots on the card base.
Gluing: To ensure your card stays together, use your adhesive of choice to secure the elements in place. Take your time with this step, as precision is key.
Finishing Touches: This is where you can add your unique creative flair. You're the artist here, so feel free to embellish your card with additional elements, glitter, or anything else that suits your Halloween vision.
Easy Handmade Cards: Make a Halloween Card in Under an Hour
This is a step card and the design template I made does include the card and the images all pre-sized and ready for you to cut and assemble. The only thing I did not create was an envelope.
Materials
2 sheets black cardstock
2 sheets purple cardstock
1 sheet white cardstock
1 sheet orange cardstock
1 sheet light orange cardstock
1 sheet green cardstock
1 envelope
Dual Tip Glue Pen
Crafters Tape
Tools
Connect your device using Design Space to the Cricut Maker using the USB plug on the side of the Cricut Maker.
Cut the card and images, switching out the colors of the paper as needed.
Once all the pieces of the design are cut out, use crafter's double sided tape to put the pieces together with the exception of the smaller pieces such as the witch trio. For those it is best to use a dual tip glue pen.
Allow the glue to dry throughly.
Now the card is ready to sign, place in a pre-made envelope and give it to someone.
Notes
Note: I chose to use 12 x 12 sheets of paper for this project, but if you change the paper size on the mat, you can use smaller sheets of paper.
A Homesteader's Touch: Personalizing Your Cards
One of the most beautiful aspects of homesteading is the ability to infuse your unique style and values into everything you create.
Your Halloween cards can reflect the charm and character of your homestead.
Here are a few ideas to personalize them:
Nature-Inspired Themes: Incorporate elements from your homestead, like leaves, flowers, or even tiny wooden accents. These natural touches can add a rustic, homestead feel to your cards.
Customized Messages: Write heartfelt messages that resonate with the homesteading spirit. Share your values, experiences, or even a favorite homestead recipe.
Sustainable Materials: Consider using eco-friendly materials for your cards. Recycled paper, biodegradable glitter, and sustainable inks align with the sustainable principles of homesteading.
Unleash Your Homestead Creativity: Crafting Homemade Halloween Cards
As I created this Halloween card, the most challenging part for me was cutting out and gluing the ghost trio into place.
I even had to cut it twice because, on the first attempt, the cardstock did not separate right.
But you know what?
That's all part of the crafting journey.
Mistakes happen, and they often lead to the most valuable lessons.
I genuinely hope you enjoy crafting this Halloween card as much as I did.
The satisfaction of creating something with your own hands and the joy of sharing it with friends and family is truly priceless.
So, go ahead, embrace your inner DIY enthusiast, and let's make this Halloween extra special with your personalized, handmade cards.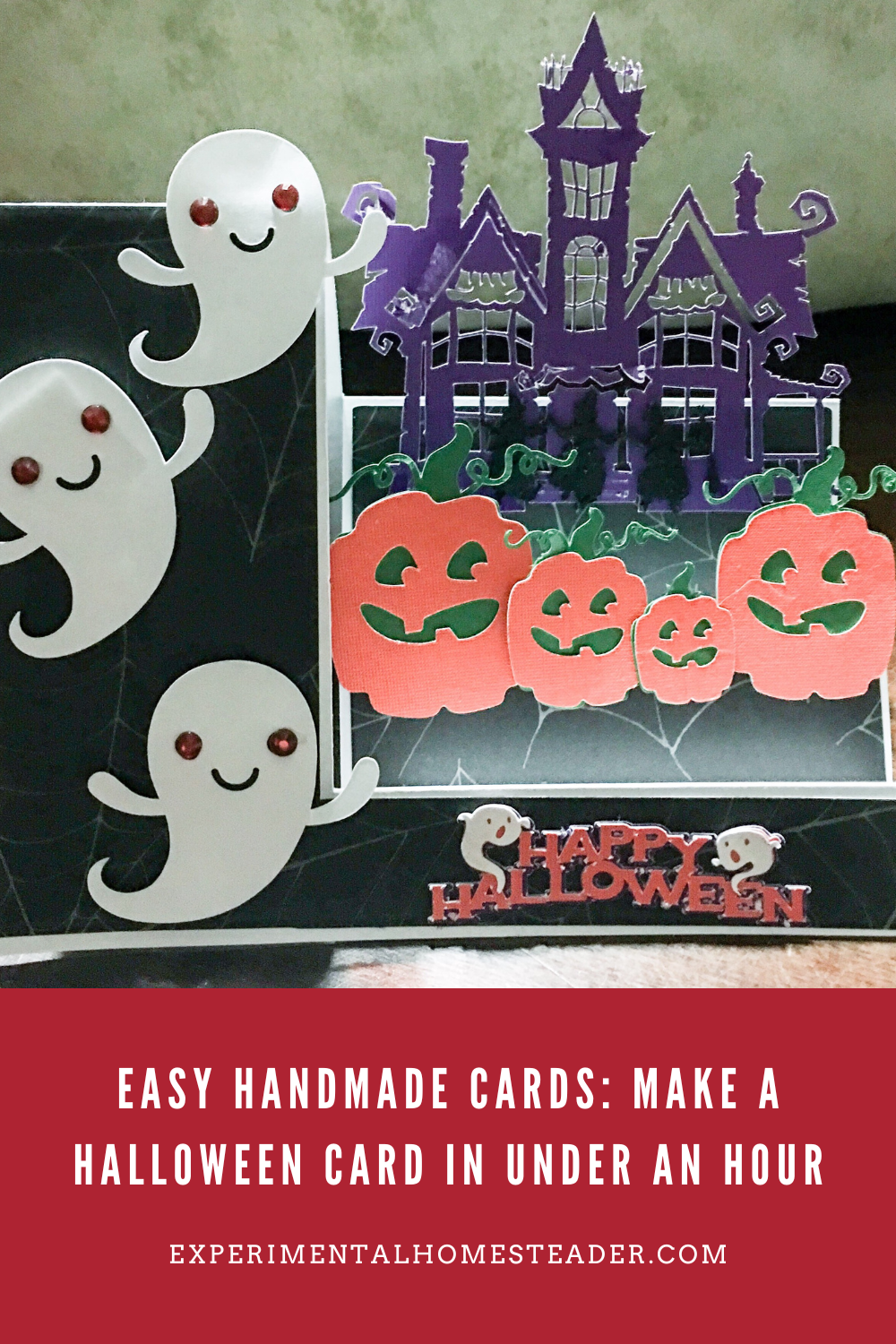 Beyond Halloween: Crafting for Your Homestead
While our focus today has been on creating Halloween cards, the Cricut Maker is a versatile tool that can elevate your homesteading journey in numerous ways.
Here are a few ideas to get your creative juices flowing:
Custom Homestead Decor: Welcome guests to your homestead with custom signs that reflect your unique style and values.
Organizational Labels: Keep your homestead organized and efficient with personalized labels for storage, gardening, and more.
Handcrafted Gifts: Create meaningful gifts for loved ones, from personalized kitchen accessories to custom-made apparel.
Home Business: Consider turning your passion for crafting into a home-based business. With the Cricut Maker, you can make and sell personalized items that resonate with your audience.
The Cricut Maker opens the door to endless possibilities, allowing you to infuse your homestead charm into every project.
Whether you're decorating your homestead, crafting for fun, or considering a home-based business, your Cricut Maker is your trusted partner in creative endeavors.
So, there you have it, my fellow homesteaders and DIY enthusiasts.
The journey of crafting "Easy Handmade Cards: Make a Halloween Card in Under an Hour" has taken us through a world of creativity, personalization, and endless possibilities.
Embrace your inner artisan, make your mark on your homestead, and share your crafting journey with others.
It's a beautiful way to enrich our lives and connect with the world around us.
If you have any questions, insights, or even your own stories of crafting for your homestead, don't hesitate to reach out.
Let's keep the creative conversation going!