Preserving a carved pumpkin is easy once you know how.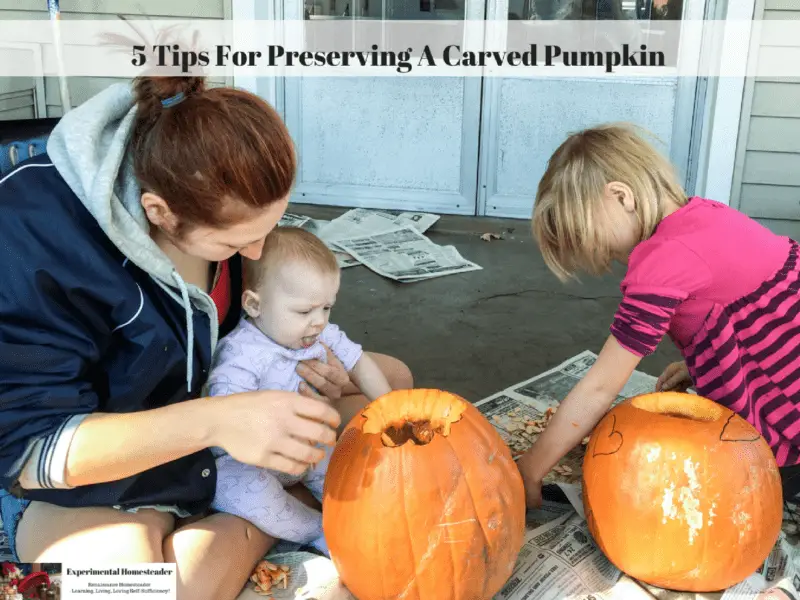 There are links below to products I recommend from companies I have an affiliate relationship with. I will be compensated if you make a purchase after clicking on my link.
Why Don't Pumpkins Last?
Pumpkins start showing up for sale around the end of September, but once you carve your pumpkin it doesn't last long especially if you are using a candle inside of it.
The weather during this transitional time of year also fluctuates quite a bit – at least here in Indiana – and that also contributes to the pumpkins quick demise.
One day you might need to wear a sweatshirt and turn on the heat at night.
The next day you might be hot in a tee-shirt and ready to turn the air conditioning back on.
Carved Pumpkin Preservation Tips
For those who really want to start their Halloween decorating early – and want to include carved pumpkins – here are five tips to help keep those pumpkins looking good just a little bit longer.
Tip #1
This just might be the most important tip for extending the life of your carved pumpkin – and it begins when you choose your pumpkin.
I urge you to go to a pumpkin farm to get one if you are not growing your own as the ones in the stores are often banged around and not handled with care.
You want a pumpkin that is free of cuts, soft spots or excessive scarring.
Be sure to carefully examine the pumpkin you choose – and do not think just because you are going to cut that bad section out it won't matter.
Once the the pumpkin has been damaged, the process of it decaying has already started.
Tip #2
Choose a pumpkin that is heavy for its size and make sure the stem is intact.
If you are not sure what a pumpkin should feel like, go someplace that has ones already picked and lift several of the same size.
Shop around so you can compare the weight of various pumpkins of the same size.
Tip #3
After carving the pumpkin keep it between 50 to 70 degrees Fahrenheit. Be sure to keep it sheltered from rain, direct sunlight and that is has good air circulation.
Tip #4
Instead of using votive or larger candles, use low tea light candles (affiliate link).
Another option is to use LED candles (affiliate link).
Tip #5
Apply spray wax or petroleum jelly (affiliate link) to the cut surfaces to inhibit desiccation and mold.
I highly recommend the following articles:
Use the buttons on the right side to share this article with friends or family who might find it useful. Pin the picture below to your pinboard on Pinterest for future reference.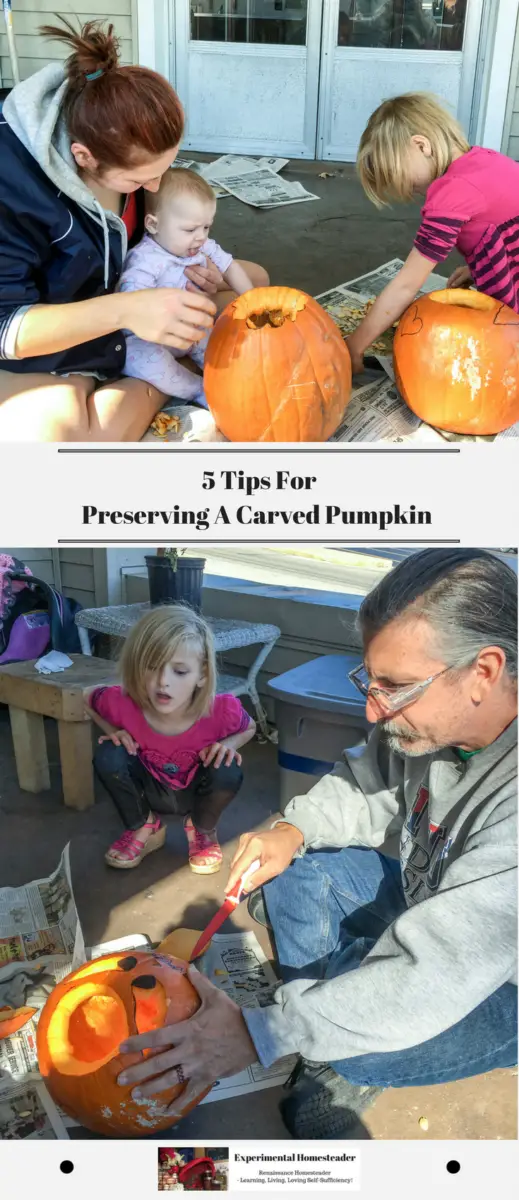 SaveSaveSaveSaveSaveSaveSaveSaveSaveSaveSaveSave
SaveSave