These Halloween eyeball decorations are easy to make and budget friendly!

Budget Friendly Halloween Eyeball Flowers
I don't know about you, but I love budget friendly decoration ideas that don't take a lot of time to assemble.
For Halloween parties those ideas needs to be scary – but depending on the age of the guests you might need to choose something that isn't downright terrifying.
I bought all the supplies for this decoration, except the E6000 and the vase, at my local dollar store for just $4.00.
I already had a vase so all I needed was two bunches of silk flowers, some plastic eyeballs and the skeleton hands.
I knew this decoration would be perfect for a Halloween table centerpiece.
Of course there are many other options for incorporating this idea into your Halloween party decor.
It took me under 10 minutes to complete this project so it is perfect for a last minute party idea if you have a spot you need to fill in.
How To Make Halloween Eyeball Flowers
Here is how I did it: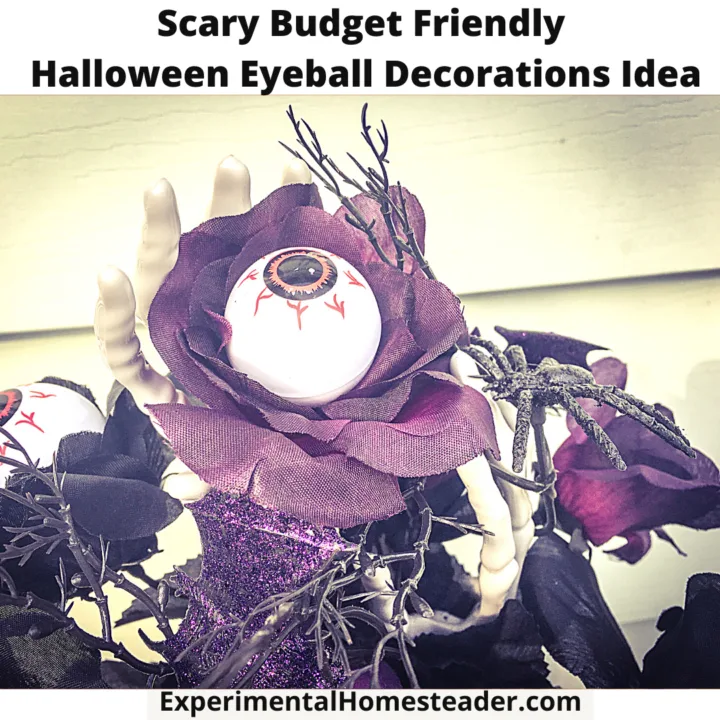 Scary Budget Friendly Halloween Eyeball Decorations Idea
Awesome Halloween eyeball decorations make a perfect table centerpiece. These DIY Halloween decorations are budget friendly and easy to make.
Materials
Instructions
Insert the flowers into the vase so they were standing upright.

Put a small circle of E6000 glue onto the bottom of one eyeball (the part that is just white).

Pull the petals of one silk flower back to reveal the center of the flower.

Press the eyeball into the flower center. Make sure the glued end is touching the center of the flower.

Hold the eyeball in place while the glue dries - if you don't do this, the eyeball will not stay tucked into the petals.

Once the first eyeball was in place and secure, continue gluing eyeballs into individual flowers until you are satisfied with how the arrangement looks. I did not want an eyeball in every flower but you might.

Then insert the skeleton hands into the vase. I had to saw off the bottom of one of my skeleton hands to make it fit in my vase because the opening of the vase was too small. You may not have to do this.

The last step is to place it where you want it and enjoy!

Halloween Eyeball Flowers Decoration
I really love that I can save this decoration from year to year.
It is unique and not something you are going to see at every Halloween party!
Halloween Decorating And Craft Ideas
SaveSave