Halloween Eyeball Decorations are a fantastic way for homesteaders who love to DIY to embrace the spook-tacular season.
As October approaches, our homesteads become canvases for creativity.

It's a time when we can let our imaginations run wild, crafting eerie wonders for our homes.
For those who relish hands-on projects, I'm thrilled to present not only the Halloween Eyeball Flowers but a treasure trove of DIY ideas to enchant your homestead into a Halloween wonderland.
Whether it's rustic wreaths, mason jar lanterns, or spooky silhouettes, these budget-friendly creations add an aura of magic to your homestead.
Let's not forget the pumpkin palooza, where you can showcase your own homegrown pumpkins.
The Halloween Eyeball Flowers, our star feature, are versatile enough to be centerpieces, garden accents, or even part of your Halloween dinner party.
Embrace the spirit of the season and make your homestead the ultimate Halloween destination.
The Magic of Homemade Halloween Decorations
As homesteaders, we often appreciate the value of self-sufficiency and resourcefulness.
What better way to embrace these qualities than by crafting our own Halloween decorations?
It's not just about saving money; it's about infusing your personality and style into every piece.
For those of us who thrive on DIY projects, Halloween is the ultimate opportunity to let our creativity run wild.
It's a time when our homesteads can transform into something truly magical, or should I say, spook-tacular.
With the spirit of homesteading, where we value self-reliance and the ability to create from what we have, DIY Halloween decorations perfectly align with our ethos.
Whether it's the charm of rustic Halloween wreaths made from elements found on our own homestead, the warm and eerie glow of mason jar lanterns, or the spine-tingling shadows cast by spooky silhouettes, our homemade Halloween decor is more than just adornments.
It's a reflection of our resourcefulness and the joy we find in making things by hand.
These decorations are a celebration of individuality.
The wreath you hang on your front door, the lanterns that light up your porch, and the eerie silhouettes you strategically place in your garden all carry a piece of your unique personality.
They become a part of your homestead's story, reminding everyone of the creativity and ingenuity that reside within your rustic haven.
Furthermore, creating your own Halloween decorations is not just about the end result; it's about the journey.
It's about spending quality time with loved ones, sharing stories, and making memories as you craft these spook-tacular pieces.
It's an opportunity to teach your children the value of self-sufficiency and the joy of creating something from scratch.
So, this Halloween, as we delve into the world of DIY decorations, let's embrace the homesteader spirit wholeheartedly.
Let's celebrate self-sufficiency, individuality, and the joy of crafting with our own hands.
Our homemade Halloween decorations aren't just adornments; they're a reflection of who we are and the creativity that thrives within our homesteads.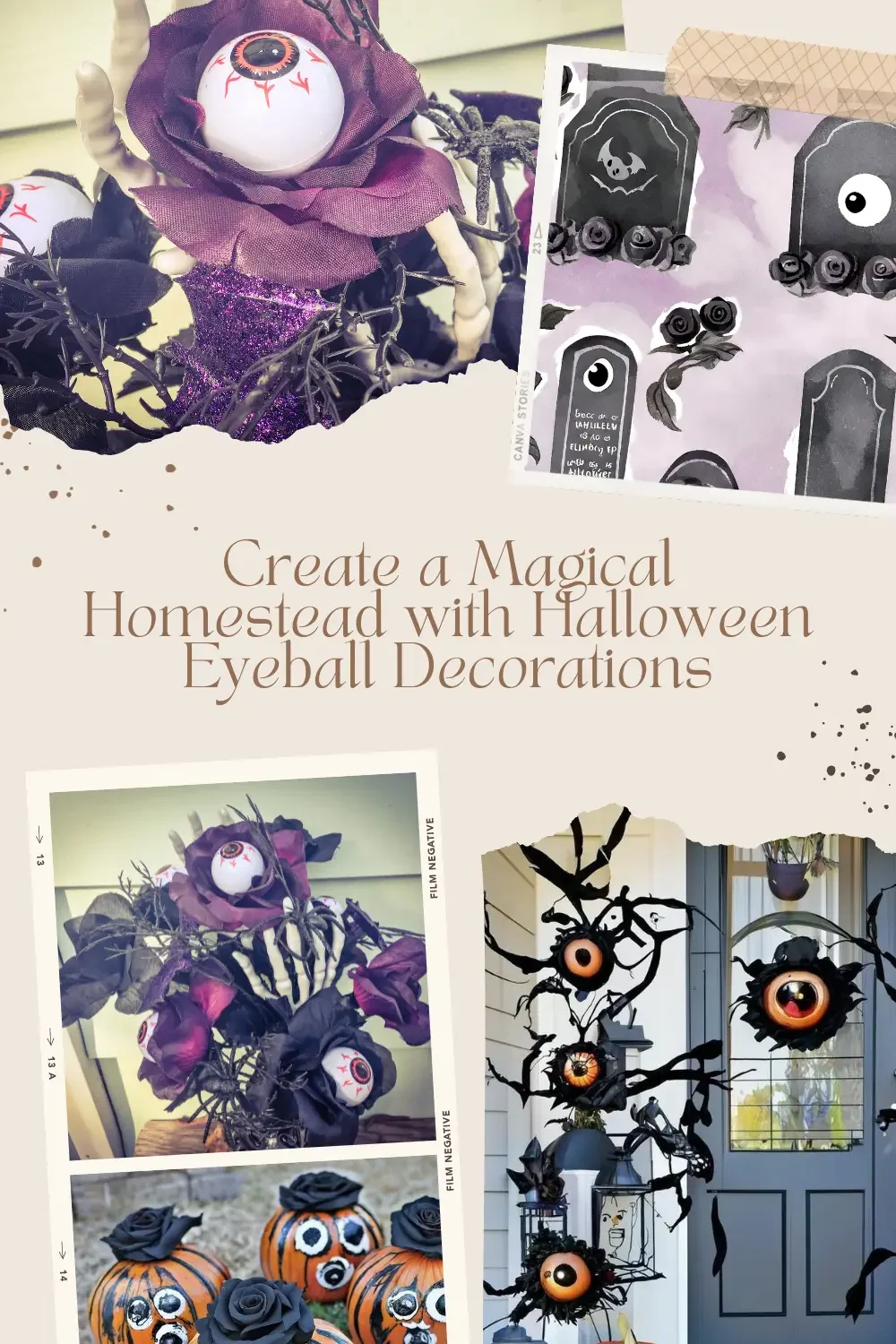 Rustic Halloween Wreaths
Wreaths are a fantastic way to welcome the season, and with a Halloween twist, they can become enchantingly spooky.
For our homesteaders who like to DIY, creating a rustic fall or Halloween themed wreath is a breeze. Start with a grapevine wreath base, which can often be found in your local craft store or even crafted from your own vines.
Add dried cornstalks, twine, and faux spiderwebs for that rustic, eerie feel.
Finish it off with a couple of artificial crows perched on the wreath.
This rustic Halloween wreath will add a perfect blend of spooky and natural to your homestead's entrance.
Mason Jar Lanterns
The soft glow of lanterns can transform your homestead into a warm and inviting Halloween haven.
Mason jar lanterns are the ideal DIY project for our homesteaders.
Simply take some old mason jars and paint them with Halloween-themed designs – think black cats, bats, or jack-o'-lantern faces.
Place a tea light or battery-operated candle inside for a cozy yet spooky effect.
Hang them around your porch or garden to create a mesmerizing atmosphere.
Haunted Pathways
If you have a walkway leading to your homestead, why not turn it into a haunting experience for your Halloween visitors?
For homesteaders who enjoy a little bit of construction, DIY headstones are a great addition.
Crafting Eerie DIY Headstones
Creating these eerie tombstones is a DIY project that not only adds a spooky touch to your homestead but also unleashes your creativity.
To get started, gather materials like wood or foam board, which you can often find at your local home improvement or craft store.
These materials are the canvas upon which you'll bring your ancient, weathered tombstones to life.
The Art of Tombstone Design
Designing your tombstones is where the fun truly begins.
Think about epitaphs and names for the dearly departed.
You can go the classic route with names like "RIP Edgar Allan Crow," or get as creative as you like.
Here are a few other ideas:
"RIP Morticia Macabre" – For a touch of gothic elegance.
"Here Lies Igor the Eerie" – Perfect for a whimsical and spooky vibe.
"In Loving Memory of Vlad Creepula" – A nod to the classic vampire legend.
"Forever Silent, Edgar Allan Crow" – A playful reference to the famous poet.
"Gone to the Great Beyond, Wilhelmina Wraith" – For a ghostly presence.
"Rest in Pieces, Baron Samedi" – A tribute to voodoo culture.
"Eternal Slumber, Lucius Lycanthrope" – Ideal for werewolf enthusiasts.
"Here Lies Isabella Iridescent" – For a mysterious and enchanting aura.
"In Memoriam, Victor Von Doom" – A nod to classic horror literature.
"Forever Haunting, Phineas Phantom" – Perfect for a ghostly apparition.
Painting these faux tombstones to resemble aged, weather-worn stone is a delight for any DIY enthusiast.
Various shades of gray and brown can give them an authentic, centuries-old appearance.
Adding the Eerie Element
To truly elevate the haunting experience, consider adding a foggy ambiance to your DIY graveyard.
Use natural materials, or allow nature to take over the area – just for a few weeks, to create a truly eerie scene.
Dry ice is your secret weapon here.
Place some strategically around your homestead's pathway, especially near the tombstones.
As the dry ice sublimates, it creates a creeping, ghostly fog that adds an eerie touch to your Halloween decor.
Just remember to handle dry ice with care, using gloves and tongs, and keep it out of reach of children.
A Spooky Halloween Attraction
When your guests approach your homestead, they'll be greeted by this eerie, homemade graveyard.
The combination of DIY tombstones, carefully crafted to look like ancient relics, and the ghostly dry ice fog, creates a captivating atmosphere.
It's an instant Halloween attraction, and it shows your commitment to creating a memorable experience for your visitors.
As a homesteader, you're not just growing crops and raising livestock; you're also nurturing your creativity.
DIY Halloween projects like these give you the chance to express yourself and transform your homestead into a place of wonder and mystery.
Spooky Silhouettes
For homesteaders who appreciate painting or woodworking, creating mystical silhouettes can be an enchanting DIY project.
These silhouettes are not to be confused with actual animals or wild creatures; they are eerie cutouts that enhance your Halloween decor.
Begin by cutting out eerie shapes like witches, ghosts, or black cats from plywood.
Once you have these shapes, paint them entirely black to maintain their mysterious and haunting appearance.
Now, the artistry of placement comes into play.
Position these mystical silhouettes strategically around your homestead, making sure they are backlit by a soft glow, like lanterns or strategically placed lighting.
As the night descends and these silhouettes are illuminated, they cast enchanting shadows that add a spine-tingling dimension to your Halloween decor.
Your homestead becomes a place of mystique, sparking the imagination of anyone who ventures into its eerie embrace.
Pumpkin Palooza: Celebrating Harvest and Halloween
No Halloween is complete without the quintessential pumpkin, and for us homesteaders, there's a special joy in growing our own.
While carving pumpkins can be a true art form, there's a world of creative possibilities beyond carving.
This Pumpkin Palooza is your chance to showcase these vibrant gourds in a way that reflects your homesteading spirit.
Painted Pumpkin Masterpieces
When you have little ones eagerly looking to partake in the Halloween fun, painted pumpkins become the perfect DIY project.
Gather your pumpkins, along with an array of vibrant acrylic paints, brushes, and let your family's artistic talents shine.
Whether they're creating cheerful jack-o'-lantern faces, spooky scenes, or beautiful patterns, painted pumpkins allow your family to personalize their very own Halloween decorations.
Pumpkin Topiaries: Stacking the Harvest
But it doesn't stop there.
For those who enjoy a touch of craftsmanship, creating pumpkin topiaries is an enchanting endeavor.
This is where your homestead's pumpkin patch truly becomes the star of the Halloween show.
Start by selecting different-sized pumpkins, ensuring they are sturdy and well-shaped.
The creative magic happens as you stack and secure these pumpkins atop one another, using wooden dowels or garden stakes.
The result is a stunning vertical arrangement of pumpkins, resembling a harvest totem.
This unique display adds depth and visual interest to your Halloween decor.
You can leave the pumpkins au naturel or get creative by painting or decorating them to match your Halloween theme.
With a pumpkin topiary gracing your homestead, you're not only showcasing your gardening skills but also celebrating the bountiful harvest that autumn brings to your land.
Creating a Pumpkin Wonderland
Pumpkin Palooza is all about turning your homestead into a pumpkin wonderland.
Use your painted pumpkins to line the walkways, adorn your porch, or even as table centerpieces.
They'll bring a burst of color and festive charm to every corner of your homestead.
The pumpkin topiaries, on the other hand, can stand proudly at your entrance, adding a touch of grandeur to your Halloween festivities.
These stacked pumpkins are not only visually striking but also serve as a symbol of your self-sufficiency and the rich harvest your homestead provides.
So, as you bask in the joys of harvest and the spirit of Halloween, consider making Pumpkin Palooza a cherished tradition on your homestead.
Whether it's through painted pumpkins, ghastly garden gnomes hidden among pumpkins, or elegant pumpkin topiaries, you're not only celebrating the season but also infusing your homestead with the warmth and charm that make it truly your own.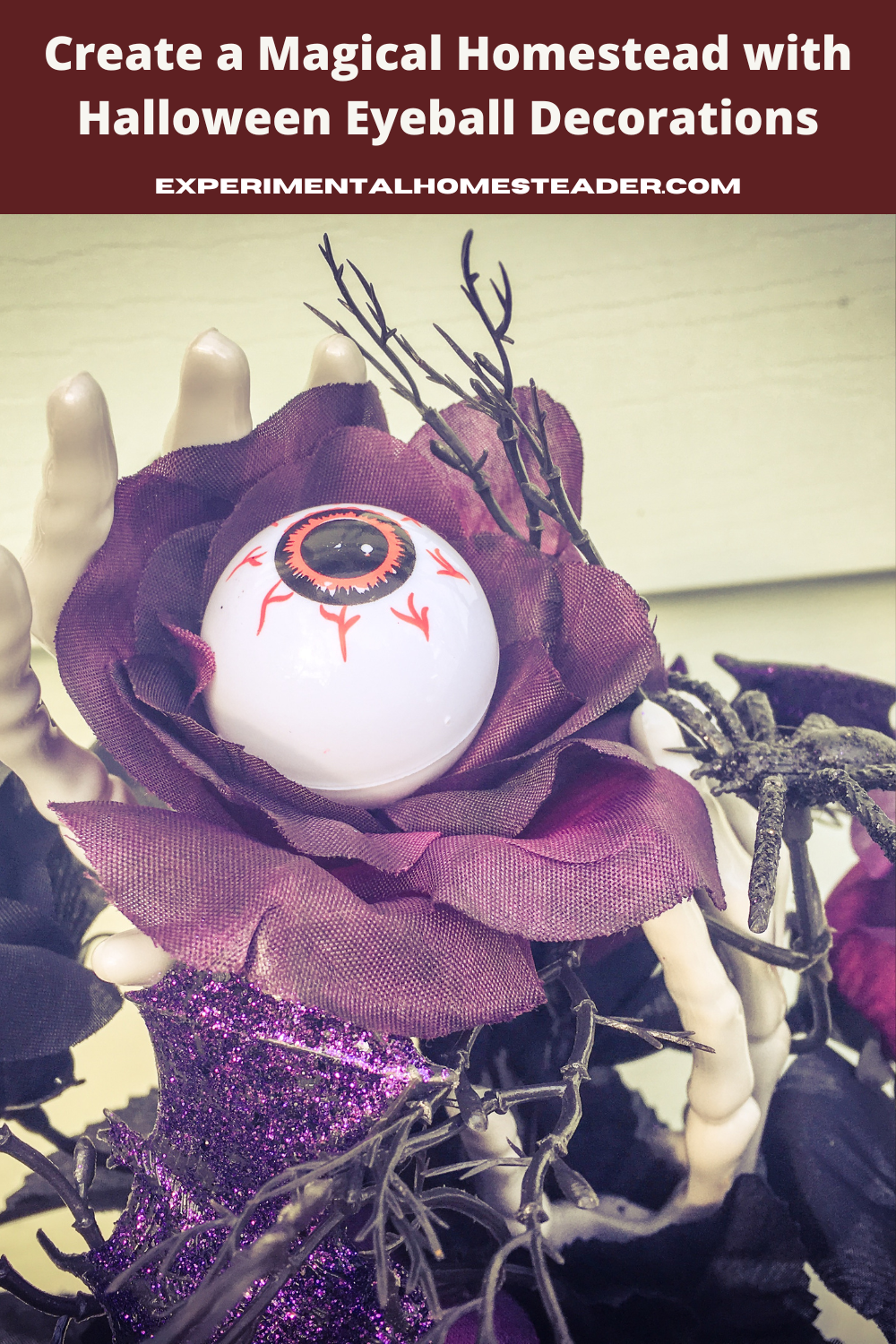 Halloween Eyeball Flowers: A DIY Homestead Masterpiece
In the world of DIY Halloween decorations, the Halloween Eyeball Flowers undoubtedly steal the spotlight.
These budget-friendly and slightly eerie creations have already captured our DIY-loving hearts, and they have so much more to offer than being mere centerpieces for your Halloween table.
Let's explore the versatility of these intriguing creations and how they can elevate your Halloween decor to a whole new level.
Eerie Flower Arrangements: Beyond the Centerpiece
While the Halloween Eyeball Flowers shine as a centerpiece, their potential extends far beyond.
You can take your creativity to the next level by crafting eerie flower arrangements.
Incorporate these flowers into your existing decor by mixing them with black and orange blooms and perhaps some dark green foliage.
The plastic eyeballs, nestled among the petals, lend an authentic yet spine-tingling touch to your floral display.
These arrangements, with a dash of Halloween whimsy, can grace your entryway, fireplace mantel, or even your dining table.
Spooky Garden Display: Unearth the Imagination
For homesteaders who have a garden or garden bed in the front of their home, the Halloween Eyeball Flowers can be integrated into a spooky garden display.
Picture this: you create a shallow trench in your garden and place the vase with these flowers in it.
Surround the vase with faux spiderwebs, miniature gravestones, and perhaps a scattering of fallen leaves.
The flowers and eyeballs, reminiscent of eerie blooms in a ghostly garden, will evoke an enchanting atmosphere that captures the spirit of Halloween.
Halloween Dinner Party: The Personal Touch
When hosting a Halloween dinner party, it's the personal touches that make all the difference.
The Halloween Eyeball Flowers can serve as more than mere decor.
Use them as place card holders by attaching name cards to the skeleton hands.
Alternatively, they can double as unique napkin rings.
These small yet memorable details will leave a lasting impression on your dinner guests, showcasing your attention to detail and love for the DIY craft.
Front Porch Welcome: Greeting with Spookiness
Your front porch sets the stage for your Halloween visitors, and the Halloween Eyeball
Flowers can play a pivotal role in creating the perfect ambiance.
Imagine a little seating area with straw bales, lanterns, and pumpkins.
Placing the flowers on your front porch adds a spooky twist to the traditional welcome.
The flowers, in their eerie glory, set the mood and beckon your guests into the world of Halloween enchantment.
Light Up the Night: Glowing Elegance
For an added layer of sophistication, consider adding LED lights to your Halloween Eyeball Flowers.
This extra touch will make them glow eerily in the dark, casting an otherworldly ambiance over your Halloween festivities.
Whether for outdoor displays or to create a ghostly atmosphere indoors, the addition of LED lights elevates your Halloween decor to a new level of spooky elegance.
Here are the instructions on how to make these cute, budget-friendly Halloween Eyeball Flowers: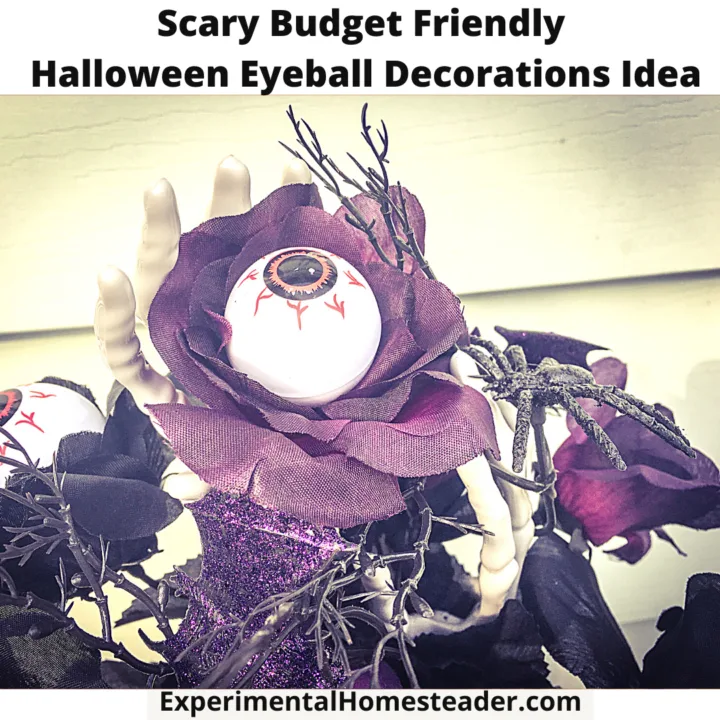 Scary Budget Friendly Halloween Eyeball Decorations Idea
Awesome Halloween eyeball decorations make a perfect table centerpiece. These DIY Halloween decorations are budget friendly and easy to make.
Materials
Instructions
Insert the flowers into the vase so they were standing upright.

Put a small circle of E6000 glue onto the bottom of one eyeball (the part that is just white).

Pull the petals of one silk flower back to reveal the center of the flower.

Press the eyeball into the flower center. Make sure the glued end is touching the center of the flower.

Hold the eyeball in place while the glue dries - if you don't do this, the eyeball will not stay tucked into the petals.

Once the first eyeball was in place and secure, continue gluing eyeballs into individual flowers until you are satisfied with how the arrangement looks. I did not want an eyeball in every flower but you might.

Then insert the skeleton hands into the vase. I had to saw off the bottom of one of my skeleton hands to make it fit in my vase because the opening of the vase was too small. You may not have to do this.

The last step is to place it where you want it and enjoy!
A Spooktacular Halloween Awaits
Halloween is a time for us homesteaders who love to DIY to shine.
It's an opportunity to bring our creativity to the forefront, to let our imaginations run wild, and to create a homestead that's both inviting and haunting.
The Halloween Eyeball Flowers are just one gem in the treasure chest of DIY Halloween ideas.
So, this Halloween, let your homestead be a beacon of creativity, spookiness, and budget-friendliness.
As the night of ghouls and goblins approaches, I'd love to hear from you.
What's your favorite DIY Halloween decoration for your homestead?
Do you have any creative twists on the Halloween Eyeball Flowers or other DIY projects you'd like to share?
Let's keep the conversation going, my fellow homesteaders.
Halloween Decorating And Craft Ideas
SaveSave