Disclaimer: This is a sponsored post for Febreze/SheSpeaks. I did receive product for testing purposes, however all opinions are 100% my own, honest thoughts. There are links below to products I recommend from companies I have an affiliate relationship with. I will be compensated if you make a purchase after clicking on my links.
I never thought about how well rustic interior decorating goes with fall until I came across some Paris themed burlap.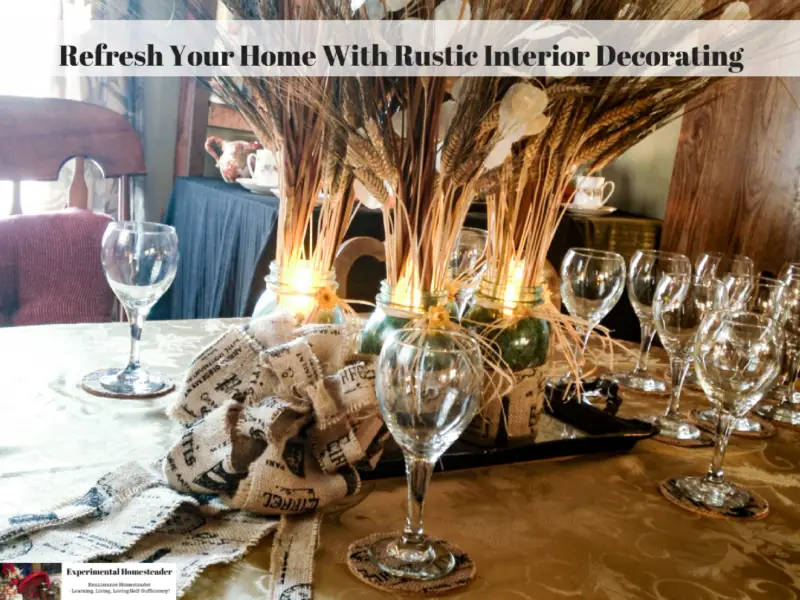 I loved the fabric – and it really did make me think of fall – but then I wondered what crafts using burlap could I possibly come up with?
A few weeks later I was picked to participate in the Febreze scentspiration activities campaign – and then I knew what I was going to do with that gorgeous Paris themed burlap I bought.
My Thoughts About Fall
Fall is a very transitional time of the year.
The kids are back in school.
The livestock is preparing to breed in preparation for spring babies.
Leaves are changing colors and falling.
Most of the garden is going dormant yet there are still vibrant blooms coming from mums and other fall blooming plants.
The vegetable harvest is almost over unless you planted a fall garden.
The pantry is stocked with summer's bounty.
Thanksgiving and Christmas are just around the corner, so it is important to refresh your home, update the decor and make sure it smells good enough so when company arrives they are not put off by odors you are nose blind to.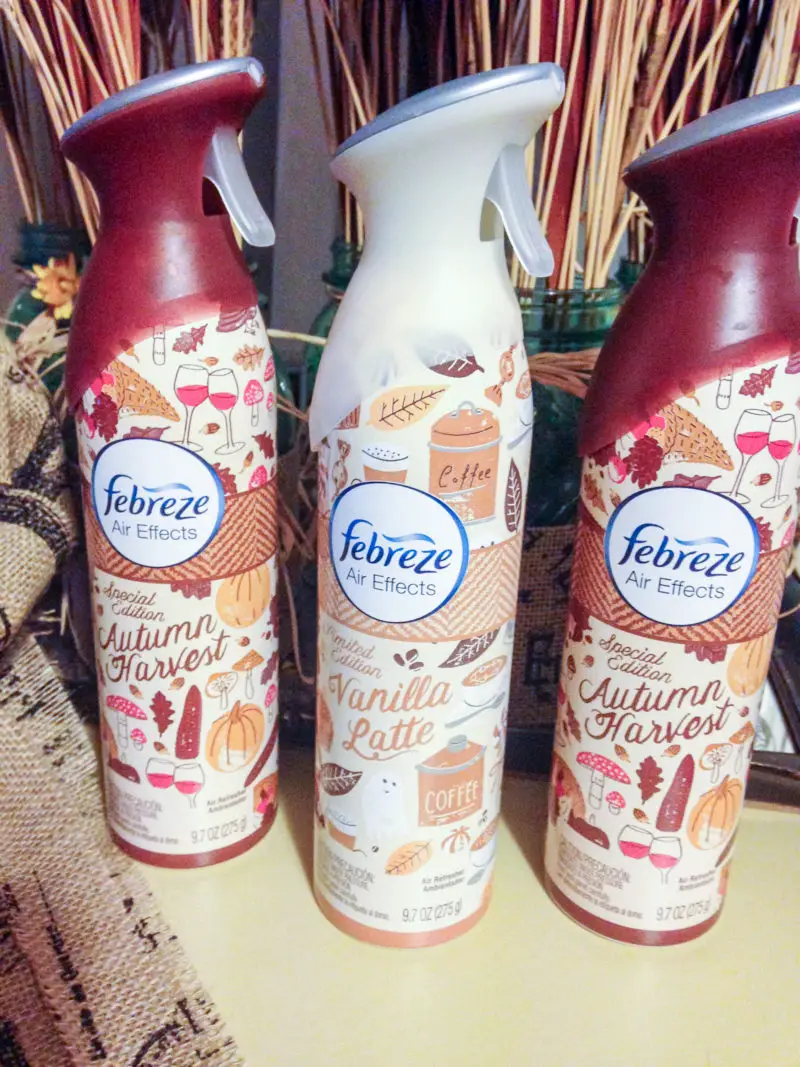 The Scents Of Fall
There are a number of scents lingering in the fall air that are very distinct to the season.
The last hay harvest, the scent of wet leaves, the scent of the Sweet Autumn Clematis blooms – especially at night and of course, the smell of pumpkin.
These are not the only scents of fall though, the FebrezeFall Home Harvest Collection includes wonderful fragrances such as Toasted Almond, Sugared Cranberry, Spiced Pear, Vanilla Latte and Autumn Harvest.
Are these scents that remind you of fall or do you have other favorite fall scents?
My Favorite Febreze Fall Scents
I am currently using Vanilla Latte and Autumn Harvest Air Effects plus the Febreze Noticeables Notables alternating fragrances in my home.
I am using the Autumn Harvest scents in my living room and the Vanilla Latte scents in my kitchen and dining areas.
I personally prefer a different scent in each room – however those scents must work together in case there are areas of overlapping fragrance.
How do you use scent in your own home?
Do you go with one scent throughout your house or do you use a different scent in each room?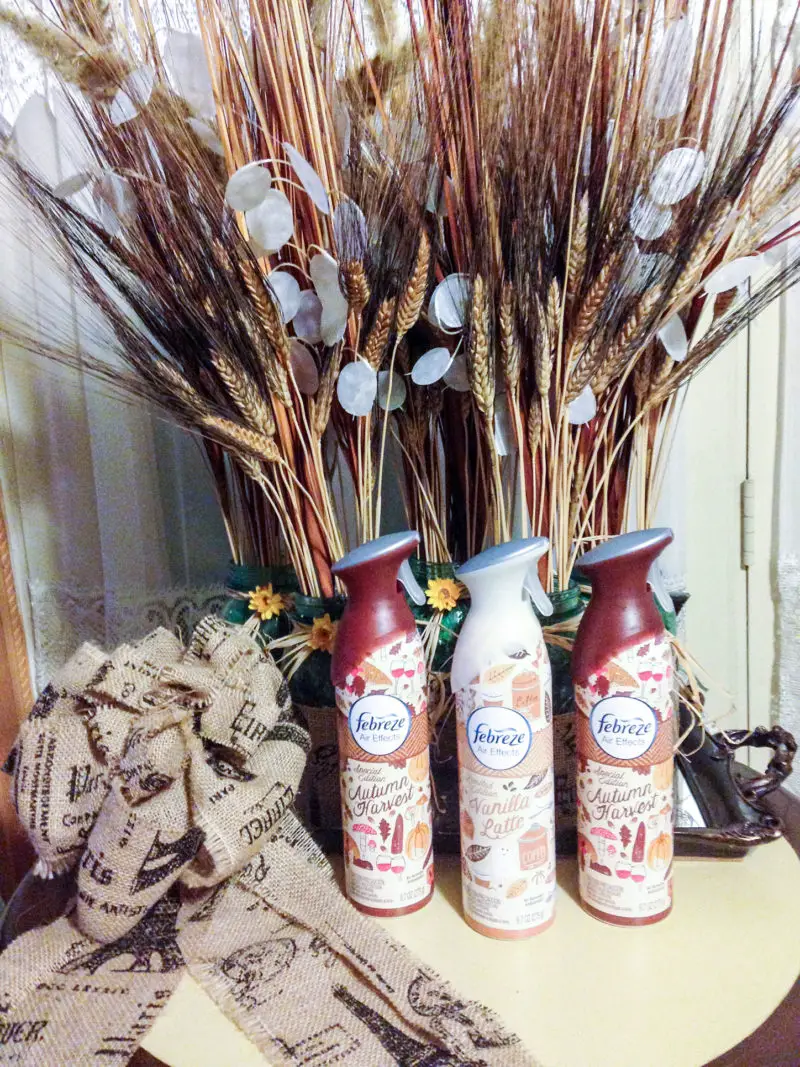 Try Febreze Air Effects For Scenting Crafts For Rustic Interior Decorating
This year, thanks to Febreze scentspiration activities, I am using Febreze Air Effects to add a festive touch and a burst of fragrance to my fall craft and home decor projects.
This is my first year doing this, but I wonder, is this the type of thing you typically do in your home?
I have made two of the scentspiration ideas that came in my Febreze Blogger Toolkit.
A burlap bow that I have used as part of a table centerpiece and burlap coasters.
I added my own spin to the ideas by using burlap pre-printed with a French design on it instead of painting my own design on the burlap after I made the items.
Do you typically add your own spin to ideas that inspire you to craft or decorate?
I know I do.
Burlap Bows Are Perfect For Rustic Interior Decorating
The first I item I made using the scentspiration activity box was a burlap bow.
It was really easy to create.
Have you tried this and do you have photos to share of your scentspiration activities?
Please feel free to post or link to those photos below in the comments section.
Rustic Interior Decorating Burlap Bow Instructions
The suggested scent of these bows is the Febreze Air Effects Sugared Cranberry.
I chose the Febreze Air Effects Autumn Harvest scent instead.
You can choose whatever scent you prefer.
Print
Keep The Rustic Interior Decorating Ideas Going With These DIY Burlap Coasters
The second scentspiration item I made, as mentioned above, was burlap coasters.
These were really easy and fun to make not to mention practical.
Keep in mind because of the required drying time, these do take several days to complete.
I have a Toast To French Toast Brunch coming up very soon and these coasters are going to be a perfect choice for people to sit their stemware filled with champaign mimosas on.
The white you see on the photos above is from the Mod Podge I used to attach the burlap to the cork coasters.
The Mod Podge does disappear as the coasters dry but this can take up to 24 hours depending on the temperature and humidity in your home.
The coasters were inspired be the Febreze Air Effects Vanilla Latte scent – and that is the one I used.
You can choose whatever scent you prefer.
Print
Have you tried any of the new FebrezeFall Home Harvest Collection Scents yet?
If you have, which scent is your favorite?
Why I Love Febreze
I love Febreze products because they really do eliminate odors so guests only notice the freshness, not the things you have gone nose blind to.
There is simply no better way to get your home ready for fall and spruce up your latest decor ideas than with the Febreze home harvest collection.
Check out the Febreze page on the Walmart website, like Febreze on Facebook or follow them on Twitter to stay up to date on the latest news and newest scents.
Remember to use the hashtag #FebrezeFall and share your scentspiration ideas and photos.
Use the buttons on the right side to share this article with friends or family who might find it useful. Pin the picture below to your pinboard on Pinterest for future reference.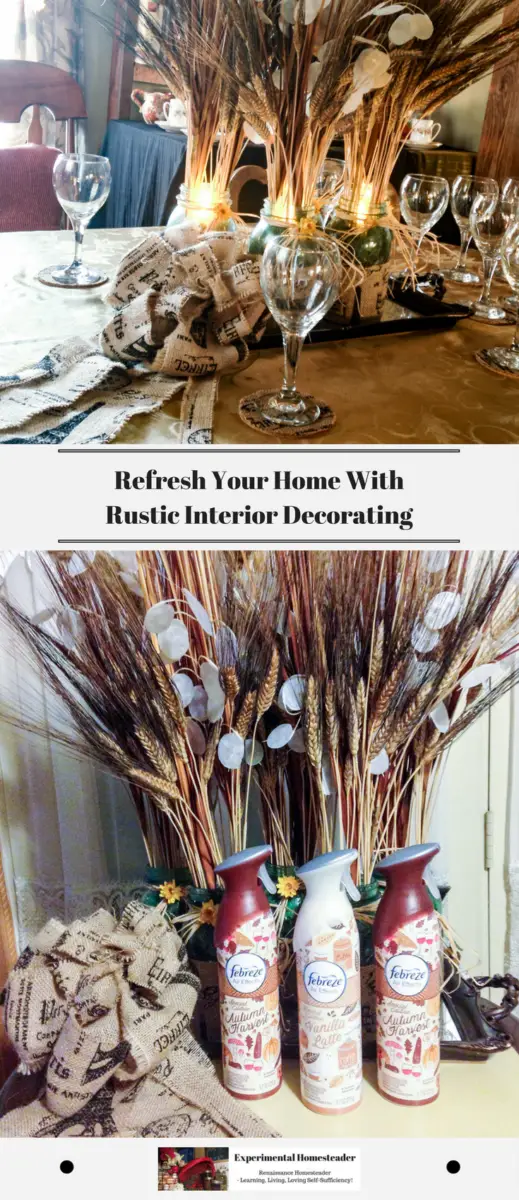 SaveSave