This DIY Halloween Bath Bomb Recipe is super easy to make and the kids are sure to be delighted when they see the skeleton pop out of the bubbling cauldron!
It is made with simple ingredients that are safe to use in the bathtub.

Done properly the bath and body coloring won't stain the tub or the skin.
As the bath bomb dissolves, the skeleton magically pops up.
The skeleton and cauldron can then be used as a decoration.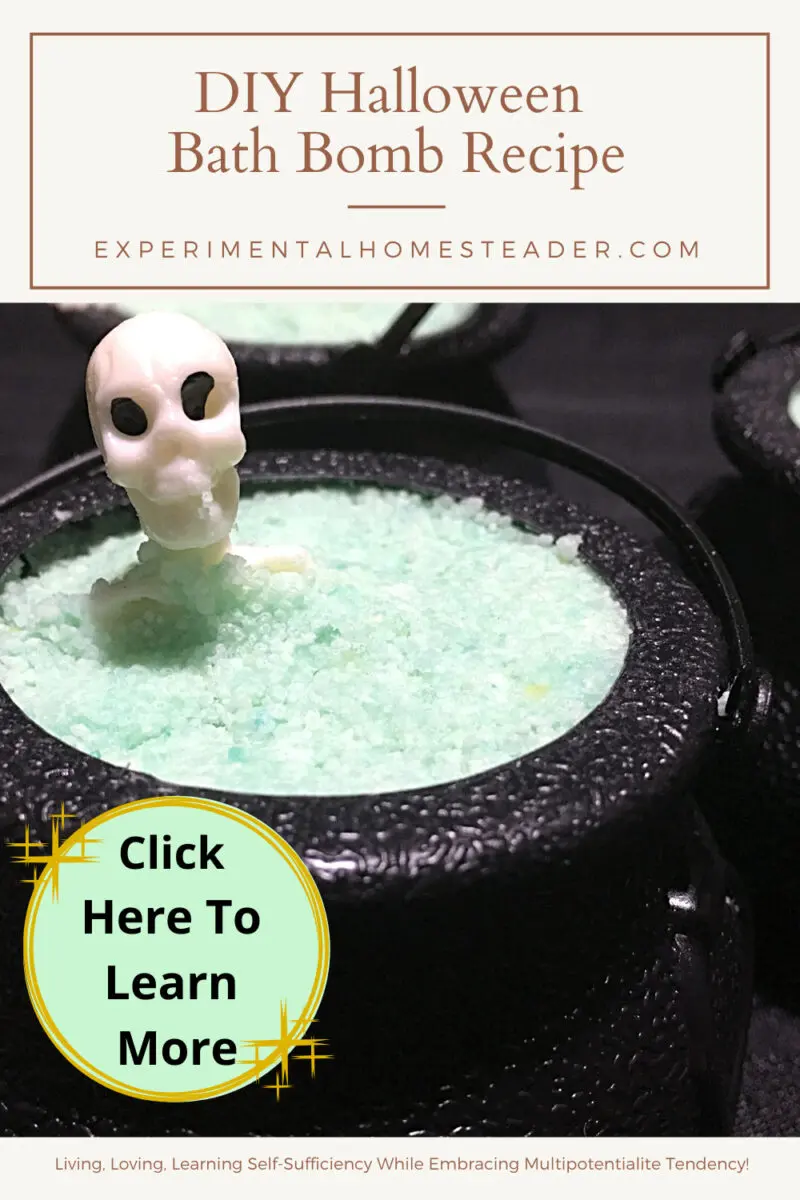 DIY Bath Bombs Are Wonderful Halloween Activity For Kids
This is an easy Halloween activity to involve your kids in.
I suggest an adult measure out the ingredients, but small hands love to mix them up.
Watch out for the bath and body coloring though because while it does wash off, it will get on their tiny hands.
Then allow them to press the mixture into the cauldron, add the skeleton and finish it off.
What fun they will have at bath time adding their own Halloween bath bomb to the tub and watching as it fizzes.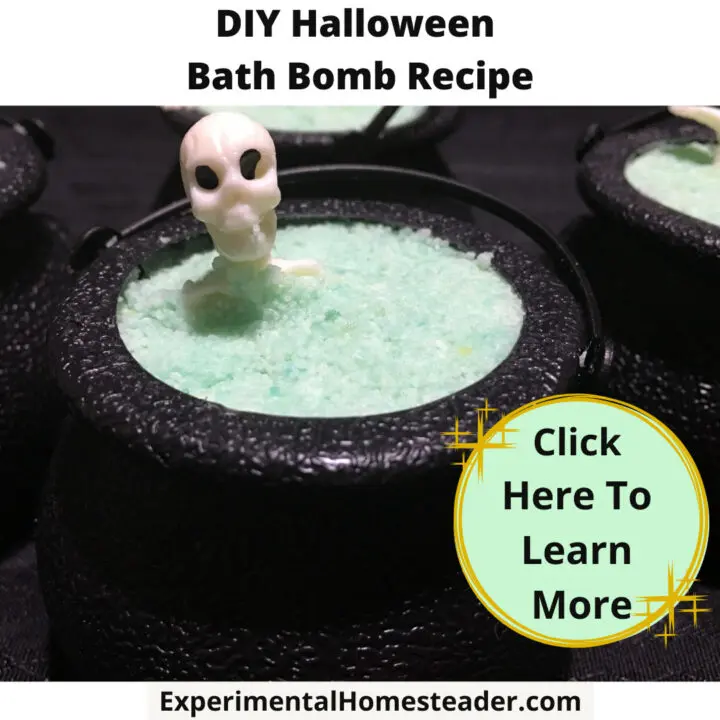 DIY Halloween Bath Bomb Recipe
This cool DIY Halloween Bath Bomb Recipe packs a peppermint scented bath salt into a cauldron filled with a skeleton which pops out as the bath bomb fizzes.
Instructions
Mix the baking soda and citric acid together in a large mixing bowl.
 
Add in the sweet almond oil.

Add in the essential oil.

Add in the bath and body coloring.

Use your hands to mix it all together. If it seems it is not holding together well, then add a little more sweet almond oil until you can form the mixture into a solid shape.

Press some of the bath bomb base you just made into the cauldron at a slight angle.

Place a plastic skeleton in the cauldron on top of the compressed bath bomb base.

Continue to add more of the bath bomb base, gently pressing it into the cauldron and around the skeleton until the cauldron is filled to just below the rim.

Set the cauldron aside to dry overnight so the bath bomb base hardens and stays intact inside the cauldron.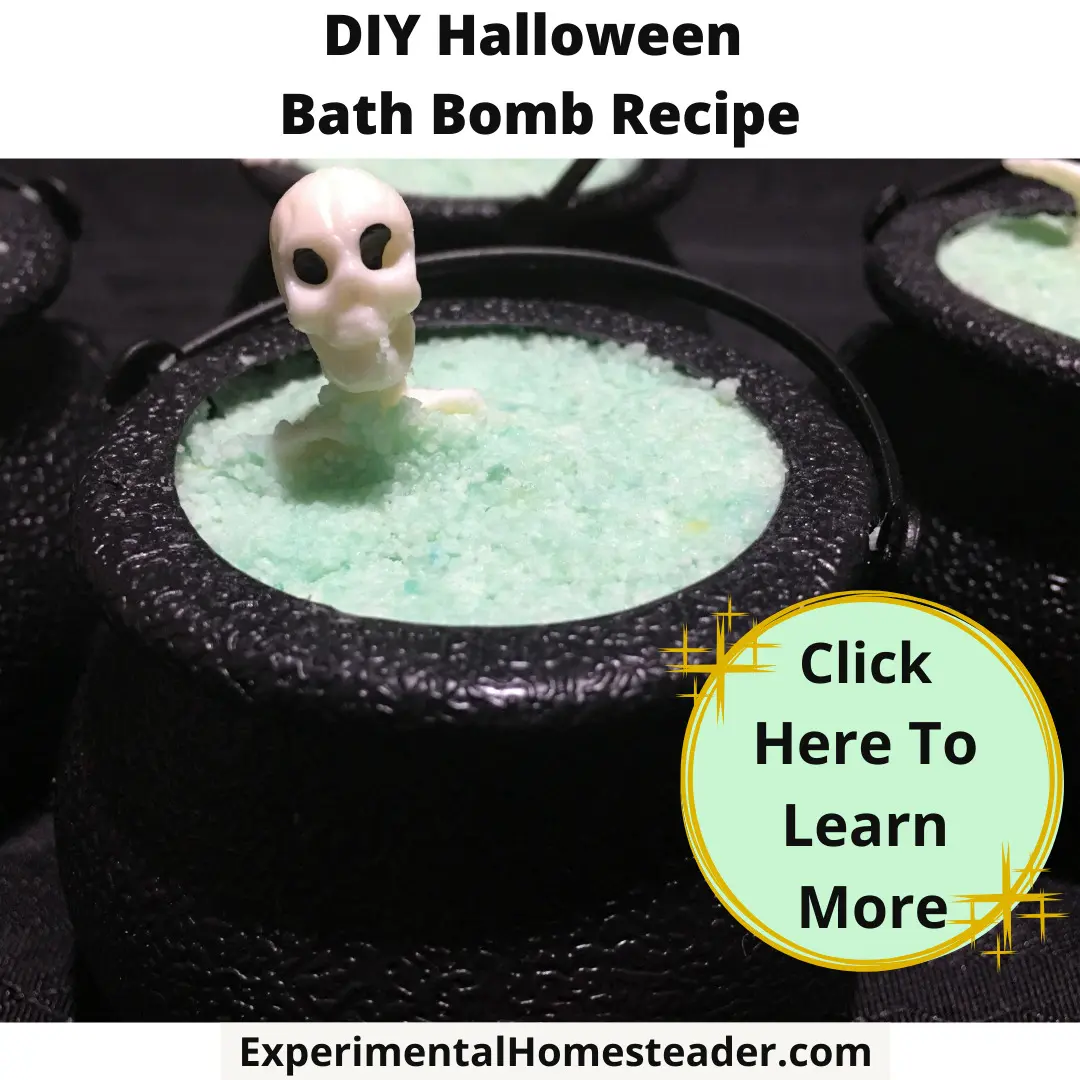 Halloween Handmade Gift Ideas
The lovely Halloween embroidery ideas for towels that I come across really inspire me. Learn how to embroider this Halloween flour sack towel!
If you want easy handmade cards for Halloween that truly look intricate, then be sure to check out this step card made with the Cricut Maker.
The acrylic Craft Block by Hy-Lite is a fun, creative way to make a unique DIY bath and body gift set that is the perfect finish to Halloween festivities.