If you're looking for eco-friendly Thanksgiving ideas, look no further!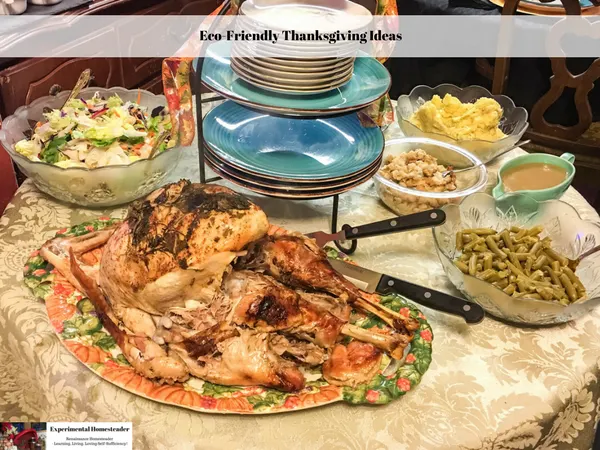 These ten tips are a great way to get started with your eco-friendly Thanksgiving celebration!
There are links below to products I recommend from companies I have an affiliate relationship with. I will be compensated if you make a purchase after clicking on my link.
Tips For An Eco-Friendly Thanksgiving
Stay home and celebrate Thanksgiving without traveling. If you must travel, make sure your tires are inflated properly and carpool if possible. If you need to fly, try purchasing carbon offsets.
Stay away from plastic decorations. It's so easy to collect all kinds of plastic or mass-produced decorations for your house, but it's not very eco-conscious. Make your own decorations from eco-friendly materials. Using items from nature such as pinecones, acorns, berries, etc. or recyclable materials from your own home are eco-friendly options. Be sure to save your decorations from year to year instead of throwing them away after the big event is over.
Use cloth napkins at your table. You can make them yourself, or buy them from antique or second-hand stores. Cloth napkins do not have to be expensive. I have found some very nice ones at our local dollar store that I was able to embroider on.
Dispose of the disposables at the table. Use reusable flatware, tablecloths, and cups. For those who must use disposables, choose ones made from biodegradable material. After your meal is over instead of putting these items in the trash you can compost them.
Pay attention to the thermostat. Keep it around 72 degrees. Build a fire if possible to create a wonderful atmosphere and keep the house warm. Remember that running an oven does help to heat up your home and might allow you to turn the thermostat back to 68 degrees – at least while you are cooking.
Watch out for mass-farmed turkeys. Just because a label says the turkey is "all natural" or has "no artificial hormones," it doesn't mean the turkey was not produced on a factory farm. So research the major brands of turkey and find one whose farming practices you're comfortable with before making your purchase.
Organic, free-range turkeys are an eco-conscious option but be sure to look for the USDA Certified Organic Label unless you know who you are getting your turkey from. Take the time to read the label and don't hesitate to contact the farmer or company that produced the turkey. If they hesitate to answer your questions, move on to another company. The phrase "pasture-raised" or "pastured" means the turkey was raised on pastureland, which is an eco-friendly option, however, be aware that not all turkeys labeled "free-range," "pasture-raised" or "pastured" have unlimited access to fresh grass. Often even these turkeys are kept in a confined outdoor area. The best choice would be a turkey from a small, local farm.
Consider a meatless Thanksgiving. There are tofu "roasts" that you can slice and serve to your family, or simply make a vegetarian meal. To take up space normally occupied by the turkey, make pumpkin soup and serve it inside a big pumpkin shell. Or make a colorful pasta or a vegetarian loaf of grains and beans.
Serve raw foods to conserve energy. You can go beyond just a cold veggie tray. There are lots of interesting raw food dishes, from pasta to dessert. Raw foods make great appetizers and kids love snacking on them.
Eat seasonal, local foods that are organic. What foods are in season will depend on where you live. Look around where you live to see if any farmers grow year-round produce. Sometimes even in cold climates, it is possible to find ones that do. Foods generally in season in late November include:
Cranberries
Pumpkins
Sweet potatoes
Turnips
Nuts
Squash (winter squash such as butternut or acorn)
Apples
Lettuce
Spinach
Kale
Swiss Chard
Brussels Sprouts
Sunchokes
Final Thoughts
I hope this list gives you some great ideas on where to start being more eco-friendly this Thanksgiving
While it is great to follow these guidelines on Thanksgiving – remember many of them can be applied to everyday life.
I highly recommend the following articles:
Use the buttons on the right side to share this article with friends or family who might find it useful. Pin the picture below to your pinboard on Pinterest for future reference.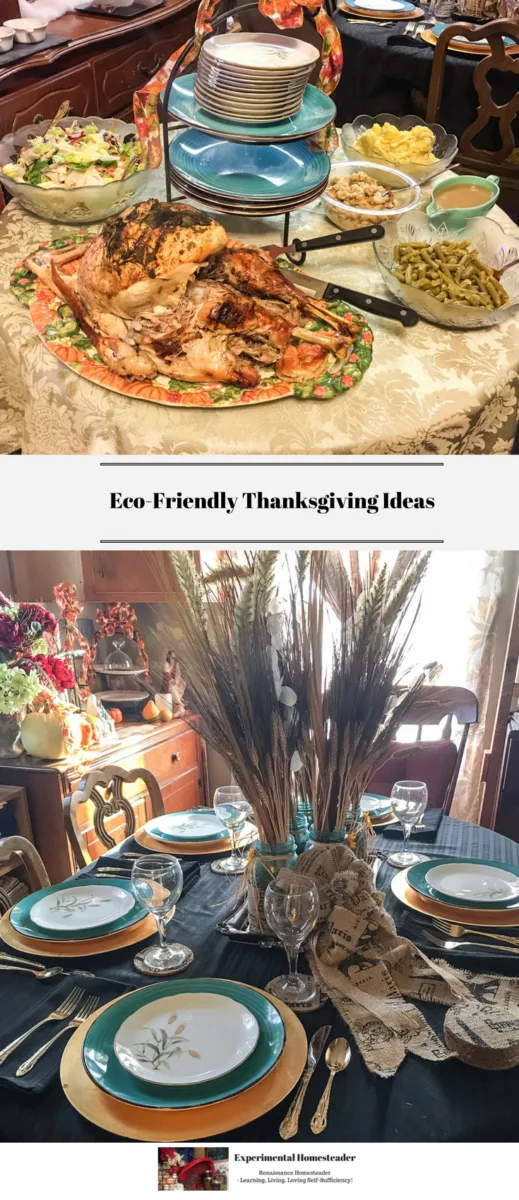 SaveSave