Are you looking for a simple homemade moringa tea recipe?
This post will show you how to make moringa tea so that you can enjoy it whenever you'd like.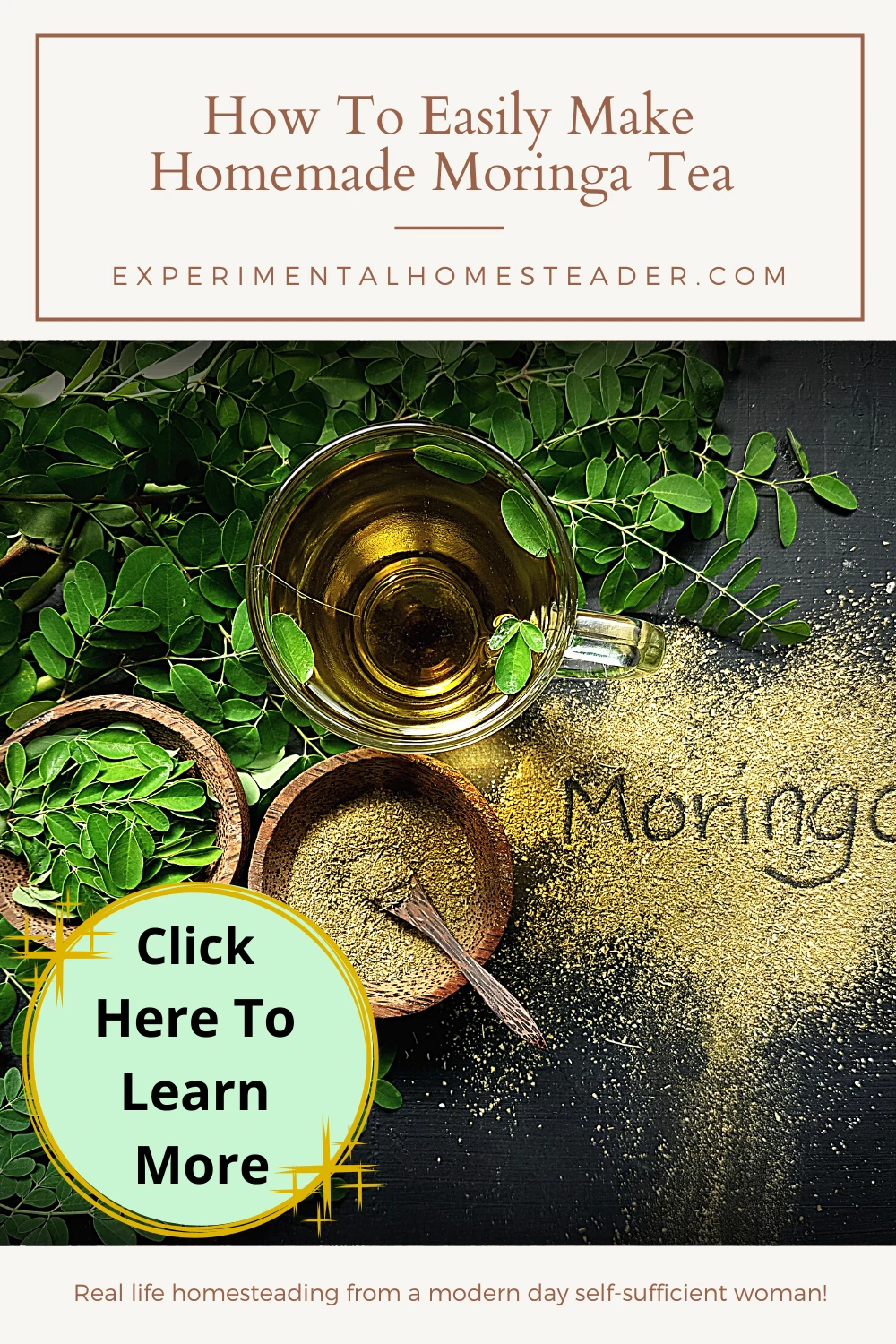 How I Learned About The Moringa Tree
I first heard of the Moringa Tree this past spring when I was looking for alternatives to livestock feed.
I wanted something that was living, full of nutrients and non-GMO.
During my research, I learned that the leaves of this tree were good for making tea for us and the leaves contained huge amounts of vitamins, potassium, protein and calcium.
I was intrigued with this plant and decided I wanted to grow some both for my livestock, especially my rabbits and myself.
Moringa Tea Recipe 
Moringa Tree is a very fast growing tropical tree and here in Indiana I keep it in a  pot in the greenhouse during the winter months.
I received three roots from my friend Karen at Blue Yonder Urban Farms who, at the time, grew and sold both Moringa roots and the seeds in her shop.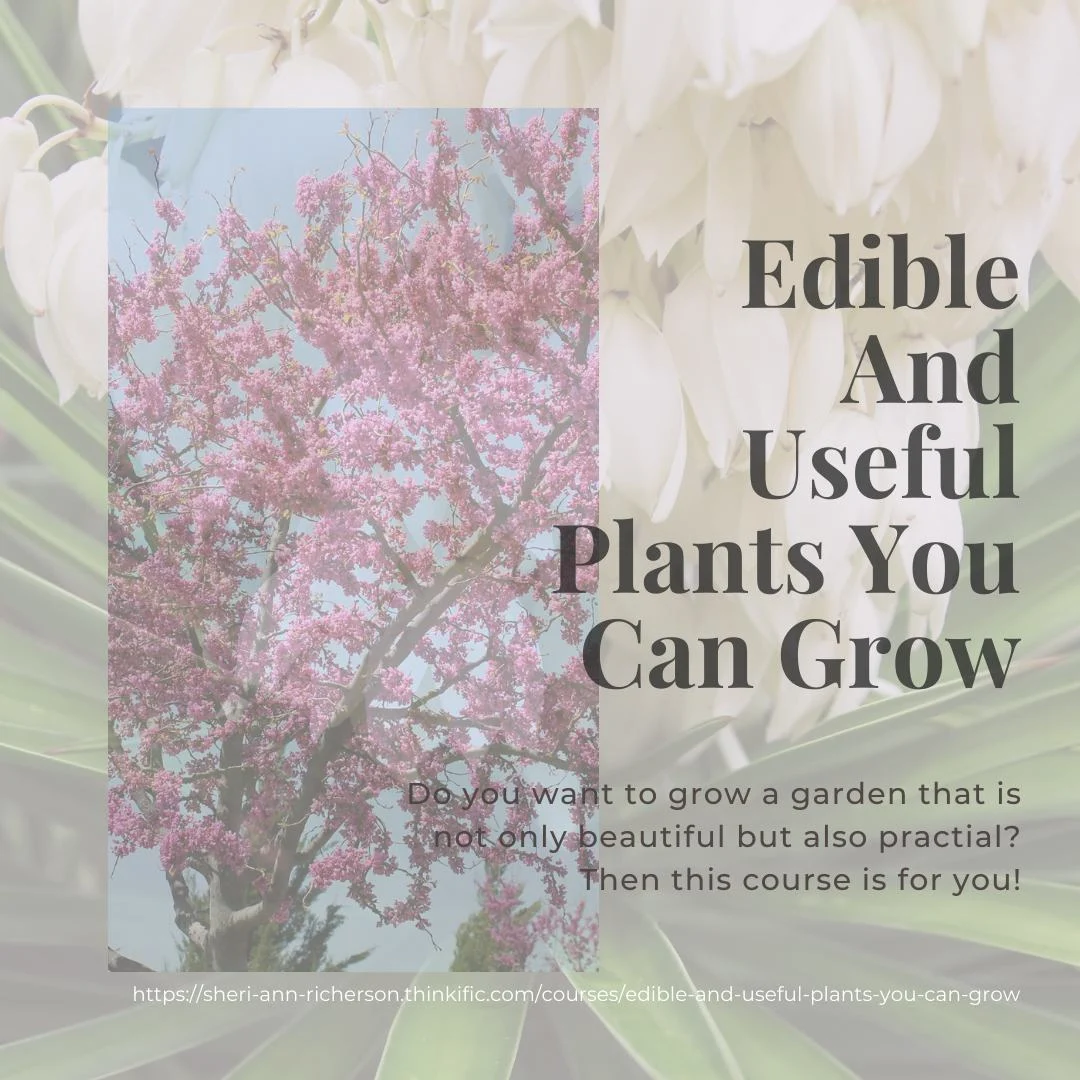 How To Make Moringa Tea From Dried Leaves
I also came across her recipe How To Make Moringa Tea, Using Dried Moringa Leaves which I asked to share here with all of you.
She said that was fine.
Moringa Potassium Content
You'll find that the leaves of Moringa are high in potassium which can provide many benefits to the body.
In fact, just two Tablespoons of Moringa powder will give you just over 40% of the amount of potassium needed for the day! 
Moringa Tea Benefits
There are many benefits that may happen due to drinking Moringa tea.
Some say that it helps aid with digestion and inflammation as well as provide a boost of minerals and vitamins, too.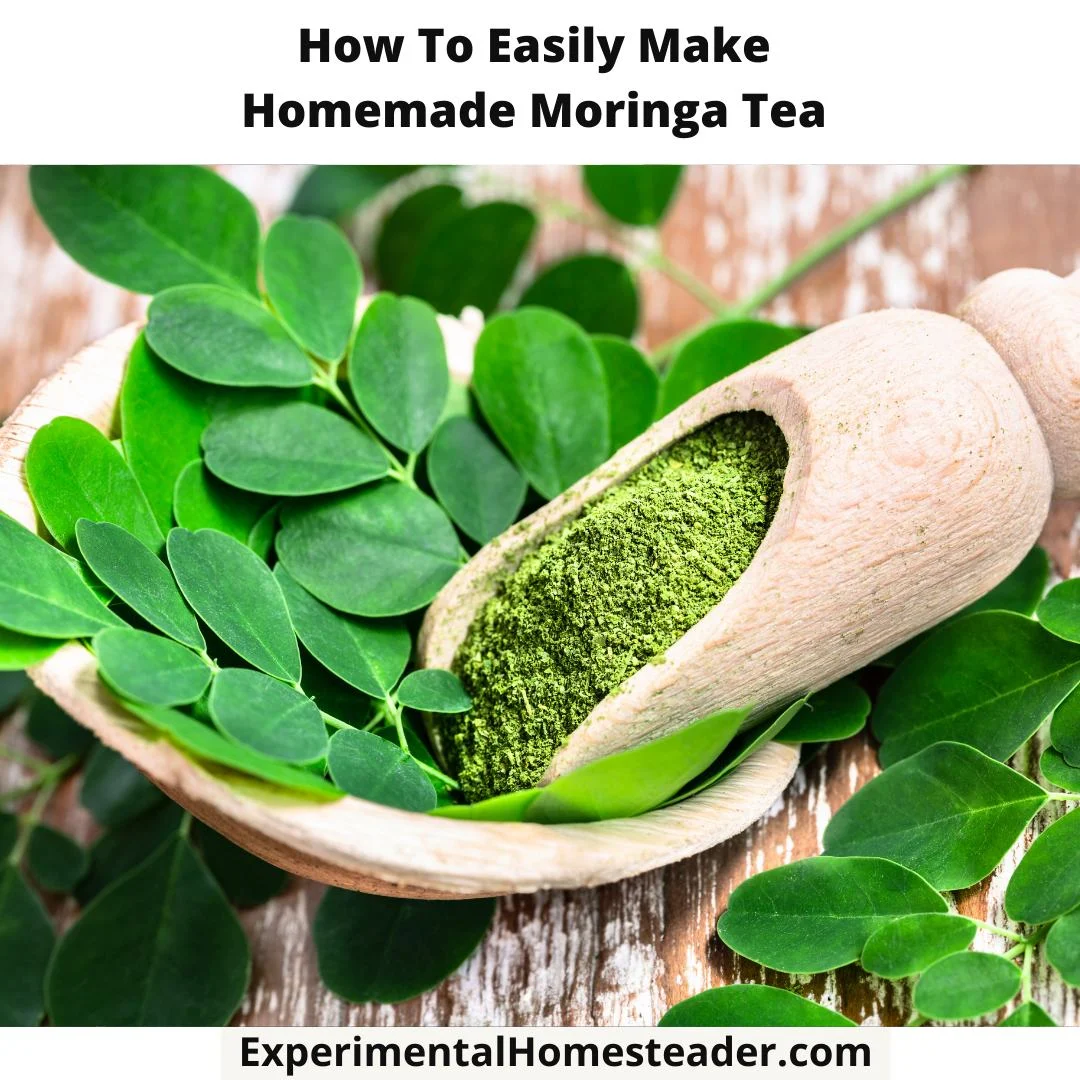 How To Easily Make Outstanding Homemade Moringa Tea
Check out this homemade tea recipe using Moringa leaves!
It's easy to make, the tree is easy to grow.
Morniga tea is the perfect beverage to start your day!
Learn how to make fresh moringa tea from the recipe below! 
Print
How To Easily Make Homemade Moringa Tea
Author: Sheri Ann Richerson
Prep Time:

5 minutes

Cook Time:

5 minutes

Total Time:

10 minutes

Yield:

8 ounces

1

x
Instructions
1. Bring the water to a boil.
2. Place the Moringa leaves in a tea ball and put that in your cup.
3. Pour the boiling water over the top of the leaves, cover the cup and allow the leaves to steep for 3 to 5 minutes. You can also dry the leaves and store them in a glass jar or make your own tea bags for winter use.
4. Remove the lid and drink as is. You can add Stevia, honey or sugar at this point if you wish.
Recipe Card powered by
Other Ways To Use Moringa 
Of course, there are many other ways to use moringa, both as a food and as livestock feed, as mentioned briefly above.
One way many people choose to use it is as a coffee substitute.
Moringa Trees are a great addition to your self-sufficient homestead because they have many uses.
How To Make Moringa Coffee
If you're interested in making Moringa coffee or even a Moringa latte, you can do so by using moringa powder.
Place the powder along with coconut milk and a sweetener of your choice into a blender.
This will help to make it have a mixed and bubbly look.
You can then heat it on the stove slowly until it's warm and pour it into your favorite mug. 
While it does taste different than regular coffee, it is a great coffee substitute!
Can Rabbits Eat Moringa Leaves?
Yes, they can.
While Moringa leaves shouldn't be their main source of food, feeding rabbits moringa leaves can be a good way to help with weight, and provide nutrients to their daily diets. 
Plus they truly do love eating the leaves, but remember moderation is the key.