Disclaimer: I received this item for free in exchange for my honest review. All opinions are my own.
Homesteading, with its back-to-basics lifestyle and focus on self-sufficiency, can sometimes leave you yearning for simple pleasures.

Enter Simple Loose Leaf, your trusted partner in the pursuit of a happier and healthier you.
This monthly subscription service is like having a personal Tea Sommelier, delivering a curated selection of exquisite loose leaf teas right to your doorstep.
In this blog post, we'll explore how Simple Loose Leaf can elevate your homesteading experience, one delightful cup at a time.
The Essence of Simple Loose Leaf Tea
Simple Loose Leaf Tea offers you a passport to the world of tea.
Each month, a carefully curated box arrives, containing 4-5 handpicked loose leaf teas, 2 reusable muslin tea bags, and a beautifully crafted card detailing the unique teas selected for that month.
But that's not all; as a member, you also enjoy a 50% discount when you decide to purchase more of your favorite teas from their online store.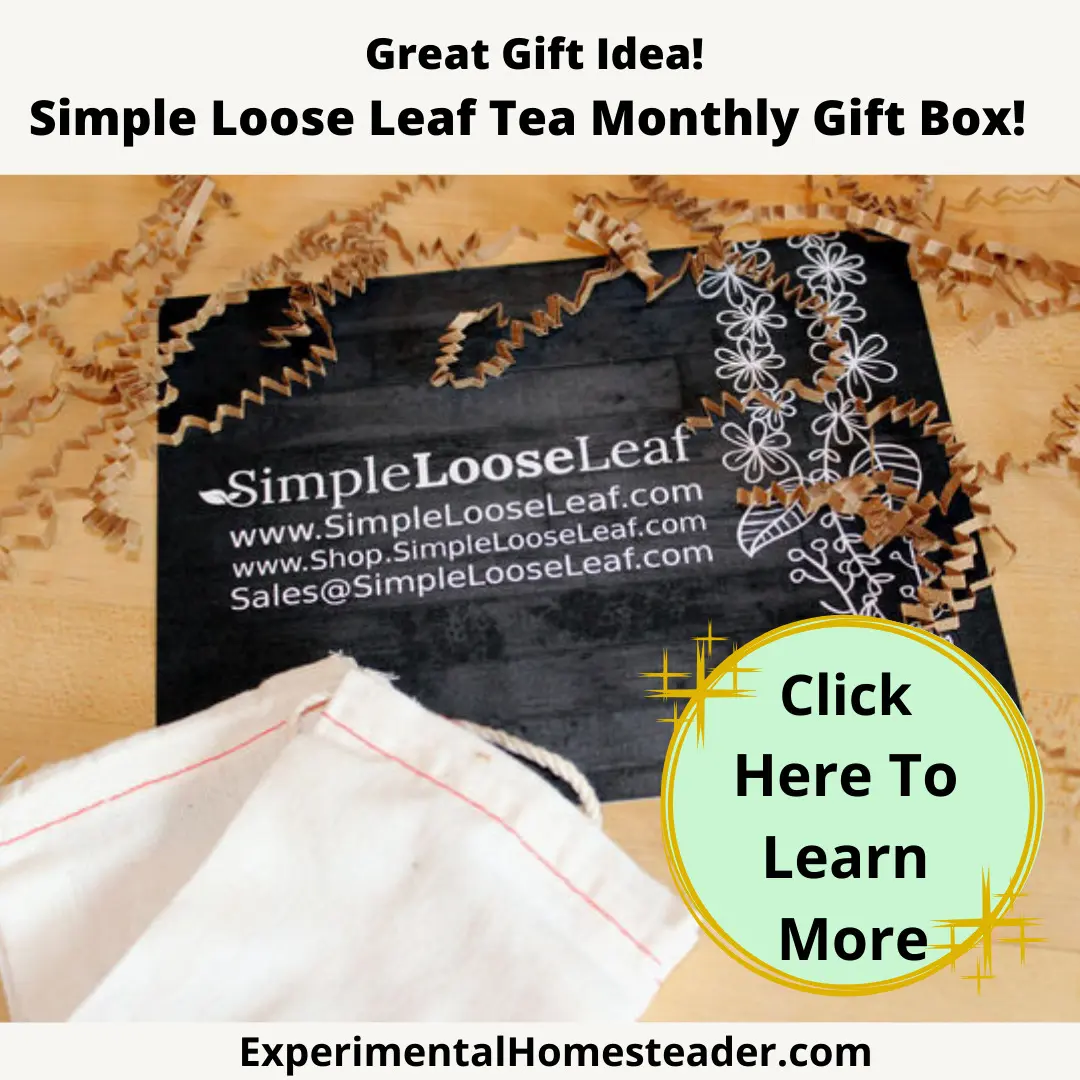 A Homesteader's Companion
Simple Loose Leaf Tea is more than just a tea subscription service; it's a homesteader's companion.
Here's why:
The Homesteader's Tea Ritual
Now that we've established why Simple Loose Leaf Tea is the perfect partner for homesteaders, let's delve into the art of creating your own tea ritual on the homestead.
Morning Serenity: Start your day by embracing the tranquility of a steaming cup of tea. Whether it's a robust black tea to wake you up or a gentle herbal infusion to ease into the day, the ritual of brewing and savoring tea can set a peaceful tone for your morning chores.
Tea Breaks: Homesteading can be physically demanding, and you deserve a break. Step away from your tasks, sit under a tree or on your porch, and sip a rejuvenating cup of tea. It's a moment to recharge and reflect.
Tea and Harvest: The joy of harvesting your own produce deserves celebration. Invite friends and fellow homesteaders over for a tea party using your fresh ingredients. Simple Loose Leaf teas can complement the flavors of your harvest in surprising ways.
Evening Reflection: As the day winds down, a cup of calming herbal tea can be the perfect companion for quiet reflection. It's an opportunity to appreciate the fruits of your labor and set intentions for the next day on your homestead.
Gifts from the Garden: Homesteaders are known for their generosity. Share your bountiful harvest and some of your favorite teas from Simple Loose Leaf Tea as thoughtful gifts with friends and neighbors.
In Conclusion
Simple Loose Leaf Tea is more than just a tea subscription; it's a gateway to enhancing the homesteading lifestyle.
With its dedication to quality, variety, and sustainability, it aligns seamlessly with the values and goals of homesteaders. So, go ahead and treat yourself or a fellow homesteader to the gift of Simple Loose Leaf Tea.
It's an investment in your well-being, a source of comfort, and a daily reminder to savor the simple joys of life on the homestead.
Your journey to a happier and healthier you starts with a cup of tea.