Disclaimer: This is a sponsored post on behalf of Love Cooking Company and US Family Guide. All opinions are my own.
Love Cooking Company products makes baking simple – and that is the mission they set out on.

First they joined up with some great names in the baking and entertainment industries.
Then they set their goal which was to craft bakeware that helps you easily achieve the best-looking baked goods on the table, from filled cakes to bite-size desserts and more.
As far as I am concerned, their mission was accomplished and here is why.
The PushPan Makes Baked Cheesecakes Simple
The PushPan is a 100% watertight and leak-proof cake pan with a patented silicone-lined removable base making it perfect for cheesecakes, pies and more!
The PushPan is an alternative to a spring-form pan.
To use it, you simply place the pan on something sturdy, press the sides down, and voila – the perfect cheesecake!
The PushPan also comes with a 25 year warranty!
I gave this pan a try when I made my German Chocolate Cheesecake Recipe – and I have to say the cheesecake came out of the pan easily.
In fact, this was one of the first homemade baked cheesecakes I had ever made, so I was a bit a nervous, but in the end everything was just fine thanks to this wonderful PushPan from Love Cooking Company!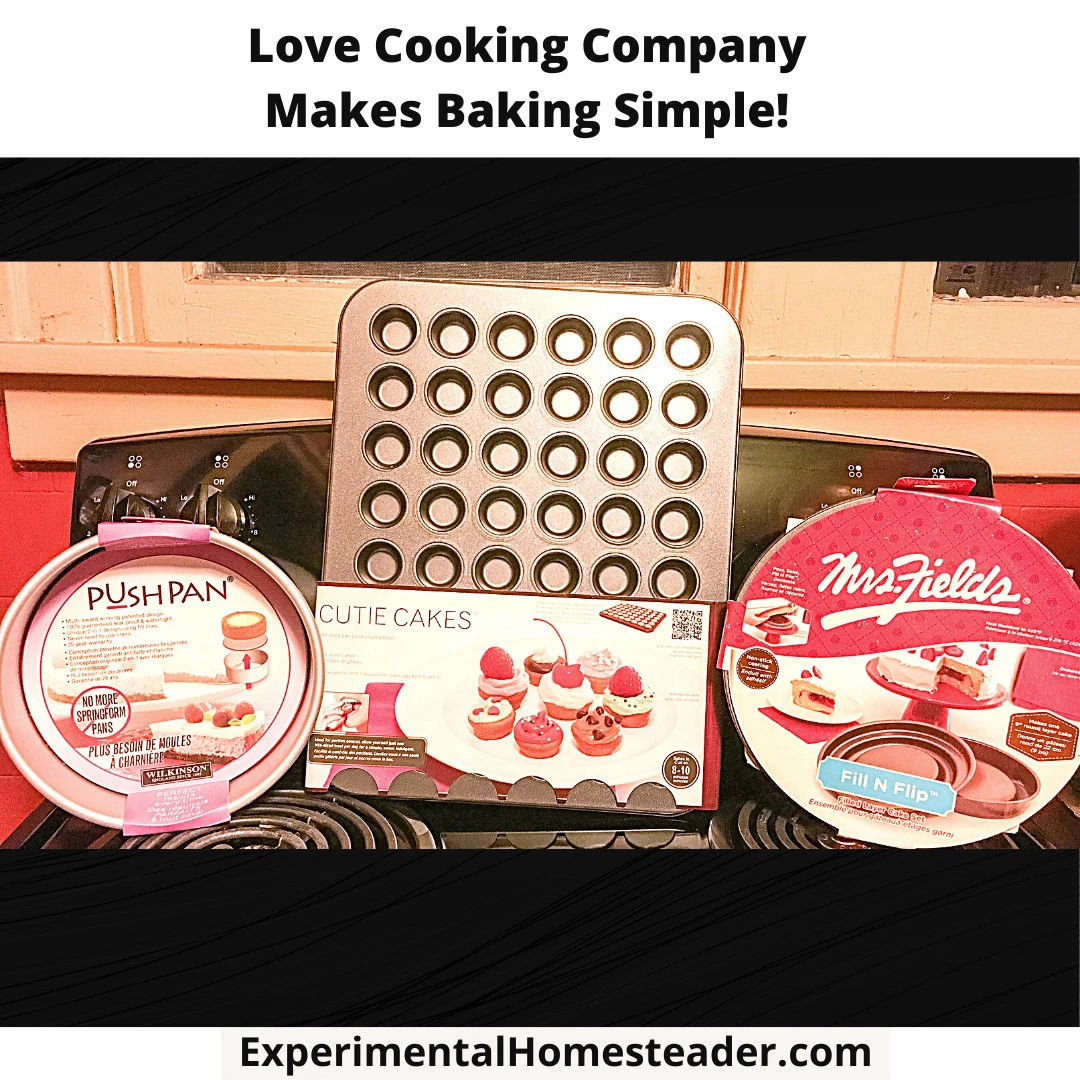 The Cutie Cakes Pan Also Makes Baking Simple
The Mrs. Fields Cutie Cakes pan creates 48 bite-size cakes when you need a small amount of something sweet.
It's ideal for savory options, like mini corn dogs or potato pancakes.
After you create your tiny treats, just pop the pan in the dishwasher.
I have used this pan for multiple sweets and its still non-stick and works great!
Love Cooking Company Makes Baking Simple With The Fill N Flip Pan
The Mrs. Fields Fill N Flip is the easiest way to make a layered cake and create a surprise center that everyone will love.
Once you bake your cake, add filling to the side with the large opening, place the non-filled layer on top, and enjoy!
Plus, the pan is dishwasher-safe, making clean-up a breeze.
I decided to try a new cheesecake recipe in the Fill N Flip pan – a Chocolate Raspberry Cake With A Cheesecake Center.
I was a little unsure of myself because this was the first recipe where I was trying to make the center of the cake different from the cake itself.
The Fill N Flip pan made that a breeze – and the resulting dessert was acually fought over!