This Queen Anne's Lace Jelly recipe is a great way to use edible flowers in canning recipes.
Jelly is delicious on toast, biscuits or it can be used in dessert recipes.

Another great way to use jelly or jam is on meat as a flavoring or tenderizer.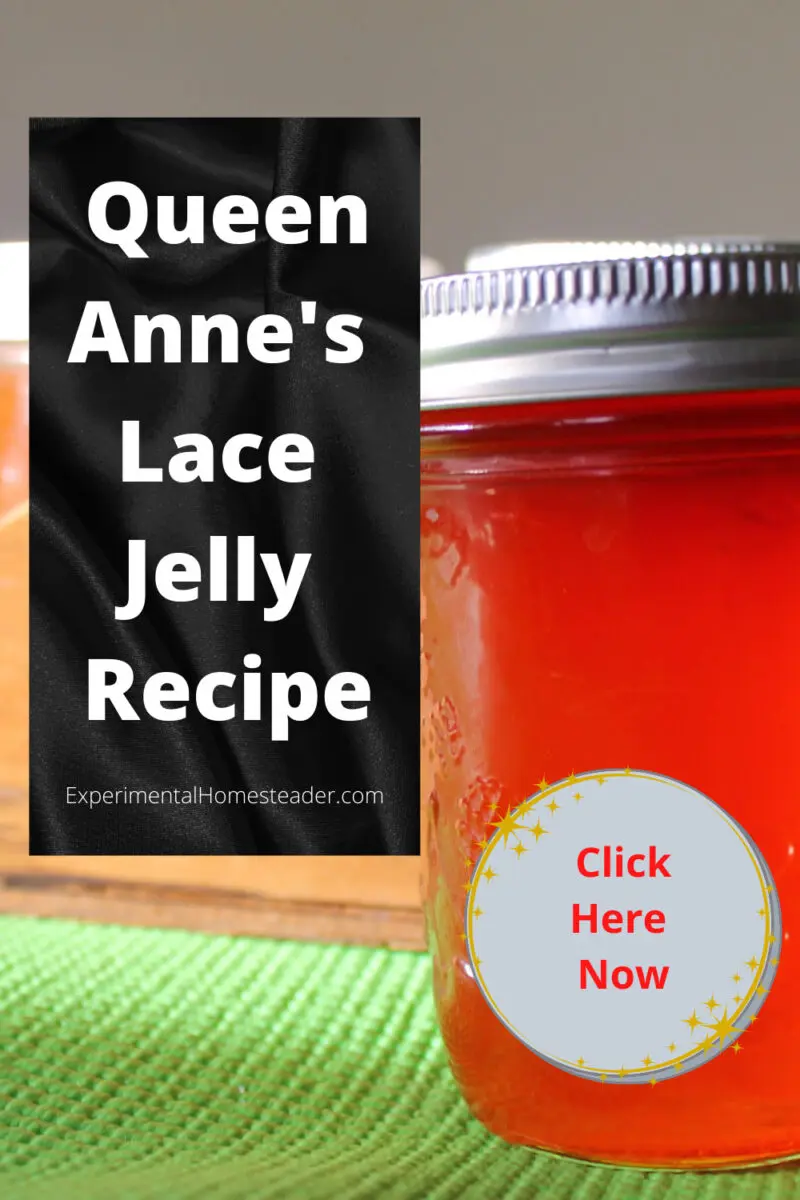 Correctly Identify Queen Anne's Lace
When picking plants from the wild be sure you have the identity correct.
Many plants look so much alike that you may think you are harvesting one plant when in fact you are getting something totally different.
Take for example the common Queen Anne's Lace or wild carrot.
Daucus carota resembles the poisonous water hemlock which is deadly if ingested.
If in doubt, take the plant to a local botanist or your local extension agent for a positive ID before eating it.
Once you are sure you have the true Queen Anne's Lace, which you will know by the purple dot in the center of the flower, here is a recipe for jelly.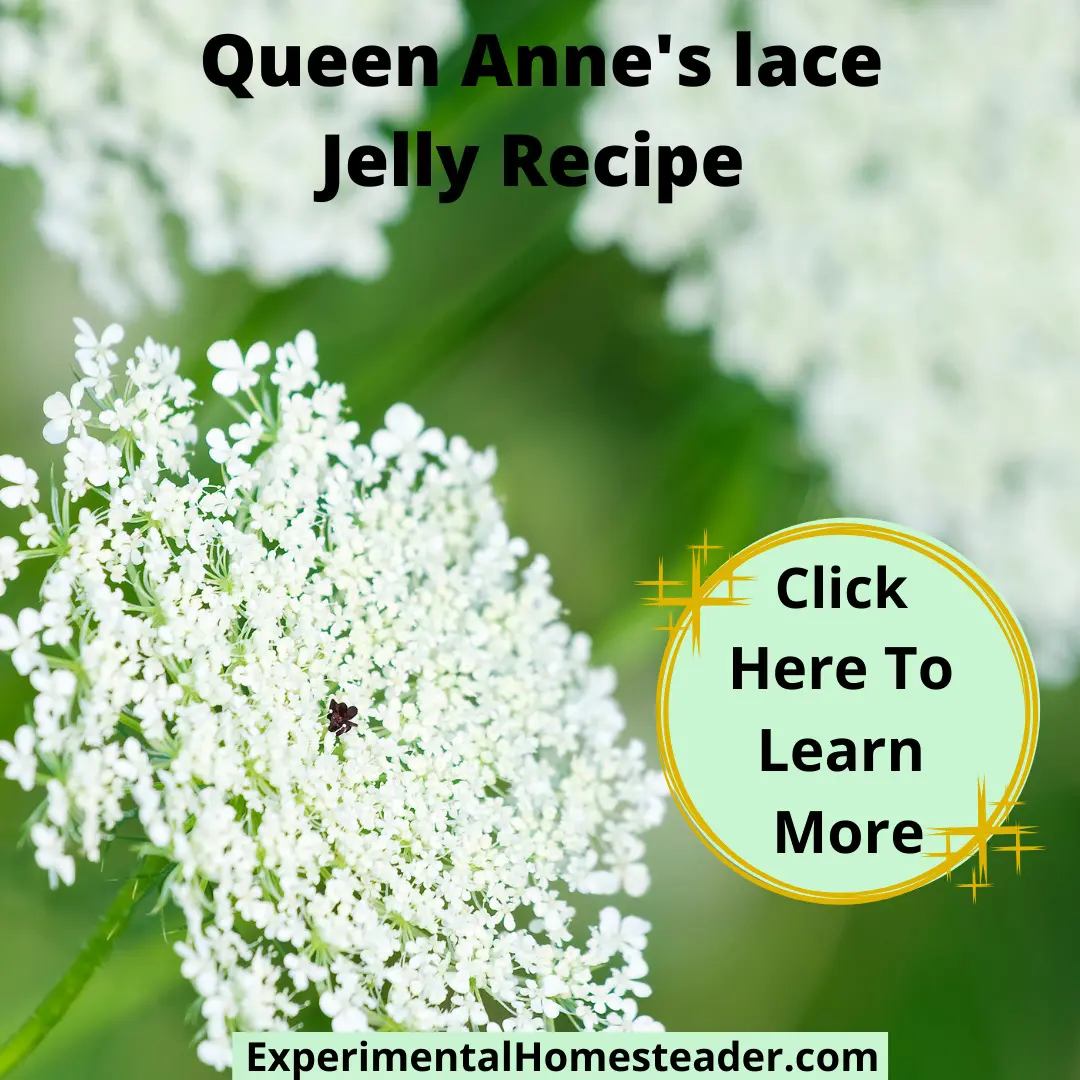 Print
Queen Anne's Lace Jelly Recipe
This Queen Anne's lace jelly recipe is a great way to use edible flowers to make something delicious to eat on toast or use in recipes.
Author: Sheri Ann Richerson
Prep Time:

24 1/2 hours

Cook Time:

30 minutes

Total Time:

25 hours

Method:

Canning
Queen Anne's Lace Flowers or other edible flowers

2 1/2 cups

Boiling water (enough to cover the flowers)

1 1/2 cups

honey
Juice of

1

lemon

1

package of pectin
Food coloring (optional)
Instructions
Fill a glass jar full of clean flower heads. You can use all Queen Anne's Lace flowers or use a combination of edible flowers such as violet, lilac, roses, carnation, peony or elderberry.
Once the jar is full, pour boiling water over the flowers making sure to cover all of them.
Put a non-metallic lid on the jar and sit aside for up to 24 hours. The infusion should be allowed to sit for at least five hours minimum.
When you are ready to proceed, prepare a strainer lined with cheesecloth.
Pour the water through the strainer making sure to remove all the flowers from the first jar.
Squeeze the water out of the flowers in the cheesecloth.
Then measure the amount of water you have.
You will need a minimum of 2 ½ cups flower water for one recipe.
Put the flower water into a stainless steel pan, add the juice of one lemon and one package of pectin.
Add food coloring if desired.
Bring this mixture to a boil then add three cups of sugar.
Stir and continue boiling until the sugar has dissolved.
If you prefer using honey in place of the sugar, remove the mixture from the heat and add 1 ½ cups honey. Stir just until the honey is dissolved.
Remove the foam scum that forms on top of the jelly, then pour the jelly into sterilized canning jars. The smaller 4 ounce or half pint jars work well.
Wipe jar rims, put lids and bands on making sure they are fingertip tight.
Process for ten minutes in a cold pack canner, remove and tighten lids.
Set the hot jars on a secure surface. I lay an old towel on top of my table and set the canning jars on it. Remember these jars are hot so use hot pads and jar lifters.
Tighten the bands as tight as possible.
Allow the jars to cool overnight. When the jars are completely cool, remove the bands and check the lids to make sure they are sealed.
To check the lids, simply try to lift them up with your fingers. If they come off, set the food in the refrigerator and eat it within a week. If they do not come off, the cans are sealed. Replace the band and store in a cool, dark place.
Be sure to label the jars with the name of the food in them and the date.
Equipment
Keywords: how to can, jam or jelly or preserves, jam or jelly preserves, recipe
Recipe Card powered by