I love looking through the old Ball Blue Books. There are recipes in them that are not in the newer ones such as this recipe for canning broccoli.
The newer Ball Blue Books all suggest freezing broccoli, however I prefer to can as much as possible because I don't have to worry about food spoilage in the event of an electrical outage.
I felt the broccoli canned nicely. It did not discolor although the Ball Blue Book stated that discoloration was a possibility.
It also did not turn to mush and some of my jars were not used until the broccoli was close to a year old.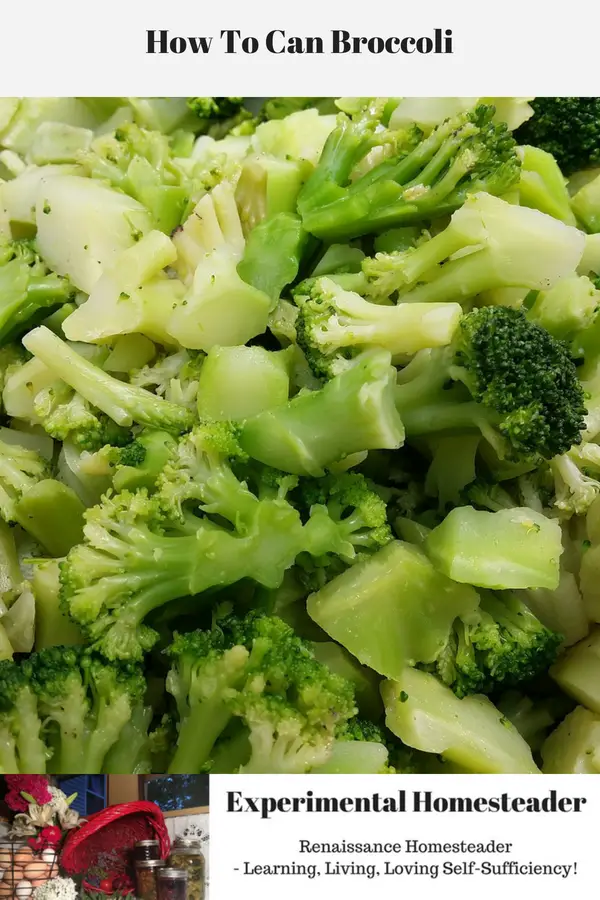 How To Can Broccoli
Below are tips for sterilizing and packing canning jars (affiliate link) plus my canned broccoli recipe.
Be sure the broccoli is washed well before you begin and that it is fresh broccoli from someones garden for best results.'
Here are the rest of the broccoli canning instructions.
Print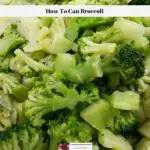 How To Can Broccoli
---
Author:

Prep Time:

30 minutes

Cook Time:

35 minutes

Total Time:

1 hour 5 minutes
---
Instructions
Wash the broccoli well making sure all dirt that might be in the heads is removed. Soaking it in cold water

(affiliate link)

for a few minutes is the easiest way to do this.
Cut the broccoli heads into two inch long pieces and put the remainder of the stem into the compost bucket. You could can the stem pieces as well, but I chose to feed the stems to my poultry and use just the tops of the broccoli with some short stems attached.
Once all the broccoli is cut up, place it in boiling water

(affiliate link)

and boil it for 3 minutes.
Then pack the hot broccoli into hot, sterilized canning jars

(affiliate link)

.
Cover the broccoli with the hot water

(affiliate link)

it was boiled in, filling each jar so there was just an inch head space at the top. Be sure to release any potential air bubbles using a knife or a canning bubble popper

(affiliate link)

.
Add one teaspoon canning salt

(affiliate link)

to each jar and put the sterilized bands and lids on.
Process the broccoli in a pressure canner

(affiliate link)

at 10 pounds pressure.
Pints require 30 minutes processing time and quarts require 35 minutes processing time.
Be sure to let the jars sit and cool overnight then check the lids to make sure they are sealed.
As long as the lids are properly sealed, go ahead and label the jars then store them in a cool, dark place.
In the event the lids are not sealed it is best to refrigerate the broccoli and use it right away. It is possible to re-process the broccoli using new lids if you prefer.
Equipment
Keywords: canning broccoli, pressure canning broccoli, canning vegetables, how to can broccoli
Recipe Card powered by
How To Use Canned Broccoli
You can use canned broccoli as a side dish, the same way you would use fresh or frozen broccoli.
However, if you need some dinner inspiration, be sure to check out this Gluten-Free Stir-Fry Beef And Broccoli Recipe.

Sterilizing And Packing Canning Jars
For those who are new to canning – or simply need a refresher on what to do, I wanted to share this video I made on how to sterilize and pack canning jars (affiliate link).
I used green beans for the tutorial, but the method works for any product you are canning.
Be sure to double check how much head space to leave above whatever you are canning as it does vary.
Packing the jars as tightly as possible is super important as is making sure the air bubbles trapped between the food in the jar and the liquid are released.
Cleanliness is important as you do not want bacteria or non-food stuff to end up in your jars as it could cause spoilage.