I love looking through the old Ball Blue Books. There are recipes in them that are not in the newer ones such as this recipe for canning broccoli.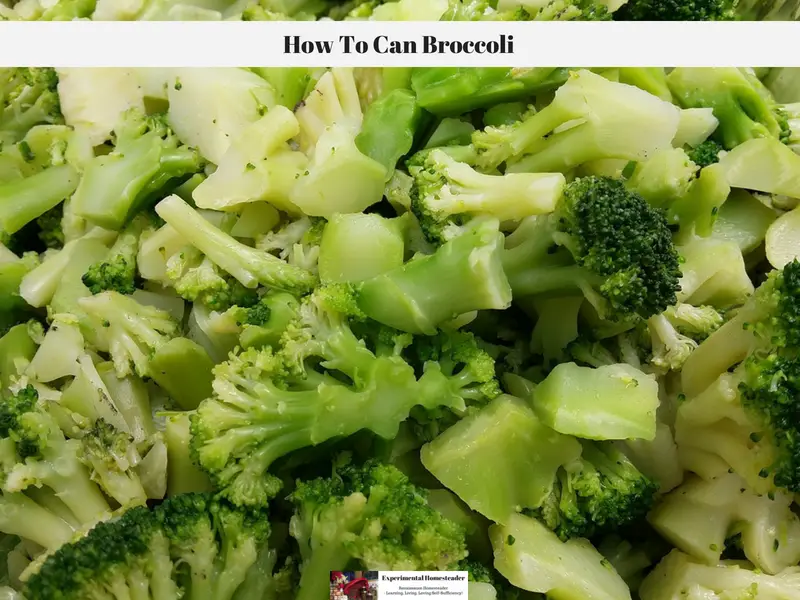 The newer Ball Blue Books all suggest freezing broccoli, however I prefer to can as much as possible because I don't have to worry about food spoilage in the event of an electrical outage.
I felt the broccoli canned nicely. It did not discolor although the Ball Blue Book stated that discoloration was a possibility.
It also did not turn to mush and some of my jars were not used until the broccoli was close to a year old.
Below are tips for sterilizing and packing canning jars (affiliate link) plus my canned broccoli recipe.
There are also links to products I recommend from companies I have a referral relationship with. I will be compensated if you make a purchase after clicking on my links.
How To Can Broccoli
First I washed the broccoli well.
Then I cut the broccoli heads into two inch long pieces and put the remainder of the stem into the compost bucket. You could can the stem pieces as well, but I chose to feed the stems to my poultry and use just the tops of the broccoli with some short stems attached.
Once all the broccoli was cut up, I boiled it for 3 minutes.
Then I packed the hot broccoli into hot, sterilized jars.
I covered the broccoli with the hot water (affiliate link) it was boiled in filling each jar so there was just an inch head space at the top.
Then I added one teaspoon canning salt to each jar and put the sterilized bands and lids on.
I processed the broccoli in a pressure canner (affiliate link) at 10 pounds pressure.
Pints require 30 minutes processing time and quarts require 35 minutes processing time.
Be sure to let the jars sit and cool overnight then check the lids to make sure they are sealed.
As long as the lids are properly sealed, go ahead and label the jars then store them in a cool, dark place.
In the event the lids are not sealed it is best to refrigerate the broccoli and use it right away. It is possible to re-process the broccoli using new lids if you prefer.
Be sure to download your free printable mason jar labels. I suggest using adhesive paper in your printer to make the labels sticky.
Sterilizing And Packing Canning Jars
For those who are new to canning – or simply need a refresher on what to do, I wanted to share this video I made on how to sterilize and pack canning jars (affiliate link). I used green beans for the tutorial, but the method works for any product you are canning. Be sure to double check how much head space to leave above whatever you are canning as it does vary. Packing the jars as tightly as possible is super important as is making sure the air bubbles trapped between the food in the jar and the liquid are released. Cleanliness is important as you do not want bacteria or non-food stuff to end up in your jars as it could cause spoilage.
I highly recommend the following articles:
Use the buttons in the upper right hand corner to share this article with friends or family who might find it useful. Pin the picture below to your pinboard on Pinterest for future reference.