Disclaimer: This post is sponsored by Nutrience and the Pet Blogger Network. I am being compensated for helping spread the word about the Nutrience, but Experimental Homesteader only shares information we feel is relevant to our readers. Nutrience is not responsible for the content of this article.
My pets are very active, especially my cats.

They are barn cats so they live outdoors where they chase all kinds of wild critters and climb trees on a regular basis.
They also love climbing into my flower pots that are sit up high so they can observe the ground below.
In order to keep my cats healthy, full of energy and support their healthy, active lifestyle they need to eat a high quality cat food full of meat, fish, fruits, vegetables and botanicals.
Nutrience Pet Food is a great solution. It is made in small batches using quality North American ingredients harvested at their peak and backed by their "No Bad Anything" promise, plus I can choose between grain-free, natural or original formulas.
Best of all, I can order the food right from Amazon.com which means I have more time to spend with my pets.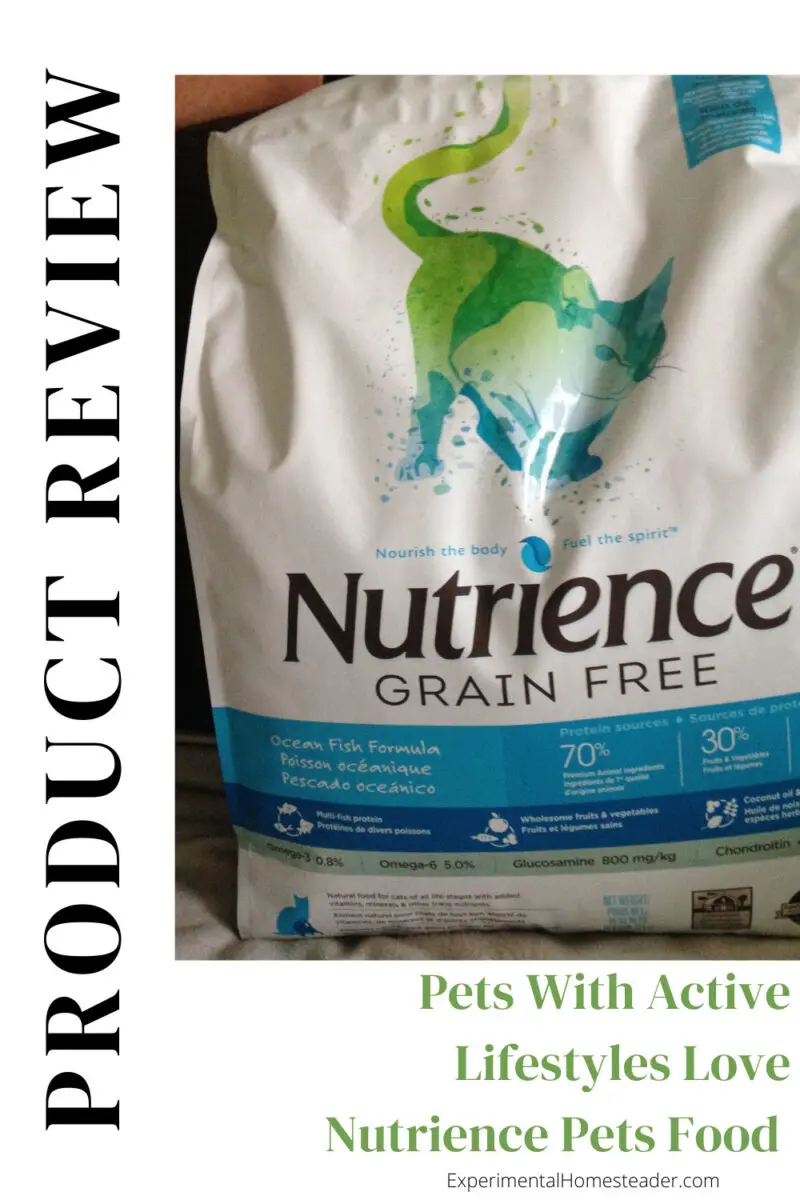 Active Pets Need Nutrience Pet Food
I live on a small farm as most of you know.
My pets keep me active – and my presence keeps them active.
Between mucking out the barn or chicken coop, walking them or just doing the daily chores that all pet owners must do, I have a very active lifestyle.
When I am out in the pasture or chicken area, the larger animals follow me around.
They want to be near me and watch what I am doing.
The cats follow me whenever I go outside and when I come home, they run out to the car to greet me.
My lab mix, Precious Angel, also likes his daily walks on his leash.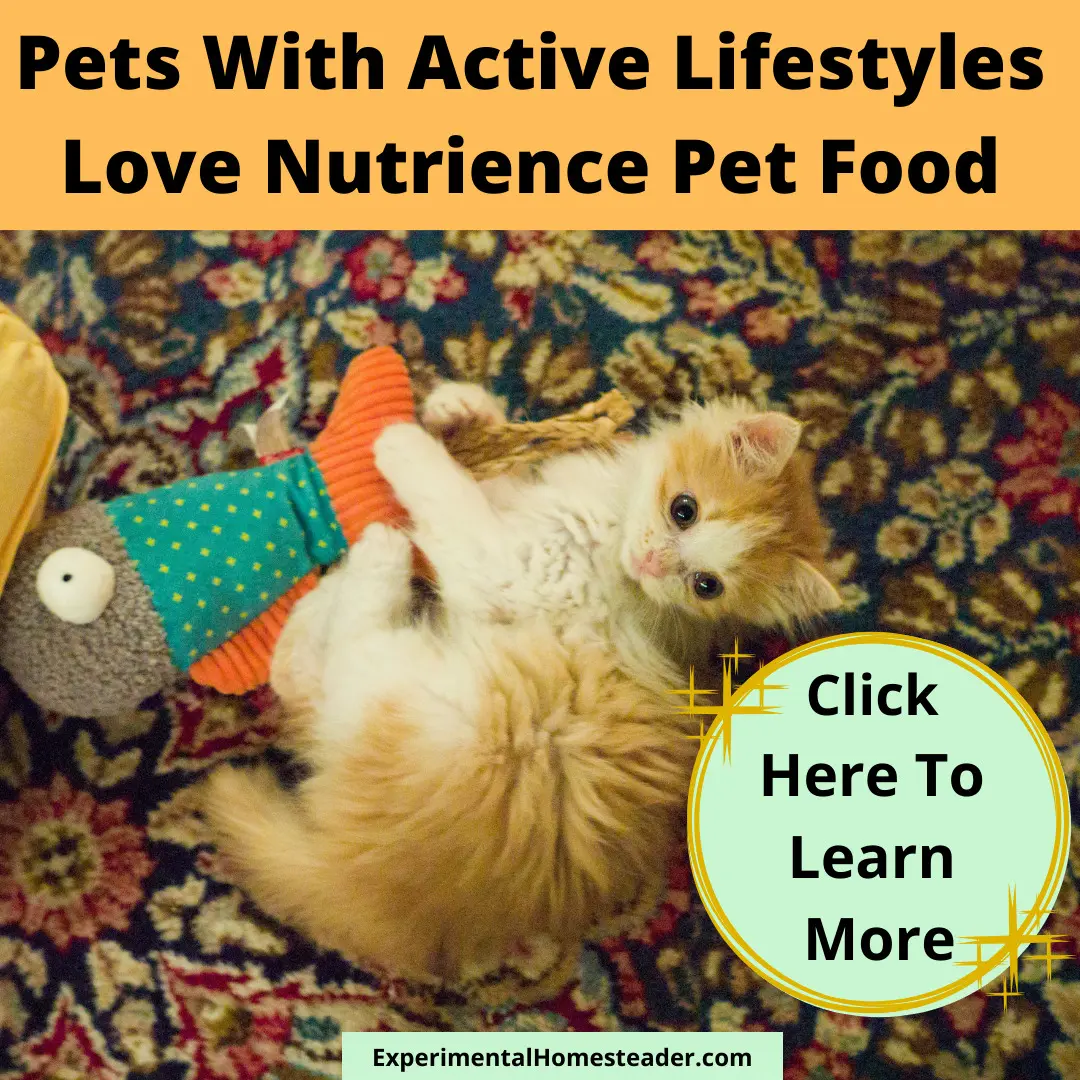 Nutrience Pet Food Satisfies My Pets
I pay close attention to how active my pets are.
I like to observe high energy levels in them.
It lets me know they are feeling good.
I can tell the difference in them when I feed them high quality food.
Their coats look shinier, they are more active and their response to feeding time is different.
Since I started feeding my cats Nutrience, they are calmer at feeding time.
They don't gulp the food down as quickly.
I see them standing at the feed dish slowly chewing the tiny morsels appearing to enjoy themselves.
I have also noticed less growling and fighting over the food.
It is not uncommon to see two to three cats at the feeding dish at one time.
This can only mean they are getting satisfied.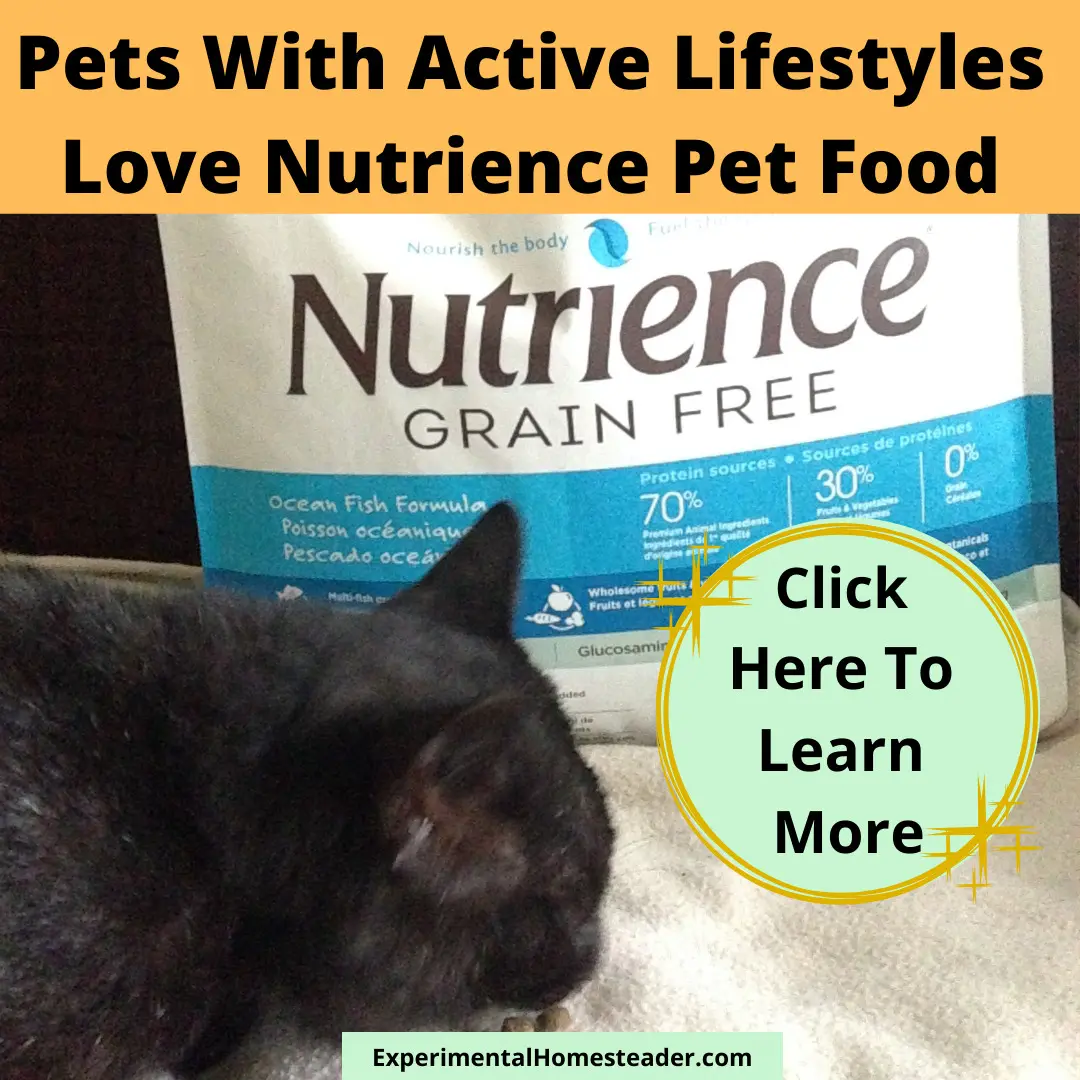 Nutrience Pet Food Is High Quality Pet Food
I have always been picky about what I feed my pets.
They are part of my family and as such should eat as high a quality food as we do.
I know good nutrition leads to good health.
I read pet food labels and choose the best food I possibly can.
I know pets need meat but they also need fruits and vegetables just like we do.
I love that sourcing ingredients from world class Canadian and US growers is a priority in all Nutrience cat and dog foods.
Ever wonder what pet owners look for in a pet food? Be sure to watch this video.
Nutrience Pet Food Offers A Grain Free Option 
Another thing I love about Nutrience Pet Foods is the grain free option.
I chose to trial the grain free Ocean Fish Formula.
My food was delivered via UPS from Amazon.
It arrived quickly, was well packed and oh so convenient.
I received an 18 pound package and it was so nice to have it delivered right to my front door.
I lug around lots of 50 pound bags of pet food so it was nice for once not to have to do that.