Preserving your own food means trying new recipes, such as this red hot apple wedges canning recipe.
While it is true, it is a good idea to stick to recipes you know you and your family will eat, it never hurts to branch out a bit.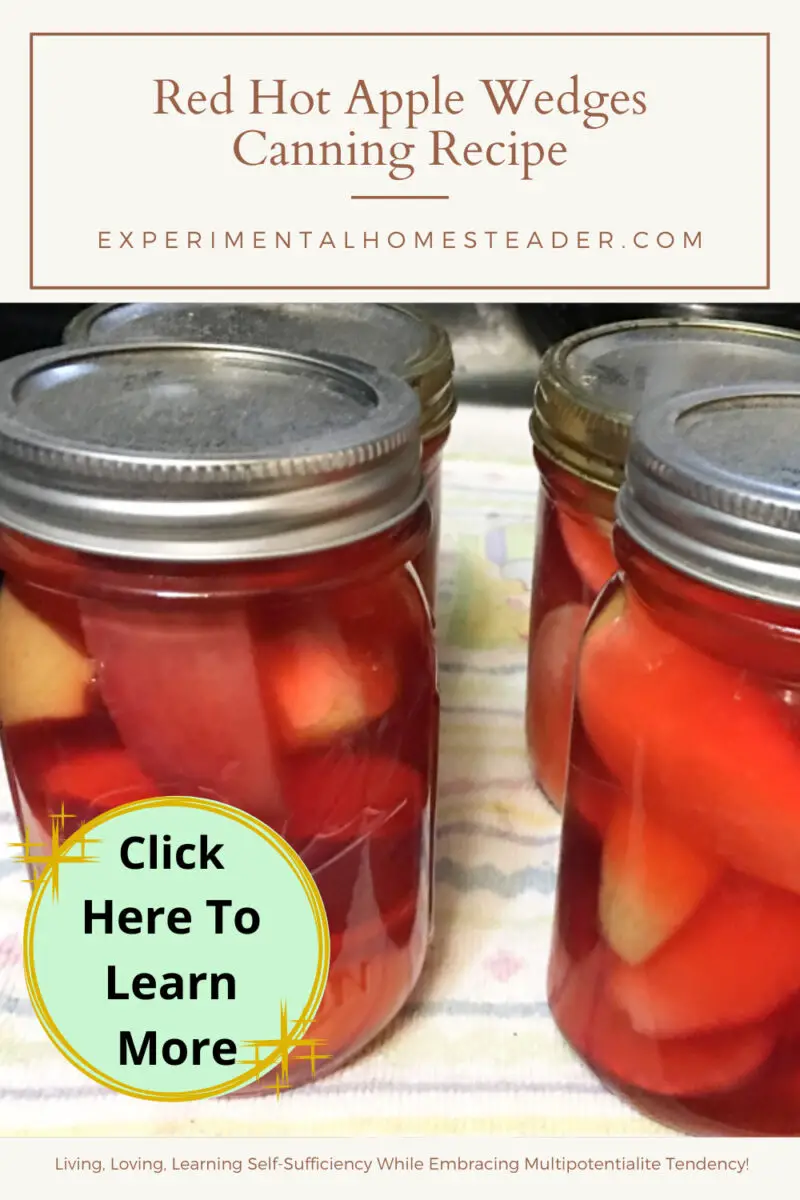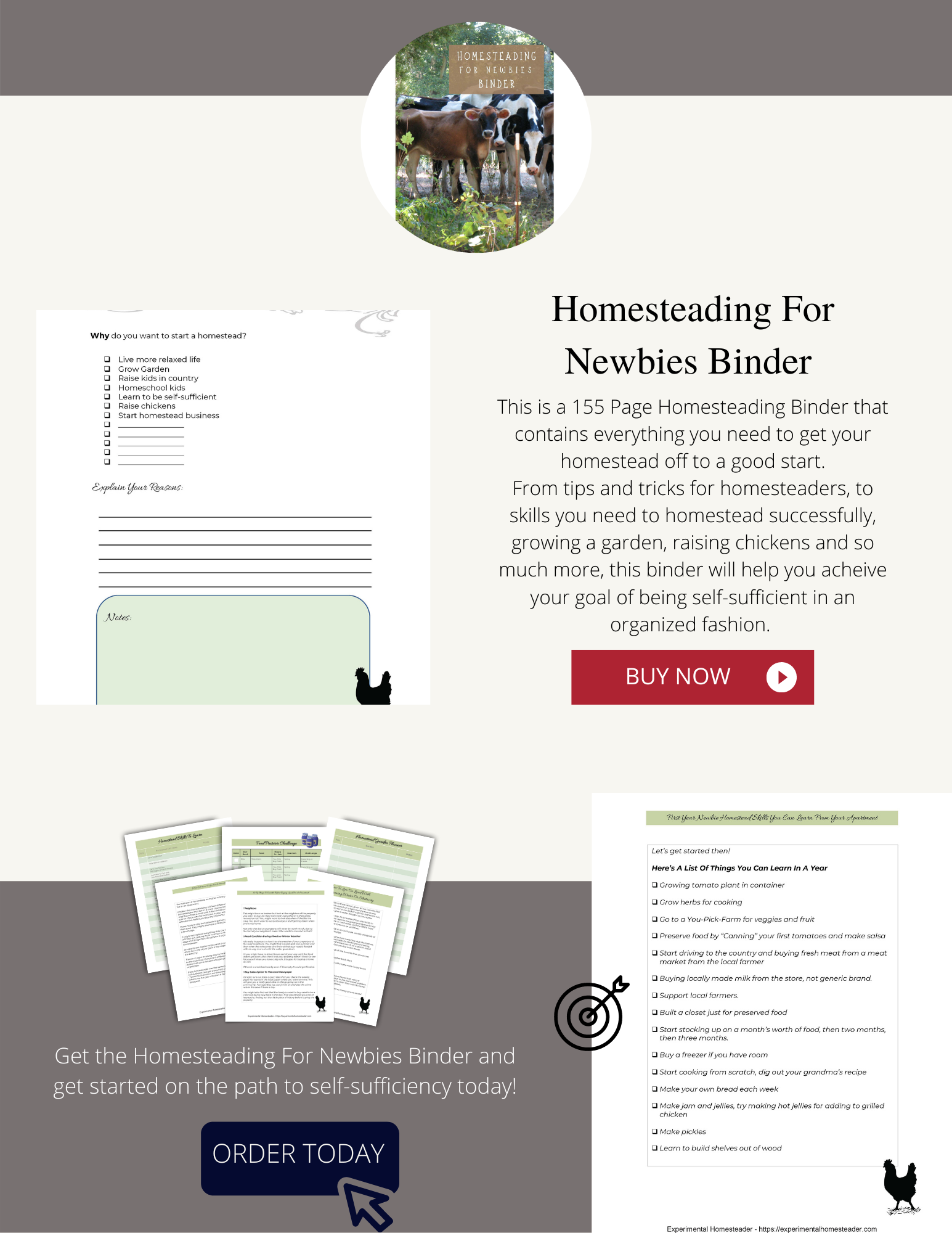 The Decision To Make This Red Hot Apple Wedges Canning Recipe
My husband and I heard about a deal on groceries – $15 for whatever you could get into a paper grocery bag – so we went to check it out.
A lot of the items they were offering were fresh fruits and vegetables.
Being a family of two means we eat a lot less fresh produce out of season then what we do in season.
Both because of the cost and because of the amount of waste when we do buy fresh.
However, this deal let me stock up on fresh fruits and vegetables meaning I bought enough to preserve at a reasonable price.
I didn't want the same old apple wedges and apple pie recipes, so I decided to try this red hot apple wedges canning recipe.
Here is the recipe.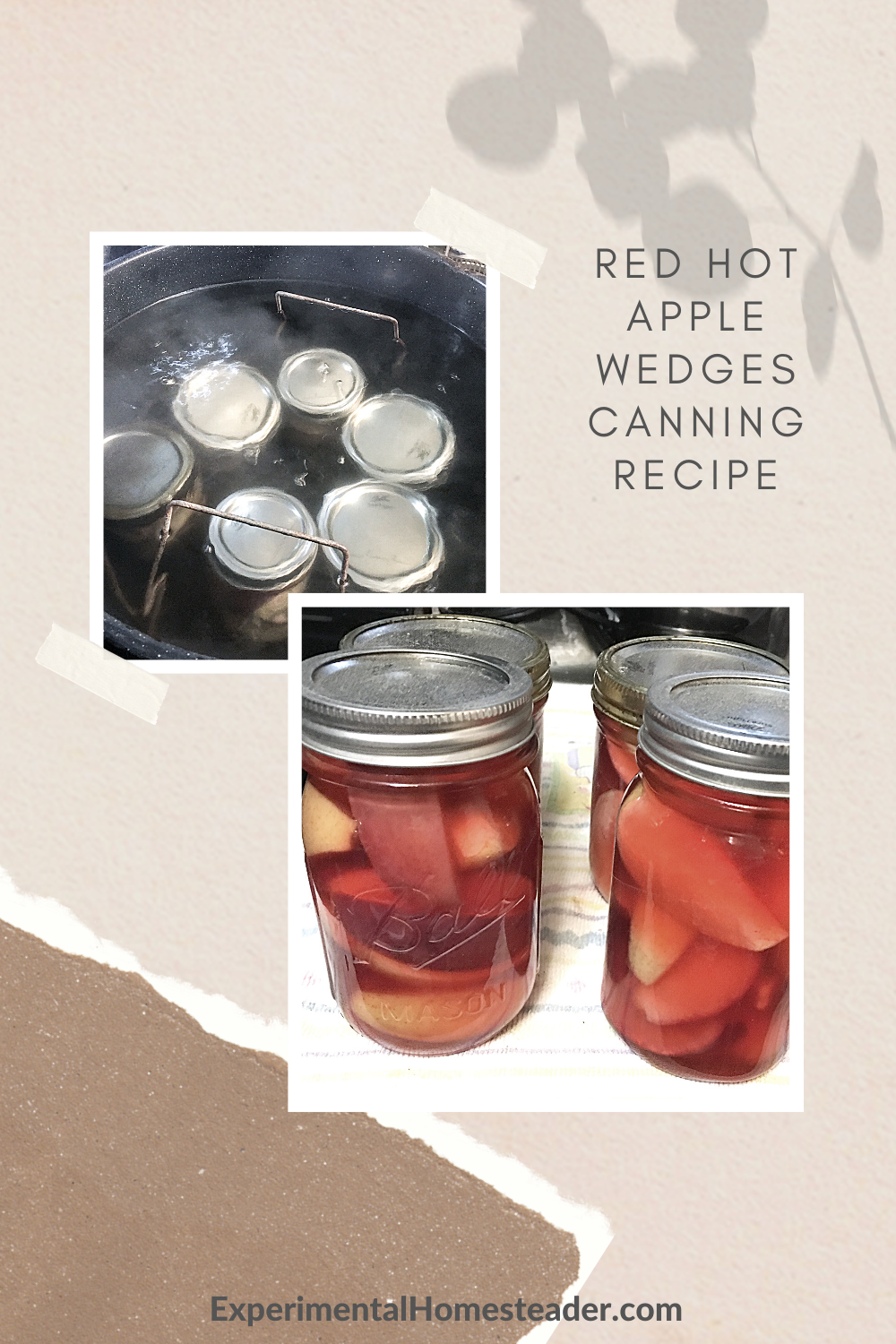 Print
Red Hot Apple Wedges Canning Recipe
Author: Sheri Ann Richerson
Prep Time:

30 minutes

Cook Time:

31 minutes

Total Time:

1 hour 1 minutes

Yield:

8 pint

jars

1

x
Category:

Desserts

Method:

Stovetop
24

medium sized apples, cut into

eight

hs and treated to prevent browning

2 cups

water

1 1/2 cups

sugar

1 1/2 cups

vinegar

1/2 cup

cinnamon red hot candies

2/3 cup

light corn syrup

2

cinnamon sticks, 4 inches each

2 Tablespoons

red food coloring (optional)

2 teaspoon

whole cloves

1 teaspoon

ground ginger
Instructions
Wash and sterilize the lids and pint jars. Then set them aside.
Combine the sugar, cinnamon candies, cloves, ginger, water, vinegar, corn syrup and red food coloring (if using it) in a large stainless steel pan.
Bring the mixture to a boil over medium high heat, stirring frequently.
Add the apples and stir the mixture until the apples are heated all the way through. This takes about 5 to 6 minutes.
Remove the cinnamon sticks and discard.
Use a slotted spoon to fill the jars with the apples. Pack the jars to a half-inch from the top of the jar.
Use a ladle to fill the extra space in the jars with the hot syrup. Be sure the apples are covered.
Remove the air bubbles and add more hot syrup if necessary.
Wipe the rim of the jar.
Center the sterilized lid on the jar and screw the band down until resistance is met. It should be fingertip-tight.
Bring the canner to a boil and process the pint jars for 15 minutes.
Turn the burner off after 15 minutes.
Remove the canner lid and wait for 10 minutes, then remove the jars, tighten the lids and allow the jars to cool overnight.
Remove the bands and check the jars the next day to make sure the lids are sealed.
If the lids are sealed, label and store the the jars in a cool, dark place.
If the lids are not sealed you can either go back to step 10 and start over or put the jars in the refrigerator and use them right away.
Keywords: apple wedges canning recipe, red hot apple wedges, apple canning recipes, apple canning ideas, canning recipes, canning apples, canning apples recipes
Recipe Card powered by

The Final Results Of The Red Hot Apple Wedges Canning Recipe
This red hot apple wedges canning recipe contains vinegar, so right away my husband said yuck.
I tried it anyway – and guess what?
You really don't taste the vinegar, especially when the apple wedges are used in recipes.
Of course, he refused to try it until I used the apples in my Cinnamon Roll Apple Pie Casserole – and he just couldn't resist trying that.
The Cinnamon Roll Apple Pie Casserole was a hit and he didn't even realize he was eating those apples that had vinegar in them!
I will be making the red hot apple wedges canning recipe again, but the next time I will be using fresh apples off of my own apple trees.
I hope you give this recipe a try – and I do encourage you to make just one batch until you know how you like it.
That way you don't end up canning something no one will eat.
Leave a comment below and let me know what you think of this recipe and remember to always use safe canning practices!