Learn how to make rose petal jelly using organically grown roses from your own garden.
Different roses have different flavors with old fashion fragrant roses being some of the best to use.

Did you know that you could actually use roses from your own garden and make something delicious and edible with them?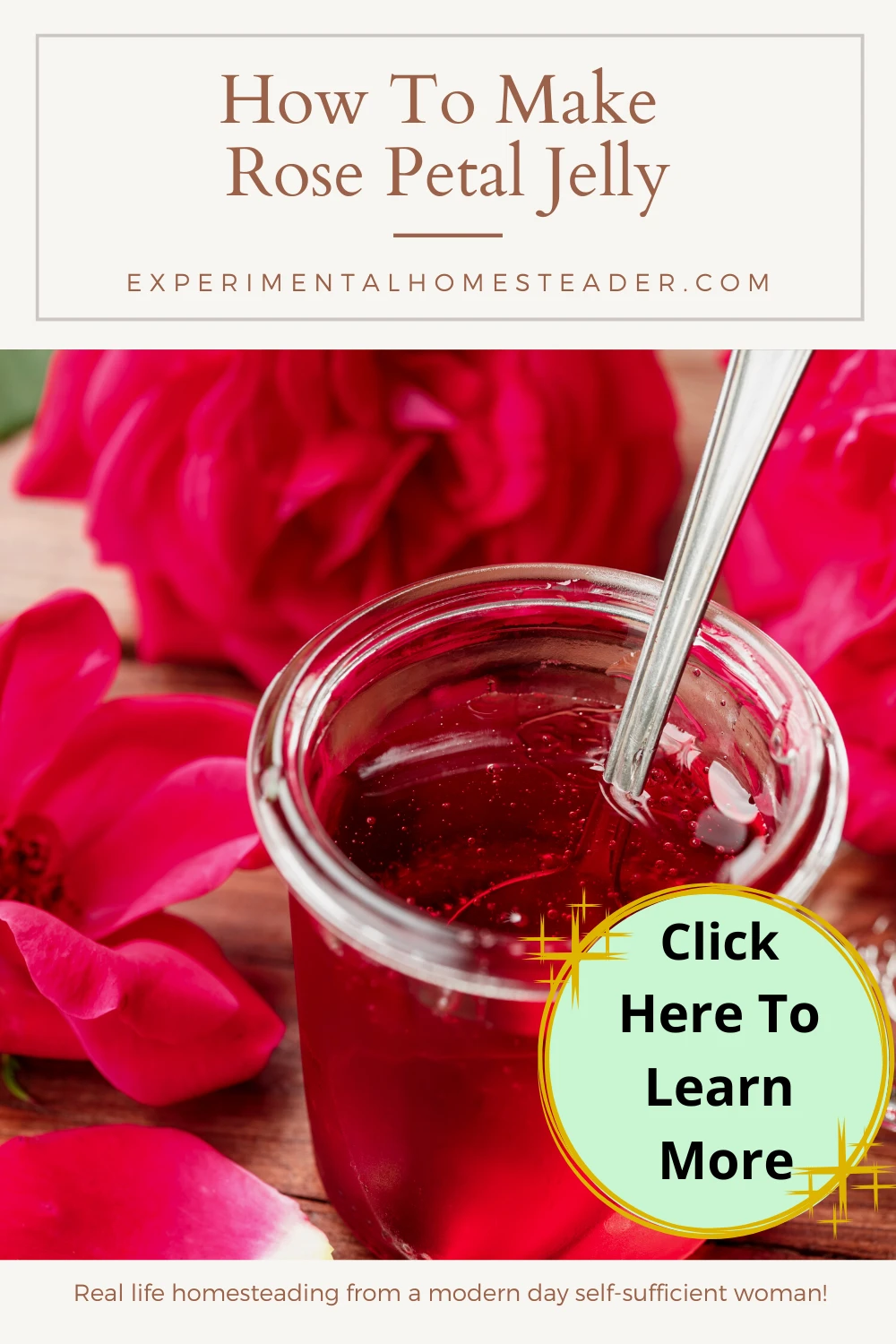 Why You'll Love This Rose Petal Jelly 
Trust me…this is one recipe that's literally going to blow your taste buds away.
When made right, rose petal jelly literally tastes like roses smell.
Seriously!
It has a very floral taste to it and it simply delicious, plus you get some Vitamin C.
Even if you're never really dabbled in the possibility of being able to eat something right from your own backyard, this tutorial on how to make rose petal jelly breaks it down for you so that you understand how simple it can truly be.
The time is now to learn how to feed yourself from items right out your own door!
Now, before we dive into the details of how to make rose petal jelly, there are a few things that you need to know.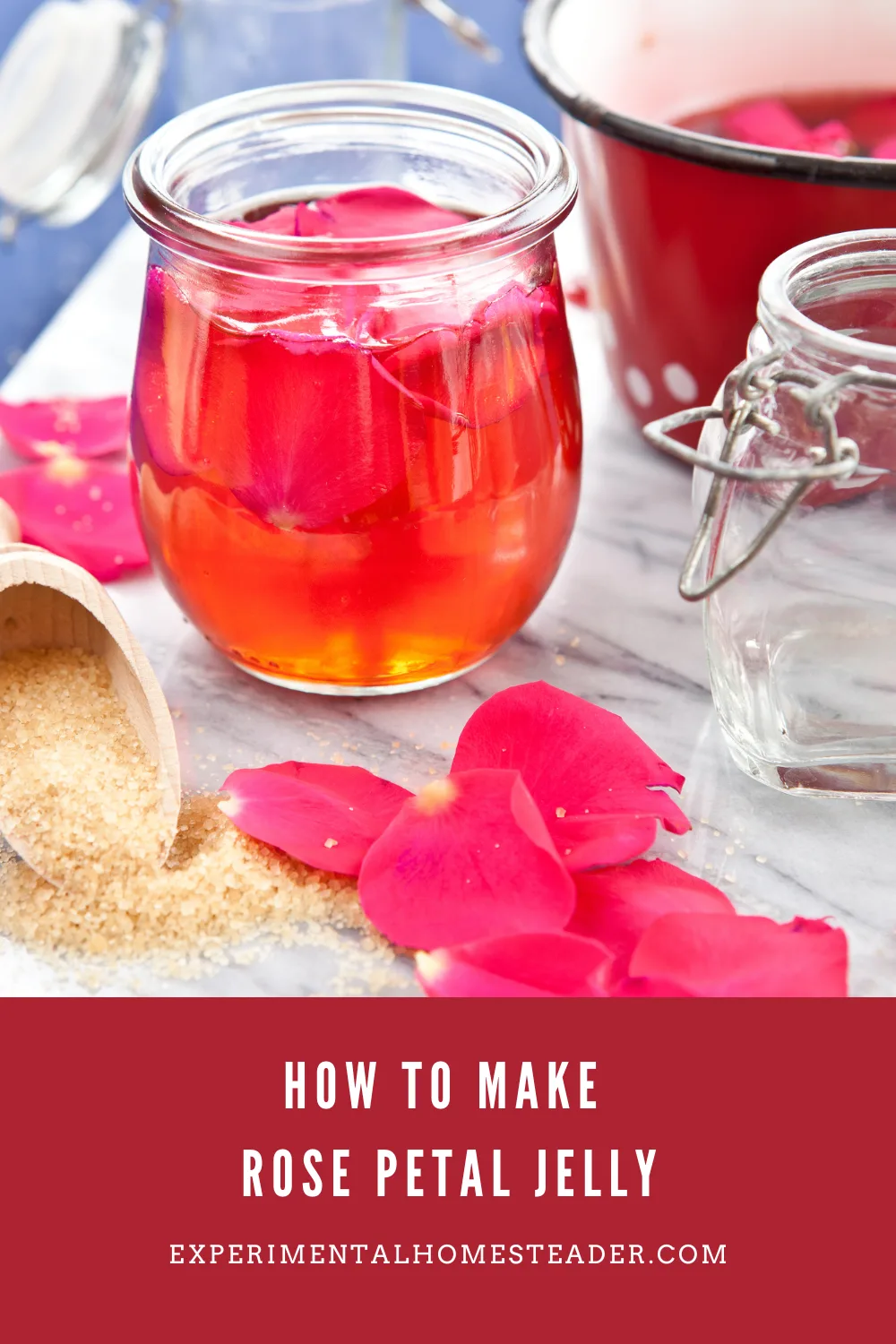 Equipment Needed To Make Rose Jelly
Ingredients Needed To Make This Rose Jelly Recipe
Rose petals, organically grown
Sugar

Rose Petal Jelly Benefits
While rose petals are not high in nutritional value, they do contain some Vitamin C.
Plus, you're getting to eat something that you literally know every single ingredient that is in it.
How many times have you went to the store and bought a jam or a jelly off the shelf and stared at the ingredients wondering what it is exactly that you're debating on eating?
You aren't alone in that worry at all.
In my opinion, one of the best benefits of learning how to make rose petal jelly is that you are in control of what you're putting into your body.
Just be sure to choose roses that are grown organically as you don't want to use sprayed roses in this recipe.
Can You Preserve Rose Petal Jelly?
Absolutely!
And if you read just a tad bit further, I'll tell you all about that in the steps to the recipe below.
There's nothing quite like opening up a jar of homemade jelly in the middle of the winter and having that taste of warmth and sunshine from spring and summer come rushing back!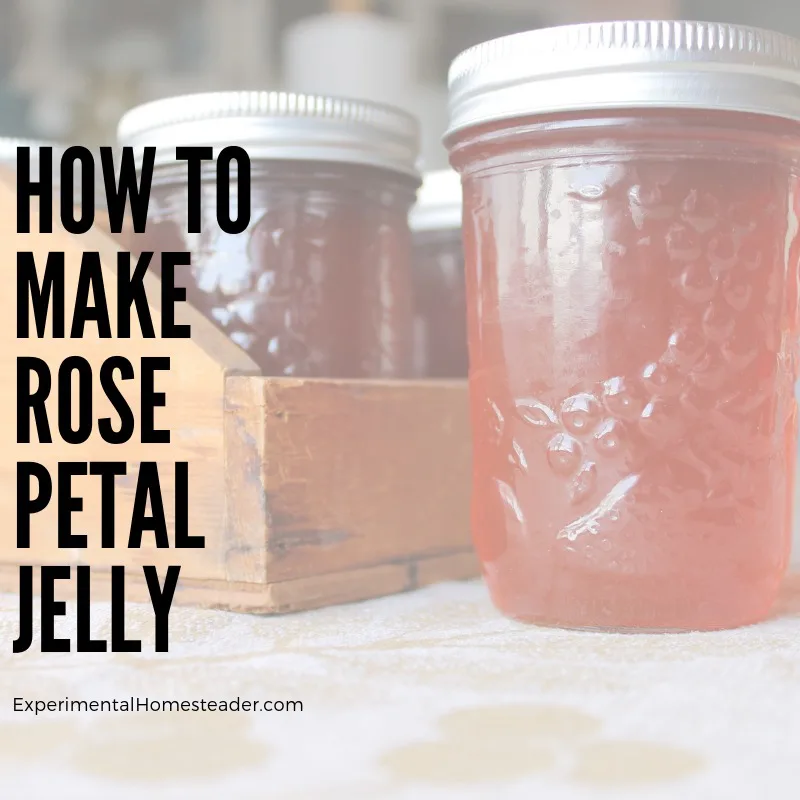 How To Make Rose Petal Jelly
Ready for the steps on how to make rose petal jelly?
You're going to love the look, taste and flavor!
Read on to learn how to make rose petal jelly and how to preserve it for winter use!
Print
How To Make Rose Petal Jelly
Author: Sheri Ann Richerson
Prep Time:

20 minutes

Cook Time:

20

Total Time:

40 minutes

Category:

Condiments

Method:

Stovetop
3 cups

fresh picked, clean fragrant rose petals

3 cups

water

3 cups

sugar

1 tablespoon

lemon juice

1

packet powdered pectin
Instructions
In a stainless steel saucepan, bring the water to a boil.
Remove the pan from the heat, add the rose petals and cover the pan with a lid.
Set this aside and allow it to steep for five minutes.
Line a colander with cheesecloth while the rose petals are steeping.
When the rose petals are done steeping, pour the liquid through the colander making sure the rose petals are caught in the cheesecloth.*
Squeeze the cheesecloth so all the remaining liquid is removed from the rose petals.
Compost the used rose petals.
Measure the amount of liquid to make sure there is still three cups of rose water. If any of the water has evaporated, add more water to make sure you have a full three cups.
Return the pan to a medium high heat; add in the pectin making sure to stir continually until the pectin is dissolved.
Bring to a hard boil and stir in the sugar and lemon juice making sure once again that the sugar completely dissolves.
Be sure to keep stirring the contents of the pan so the jelly does not burn.
Bring to a hard boil and cook for two minutes.
Remove the foam scum that forms on top of the jelly, and then pour the jelly into sterilized canning jars. The smaller 4 ounce or half pint jars work well.
Wipe jar rims, put lids and bands on making sure they are fingertip tight.
Process for ten minutes in a cold pack canner, remove and tighten lids.
Set the hot jars on a secure surface. I lay an old towel on top of my table and set the canning jars on it. Remember these jars are hot so use hot pads and jar lifters.
Tighten the bands as tight as possible.
Allow the jars to cool overnight.
When the jars are completely cool, remove the bands and check the lids to make sure they are sealed.
To check the lids, simply try to lift them up with your fingers. If they come off, set the food in the refrigerator and eat it within a week. If they do not come off, the cans are sealed. Replace the band and store in a cool, dark place.
Be sure to label the jars with the name of the food in them and the date.
Notes
*Be sure to strain the rose petals out because they can mold and ruin the jelly. The rose petals in the photo were used on jelly that was being eaten that day, not jelly that was being canned or saved in the refrigerator for several weeks.
Keywords: how to make rose jelly, rose jelly, rose jelly recipe
Recipe Card powered by
What Do You Eat Rose Petal Jelly With?
So many things!
You can use it just like you would any type of jelly by spreading it on bread or others items like that.
I've even used it in some of homemade thumbprint cookies and actually added it into an oven roasted chicken breast recipe that I made, which turned out wonderfully.
It's not overly sweet but has a nice subtle flavor to it that actually brings a lot to any dish that you combine it with.
Not only is it tasty, but it's really pretty to look at, too!
Here are some ideas on what else to eat your rose jelly with.
Toast
Yogurt
Ice Cream
Cheese, especially Goat Milk Cheeses
Chocolate
Pastries
Smoothies
Bagels
Crackers
Fruit
Warm milk
Waffles
Cake
Puddings
Of course, the list goes on as this jelly truly pairs with so many foods that you already eat. 
Think of it as a seasoning and consider what roses might pair well with.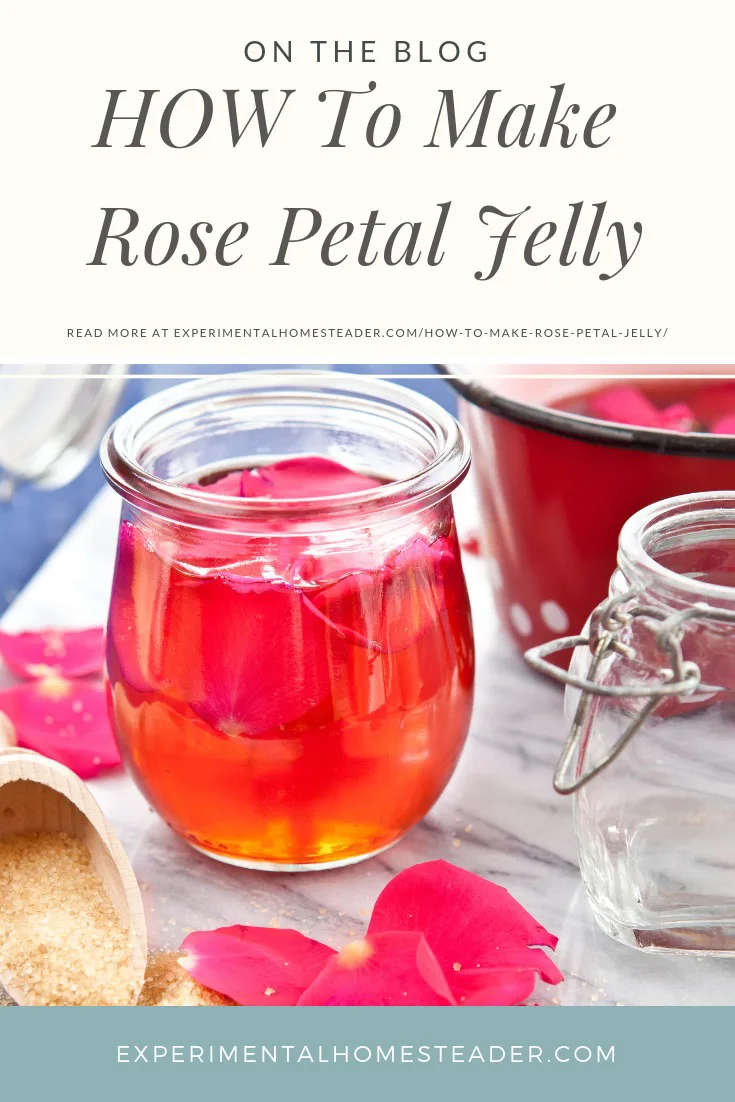 Popular Additions To  This Rose Petal Jelly Recipe
If you are one of those people either making this recipe to use for a special occasion and plan to eat it right away, or know how to test the pH of food before you can it, here are some other items that you can add to your rose petal jelly recipe.
Strawberries
Raspberries
White cherries
Green apples (jelly made from green apples works as a pectin substitute)
Morello cherries
White peach
Vanilla
Rose hips
Oranges
These are just a few ideas to get your creativity flowing.
A book I recommend that has some really good rose recipes in it that are suitable for canning is Mes Confitures The Jams and Jellies of Christine Ferber.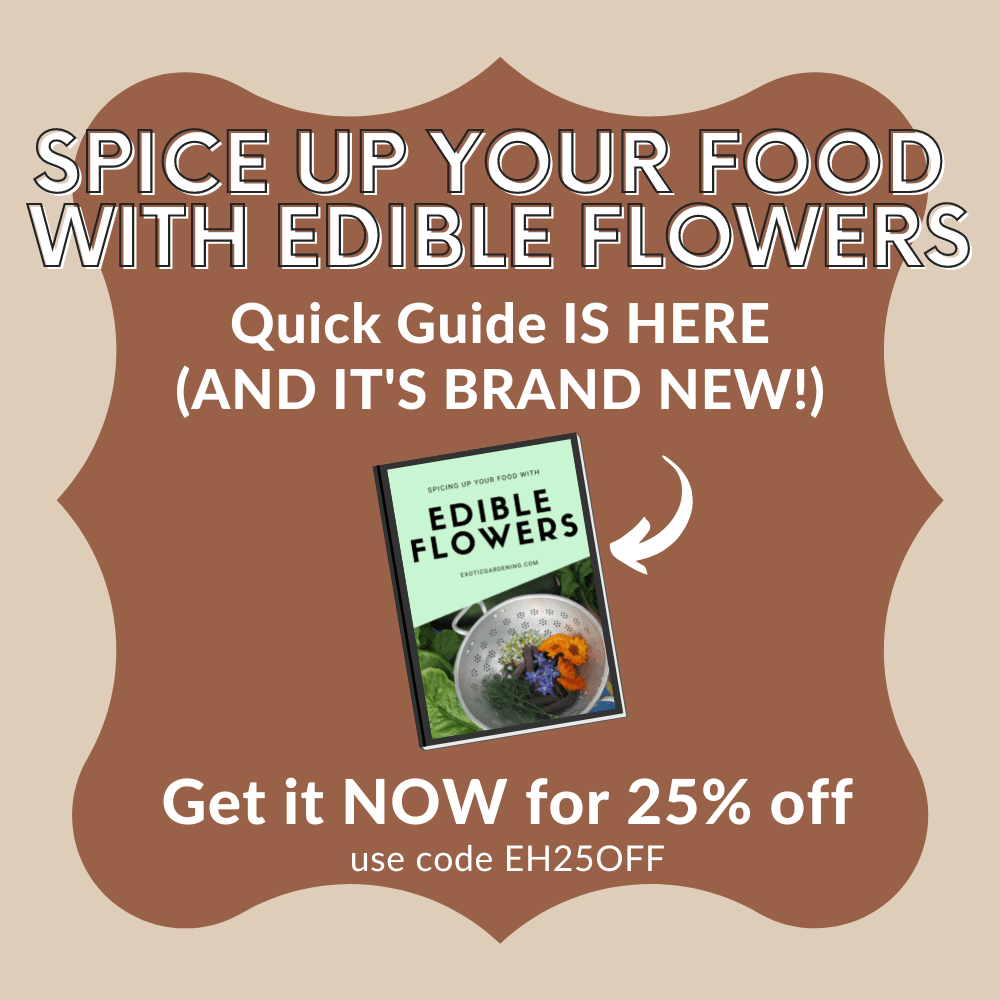 If you're ready to learn more about Spicing Up Your Food With Edible Flowers, then grab my Quick Guide!
How To Store Rose Petal Jelly
If you have used the exact recipe above, the best way to store rose petal jelly is by canning it.
Once you are sure the jars are sealed, put the jars in a cool, dark place for storage.
Be sure to remove the rings just in case the lids come unsealed during storage.
Never use a home canned jar of food if the lid has come unsealed as it is no longer safe to eat.