If you're wanting to learn how to make homemade honey, you aren't alone!
While buying it at the store is always an option, making your own is always the best! 

There are many reasons why someone might want to learn how to make homemade honey.
For example, maybe having your own beehive is just not practical or maybe you ran out of honey, but need some for a recipe and don't want to go to the store to buy some.
This is just one of the various reasons!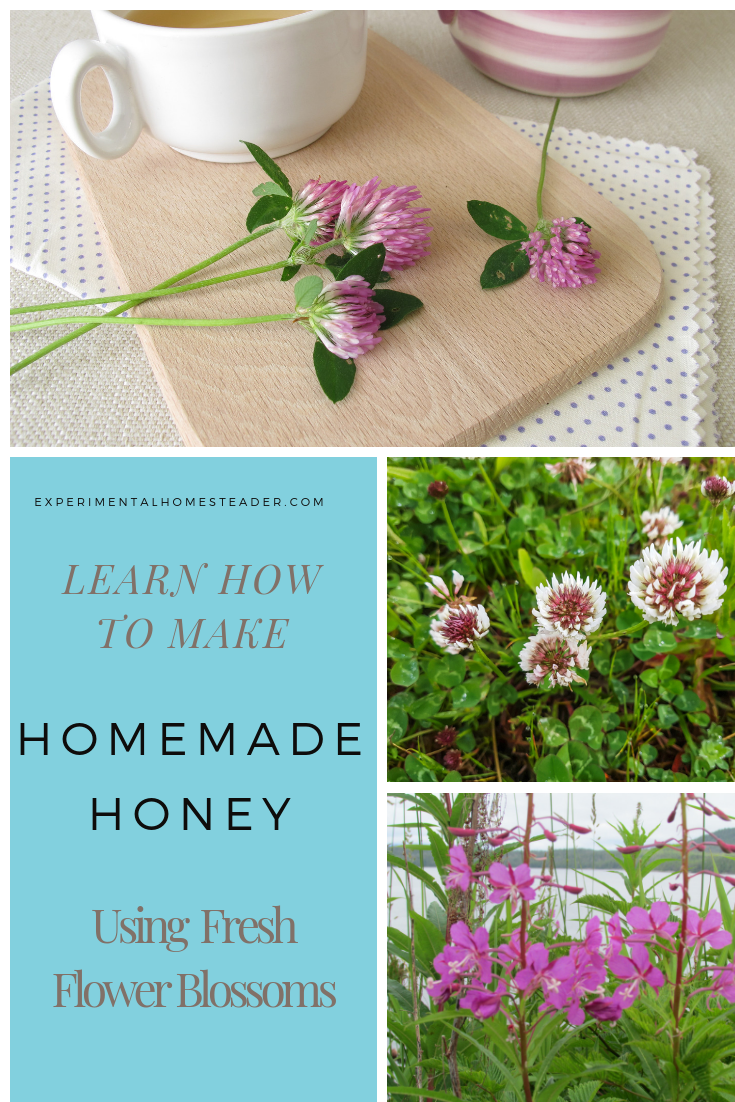 Everyone loves honey for their own purposes and needs.
Making honey is something that anyone can do!
How to Make Homemade Honey – So Simple, Anyone Can Do It
While it is true that bees make the best honey, if you don't have a beehive in your yard, there is another way to make honey – on the stove using plants you either wild harvested or grew yourself.
To make your own honey you will need white sugar, alum, water, fireweed blossoms, red clover blossoms, and white clover blossoms.
You may want to set aside a section of your yard to grow these plants in so you know they have not been sprayed with fertilizer or weed killer.
How Hard Is It To Make Homemade Honey?
It's actually not all that hard.
Once you make it once, you'll find that it's easier and easier every time.
Plus, when you make it, it lasts, too.
This is nice and helps so you aren't feeling as though you have to make it all the time. 
For those who like a fruit flavored honey, go ahead and add a handful of fruit such as blackberries or raspberries to the mixture along with the flower blossoms.
Remove the fruit, just like the flower blossoms, once it is done steeping.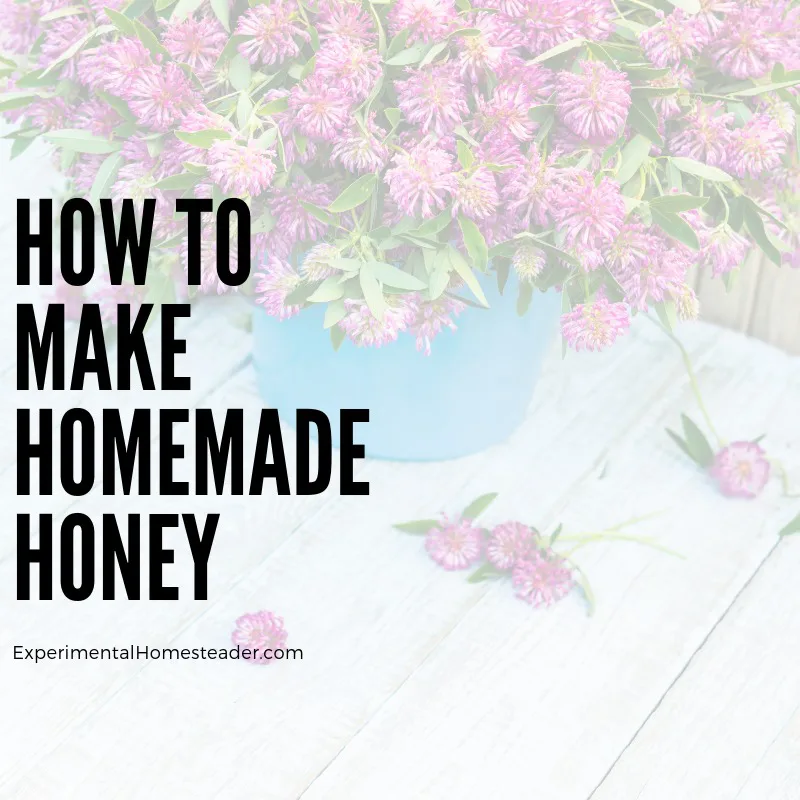 Does Homemade Honey Taste Different Than Honey Made From Bees?
It's all going to depend on your taste buds.
Just because it's a recipe and not coming from a beehive, it's going to taste different.
There's not much you can do about that.
However, its' also comforting to know that you made it and you know what's going into it as well.
It's not something processed and filled with chemicals so that it has a long shelf life…this homemade honey is made from ingredients that you know and trust.
Can You Can This Homemade Honey?
Of course!
That's one of the best parts!
If you make up a batch, save some for later!
You'll love being able to head to the pantry and open up a canning jar full of your own homemade honey.
Doesn't get much better than that! 
Making your own homemade honey is doable and simple to do.
With the honey recipe listed below, I'm giving you the step by step directions on how to make homemade honey a true dream come true! 
Print
How To Make Homemade Honey
Author: Sheri Ann Richerson
Prep Time:

3 hours 15 minutes

Cook Time:

10 minutes

Total Time:

3 hours 25 minutes

Category:

Condiments

Method:

Stovetop
10 cups

cane sugar

3 cups

water

2 1/2 cups

white clover blossoms

2 cups

fireweed blossoms (Chamaenerion angustifolium)

1 cup

red clover blossoms

1 teaspoon

alum
Instructions
Once you have gathered the ingredients, add the water, white sugar and alum to a large stainless steel pan.
Bring this mixture to a boil and keep the mixture boiling for ten minutes.
While the mixture is boiling, remove the blossoms from the stems making sure not to leave any green parts on the flowers. The green stems and leaves will impart a grassy flavor to the honey.
Once the blossoms are removed, rinse them under cold running water.
Shake the excess water off the blossoms.
Remove the pan from the heat, and add the flower blossoms.
Stir well, cover and steep for three hours.
Once the mixture is finished steeping, strain it through cheesecloth so all the plant material is removed.
Reheat the liquid honey until it begins to boil, pour into sterilized canning jars and seal.
The jars can be sealed by processing them in a cold water bath for fifteen minutes.
Be sure to check the seals once the jars have cooled.
Keywords: how to make homemade honey, homemade honey, honey recipes
Recipe Card powered by